Sunil Chhetri's Appeal Is Much More Than a Mere Call for Fan Support
The support for and celebration of the Indian football team skipper's 100th cap is a very welcome positive for the sport, but unless things change dramatically, there will only ever be one Sunil Chhetri.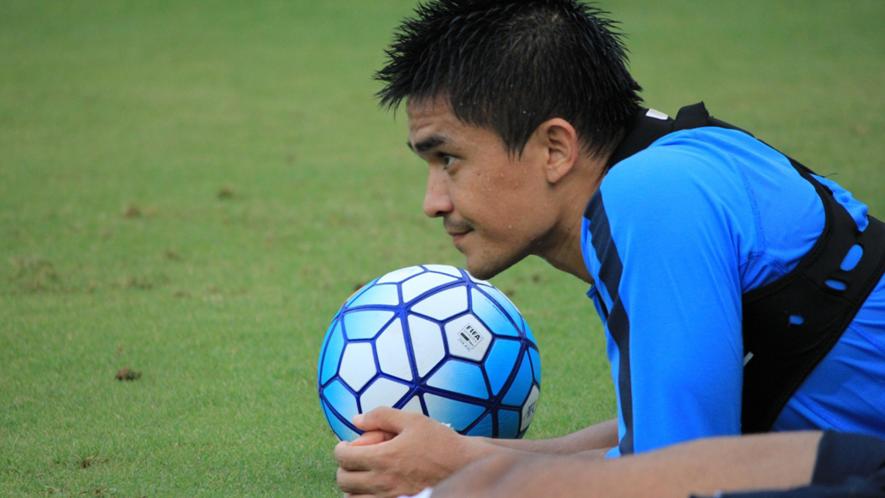 The sad part of Sunil Chhetri's appeal is that the Indian football team skipper, with close to 25 lakh followers on various social media platforms, had to plead with these "fans" to come and fill what is a tiny, 7000-seater football stadium in Mumbai.
Watching Sunil Chhetri take over my social media feeds over the past few days has been extremely engaging. As someone who has spent close to 25 years playing, watching and reporting on Indian football my reaction to the events has been somewhat muddled.
I first heard the name Sunil Chhetri when I moved to New Delhi in 1999 and began playing the local circuit. In his mid-teens at the time, Chhetri was already being spoken of, in not-so-hushed tones, as the biggest thing to ever emerge out of the quagmire that is football in India's capital.
Big clubs, playing abroad and representing the national team were all on the cards. If, the prevalent wisdom was, Chhetri could get over the trappings of being a "Delhi boy".
On June 4, 2018, Chhetri led the national team onto the field in what was his 100th international. The Delhi boy has achieved what only one other Indian has managed in the past. The pride, and joy, felt by everyone associated with the game in India is unblemished and unabashed.
READ MORE | From Telstar 18 to Boots and Jerseys, the Plastic Side of FIFA World Cup
As a fan, and someone who knows Chhetri personally, I was gutted that work commitments didn't allow me to travel to Mumbai on the day to watch him live. But, as a working journalist whose job it is to observe, report and comment on the game, my takeaways were very different. Therefore what I am writing is not an ode to Sunil and his role in the Indian football story, but more an objective assessment of where things stand today.
THE RESPONSIBLE LEADER
The gist of Chhetri's message to his followers was simple—judge us based on how we play, but at least do us the courtesy of coming out to watch our games before. Fair enough. The unfortunate part of the story is that Chhetri, with close to 25 lakh followers on various social media, had to plead with these "fans" to come and fill what is a tiny, 7000-seater football stadium in Mumbai.
This is nothing but a small plea from me to you. Take out a little time and give me a listen. pic.twitter.com/fcOA3qPH8i

— Sunil Chhetri (@chetrisunil11) June 2, 2018
This glaring discrepancy in the numbers is an unfortunate indication of how many real fans Indian football has today. While it is universally cool to like and share emotional messages of "public value", such as Chhetri's, the difference between the real and the virtual has never been more stark. For example, while dozens of celebrities from Mumbai's film fraternity urged their followers to pay heed to Chhetri's call to action, only Abhishek Bachchan (who also owns Indian Super League franchise Chennaiyin FC and Pro Kabaddi League team Jaipur Pink Panthers) had the inclination to actually show up. The hypocrisy is self-evident.
Unfortunately, it only gets worse. In October 2017, while India was hosting FIFA's Under-17 World Cup 
five top India players, including Chhetri, had met with the All India Football Federation's (AIFF's) general secretary, Kushal Das. This has been independently verified by multiple sources involved in the meeting as well as a member of the AIFF's technical committee. 
The players were seeking an increase in their allowances (then at $ 50 per day) and match bonuses when on national team duty. They also wanted the team to be given formal suits when the team travels to other nations to represent India.
READ MORE | Argentina Football Team Cancels FIFA World Cup Warm-up vs Israel
As the highest-earning Indian footballer, Chhetri is financially secure and not personally concerned about the dollar amount involved in this discussion. But he is well aware that to many of the young members of the squad (and the same applies to junior/age group teams) these are the little things that make a big difference. Chhetri has assumed leadership of the Indian team not because he was handed the captain's armband by the federation or the coach. That happened organically.
Now in his early thirties, he understands the need to carry forward the legacy of those who groomed him when he was a teenager. That is why four other players, as senior squad members, accompanied Chhetri to that meeting with Das in October last year. The India captain is an extremely aware individual who takes his power, and responsibility, seriously.
But that the team should need to have these conversations is problematic in the first place. On the one hand you have a tournament, owned and organised by the AIFF's commercial partners, where several crore rupees are spent on player salaries, promotions and other PR activities. On the other had the national team has to make meagre requests for a few dollars more.
BATTLE FOR RIGHTS
Worse still, the Football Players' Association of India (FPAI), the body that is supposed to represent the interests of professional footballers and of which Chhetri is a vocal and active member, has not yet been recognised by the AIFF. Since its creation in 2006, the union has taken up hundreds of cases on behalf of players. Most of these are labour issues — contracts, non-payment of dues and such — that require expert handling.
However, in the absence of official recognition for the FPAI, players are often left to make their own representations to management and are denied their basic rights as skilled workers selling their services in the context of Indian law and market regulations.
READ MORE | 10 Tales of Intrigue From the First FIFA World Cup
Not many could have foreseen Chhetri achieving the 100-cap milestone. That he is now the third-highest active international goalscorer in the world is equally astounding. Chhetri himself could not have dreamt this far. But he, and the few other success stories in Indian football, have had to do things the hardest way, at every step. The process has been slow because, while worshipped fans, player have never been given an environment in which they can play, train and thrive without constantly having to battle a system that is created on the basis of their labour but denies them basic rights.  
The support for and celebration of Chhetri is a very welcome positive for our sport. But he will be the first person to tell you that unless things change dramatically, there will only ever be one Sunil Chhetri. And that just isn't going to cut for a nation that is already buying into grandiose World Cup dreams.
Get the latest reports & analysis with people's perspective on Protests, movements & deep analytical videos, discussions of the current affairs in your Telegram app. Subscribe to NewsClick's Telegram channel & get Real-Time updates on stories, as they get published on our website.
Subscribe Newsclick On Telegram