Tokyo Olympics: Lovlina Borgohain Settles for Bronze, But Not Before an Epic Fight Against Odds
Borgohain left the ring proud, earning respect by the way she refused to be intimidated by Busenaz Surmeneli's reputation, or the stinging combinations she is a master of, to earn India's only medal from boxing at the Tokyo Olympics.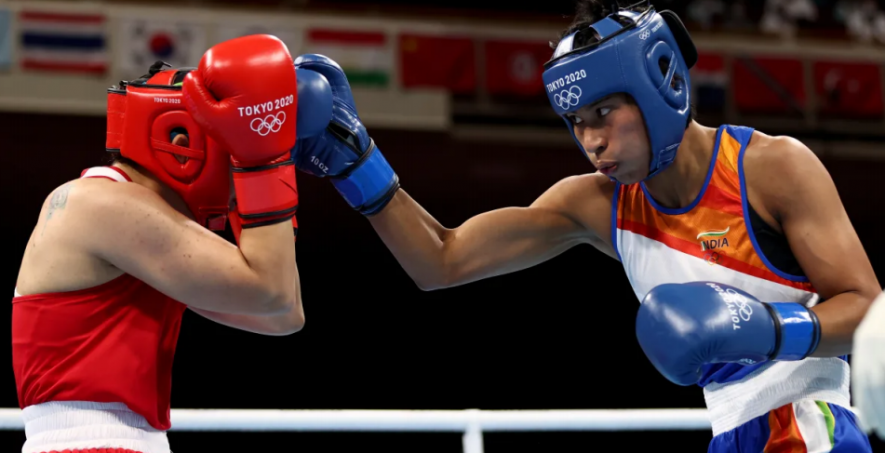 Lovlina Borgohain took the fight to Busenaz Surmeneli of Turkey in the opening round of their semifinal bout at the Tokyo Olympics on Wednesday (Pic: Olympics.com).
Respect is hard to earn in boxing. You can surely earn it with victories, but that's the easiest route. The hardest path is reserved for earning respect in defeat in the ring. Now that takes courage, commitment and a will to move forward even when you know the bout is gone from your fists, and you are bound to find pain, and anguish ahead — both from the punches and from the final announcement reiterating the loss again for it to ring in your ears forever. Lovlina Borgohain would have heard that and more. However, she did not lose on Wednesday. She won. Borgohain won bronze. 
The dichotomy in losing but still earning a medal is an interesting story which needs narration. But that's for another occasion. This day Borgohain deserves our attention. She won bronze, India's third medal at the Games, and along with that, earned the respect of her opponent and the boxing world as well. 
Also Read | Hurdling to Greatness: Karsten Warholm Frees an Event From the Matrix
It was always a tough proposition for Borgohain in the semifinals. The 23-year-old Indian was facing a force of nature in women's boxing, the top draw in the welterweight division — Busenaz Surmeneli of Turkey. 
Borgohain did try to make a fight of it, even departing from her natural instinct and style at the start, going on the inside and trying not to get pushed around by Busenaz. Eventually, the Indian folded via a unanimous decision, battered and bruised a little, and after surviving two standing eight counts. However, she left the ring proud, earning respect by the way she refused to be intimidated by Surmeneli's reputation, or the stinging combinations she is a master of, to seal India's only medal from boxing.
Stubbornness is a trait that's common in boxing. However, to stick to that character — a boxing cliche but something both the pugilists as well as fans love to see — when someone is trying to pound the whole idea out of your brains and personality, takes a special something. Now, what is that? Oh yes, it takes heart! And Borgohain showed she had a heart forged in the strongest of metal known to man, but as gleaming as gold. The bronze is just ornamental, the fight cred she earned is her real prize from Tokyo. 
Click | For More Coverage of the Tokyo Olympics From Newsclick Sports
Borgohain is one of the best boxers in her division at the moment. But it so happens that Surmeneli is a cut above the rest. She is that once-in-a-generation boxer who comes along to elevate the benchmark of the division, and leaves the rest to do the catching up, and to fight for the lesser prizes. That Borgohain was not toyed around much — Surmeneli did do that to her opponents in the earlier round — is testament of where the Indian stands in what is clearly the Turkish boxer's world.
Surmeneli is known to be a front-foot boxer, constantly moving forward, come punch, come defense or clinch, with a rough physical style, powerful punches, and blinding combinations. How did Borgohain plan to counter that?
She was doing something considered impossible if not improbable in women's welterweight at the moment — trying to get inside and get physical with Surmeneli. She did that in the first two minutes of the first round. Borgohain did manage to rile up Surmeneli too, a dangerous act considering the power she packs. But then, that could have also meant the Indian could find openings to exploit. It was evident that was the plan, to go behind the jabs of Surmeneli, and to counter with one-two combos. Jab and cross, jab and cross. 
Also Read | The Tokyo High: Indian Women's Hockey on Cusp of a Revolution That Needs Nurturing
Borgohain would have loved to do the one-two right through the three rounds. Just that, it was simply impossible to get in and out, or get away with it like she did with her earlier opponents. Surmeneli started asserting herself towards the end of the opening round — the tactic in amateur boxing to get the attention of the judges. Just that, this was not a smokescreen tactic. Her punches stung. Borgohain was given a standing eight count. All five judges gave the round to the Turkish boxer. 
In the second round, as well as the third, Surmeneli started dominating, combos landed, and while Borgohain tried the clinch to shake up her opponent with some body hooks, she had to back off because the Turkish champ was attempting uppercuts, one or two of which brushed past Borgohains retreating chin. On another occasion, Borgohain, a tad slow to retreat, was shaken up by a three punch combo from Suremeneli — two right books to the body and a left hook upstairs.
Surmeneli did not have a chance to showboat though. She tried a bit of weaving and dancing in the last 10 seconds of the bout, but prior to that, she stuck to her game, and that in itself attests Borgohain credibility on the grand stage.
We could say for sure that the boxer from Assam is one for the future, having won a medal at such a young age. Then again, Surmeneli is also just 23 and has a long career ahead of her too, if she chooses to stick to the amateur ring that is. 
That means Borgohain and the rest of the boxers in her division will have no choice but to go back to the training hall, and do the things that are needed to catch up. The Indian, known for her tremendous work ethic in the training hall, as much as her ring craft and intelligence, is surely going to go after Surmeneli. But that chapter is reserved another year, another Games, a World Championships perhaps. For now, she can return home proud, rest a bit, let things sink in. Smile while reflecting even, while the cacophony outside celebrates her achievement. She is now an Olympic medallist! 
Get the latest reports & analysis with people's perspective on Protests, movements & deep analytical videos, discussions of the current affairs in your Telegram app. Subscribe to NewsClick's Telegram channel & get Real-Time updates on stories, as they get published on our website.
Subscribe Newsclick On Telegram