Too Poor to Afford Bail, Kashmiri Students Languish in Agra Jail
Trust deficit and financial constraints get in the way of the families whose wards were jailed after India lost the cricket world cup to Pakistan although they have been granted bail.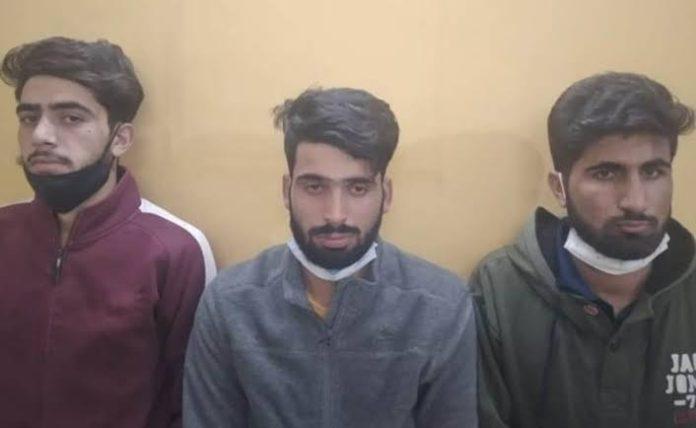 Image Courtesy: Kashmir Digits
Arshad Yusuf, Inayat Altaf Sheikh and Showkat Ahmad Ganai, three Kashmiri students in an engineering college in Agra, were charged with sedition last October for allegedly celebrating Pakistan beating India in a World Cup match. The Allahabad High Court has granted them bail, but they are yet to leave prison as their families have no money to furnish their bail bonds.
"We have nothing left except a small piece of land. We borrowed money to travel to Agra to meet our son and for legal expenses. We even sold our cow to raise money, for it is all we had left," says Shaaban Ahmad Ganai, Showkat's father. The family lives in a crumbling single-storey house with broken windows and a rusted roof in the Bandipora district in North Kashmir. "Showkat was a bright student since childhood. He was intelligent and spent most of his time studying," Ganai says wistfully.
The three students of RBS College in Agra would never have guessed that their congratulatory WhatsApp statuses would land them in so much trouble that their families would have to sell their possessions to get them out of jail. Arshad is a third-year student in the faculty of Civil Engineering, while Inayat and Showkat are in their fourth year.
"We are struggling to find six people, each with Rs. 1 lakh in their bank accounts to furnish surety to secure their release," says Arshad's paternal uncle, Bilal Ahmed Dar. Inayat and Arshad are from Chadoora and Budgam in central Kashmir. Under the surety system, someone agrees to pay the amount fixed in the bond by the court if a defendant does not appear before the court or breaks the bail conditions.
"We could not afford to travel from Kashmir to Agra to meet our children, nor could we hire a lawyer. We find it hard to meet daily expenses. Arshad is an orphan who could only study because he got a government scholarship," says a relative of one of the students who does not wish to be identified.
Arshad's father was a labourer who died many years ago in a road accident. "The college authorities checked CCTV footage and found they had not raised pro-Pakistan or objectionable slogans," says Bilal Ahmad Dar, Arshad's uncle.
Last week, when Justice Anil Bhanot heard the students' bail hearing, he said India's unity is "not made of bamboo reeds which will bend to the passing winds of empty slogans". He said people must provide visiting scholars with an enabling environment in their state. He also said students must imbibe constitutional values wherever they go. But the wise words seem to have fallen on deaf ears, for no resident of Uttar Pradesh has come forward to sign these three students' bail bonds.
To facilitate their immediate release, either the families must submit cash sureties, or any Uttar Pradesh resident must sign their surety bond. "The problem is the family members of the three are very poor, they are not in a position to deposit six lakh rupees as a surety deposit," says Madhuvan Dutt Chaturvedi, a lawyer representing the three.
"We have been told to arrange six sureties so that our ward does not jump bail. Until the final verdict, the money will be withheld in the accounts of these six people. It is really difficult to find six such persons," says Yasir Paul, also Arshad's close relative.
On 26 October 2021, Arshad, Inayat and Showkat were suspended from their college after the India-Pakistan T20 World Cup match. The Agra Police arrested them based on a BJP youth leader's complaint about pro-Pakistan slogans, though the warden of the student hostel and college office-bearers contested this claim. They were initially charged with promoting enmity between groups and other charges, but later sedition charges were added.
Showkat's mother, Hafeeza Begum, says she has "sacrificed everything for her son's education. She sold her land to fulfil her dream to educate him, but his arrest has shattered her. "We don't have money for the surety bond and further legal expenses," she says. The bail is a huge relief for the families, but the students are still behind bars due to the financial crunch. The three are incarcerated in a separate room, away from other inmates. The excuse given for separating them was the bullying on the court premises last year.
Last November, when they were produced in a court in Agra, right-wing activists roughed them up and heckled them despite police presence. Lawyer associations in Agra refused to defend them and passed a resolution to ensure they were denied legal assistance. They have been in jail since 27 October. The Jammu and Kashmir Students Association, a network of students from the erstwhile state (of which this author is a spokesperson), secured the services of advocate Madhuvan Dutt Chaturvedi to defend them. The association has written to Prime Minister Narendra Modi and Uttar Pradesh Chief Minister Yogi Adityanath, urging them to revoke the sedition charges and suspensions.
After passing class XII in 2018, Arshad and Inayat secured admissions to the college in Agra under the Prime Minister's Special Scholarship Scheme, a program (more appropriately called a confidence-building measure) Prime Minister Manmohan Singh launched in 2011 for students from Jammu and Kashmir.
"We sent him to Agra to become engineers rather than join politics or get drawn into any violence... We had thought after his studies Arshad would care for his family and make a good life for himself. However, this incident has left us traumatised," says Dar.
"Being in jail has taken a huge toll on all three... They have become physically and emotionally weak. They cry inconsolably. They are depressed and anxious and asked how long they would be there," says a cousin of Inayat's who visited the three in jail. "Eight days have passed since the court granted them bail, but their release still seems a distant dream. We are running from pillar to post to persuade people to save them, but it has been in vain so far," he says.
"Sedition charges put the careers and limited resources of families of those accused at stake," says Mushtaq Ahmad, president of the J&K Students Association. Citing humanitarian grounds, the association has sought help from the state administration and reached out to Rajya Sabha MPs and many others on behalf of the students.
Ideally, support for a particular team should not get tagged to politics or ideology. Cricket, after all, is supposed to be a gentleman's game. True, sports is no longer a neutral pastime, but to detain students over what some find offensive is unjust. It puts a question mark on the ambitions of young students from Kashmir to contribute to nation-building. After all, an act may seem offensive to some, but that does not make it illegal. The trauma of being called anti-national will stick to those who get arbitrarily detained. The only silver lining is that the judiciary has signalled some hope in this episode.
The author is the national spokesperson of the J&K Students Association. The views are personal.
Get the latest reports & analysis with people's perspective on Protests, movements & deep analytical videos, discussions of the current affairs in your Telegram app. Subscribe to NewsClick's Telegram channel & get Real-Time updates on stories, as they get published on our website.
Subscribe Newsclick On Telegram