Travel Bans Could Force Clubs To Forfeit European Matches Next Season; UEFA's Warning About Protocol Breaches and More (Football Round-Up)
Short Passes (Football News Round-up): Clubs could be forced to forfeit European matches next season if they don't inform UEFA about travel restrictions in advance | Champions League and Europa League: UEFA wants safety protocols to be upheld without laxity | Former India player Venkatesh Shanmugam welcomes AIFF's idea for a home-grown national head coach | Bundesliga official offers Football Delhi help to revive game | La Liga postpones Fuenlabrada's final match to August 7.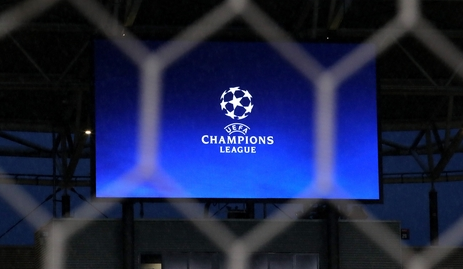 UEFA informed that it would publish a list of countries with known travel restrictions before each draw.
As per new UEFA guidelines, football clubs participating in 2020-21 edition of European competitions could be forced to forfeit matches if they fail to notify the Covid-19 travel restrictions in place in their countries before the official draw. 
UEFA informed that it would publish a list of countries with known travel restrictions before each draw and the clubs would have to notify UEFA about the unknown restrictions 48 hours prior to the draw. If they fail to so, it will lead to an automatic forfeit, marked as a 3-0 defeat.
Also Read | eSports and Olympics: Evolutionary Dilemma Gets Real in Virtual World
"If a club fails to inform the UEFA administration two days prior to the relevant draw of any restrictions other than those published by UEFA ... the club will be held responsible ... and the match will be declared to be forfeited by the club in question," UEFA said.
The European governing body added that if a host club can't hold a fixture, a neutral alternate venue would be decided. If the home clubs fail to provide an alternate venue, then the games will be forfeited. The rule will cover all qualifying rounds and play-offs of the 2020-21 season. 
UEFA's Penalty for Protocol Violations
UEFA warned clubs of serious consequences if the safety protocols are violated during the Champions League and Europa League matches. After five months of lockdown, both continental competitions are set to resume this week. 
UEFA has issued guidelines which the clubs need to follow and in case of breaches, the hosting rights of the venue will be at risk. 
"UEFA expects all parties to adhere to hygiene best practices both in the controlled match environments, as well as in their private day-to-day lives," the protocol reported by BBC Sport read. "It is imperative that all precautions set out in this document, as well as the standard hygiene best practices, will be strictly adhered to by all members of these various groups."
"Non-respect of such social norms could have serious consequences for the staging of international matches," it added.
Home-Grown Head Coach for India
Former Indian Football team captain Venkatesh Shanmugam applauded the idea of the All India Football Federation (AIFF) to hire home-grown  head coach for the national team. He asked for its implementation at the earliest. 
General Secretary of the AIFF, Kushal Das, recently announced that the federation is hoping the national team would be coached by an Indian in the next five years. 
Also Read | Tradition Meets Trial: A Clash to Define India's Middleweight Contender For Tokyo
"It's very motivating and encouraging to hear such words from the General Secretary," said Shanmugam in a live chat on AIFF TV. "I think five years is quite a long time. There are many young Indian coaches in the Hero ISL and the Hero I-League who are performing well and I believe they can make it." 
He emphasized the importance of the domestic coaches as they possess a deeper insight into the players and the culture they hail from. 
"But it's not easy and is a very big challenge. You need to constantly update yourself, gain knowledge if you are to improve as a coach. It does not end there. The manner in which you transfer all of that to the player will define yourself as a coach," added Shanmugam, who is the current assistant coach of India senior national team.
Bundesliga Offers to Help Delhi
Football Delhi's quest to revive the game received backing from the top German league, Bundesliga, which offered help in the sport's development.
Peer Naubert, the head of global marketing for Bundesliga International, said the organisation is willing to provide expertise to the local officials to run the game.
Also Read | Run for Your Life. Running is Life
"We can extend our expertise and support to football in the Capital City to assist the development of football. By engaging with the local football fans, we will have the opportunity to increase the fan following of Bundesliga in Delhi," Naubert said.
"Clubs must have some social responsibilities to connect with society. Top tier football must be connected with the local football," he said in a release issued by Football Delhi.
Football Delhi President Shaji Prabhakaran said "It is vital to have a collaborative approach not only at the local level but at the national and global levels. This approach would bring the best out of our local clubs and then Delhi would lead by example."
Hisham El Amrani, the former general secretary of the Confederation of African Football, also suggested a "10-year strategic plan" so that Delhi's football future can be changed.
Fuenlabrada vs Deportivo on August 7
Spanish second division team Fuenlabrada's final league match against Deportivo la Coruna will now be held on August 7, La Liga announced.
The match was suspended after Fuenlabrada confirmed 28 COVID-19 cases in the team. It was originally rescheduled for August 5 so that the club gets a fair shot at promotion to the top flight.
"As agreed by the Competition Committee, the match originally scheduled for 5th August between RC Deportivo – CF Fuenlabrada will now be played on Friday 7th August at 20:00 CET," La Liga said in a statement.
After the last round of matches, Fuenlabrada only needed a draw to leap back into sixth place and grab the promotion berth.
La Liga initially gave the final spot to sixth-placed Elche before reversing their decision.
Get the latest reports & analysis with people's perspective on Protests, movements & deep analytical videos, discussions of the current affairs in your Telegram app. Subscribe to NewsClick's Telegram channel & get Real-Time updates on stories, as they get published on our website.
Subscribe Newsclick On Telegram