What Is The State Of Employment In India?
In a bleak employment scenario, employment and its conditions when it comes to women in the country is even dimmer, says a new report by Oxfam India.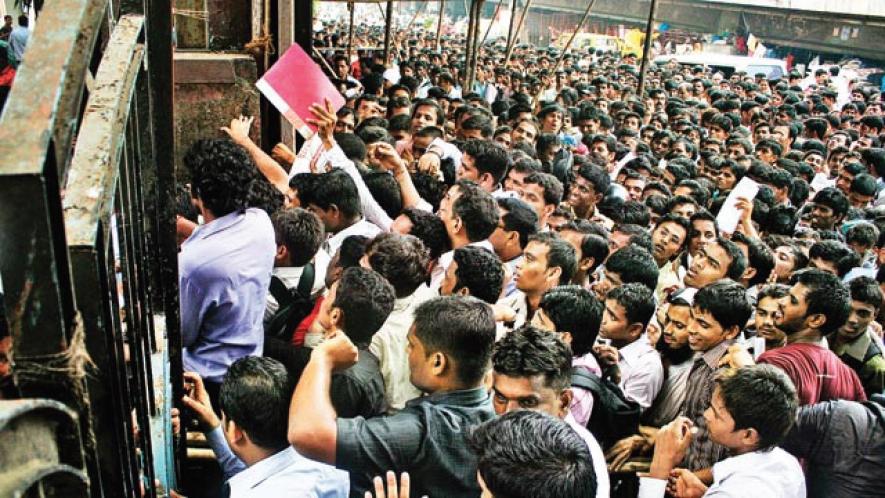 Mind The Gap: The State of Employment in India, a report analysing the country's employment situation in the country specifically from the lens of gender, published by Oxfam India was released on 28 March in the Press Club of India, Delhi. While the general reality of employment and unemployment in the country is grim, the employment of women is even worse — both due to socio-cultural reasons and also government policies, as this report notes. The eight chapters in the report deal with various aspects of employment in the country.
Some of the highlights of the report include:
Women on an average are paid 34 per cent less than similarly qualified male workers for performing same tasks. Based on NSSO (2011-2012) estimates, in nominal terms, women earning a regular salary were paid, on average, INR 105 and INR 123 less than male workers daily in urban and rural settings, respectively; corresponding figures for casual workers were estimated at INR 72 and INR 47 for urban and rural workers.
In 2015, 92 per cent of women and 82 percent of men were earning a monthly wage less than INR 10,000, far below the seventh Central Pay Commission (2013) recommendation of INR 18,000 per month.
Urban women's work is sectorally concentrated-10 industries make up over half of female employment; education sector accounts for over 1 in 7 urban women workers.
Rural labour markets are strongly structured and regulated by gender, caste and class identities. Traditional occupations by caste continue to persist in rural India; discrimination appears to exist in terms of prices for the produce by and market participation of people based on caste.
Also Read: BJP State Govts. Push Labour Law Changes
Modi's Government has Failed to Create Jobs
As Diya Dutta of Oxfam India writes, "In its election manifesto in 2014, the Bharatiya Janata Party (BJP) committed to an ambitious target of creation of an additional 10 million jobs every year. In fact, it was what attracted many a young firsttime voter, perhaps also a firsttime job seeker, to Prime Minister Narendra Modi because he projected the aspirations of a rising India." Were the promised jobs created? No.
The stark reality as this report discusses in length is that leave alone creating new jobs, the Modi's government has snatched away jobs, by neglecting the labour intensive sectors such as textiles, Micro, Small and Medium Enterprises. As Dutta observes, demonetization and GST has "negatively affected the sectors that harbour a large share of unorganised firms." As Subodh Varma writes in Newsclick, "after nearly two years since demonetisation and one-and-a half-years after GST, credit flow has barely made it back to the pre-demonetisation levels. For the micro and small enterprises, total credit flow was Rs. 3,638 billion in September 2018 compared with Rs.3,630 billion in September 2016. For medium enterprises credit flow in September 2018 was Rs.1,053 billion, still lower than Rs.1,107 billion in September 2016."
Also Read: Modi's ABC: Avoiding, Burying, Confusing
This report rightly observes that, despite a booming economy and increasing labour force, the process of job creation has been extremely sluggish. The outcomes on distribution of income and wealth are strongly linked to the processes in the labour market. There has been a sharp increase in the employment of informal workers in the organised sector, particularly in the private sector. The share of contract workers to all workers being employed was then less than 20 percent in the beginning of this century. But within a decade it increased to more than one-third. Contract workers not only suffer from the insecurity of tenure but are also paid less with no social security benefits. According to the annual Public Enterprises Survey (PES) series, brought out by the Department of Public Enterprises, the number of casual and contract workers has increased to 3.8 lakh during the modi government. The proportion of such employees has increased from just 36% in 2014 to 53% in 2018.
So when they have failed to realise the most popular promise made by them in 2014, the government is trying its level best to keep the citizens of this country uninformed. As Varma observes, "The Modi government has spectacularly failed to create the promised jobs. In fact, reports by Centre for Monitoring Indian Economy (CMIE) suggest that over one crore jobs were lost in 2018 itself.
The Modi government has avoided even looking at this harsh reality, and has done its best to bury the data on jobs as was the case of the leaked National Sample Survey Organisation (NSSO) report that has still not been officially published.
It has tried to confuse everybody with spurious data based on EPFO enrolments or tourism or transport sector figures. But the reality is known to all those who have been wandering about looking for jobs."
Also Read: PM Modi Repeats Job Increase Mythology in Parliament
The latest CMIE data shows that the unemployment rate in India was 8.2% in February 2019. The leaked NSSO report had shown that joblessness was at a 45-year high in 2017-18. As Dutta writes, "What makes India stand out on issues of labour and employment is that despite India witnessing prolonged periods of high economic growth, this growth has not been translating into increase in jobs." The PM and the BJP have been flashing the increasing GDP as their achievement, but are refusing to acknowledge the increase in unemployment in the country. As explained in this report, when the GDP is growing faster than the "total labour compensation (wages)" is a sign of raising income inequality. If this is the story of employment in general, as noted earlier, the story of the employment of women in the country is deplorable.
The report approaches employment intersectionally. It considers the existing gaps between the employment of various genders, castes and regions (rural and urban). The report notes, women's labour force participation in India is one of the lowest in the world. Women comprise half of the Indian population but make up less than a quarter of the labour force.
According to Amitabh Behar, CEO, Oxfam India, "Despite the rhetoric of job creation and ensuring gender justice, the reality is sobering on the ground."
Releasing the report, he said, "The report draws particular attention to women being left out of the economic growth narrative. It shows that women's participation is low due to decline in rural jobs, transforming urban areas, unequal pay, the burden of unpaid care work, and the continuing prevalence of regressive social norms. And this is a consequence of poor policy choices and lack of investment in social security and infrastructure."
The question here is, can one expect the Modi government, a pet of the private players, to go beyond the rhetoric of job creation? The available data, as explained earlier, clearly shows that it can't and more importantly, doesn't want to.
Also Read: Jobs Data Report 'Final', NSSO Reports 'Never' Cleared by Cabinet: Experts
Oxfam India recommended the following to bridge the gap furthering inequality in employment:
Shift development focus towards labour intensive sectors to create more jobs.
Growth in jobs must be inclusive and new jobs need to be decent and secure with better work conditions including social security benefits and the right to organise.
Substantially higher investments in health and education to improve productivity. These two are also the sectors which could be large employment generators in the future.
Greater focus is required on better and relevant skilling opportunities so as to rs neighbours and global competitors.
Governments need to prioritise curbing corruption and regulate other drivers of inequality and joblessness such as crony capitalism.
FInally, there must be a greater focus on progressive taxation to reduce a race to the bottom on corporate tax exemptions. Additional revenue generated from these measures can be invested in social protection and essential services such as health and education.
Also Read: Modi's 'Diwali' Gift To MSME Sector, Is Too Little Too Late
Get the latest reports & analysis with people's perspective on Protests, movements & deep analytical videos, discussions of the current affairs in your Telegram app. Subscribe to NewsClick's Telegram channel & get Real-Time updates on stories, as they get published on our website.
Subscribe Newsclick On Telegram