Were Tribal Communities' Rights Compromised for Corporate Power Project in Himachal?
Locals had staged protest demonstrations against the hydropower project seven years ago; their houses have been damaged now – allegedly from the impact of the same project.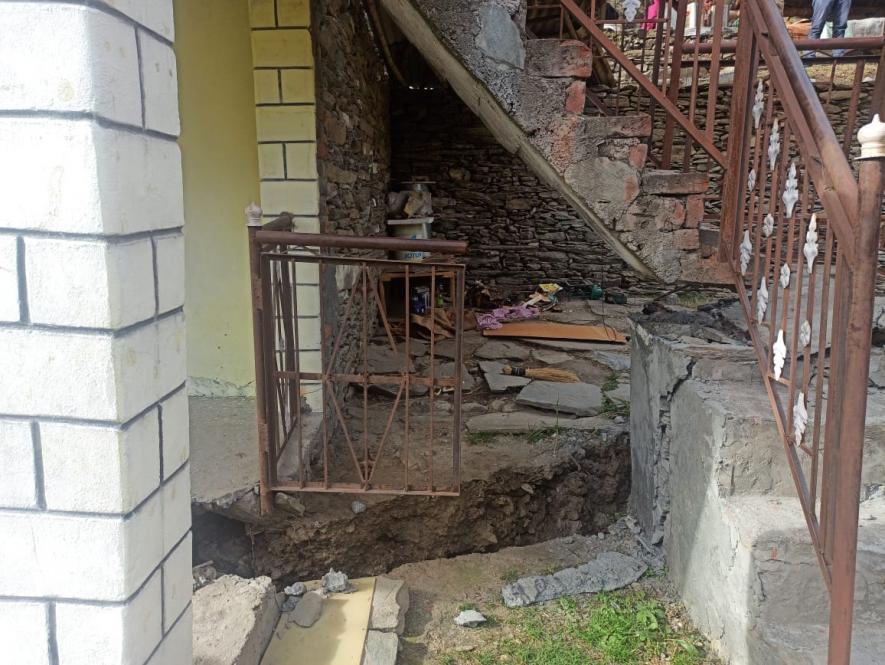 Portion of a house damaged by landslide and earth subsidence in Jhadouta village of Chamba district
New Delhi: A privately-owned hydroelectric project, worth over Rs 1,000 crore, has threatened the very existence of a tribal hamlet in Chamba district of Himachal Pradesh. A number of families have relocated elsewhere following damages to their dwelling units allegedly caused by the impact of the project. The families have complained that their houses were damaged in landslides following water seepages that occurred when the 180 Mega Watt (MW) Holi Bajoli hydropower project across the Ravi river entered the testing phase in December.
According to officials of the district administration of Chamba, as a precautionary measure, at least three families have been relocated from village Jhadouta in Bharmour tehsil following damages to their houses. These families had never been included in the Rehabilitation and Resettlement (R&R) package which was extended by the project proponent – multinational conglomerate GMR Group – only to two out of the 40-odd families of Jhadouta village.
"Seepage from hillsides was noticed December 20 onwards during pressure shaft testing of the project when underground tunnels were filled with water. We had been living in our six-roomed house adjacent to our apple farm. Land began to subside gradually in the farm area after December 20. Cracks began to appear on the walls and floors of our houses thereafter. Subsequently, there occurred more damage to our house rendering it unsafe for us to live in it any longer. We have moved to a rented accommodation downhill," Ashwani Kumar (28), a resident of Jhadouta, told NewsClick over the phone.
All families living in Jhadouta belong to the nomadic Scheduled Tribe known locally as the Gaddi community. "I had been working in a private firm in Chandigarh till December. But I had to quit my job and return home to be with my aged parents who lived alone in our house in Jhadouta. Their lives were under threat from the landslides and subsidence," added Kumar.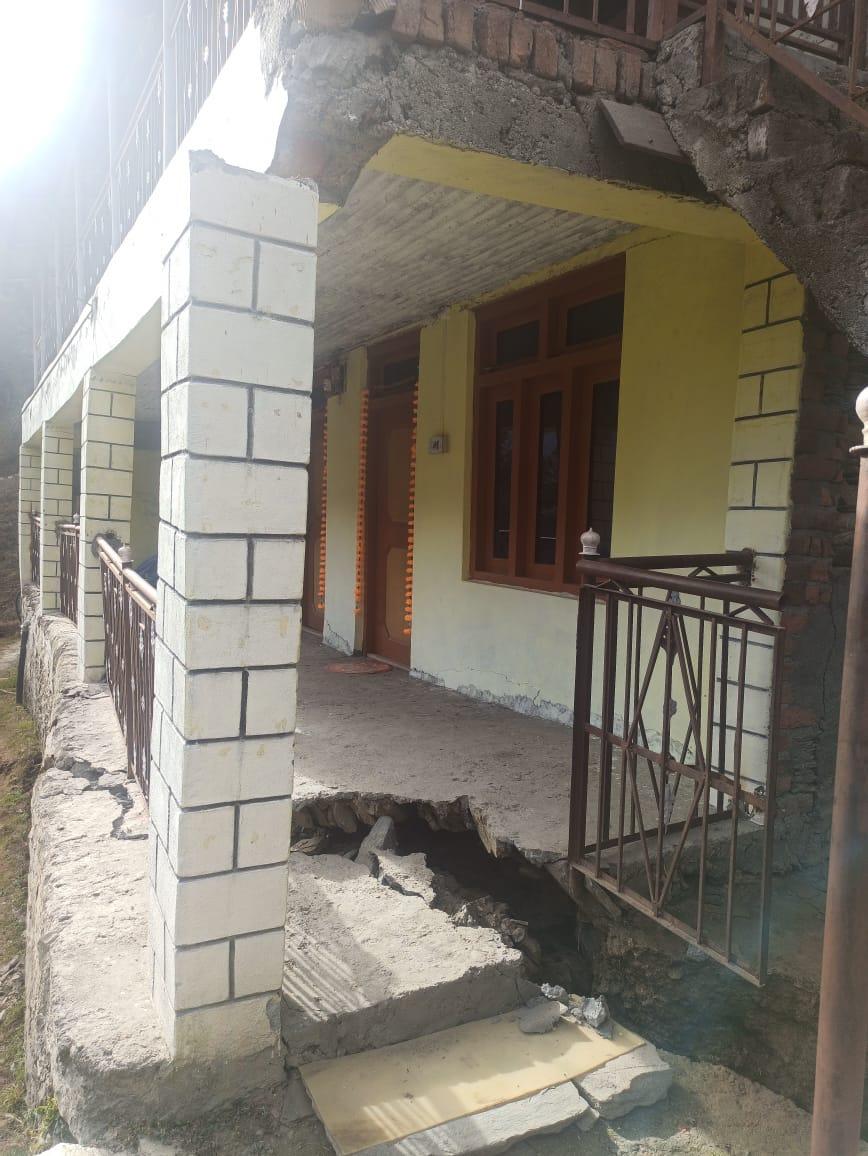 Recurring landslides of varying intensities have allegedly been hitting Jhadouta, with at least one major incident having taken place in the month of January. Locals informed that a water seepage incident began in an area where womenfolk of the Holi Panchayat, which includes Jhadouta, had sat on a month-long dharna in the year 2014 opposing construction work at the site. The women had protested against the company's decision to shift the site of a tunnel from the barren right bank of the Ravi river to the left bank which is forested and heavily populated. Local communities had warned the administration and authorities about the unscientific and fallacious decision of tunneling under a heavily populated area which also had a very fragile geology. Nevertheless, the company went ahead with the construction work allegedly to cut costs: the left bank of the river already had existing infrastructure like roads. The local administration, however, allegedly never took heed of any of the complaints.
In December 2021 as well, it was alleged that following water seepage, no action whatsoever to stop testing operations was undertaken despite written memoranda submitted by local inhabitants to various senior officials of the district administration. However, locals informed that at present, water seepage and landslides have stopped altogether once testing operations were halted by the company officials following the intervention of the administration.
"The houses which have been damaged are not fit for habitation any longer. It is not known what fate would befall other houses in the village once operations resume and the project starts functioning in full capacity. A one-time compensation package has been worked out for the three affected families that had had to move out from their houses. We have had no response from the administration on our queries as to whether R&R packages will be extended to other households as well now. It needs to be assessed if the geological study carried out prior to construction of the project had been compromised in order to help the corporate group," said Anoop Kumar (37), another local resident.
The sub-divisional officer of Bharmour, Manish Kumar, informed NewsClick that the compensation package has been worked out on the basis of the report of a committee that had been appointed by the administration to study the extent and cause of damages to the houses. 
"Company officials have been informed about this compensation package. In addition, a fresh assessment of the project site area was conducted last week by a team led by the state geologist. Further action will be taken on the basis of the report that this team submits," said Kumar.
A substantial section of the hamlet's population had lost its livelihood avenue – grazing and minor forest produce collection – when roads and other infrastructure works for the project were constructed. None of them, allegedly, have been offered jobs or employment in the power generation unit. A questionnaire has been emailed to the GMR group asking, amongst other questions, as to what steps have been taken by the company to redress grievances of local communities allegedly affected by the project. No response was received from the company officials at the time that this report was published.
A large number of trees, whose produce was used by the Gaddis for cattle fodder were also chopped during the construction phase of the project, allegedly without concurrence or consultations of members of the tribal community.
Though all families of Jhadouta belong to a Scheduled Tribe community, it has been alleged that provisions of the Scheduled Tribes and Other Traditional Forest Dwellers (Recognition of Forest Rights) Act, 2006 – known popularly as the Forest Rights Act – were never implemented for them. This Act recognises individual and community rights of those who have been using forest land for the past 75 years or at least for three preceding generations. 
The entire area under Bharmour tehsil is categorized as Schedule 5, in accordance with provisions of the Constitution of India, owing to the preponderance of tribal population in it. These areas are identified and listed for administration through special measures in accordance with Article 244 (1) of the Constitution of India. The entire state of Himachal Pradesh has fared rather poorly in terms of settlement of rights under Forest Rights Act, 2006 despite a significant section of the population belonging to various Scheduled Tribe communities. Out of a total geographical area of 55,673 square kilometres in Himachal Pradesh, approximately 23,655 square kilometres fall under Scheduled 5. This constitutes 42.49% of the total area of Himachal Pradesh. The total population of Himachal Pradesh living in these Scheduled Areas is 1,73,661, of which 1,23,585 belong to tribal communities. Scheduled Tribes, therefore, constitute nearly 71.16% of the total population living in areas designated as Schedule 5.
Though the number of forest rights claims in the state are very low – locals attribute it to lack of awareness – as compared to some of the other states in the country, 93 per cent of the claims are pending for settlement in Himachal Pradesh. No figures were immediately available for the village of Jhadouta. Manshi Asher, associated with Himdhara, an environmental research organization of Himachal Pradesh which has undertaken two fact-finding missions in the Jhadouta area, informed that only 53 individual forest rights have been settled for the entire district of Chamba while the administration is yet to take any call on community forest rights.
Himdhara has subsequently written to the Central Water Commission as also to top officials of Himachal Pradesh highlighting the public hazard that is being faced by local communities owing to water seepage from tunnels dug for the hydropower project.
The district administration of Chamba informed that efforts are underway to settle the grievances of local communities.
"We are simultaneously also in the process of settling forest rights of local communities. Initially, just one family had been identified for relocation following damages to the houses in December and January. Later, we decided upon relocating two more families. An interim compensation amount has already been handed out to each of these families and alternate accommodation has also been arranged for them. Unfortunately, these families will not be eligible for R&R packages because it is reserved only for those that are displaced during the construction stage of a project," District Magistrate of Chamba, Duni Chand Rana, told NewsClick.
Get the latest reports & analysis with people's perspective on Protests, movements & deep analytical videos, discussions of the current affairs in your Telegram app. Subscribe to NewsClick's Telegram channel & get Real-Time updates on stories, as they get published on our website.
Subscribe Newsclick On Telegram