What It Takes for an Indian Woman to Play Golf
At the Women's Indian Open 2017, we met two young golfers to try to understand their sport and what makes them play it.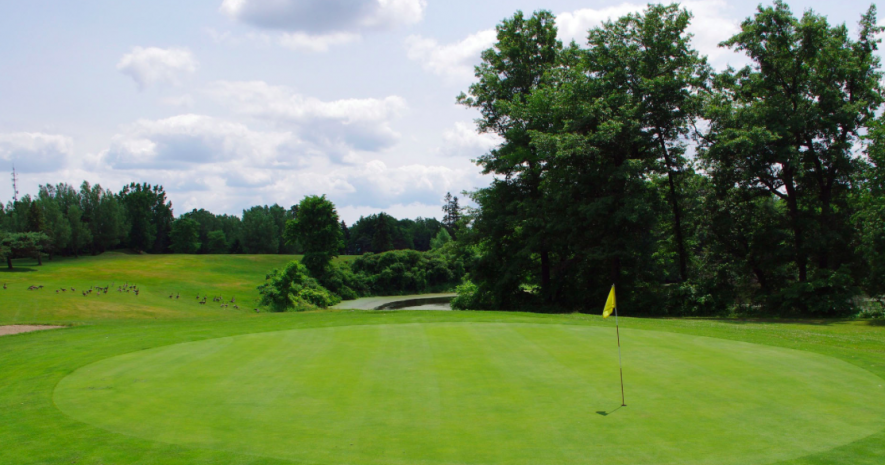 Golf is a truly tough sport to understand. The Rules of Golf, a standard of rules and regulations for the sport, published every two years (with amendments) is a highly verbose 121-page document, that is unreadable unless you are really invested in the sport. A simpler explanation, via Robin Williams, is available here. 
Harder, still, to understand are golfers. It is, after all, difficult to empathise with a person shunting a ball across acres of land, while large swathes of our population live in feet and inches. How can one empathise with a sport that is, in India, almost always played, supported and even watched by the One Percent? Two young women, we spoke to on the sidelines of the Indian open 2017 provided a glimpse into what makes golfers tick. 
Neha Tripathi, 25, is ranked fifth among the Indian women this season. She has been on tour for almost a decade now, since turning pro as a teenager. From an Army family, she had the kind of access to golfing facilities most middle-class Indians can scarcely dream of. Turning pro, always a decision fraught with self-doubt, was an attempt to turn a childhood hobby into a career.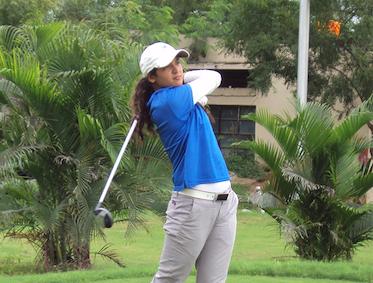 Neha Tripathi
Tripathi is young, smart, well educated, and has, over the years, also become someone who can market herself. And yet, she barely breaks even at the end of a season. "It's tough playing without a sponsor," Tripathi says. "I have one, and I'm thankful to them, but a lot of girls on the Tour don't," she says. "For them, the pressure of just making the cut curtails any further ambition." Being a woman doesn't help either. As with all other professional sports the idea of equal pay for equal work—gender parity—doesn't apply. Sport is tough; Sport for women, tougher. Despite the fact that India's only medals at the Rio Olympics last year were won by women, their sex is sidelined for sport in this country. Virat Kohli gets the hairspray ads, where his female counterpart, Mithali Raj—who had the far tougher job of rousing a younger, lesser ranked squad to the World Cup final—doesn't.
So what is making the cut? The basic idea, with rules for ties and other conditions, is that the 70 pros with the lowest scores after the first two days of competition make it to the money round(s). The total prize purse is then divided based on a player's final position. If you are outside the top bracket—whether you're Neha Tripathi or Tiger Woods, you go home with less money in your pocket than you came with. 
Among golfers, the theory is that golf is like life. This can be a tough line for sceptics, environmentalists, and almost everyone who thinks a good drive is one that ends with ice cream. In Andre Agassi's autobiography Open he frequently talks about the mental trauma of being on a tennis court. You are, to paraphrase him, an island unto yourself. Golf is similar. And here is where it begins to diverge from real life—and perhaps a major reason why it is so easily dismissed as a sport for only the elite. No woman (or man) is an island—but that is exactly what this sport demands. Imagine the isolation of a golfer on the course. Acres of green; An abundance of silence; Just you and your next shot. Sounds like fun? Don't be so sure.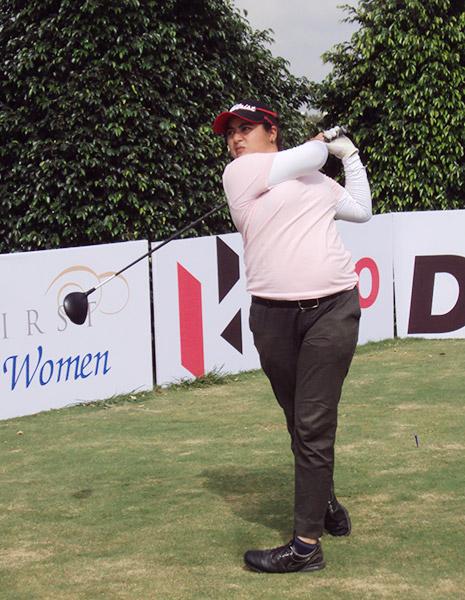 Amandeep Drall
"The toughest thing about golf," says Amandeep Drall (ranked second on the Indian tour this season), "is that no matter what kind of day you've had, you have to get up the next morning, brush it off and head back to tee." 
"It really tests your mental strength," Tripathi agrees. To compound their misery, golfers often play in pairs (or groups of three). The worst day of your life could well be the best of someone else's. Not only are you forced to watch someone else succeed, at exactly the same spot you failed, you also have to probably applaud them while they do it. A bit like your workplace. You may hate your co-worker with the solid increment, and ideally, it should push you to work harder and be better, but honestly, you'd prefer if they just dropped dead.
Despite all this, golf is a growing sport. When Tripathi started playing as a junior, she recalls there being a maximum of twenty girls, across the country, who were at the same level. Compare that to now, and there are 70 odd juniors knocking at the door of professional golf. Like her, many of this number are firmly middle-class. A significant number come from service families with a little more access to basic facilities. Like any other subset of young people, they are trying to build a career from skills they have accumulated. Among the men, some of the most successful pros are those who used to be caddies at golf courses (or their kids). These caddies are, essentially, wage labourers who carry members' bags, clean their kit and are responsible for making sure not too many balls get lost out of bounds. For their efforts, they are paid about 200 rupees for four hours' work. Turning pro is often the only way out.
All these complexities played out at the Women's India Open at the DLF Golf & Country Resort in Gurgaon this past week. Drall held on to her philosophy, saying, "At the end of the day, you have to have a positive mindset, and push on. You are in control of what you do. And you should strive to do it best." Easier said than done. Only four of the 17 Indians in the fray made the cut and competed in the championship round in Gurgaon. Vani Kapoor's tied sixth place finish was the best result. The tournament—sanctioned by the Ladies European Tour—attracted a competitive field. Michele Thomson, a former police constable from Scotland, held a five-stroke lead going into the final day's play. But she made mistakes that the rest of the field took advantage of. France's Camille Chevalier came from six shots behind Thomson and took home the winner's cheque (approx. 40 lakh rupees). It was a great weekend for those of us watching from the outside. For Drall (tied 70) and Tripathi (tied 102), not so much. But they hang on to the dream and live to fight another day.  
Get the latest reports & analysis with people's perspective on Protests, movements & deep analytical videos, discussions of the current affairs in your Telegram app. Subscribe to NewsClick's Telegram channel & get Real-Time updates on stories, as they get published on our website.
Subscribe Newsclick On Telegram