Why 83 is Surely Last Year's Worst Film
The 83 victory is a magisterial fact, but 83 the movie is full of cringe-worthy reaffirmations of social maladies passed off as humour.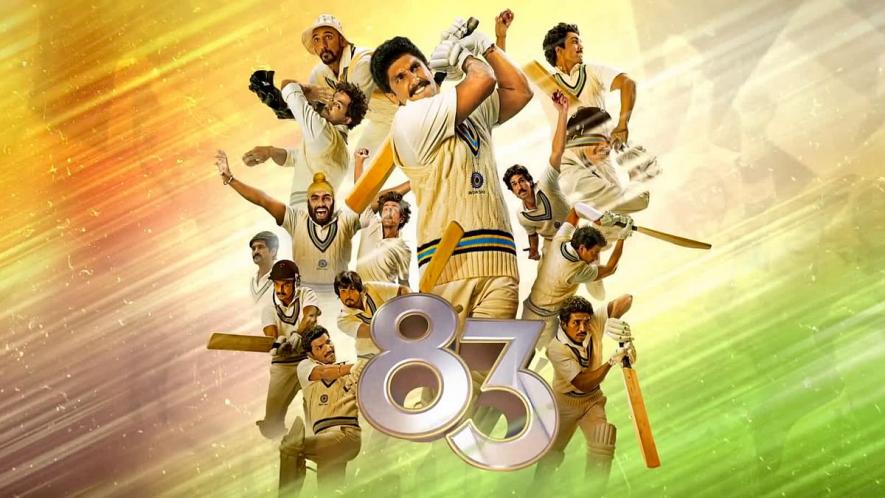 Image Courtesy: Newslaundry
Some films redefine the craft of film-making. Some do so in a good way and some in a bad way. In a cinema-scape studded with gems such as The Disciple, Selection Day, Scam 92 and Tabbar, Kabir Khan's 83 is a joke on film-making that triggers a red alert around cinema as brochure-making.
The world can be understood as either a fact or a perspective. While the 83 victory is a magisterial fact, 83 the movie is a cringe-y perspective on that fact, laced thoroughly with cheap reaffirmations of ethnic and class stereotypes and terrible taste in direction.
As the movie begins, Ranveer tells us, in a comical accent, "World Cup shuru hone se pehle angrezi sikha deta—You should have taught us English before the World Cup began." There was no need for a dialogue that celebrates the foolish fascination with any perceived lack of English proficiency.
Despite reports that Ranveer spent six months mastering Kapil's unique bowling style, there is not a single medium or close-up shot in the whole film where the unique bowling style and Ranveer's face are in the same frame.
Then come a host of malapropisms. While the movie is still stating its theme, we get to know Team India is carrying loads of pickles on the flight because Indians are vegetarian. Later, the team members are shown as underdogs in their five-star residences because the vegetarian menu only has boring old bread and ketchup. How false and stereotypical is this, and how shorn of quality writing. It rings false, just like the trailer, which informs there is no team bus for Team India. Whereas, in the movie, it turns out that the bus is simply late. Is there no difference between the two?
Soon, we find Kapil perplexed in a scene, for he has just encountered a woman in his room, from whom he is running away. Guess what? It was no woman but a Sikh teammate drying his hair. Haha, the joke is on a few centuries of coexistence. Not to mention that the captain is not smart enough to remember that he has a Sikh teammate, Balwinder Sandhu.
When the team is on a bus, another low-flame cringe-fest occurs. The loyalty of Roger Binny [played by Nishant Dahiya] is associated with the queen of England as a 'joke', Then the character playing Syed Kirmani, Sahil Khattar, displays a disconcerting misogynist ovation for the queen in a scene that replays the tired stereotype of notions of Muslim virility. Soon afterwards, the Sandhu is in a phone booth speaking to his wife, who doubts his fidelity regarding an air hostess. Then, during a practice match in London, a British Sikh is shown drinking and brawling, holding a Patiala peg in broad daylight. That such stereotypes still work is a statement about the film-maker as much as society.
At around this time, the story finds its catalyst. It is a powerful moment when Kapil Dev announces that he intends to win the World Cup. It blows the minds of everyone present in the room. That very day, Team India is seen socialising with the other teams, and, true to the film's spirit, an Indian player is shown checking out a Black man on the field, the racist overtones scarcely concealed.
The only decent transition in the movie is when PR Man Singh, the team manager, ducks to one side to become visible in a group photo. By now, the story is in its debate stage. Once again on a bus, Kapil Dev's lack of proficiency in English is made the issue. The scene is supposed to be smart because an Indian film song is playing in the background: 'I don't know what to do, I don't know what to say', from a Kamal Haasan-starrer of a few years earlier. Only the film-maker's school of coolness can explain how this song is playing on a TV in a bus in London. Soon, Kapil Dev and Mohinder Amarnath display more 'smartness' by washing clothes in their hotel toilet instead of using the laundry service.
On the one hand, the whole little-guy stand of the Indian team is based on that West Indies fast bowlers will break their faces and how team India is poor. On the other hand, when the boys are going out to celebrate a win, Kapil advises them to use condoms. For some reason, this is supposed to be funny. Aside from the 'boys will be boys' stereotype, the scene presumes white women are available.
Soon enough, a team player, K Srikkanth played by Jiiva, notices a female British fan of South Indian origin. Suddenly, Kapil, Mohinder, and he are at the fan's family home. Funny for the film-makers, Kapil and Mohinder do not speak Tamil. Even funnier, we see Srikkanth try to snare their young hostess, who is unaware that he is married.
The poverty in writing does not stop here. The moments before the interval are nothing but music, red eyes and a boy waving the tricolour. It is as if the team never saw the tricolour or an Indian boy, or it never occurred to them that they could aim to win. Throughout the second half, at every moment of a crucial emotional beat in the screenplay, the film breaks into montages backed by forgettable songs. Is this cinema or an event brochure?
The direction and writing achieve a new high in buffoonery when prime minister Indra Gandhi declares stopping some ongoing communal riots by broadcasting this tournament. Indira's plan succeeds, ending the film in such total frivolity that Ranveer Singh did not deserve to have it on his report card. The travesty is that this match did, as the film's publicity campaign informs, "unite India". Long after Indira Gandhi had been assassinated in 1984, a poster that featured four of the 1983 Team India players representing different communities had surfaced. In those communally charged days, the poster poignantly carried the slogan, if we can play together, we can live together. Yet instead of harking to the significance of this match, as the screenplay breaks into Act 3, another 'joke' arrives, now featuring sexually-transmitted disease and acidity. It comes from the same class engagement as the earlier 'jokes' on English proficiency and the question posed to Olympian Neeraj Chopra by Rajeev Sethi last year.
As if this was not enough, the script unveils its casteist mindset when Jiiva [playing Srikkanth] declares they have come so far through sheer hard work and not through "quotas". We in the audience are supposed to throw aside centuries of inequality and accept this remark. So much for uniting India!
As the film approaches its finale, whatever little climax it could develop is lost to the comical celebrations of Deepika Padukone and a random Muslim chacha, conjured up by the Indira Gandhi 'quell-riots' programs. The makers suffer from bad taste in film-making and have a shallow sense of being Indian. They have appropriated a glorious sport victory and given it a sensibility borrowed from the hollow and pompous world of Bandra and Khar Road. They say Kapil Dev got Rs.5 crore for the life rights to the film, and the rest of the team shared Rs.10 crore, but the outcome is worth very little. The answer to a simple query can determine its worth: Where does 83 stand when compared with Nagesh Kukunoor's gem, Iqbal (2005)? The answer is: very short.
The writer is a film scenarist. The views are personal.
Get the latest reports & analysis with people's perspective on Protests, movements & deep analytical videos, discussions of the current affairs in your Telegram app. Subscribe to NewsClick's Telegram channel & get Real-Time updates on stories, as they get published on our website.
Subscribe Newsclick On Telegram