Why is Hindutva Aggressive in Uttarakhand?
Municipal elections scheduled for September are said to be the trigger.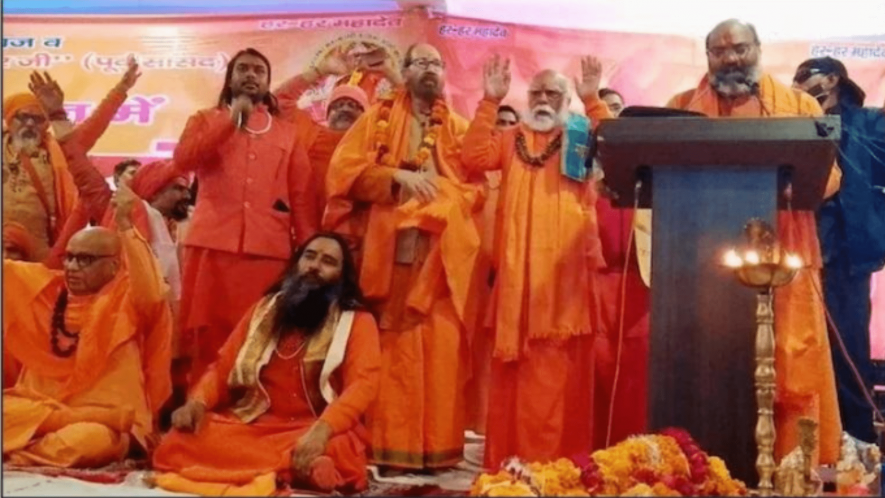 On 20 April, a so-called dharma sabha or religious gathering was organised in Chakrata, Uttarakhand, by the ultra-right wing Rudra Sena targetting Muslims with derogatory statements. The so-called spiritual leaders at the event asked Chief Minister Pushkar Singh Dhami's government to prevent "non-Sanatanis" from settling in the State and called for violence and economic boycott of Muslims.
Although the State government denied any role in organising this meeting, there is little doubt that it had its tacit consent, for it only continued the series of so-called toxic sansads organised by right-wing Hindu leaders, starting with the infamous 2021 meeting in Haridwar.
The undercurrent of the latest meeting was also to sharpen the communal divide. And there are suspicions in the State that the remarks were made to help the chief minister score well in the municipal elections scheduled in September. It is feared that the sansads will continue until the 2024 national election.
In the 2019 Lok Sabha elections, the Bharatiya Janata Party (BJP) snatched victory by unleashing a torrent of anti-Muslim propaganda just five days before voting. The leadership under Dhami said Muslims were indulging in "land and love jihad" and aimed to change the demography of the hilly State. This time, Dhami has added one more plank—mazar jihad. He has also proudly proclaimed that his State is the first to have prepared a bill on the Uniform Civil Code, though this draft was never released to the public.
For the last couple of months, Dhami has frequently proclaimed that his government has identified more than 1,000 Mazars, or tombs of religious or spiritual figures, that have mushroomed and are consequently ripe for demolitions. Many of these Mazars are in lands marked as reserved forests and may have started as small tombs that subsequently grew, sometimes with the addition of a mosque and a living area as well.
Speaking to a news channel, Forest Officer Dheeraj Kumar Pandey, posted inside the Corbett Tiger Reserve, said three Mazars that allegedly came up recently have been identified. He claimed that several such structures had been built outside the reserve too.
Commenting on this "trend", Islamic scholar Dr Tasleem Rahmani said that if illegal mazars had mushroomed, no one would have stopped the State government from demolishing them and structures representing other religions. Leaders of some Hindu organisations claim that the mosques and Mazars were built at Badrinath and Kedarnath—but have provided no evidence to back their claims. According to political commentator SMA Kazmi, "Very few Muslims are known to be living in Badrinath, but they are Indian citizens, and no one can stop them from saying their namaz inside a room."
Naim Qureshi, president of the Muslim Sewa Sangathan, organised a protest march outside Gandhi Park in Dehradun against holding the Dharam Sabha at Chakrata. He says, "This is completely against the Supreme Court order that no hate speech can be allowed at a Dharam Sansad. And yet it was telecast live on Facebook, along with its vitriolic speech."
"When the State government says 1,000 mazars have been built, they should provide details of where they are. There are 2,000 Waqf properties registered with the Uttarakhand government from where shops, masjids, and madrasas are run under government supervision. But municipal elections are weeks away, so the government wants to distract people from its failures—including the Ankita murder case, the recruitment scam, and the subsidences in the hilly regions," he adds.
The Uttarakhand government had ordered the forest department to conduct a drive to identify unauthorised Mazars, temples, and churches. Sources in the State government claim 182 such structures have been demolished, with fifteen in the Dehradun division. No details of these demolitions have been provided.
The cut-off date for the buildings that will be demolished has been set at 1980, so older structures will not be demolished while all that came up after 1980 face the axe. The government claims 37,000 square kilometres have been encroached upon but provided no information on how they were identified.
Nevertheless, the government is once again caught on the back foot. An anti-encroachment survey conducted by the forest department revealed several temples, including the famous Mansa Devi temple in Haridwar and the Garjia temple in Ramnagar, were illegally constructed on forest land after 1980. The question of demolishing these temples does not arise, so the anti-encroachment drive has stalled.
But the Hindutva assault has shown it has no bounds and can keep raking up issues if only to drop them when they appear inconvenient. For instance, it was claimed recently that Muslims are involved in a conspiracy to acquire land in Uttarakhand. The State government dubbed this "land jihad". It has repeatedly made another bogus claim about an unprecedented rise in Muslim population and resultant demographic changes in the State.
Kazmi says, "The State has released no statistics to back these claims either. No census has been conducted since 2011. The government has resorted to Islamophobia to cover its defects with exaggerated claims about the Muslim population that cannot pass scrutiny."
He says the danger of Hindutva propaganda spreading in Uttarakhand's villages is real, since the RSS has established its schools there, and is raising the younger generation a communitarian diet. While the Congress party has attacked Dhami over his "land jihad" comment and said that action against the encroachments should not be religion-based, its supporters will expect more from it to counter the communal tirades and the semi-official acceptance of hardline Hindu outfits.
After all, Muslims in the State bear the brunt of Hindutva's efforts to demonise them. For instance, they are being accused of love jihad, the fictional phenomenon wherein Muslim men are said to conspire to lure Hindu women into changing their religion to eventually dominate over Hindus through sheer numbers. "It is an ideal weapon to divide the two communities further to win the Hindu vote," Kazmi says.
The Uttarakhand police are following their Uttar Pradesh counterparts in the selective application of the Prohibition of Unlawful Conversion Bill, 2020, jailing Muslim men who want to marry Hindu girls but not vice versa. In October 2021, the State decided to make this law, which effectively prevents Hindus from marrying non-Hindus, even more stringent, with a punishment of up to ten years imprisonment and a Rs 25,000 fine. Recently, a 19-year-old Muslim woman from Dehradun and a Hindu man went to the district court to register their marriage under the Special Marriage Act, but police-backed Bajrang Dal men barged into the lawyer's chamber and insisted she converts to Hinduism before the wedding.
Advocate Razia Baig, a former member of the Uttarakhand Minority Commission, reached the spot and insisted it was no place for such a conversion. "This happened on 23 December 2022. I insisted the girl's conversion take place in a temple in the presence of her parents," says Baig. A war of words ensued, with the Bajrang Dal supporters threatening Baig, who stood her ground. Indeed, a conversion ceremony took place at a temple, but after the marriage.
Having pushed numerous self-serving narratives, the State government has fostered distrust and animosity among Uttarakhand's communities. Given their failure to tackle problems that afflict people, whether this will pay electoral dividends is yet to be seen. The public is waiting to see whether the Congress party can counter the divisive tactics of the ruling party.
The author is an independent journalist. The views are personal.
Get the latest reports & analysis with people's perspective on Protests, movements & deep analytical videos, discussions of the current affairs in your Telegram app. Subscribe to NewsClick's Telegram channel & get Real-Time updates on stories, as they get published on our website.
Subscribe Newsclick On Telegram