Why Punjabis are Angry Over the Demolition of a Memorial to Partition
To Punjabis, the memorial was an intimate reminder of 1947. They don't believe that a state which carelessly demolished can also resurrect it.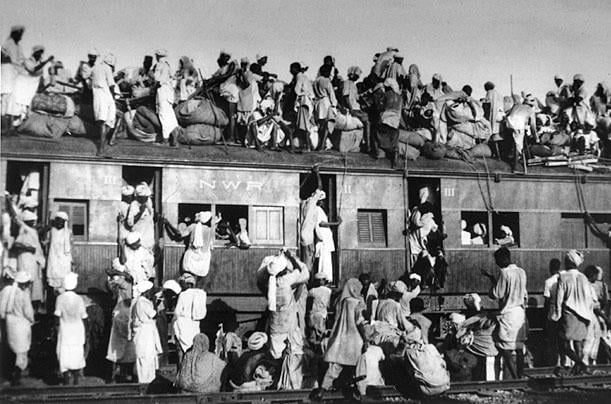 Overcrowded train transferring refugees during the partition of India, 1947.
The partition of 1947 is an unforgettable event for Punjabis. When the country was celebrating Independence, in Punjab the atmosphere was of mourning. In the communal storm that ripped through the region in 1947, ten lakh Punjabis are said to have lost their lives, about 1 crore were left homeless and thousands of women were raped. Punjab's intellectuals believe that with the passage of time, these wounds have only deepened, not healed. The people of Indian Punjab and Pakistani Punjab are still culturally and emotionally connected, and with this in mind, in 1996, some youngsters from the Indian side of the border conceived of a project, along with cultural and literary organisations, and sent a unique proposal to the central government. Their project was approved and a memorial was built near the Wagah border to commemorate those who were killed during Partition violence. Lines of the renowned writer Amrita Pritam's famous long dirge about the partition violence, Ajj Akhkhan Waris Shah Nun—I Invoke Waris Shah Today, were inscribed on one side of this memorial, and on the other side were written memorable lines from Faiz Ahmed Faiz, also related to Partition.
Days before 15 August, in the name of renovation and beautification, this memorial was demolished without notice. The National Highway Authority of India (NHAI) has admitted that it razed the structure, but says it did not harbour any ill will. It has reassured that the monument would be rebuilt at another location, but Punjabis are angry. They see the demolition of their memorial as a blunder, an act that makes light of their emotional investment in their past. Some Punjabi scholars even see in its demolition a conspiracy hatched by the Modi government.
Swarajbir, a famous Punjabi playwright and the editor of Punjabi Tribune, says, "Historical monuments cannot be demolished at will and then rebuilt if the will to do so arises, which is what the NHAI is doing when it says the monument will be relocated. The question is not at all about rebuilding it. The question is why was it broken in the first place? Sensitivity to the history of countries, communities, fraternities, demands that monuments be retained in their original form. A monument built in 2020 cannot shape the spirit of a monument built in 1996. The new memorial will be official, while the 1996 memorial symbolised the growing friendship between Indian Punjab and Pakistani Punjab. At that time, the youth had organised a "Raja Porus Hind-Pak Punjabi Friendship" fair, considering King Porus as the symbol of ancient Punjab. Candles were lit on both sides of the border on the night of 14-15 August and prayers were offered for togetherness between the two Punjabs and both nations."
Chief among the memorialists was Tara Singh Sandhu, who heads the Folklore Research Academy, Chandigarh. He expresses his anger over the demolition of the monument, saying, "This memorial had not been established with a political motive. The project was cleared by the then DIG of the Border Security Force (BSF) and its site was picked later. The people and leaders of both Punjabs have bowed respectfully before it for years. It is sad that this monument was quietly demolished."
It is worth noting that at that time when the memorial was established, on 30 December 1996, the waters of the five rivers that Punjab draws its name from were poured into its foundation. Famous freedom fighters Baba Bhagat Singh Bilga, Harbhajan Singh Halvarvi, editor of Punjabi Tribune at the time, Poonam, the publisher of the Punjabi literary magazine "Pritaldi", Jagdev Singh Jassowal of the Professor Mohan Singh Foundation and Harbhajan Singh Hundal, editor of another prominent literary magazine, "Chirag", were involved in the project. Prof. Ishwardayal Gaur, an activist working for friendship between India and Pakistan, and Dr. Khushal Singh, general secretary, Central Sri Guru Singh Sabha, Chandigarh, have demanded that the Central government rebuild this memorial, or, they say, the Punjabis will gather afresh and rebuild it themselves.
Prof. Manjit Singh, a renowned political scientist from Punjab, says, "Some so-called nationalists may be behind the removal of this memorial from the Attari border. Talking about Pakistan, Hindus and Muslims, is the bread-and-butter of the Modi government. Forces like the BJP and RSS do not want the relationship between India and Pakistan to improve. In fact, they feel upset and hurt by any signs of amity between people of the two Punjabs." [Attari, near Amritsar, is the Indian name of the border at Wagah. It serves as the only functioning road link between India and Pakistan today.]
On the other hand, the present DIG of BSF, Bhupendra Singh, says that all matters regarding the memorial are to be dealt with by the NHAI, and that the BSF has nothing to do with it. Sunil Yadav, a high-ranking officer of the National Highway Authority posted at Attari, admits it was a mistake not to have taken people into confidence before demolishing it, "but it was not done with any negative sentiment".
Satnam Singh Manak, general secretary of Hind-Pak Dosti Manch, a forum that promotes friendship between India and Pakistan, says his organisation has written to the DIG of BSF asking for the memorial to be reconstructed. Ramesh Yadav and Rajinder Singh Ruby, representatives of the Hind-Pak Dosti Manch and Folklore Research Academy, have met BSF and NHAI officials, and say they have been assured that the memorial was removed due to ongoing beautification of the Attari border and that as part of a new beautification project it will be rebuilt as soon as possible. 
People who care about Punjab now feel that their memorial must not be built with government funds, and that Punjabis must contribute their own money and rebuild it on their own. This is how Punjabi scholar Pyare Lal Garg feels too. "The memorial that was built earlier reflected the feelings of the Punjabi people. We would remember [Sadat Hasan] Manto, Ahmad Rahi and Ustad Daman whenever we saw it. We would remember the ten lakh brothers and sisters we lost during the partition. While soldiers on both sides of the border raise nationalistic slogans, this memorial used to remind us that something else had also happened in the history of Punjabis. That memorial was a symbol of brotherhood between the two Punjabs, but the one the government will build now will be just a stone. Therefore, Punjabis should recreate this memorial by contributing their own money," he says.
Protests have also started in Pakistani Punjab over the demolition of this symbol of friendship. Imtiaz Alam, a famous Pakistani journalist and secretary of the South Asian Free Media Association, shares similar feelings. He says, "The demolition is unfortunate. Today, when relations between the two countries are going through a delicate phase, such memorials help draw people closer."
Pakistan's famous peace activist Syeda Deep, who works for Indo-Pak friendship, objects strongly to the removal of the memorial and says, "This memorial was built by ordinary Punjabis on their own initiative.  It was the result of the hard work of celebrated figures such as [late editor-activist] Kuldeep Nayyar. It used to remind Punjabis of how, 73 years ago, they had committed suicide by killing their loved ones in a communal fire. The sad thing is that in India there is such a regime in power at this time as we had seen many years ago in our country. This incident has saddened those seeking better relations between India and Pakistan."
 
Shiv Inder Singh is an independent journalist. The views are personal. 
Get the latest reports & analysis with people's perspective on Protests, movements & deep analytical videos, discussions of the current affairs in your Telegram app. Subscribe to NewsClick's Telegram channel & get Real-Time updates on stories, as they get published on our website.
Subscribe Newsclick On Telegram