If Shaheen Bagh Was BJP Ploy, What Was Anna Movement?
AAP is so caught up in wooing Hindu voters that it has questioned the integrity of those who supported one of India's biggest-ever citizens' movements.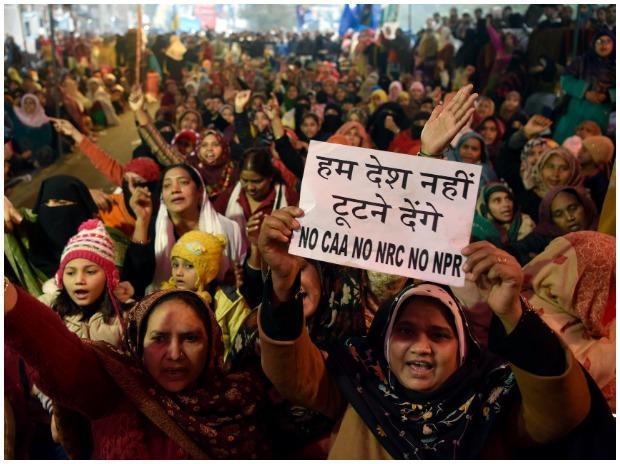 Shaheen Bagh Protest. File Photo.
By calling the movement in Delhi's Shaheen Bagh "BJP-sponsored", the Aam Aadmi Party (AAP) has insulted the millions of people—especially women—who had stood against the divisive NRC and CAA. Shaheen Bagh was a women-led strike in a working class neighbourhood that started in a corner of the Capital, but whose sparks spread across the country, bringing millions to the streets in dharnas across towns and cities. It is surprising that the party which describes itself as offspring of the Anna movement is questioning a nationwide campaign to protect the Constitution and collective conscience.
Some feel that AAP has behaved immaturely, but considering its politics and history so far, the statements on Shaheen Bagh appear part of a well-thought strategy. From chief spokesperson Saurabh Bharadwaj to Member of Parliament Sanjay Singh, all its leaders used the same language to denigrate the citizen-led protest. Given how the mood of the nation has changed during the last six years, AAP does not want to risk standing with minorities. Its concern is only to somehow get Hindu voters. The party now seems to believe that the Muslims and other minorities will vote for it out of compulsion. This way of thinking prevails in many parties besides AAP, but they at least issue statements and tweets against mob lynching and other issues that concern Muslims.
It is noteworthy that some participants in Shaheen Bagh joined the BJP on 18 August. It was reported that two or three of these people were active participants in the anti-NRC movement. Even if this is accepted as a fact, still the Shaheen Bagh protests were not spearheaded by any party or organisation, nor did it have any leader. People from various political outfits and social organisations used to come and go from Shaheen Bagh. Some attempts to disrupt the movement with a "sting operation" had also come to light—was it not later revealed which organisation was behind it?
Despite knowing all these things, the AAP has not only claimed that the movement was scripted but that its manuscript was written by the BJP. Not just that, it has also alleged that "anti-national slogans" were raised at the dharna. Actually, the AAP had decided it would take this line on the movement even before the Delhi elections. This is the reason why after Deputy Chief Minister Manish Sisodia had made a statement in favour of Shaheen Bagh, his own party had distanced itself from him. Soon after this, Chief Minister Arvind Kejriwal had introduced himself as a devotee of "Bajrang Bali" and even after the election was over, Bharadwaj had announced that a Ramcharitamanas recital would be held on the first Tuesday of every month in the Capital.
How much of this was actually done by the party, or worked in its favour, is a different matter! The use of religion and religious slogans during elections has increased to such an extent that minority voters do not give it much importance at all. They still voted for the AAP in large numbers. This is why the party won a tremendous victory in this Assembly election too. But now the attitude of the Arvind Kejriwal-led government has changed to a significant extent. It seems as if Kejriwal wants to present his party as an alternative to the BJP, while trying to appear different from other Opposition parties with its slogan of "development and good governance". His swearing-in ceremony on 16 February not only called on people to join the AAP for "nation building", but also said that they want the blessings of Prime Minister Narendra Modi. Almost immediately after this, he went to meet Home Minister Amit Shah and then said that the meeting was fruitful. Then, a week later, his government approved former JNU Students Union president Kanhaiya Kumar's prosecution under the charge of sedition.
Even after forming government in Delhi, he did nothing when goons attacked JNU and police vandalised Jamia Millia Islamia. Meanwhile, even as the anti-NRC movement was still going on, riots broke out in several parts of North-East Delhi including Jafarabad. Kapil Mishra, who had left AAP and joined the BJP made headlines for an inflammatory speech, but the police took no action against him. At least 50 people were killed and 526 were injured in this fierce riot. There was extensive damage to properties as well. Amidst the ongoing violence in the capital, Kejriwal reached the tomb of Mahatma Gandhi with some of his ministers and prayed for peace. In one statement, he said that the Army should be called in to prevent the violence, but he did not recommend this. If the Army had been deployed in the riot-affected areas, it might not have wreaked such extensive harm to life and property.
Keep in mind that when Kejriwal formed his party, he claimed that he has joined politics to change the system. Earlier, he would not speak on issues of communalism and social justice, but now he has even become silent on corruption. In the last couple of years, he could not see any disturbance on the communal or social justice front anywhere. To gain power, the AAP is also adopting the same tactics as other parties. Now AAP has become bold enough to taint the historic struggle of the women of the country, which has been praised all over the world. For the first time, Muslim women broke all restrictions and took to the streets to safeguard their rights and to protect their identity. They struggled on regardless of a bitterly cold winter and the threat of police violence. If this movement was sponsored, then what was the Anna movement?
The author is an independent journalist. The views are personal.
Get the latest reports & analysis with people's perspective on Protests, movements & deep analytical videos, discussions of the current affairs in your Telegram app. Subscribe to NewsClick's Telegram channel & get Real-Time updates on stories, as they get published on our website.
Subscribe Newsclick On Telegram