Asia's Biggest Hosiery Market Fell Victim to Riots Before the Lockdown
Economic aspects of the Delhi riots need to be studied in detail.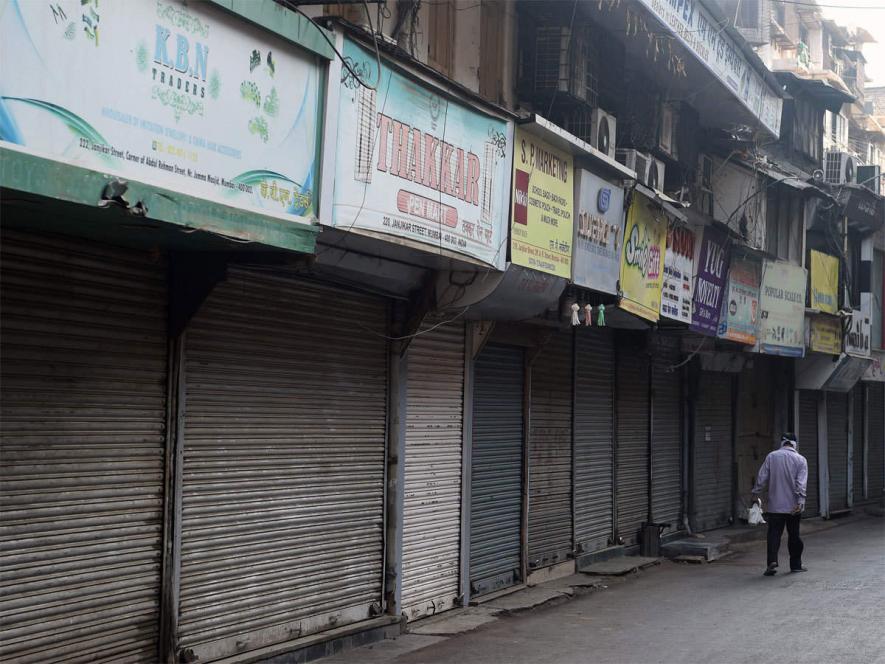 Despite slogans like "self-reliant India" and "vocal for local and then global", Gandhi Nagar, the largest wholesale garment market in east Delhi, is dying. About 20% of shops in the market have permanently closed because the shopkeepers were not earning enough to pay monthly rentals. Thousands of shops connected to this market have also closed down. Every year, in June and July, thousands of workers begin manufacturing jackets at the Jafrabad locality in Northeast Delhi. They prepare in advance for the spike in demand during winter. But this year there is no sign of activity in Jafrabad so far. Thousands of the artisans, helpers and labourers who used to manufacture hosiery and finished textile goods have fled to their villages from Jafrabad and neighbouring areas.
Some would say that it is the Covid-19 pandemic that has made businesses in Northeast Delhi go to waste. They would insist that the lockdown announced on 23 March is the reason why the traders and manufacturers have fallen on hard times. But if you meet the shopkeepers of Gandhi Nagar, which is 4 km from Jafrabad, they would tell you that their crisis began a full month before the lockdown. They would say, with anxiety and foreboding, that things went south right after February, when riots broke out in Jafrabad.
The violence that engulfed Northeast Delhi was concentrated in areas where the suppliers to Gandhi Nagar's garment stores were located. First, the skilled workers were forced to flee from the riot-affected areas of Jafrabad and around to save their lives. Soon after, the merchants and customers from other cities stopped visiting the shops and manufacturing outfits in the areas which had witnessed violence.
Academic research into rioting in India has shown that one of the main reasons behind them is also economic. If there had not been a riot in Bhagalpur in 1989, there would not have been any destruction of the cloth business there. Similarly, repeated riots broke the back of the traditional brass-ware, lock and utensil industries of Aligarh, Saharanpur and Moradabad. Some analysts have pointed to the growing rivalry between Hindus and Muslims due to the agrarian crisis and shrinking resources for the 2013 Muzaffarnagar riots. But few have paid attention to the economic aspect of the Delhi riots so far. Such violence took place in the capital for the first time since 1984 and robbed thousands of people of their sources of livelihood. Going by government figures, 52 people died, 526 were injured, 371 shops and 142 houses were burnt in this violence. A number of religious sites were also damaged.
Recall that in 2016 the Gandhi Nagar market was included in a list of 19 "notorious markets" by the United States on account of trademark and copyright violations. This list is prepared annually by the office of the United States Trade Representative, an official body under the executive office of the US President. It has been alleged that imitations of well-known American clothing brands are sold at this market, for which reason the market and its suppliers have been on America's radar for a long time, along with Burma Bazaar in Chennai, the Kashmiri Gate market in Delhi, and other so-called hot spots of imitation.
Manoj Gupta, a shopkeeper from Gandhi Nagar, says that the area is considered the biggest wholesale hosiery market in Asia, but more than half the people who worked here have now left. Shopkeepers are unable to pay salaries to those employees and helpers who have stayed on. They are also unable or struggling to pay the rent for their shops. Many workers have become unemployed after 15 or 20 years of having worked in this market. Of the more than 12,000 small and big shops here, about 20% are still closed.
Many big shopkeepers here purchase clothes from Gujarat or get goods manufactured in their own factories and in addition are supplied by factories operating in the localities of Jafrabad, Janata Colony, Kardampuri, Seelampur, Welcome and Tank Road (near Karol Bagh, which featured in the United States "most notorious" list in 2018). Most of these areas were engulfed in violence this February, and the Covid-19 lockdown came as a further blow. Work has stopped completely in the factories in these areas. The arrival of traders from outside stopped due to the riots and now, with Covid-19, even local shopkeepers from Delhi have stopped coming to Gandhi Nagar.
Gupta says that the business was already declining before the lockdown. After the announcement of Unlock-1, some hopes of a revival were triggered, but traders outside Delhi are still afraid of visiting due to the news they hear on TV about Covid-19 spreading rapidly through the Capital and repeated lockdowns of its borders with other states. He says that he hopes for some sales on the approaching Rakhi festival. If this does not happen, Diwali will become the only hope. Another shopkeeper says that business has gone cold since early this year. The persistent lack of demand and prevailing uncertainty, shopkeepers say, has forced them not to order fresh goods.
In Janta Colony, midway between Jafrabad and Gandhi Nagar, lives Giyasuddin, who runs a jeans factory. He also manufactured kurtis, capris and other assorted "fashion items" until February. He says he had around 11 artisans and helpers working for him, but the riots forced them all back to their villages. At present he is neither getting orders from the shopkeepers in Gandhi Nagar, nor does he have any workers left. When the situation was normal, after accounting for all his expenses, Giyasuddin used to make about Rs.35,000-40,000 a month. He suffered losses during demonetisation too, but now the situation is worse. He says that about 1,000 small and big factories in Jafrabad and its neighbourhood have closed. Many of these factories used to supply goods to traders in cities other than Delhi's Gandhi Nagar. But now there is no demand from anywhere.
A factory worker in Jafrabad says that he mainly used to stitch jeans and jackets. Every year, work would be in full swing by June, but this year there is a silence in the factory. Neither are orders coming in nor are there any workers around. It is the same situation in all other factories. The traders and large shopkeepers are refraining from placing orders because they are not sure when, or if, the market conditions will return to normal. They seem to have assumed things will not improve for two or three months. In Seelampur, embroidery workers were a critical part of the supply chain of "fancy" items, but they also left Delhi during the riots. The shops here are also closed. The lanes and by-lanes of Seelampur saw massive violence during the riots in February.
It is noteworthy that the entire hosiery and garment supply-chain in this part of East and Northeast Delhi is purely indigenous. The big traders and shopkeepers buy their supplies from Indian companies and the artisans who convert the fabrics into costumes are also Indian. Their goods are consumed in the domestic market as well. Perhaps in today's global world no trade can get more indigenous than this. These factories' jeans, shirts, t-shirts, capris, track-suits, kurtis, blouses and children's clothes were also reasonably priced. For instance, a pair of jeans or a jacket would fetch just Rs.300 to 1,500 while children's clothing bought here would cost anything from Rs.150 to Rs.200. The items sold here were such that people belonging to all sections of society could afford them.
Despite all this, entire swathes of these neighbourhoods are on the verge of ruin. And it took just five months. The riot swallowed up the livelihoods of thousands of artisans and labourers weeks before the lockdown dealt scores of traders and manufacturers a fatal blow. The government has made one "major announcement" after the other and "Atmanirbhar Bharat" campaigns are being promoted day and night through television campaigns, but no one is ready to even bear witness to the decline unfolding before our eyes.
The author is a freelance journalist. The views are personal.
Get the latest reports & analysis with people's perspective on Protests, movements & deep analytical videos, discussions of the current affairs in your Telegram app. Subscribe to NewsClick's Telegram channel & get Real-Time updates on stories, as they get published on our website.
Subscribe Newsclick On Telegram