In Photos: Shaheen Bagh Is Everywhere!
With the Modi-Shah duo showing no signs of backing down, the voices of resistance have only grown louder and the list of such protest venues is going on increasing.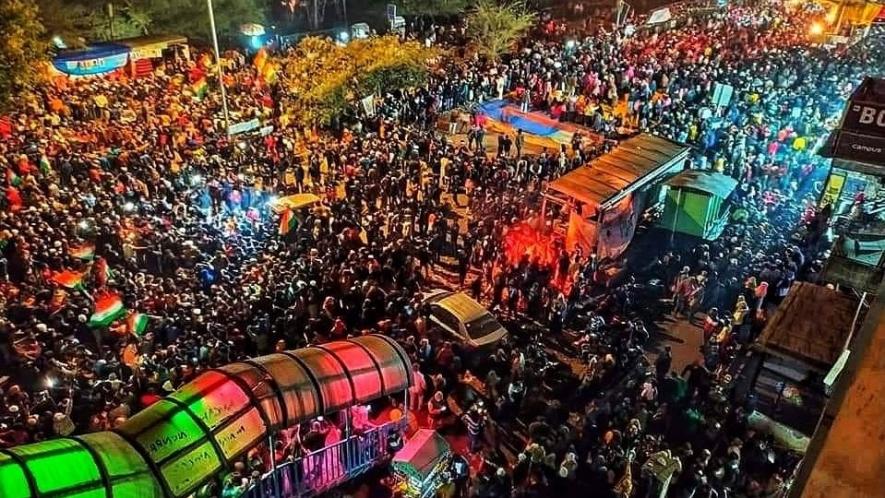 Sunday evening at Shaheen Bagh. Image Courtesy - Facebook
"Baaghi Aag, Shaheen Bagh," reads a canvas flaunting at a protest-site in a corner of south Delhi. The words roughly translate to "Flame of rebellion at Shaheen Bagh", the same neighbourhood where a protest—spearheaded by women—has been ongoing for well over a month.
Here, women in thousands are sitting around the clock everyday, carrying a message of resistance to the recently amended Citizenship Act and the subsequent exercise of National Register of Citizens. The message is loud and clear.
The flame of resistance is so strong that it has now spread to other communities in and beyond the national capital and across the country. As on Monday, January 20, at least 40 Shaheen Bagh-inspired sit-in protests have been reported in the country. Out of the total, 11 are in the national capital itself.
Here's a complete list of all the sit-in protest venues, which are reverberating day and night with anti-CAA, anti-NRC slogans and chants.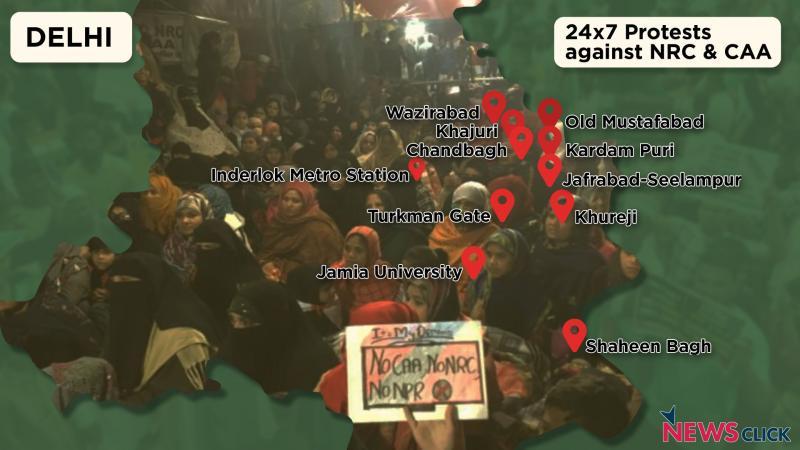 1. Khureji, New Delhi
Local residents, mainly led by women, had gathered for an indefinite sit-in on the night of January 13. In the wee hours of the next day, Delhi Police allegedly vandalised the protest site, in an attempt to disperse the protesters. Read the NewsClick report here.
2. Turkman Gate, New Delhi
Old Delhi residents, including women, took to the streets in hundreds on the evening of January 14 to register their protest against the controversial Citizenship Amendment Act. At least seven protesters were detained by the Delhi Police early on the morning of January 16. Read the NewsClick report here.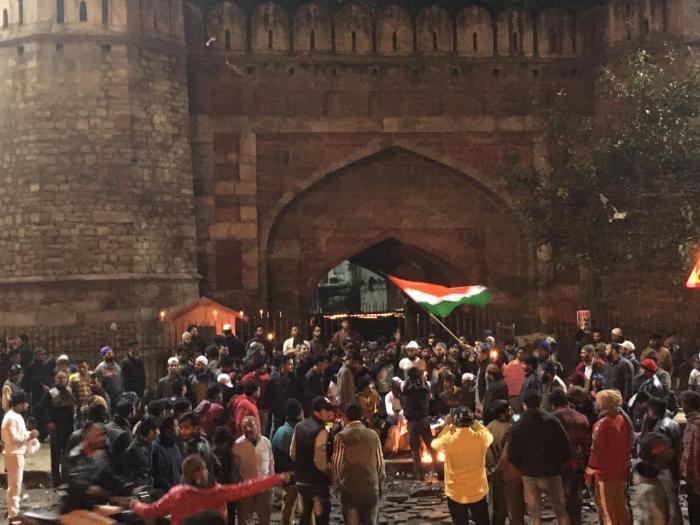 3. Jafrabad-Seelampur, New Delhi
The protest which started with a few hundred residents on the night of January 15, saw the crowds swelling upto 2,000 at Jafrabad-Seelampur on Friday evening. Read the NewsClick report here.
4. Kardam Puri, New Delhi
The protest at Kardam Puri started on the evening of January 18 with over thousands of residents who had gathered after being inspired by the protesting women of Shaheen Bagh. The protesters who have been demonstrating now for more than 48 hours are still waiting for the media to cover their protest.
5. Brijpuri (Old Mustafabad), New Delhi
Over 10,000 residents gathered on the evening of Sunday, January 18, at the north east district of New Delhi to protest against CAA and NRC. The indefinite sit-in had started earlier on Thursday evening.
6. Chand Bagh (Bhajanpura), New Delhi
The indefinite sit-in by women in the neighbourhood situated in New Delhi's Bhajanpura started on Saturday evening. Langar, a community meal, was started here on Sunday evening by a Sikh group to stand with the protesters in solidarity.
7. Shree Ram Colony (Khajoori Khas), New Delhi
Started on Sunday evening by women who are inspired by Shaheen Bagh, the colony in New Delhi's north east district is now adorned with Indian flags and reverberating with slogans and chants of "Aazadi".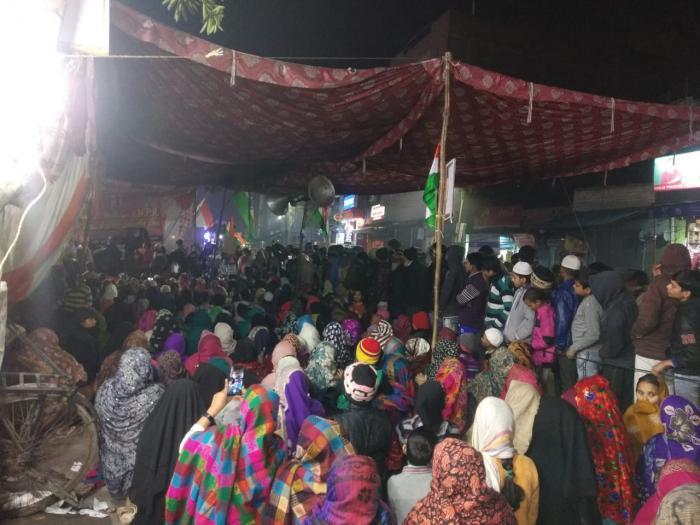 8. Wazirabad, New Delhi
Preceded by marches and rallies, a Shaheen Bagh re-run took place in the national capital's Wazirabad which saw huge participation of residents, especially women.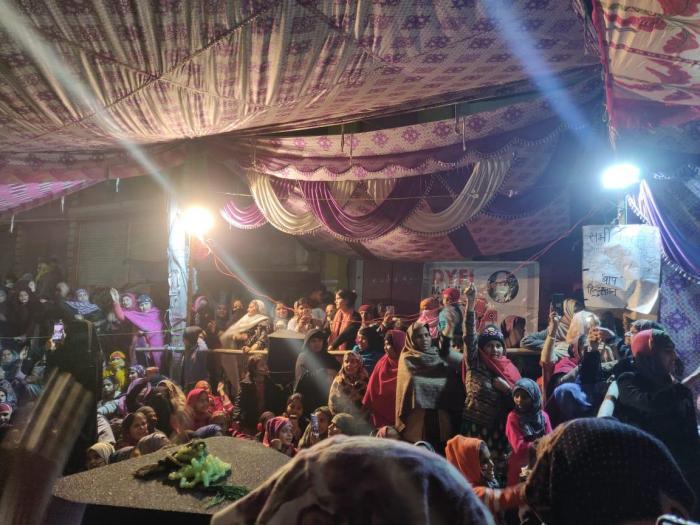 9. Jamia Millia Islamia
Weeks after violence was unleashed by the Delhi Police on the protesting students and residents of the surrounding locality, a Shaheen Bagh-like scenario now simmers in front of the Gate no 7 of the central university.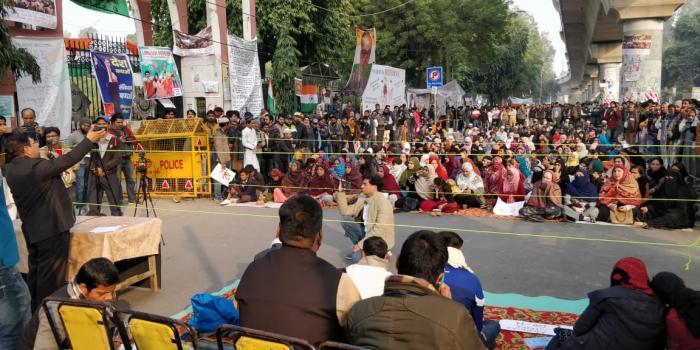 10. Inderlok Metro Station
Standing in solidarity with the month-long protest at Shaheen Bagh, hundreds of women on Sunday evening started an indefinite sit-in in front of the Inderlok metro station – a transfer station between red and green metro lines.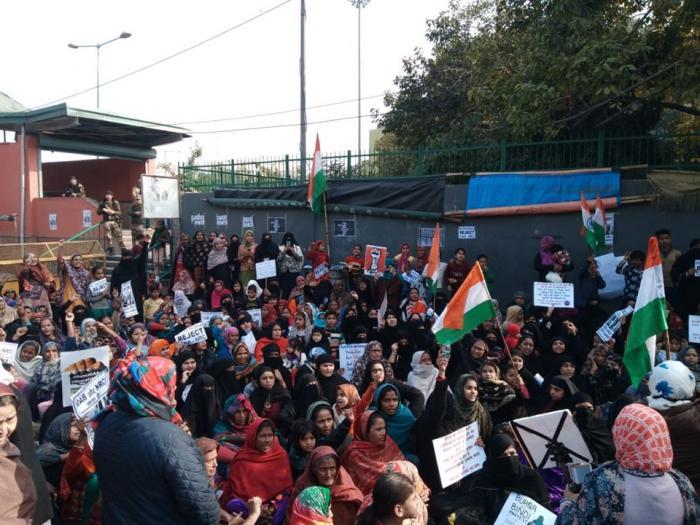 11. Park Circus Maidan, Kolkata
A group of women gathered at Kolkata's Park Circus Maidan on January 7 and started camping out in the open with anti-CAA and anti-NRC posters. As the news spread, more men and women joined the group at the protest site. Read the NewsClick report here.
12. Shanti Bagh (Gaya), Bihar
The protest in Gaya's Shanti Bagh, where hundreds of people, mainly women and students, have gathered, has been going on 24×7 since December 29, but the national media is yet to turn its attention to the protest. Read the NewsClick report here.
13. Sabzi Bagh, Patna, Bihar
Inspired by the Gandhian principle of peace and non-violence, against CAA-NRC, a sit-in protest has also started at Patna's Sabzi Bagh. Read the NewsClick report here.
14. Phulwari Sharif, Patna, Bihar
Another sit-in protest, inspired by the resistance of Shaheen Bagh, began in the capital of Bihar.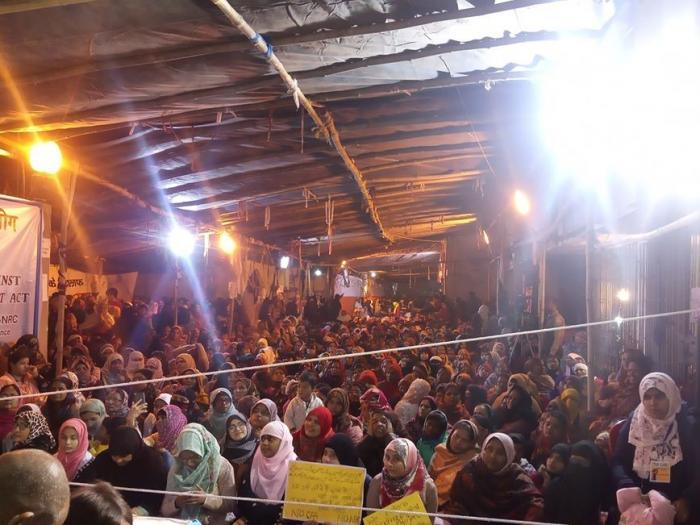 15. Digha, Patna, Bihar
An indefinite sit-in protest started at another residential town in Patna on Friday evening. The protesters are being addressed by various students' groups.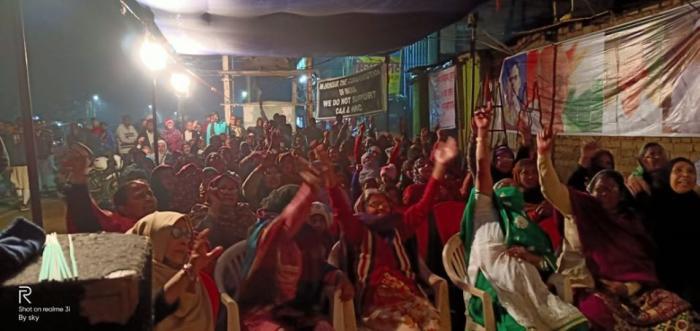 16. Badwali Chowk, Indore, Madhya Pradesh
Described as "Shaheen Bagh of Indore", the sit-in protest at the Jama Masjid ground in the area started on the evening of January 15.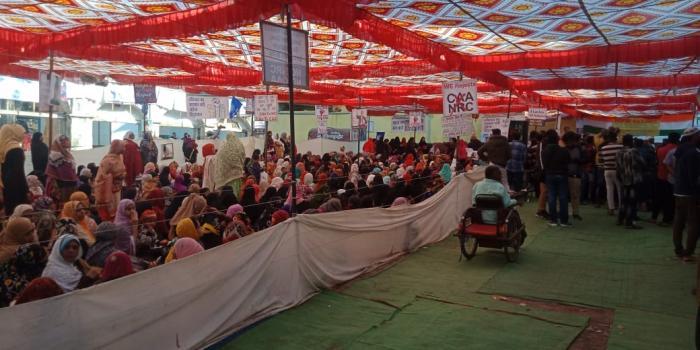 17. Manik Bagh, Indore, Madhya Pradesh
Local youths at Brook Bond Colony Public Park started a spontaneous protest against CAA around midnight on the evening of January 14, reported the Free Press Journal.
18. Iqbal Maidan, Bhopal, Madhya Pradesh
A Shaheen Bagh-inspired protest erupted in Bhopal which saw huge participation by the local residents, especially women.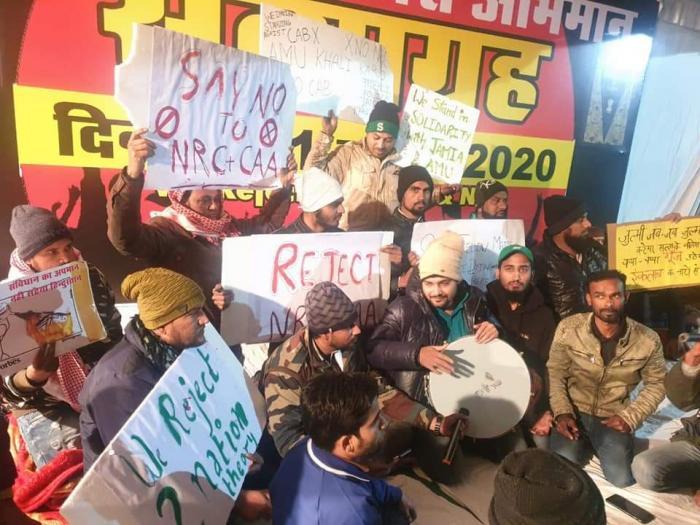 19. Clock Tower, Lucknow, Uttar Pradesh
Around 5,000 women along with children sat near the Clock Tower in Lucknow's old quarters on Saturday evening protesting the amended citizenship law and the planned National Register of Citizens (NRC). On the same night, Uttar Pradesh Police snatched their blankets, water bottles and biscuits. Read the NewsClick report here.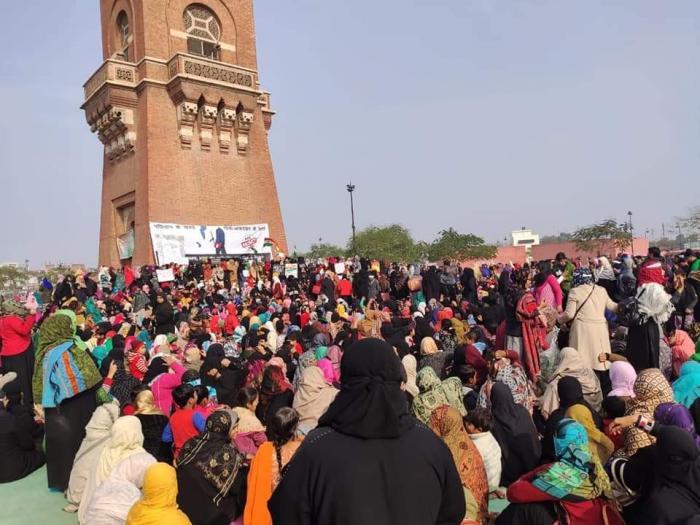 20. Mansoor Ali Park, Prayagraj, Uttar Pradesh
Over a thousand people, mainly women, sat till late into the night despite a cold wave sweeping across North India. They were also joined by student leaders and representatives from political parties. Read the NewsClick report here.
21. Mohammad Ali Park, Kanpur, Uttar Pradesh
From dusk to down, thousands of people, mainly women, are participating in a sit-in protest in Kanpur's Mohammad Ali Park in the freezing cold. Read the NewsClick report here.
22. Rakhiyal, Ahmedabad, Gujarat
The sit-in protest, on the premises of Ajit Mill at a state government housing scheme—Shaheri Garib Awas Yojana—with predominantly Muslim residents in the more than 700 housing units, began late night on Tuesday, reported The Indian Express.
23. Kondhwa, Pune, Maharashtra
For more than a week, a large group of women, under the banner of Kul Jamat-e-Tanzeem, an umbrella organisation of like-minded local bodies, have been on indefinite dharna in Kondhwa to register their protest, reported Hindustan Times.
24. Kishorepura, Kota, Rajasthan
To protest against the CAA and NRC, women in Kota are staying put and braving the cold, reported Dainik Bhaskar.
25. Albert Hall, Jaipur, Rajasthan
26. Tolichowki, Hyderabad, Telangana
27. Collector Office, Nanded, Maharashtra
28. Samvidhaan Chowk, Nagpur, Maharashtra
29. Aurangabad, Maharashtra
30. Idgah Maidan, Deoband, Uttar Pradesh
31. Islamiya College, Bareli, Uttar Pradesh
32. Kishanganj, Bihar
33. Motihari, Bihar
34. Gopalganj, Bihar
35. Siwan, Bihar
36. Malmal, Madhubani, Bihar
37. Central Library, Bhopal, Madhya Pradesh
38. Khajrana, Indore, Madhya Pradesh
39. Aazadi Square, Cochin, Kerala
These are leaderless, self-disciplined and peaceful protests, led by the women of the nation. Joined by artists, poets, and activists, they have made the nation echo with the voices of dissent. With the Modi-Shah duo showing no signs of backing down, the voices only grow louder and the list of such protest venues only goes on.
Get the latest reports & analysis with people's perspective on Protests, movements & deep analytical videos, discussions of the current affairs in your Telegram app. Subscribe to NewsClick's Telegram channel & get Real-Time updates on stories, as they get published on our website.
Subscribe Newsclick On Telegram