Jammu: Climate Front Activists Hug Trees in Raika Forest to Protest Against High Court Project
The protesters were rallying against the construction of a new High Court campus that would reportedly result in the cutting down of as many as 38,006 trees.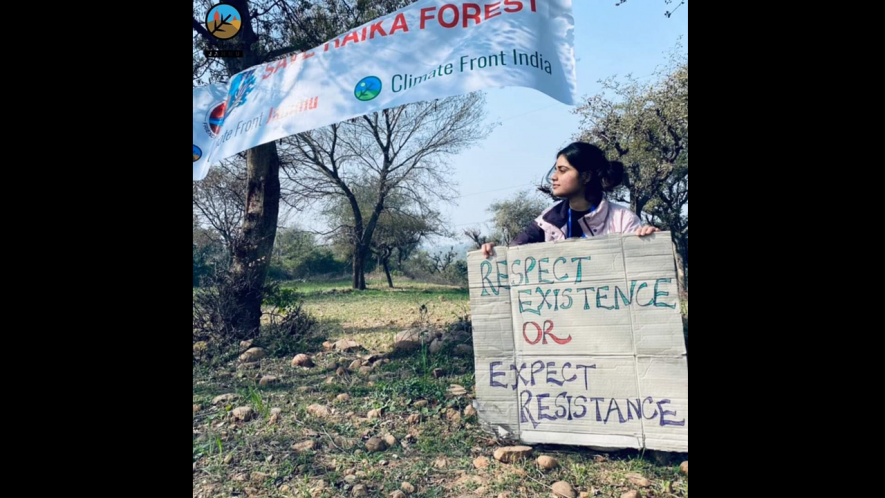 Scores of young climate activists in Jammu embraced trees in Raika forest in Bahu Conservation Reserve on the Valentine's Day – a day dedicated to celebration of love – to register their protest against the Jammu and Kashmir High Court shifting project.
Under the banner of 'Climate Front Jammu,' these activists along with several volunteers brought back the memories of famous Chipko Movement 1973 as they hugged the trees and raised slogans urging people to protect the forest. 
The protesters were rallying against the construction of a new High Court campus that would reportedly result in the cutting down of as many as 38,006 trees. Talking about their protest Anmol Johri, the founder of Climate Front Jammu told NewsClick that the idea behind choosing Valentine's Day to protest was to attract attention and to create awareness. "We celebrated Valentine's Day with nature. We expressed our love for the trees by hugging, tying love knots and writing love letters. It was also an attempt at sending out a message that we care about our environment," he added.
In October 2019, days before the 117th Forest Advisory meeting, a proposal was forwarded to Principal Chief Conservator of Forests (PCCF) seeking forest clearance for setting up of a new high court campus by acquiring 40.65 hectares (or 813 kanals) of forest land under the Bahu Conservation Reserve. The proposal was further approved by State Administrative Council (SAC) headed by the then Governor Satya Pal Malik with a condition that number of trees to be felled shall be restricted to 3,000.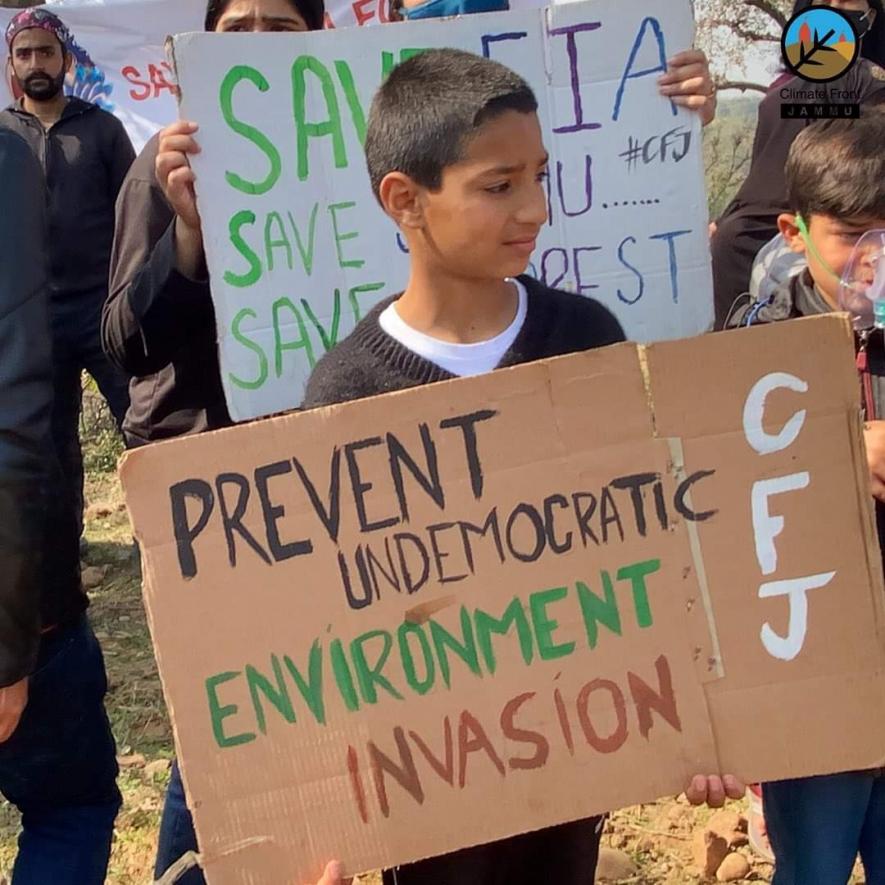 Proposal Passed Days Before Implementation of Indian Forest Act
As per the sources, the proposal was rushed for clearance and was passed through several departments within four days. It is pertinent to mention that the proposal was cleared days preceding the implementation of Jammu and Kashmir Reorganisation Act, 2019, which came into effect on October 31, replacing the J&K Forest Act, 1997, with the Indian Forest Act, 1927.
"Under Indian Forest Act, it would have been a very hectic process, and would have required many clearances but under the J&K Forest Act with fewer sections, it was easy to pass with no possibility of rejection. There was a huge possibility that the proposal would have been rejected under Indian Forest Act," said law graduate, Satyam Arora, who is part of the front.
Reportedly, the Jammu Development Authority (JDA), in its official statement has said that it had 80,000 kanals of land available and yet, it was not approached by the administration. "JDA had huge chunks of land available which could have been used for high court shifting purposes but it was not approached. Meanwhile, a go ahead was given to the project which is in total violation with the J&K Forest Act," claimed an official source.
Also read: J&K: No Process Initiated for Implementation of Forest Rights Post Abrogation of Art 370
Last year, Arora, a litigant, had approached the National Green Tribunal against the clearance of the forest land but his application was dismissed. "My application was dismissed on the grounds that the project was passed within the provisions of the law. However, it was not considered that the land falls into the ecologically sensitive zone being close to the banks of River Tawi," he told NewsClick.
Under Section 2 of J&K Forest (Conservation) Act, 1997, "the District Planning and Development Board concerned may accord permission for construction of rural roads, execution of electric, irrigation and public health engineering works or such other developmental works when passing through demarcated or un-demarcated forests subject to the condition that "the land required for the purpose does not exceed two hectare of forest land" and the permission shall be accorded only once for an individual case without any further extension."
However, "Section 2 of the J&K Forest Act allows only five hectares of land clearance that too for rural road connectivity purposes. It can't be used for the construction of residential buildings," Arora added.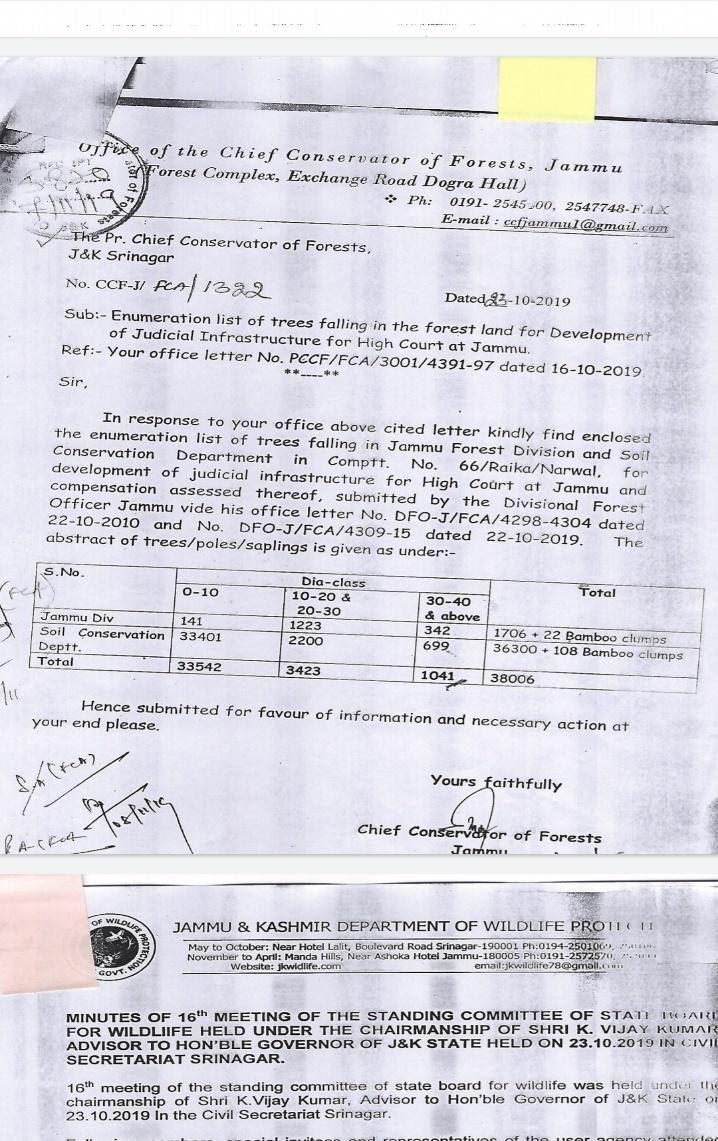 Contrary to the law that the forest land can't be used for residential purposes, the proposed High Court campus reportedly includes a helipad, judges' accommodation for 35 judges with a space expansion of 1000 sqm, meditation centre, de-stress rooms, among other facilities. As per the enumeration list of the trees falling in the area, there are 38,006 trees, of which 1,041 have a diameter between 30-40 cm or more, 3,423 have diameter between 20-30 cm or more.
A recent report submitted by the Supreme Court appointed committee stated that a tree's monetary value is age multiplied by Rs 74,500 of which the cost of oxygen is Rs 45,000, followed by the cost of biofertilisers at Rs 20,000. The report noted that the "monetary value of a project for which hundreds of trees are cut, is sometimes far less than the economic and environmental worth of the felled trees."
There is an apprehension that construction of the new court would axe 38,006 falling in the sanctioned area of 40 hectares. "See the approval was conditional and said that the cutting down of tress should not exceed 3,000 but there is no strict policy to protect the remaining trees within the area demarcated for constructing the High Court. It is but obvious that the construction would require chopping of over 38,000 trees," Arora told NewsClick.
'Felling Over 38,000 Would Invite Massive Calamities'
Further, the proposed construction site is situated within Bahu Conservation Reserve and a part of it also falls under the Ramnagar Wildlife Sanctuary. "The Bahu Conservation Reserve are considered as lungs of Jammu region. Jammu comes under the seismic zone of lV and V. This step of chopping over 38,000 trees would invite massive calamities. The government should consider adopting sustainable mode of infrastructure development instead of using already shrinking forest land as it would lead to serious ecological implications," said Anmol, another activist associated with the Climate Front Jammu.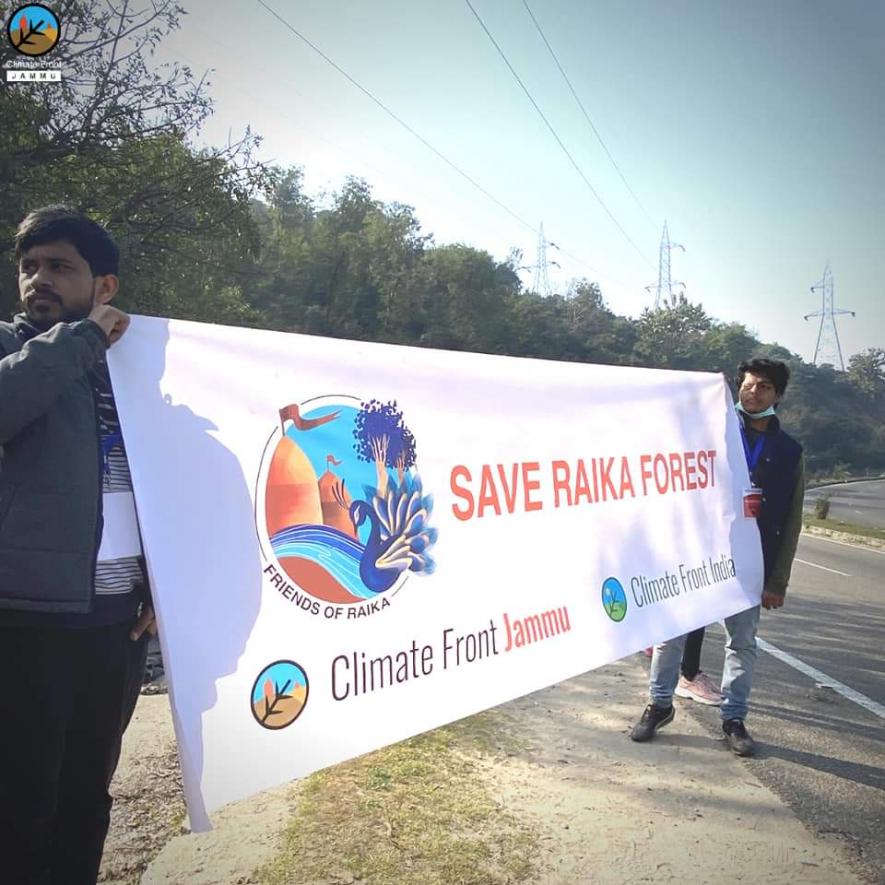 Last year, the Climate Front had launched a project named Friends of Tawi, a movement formed to clean River Tawi, a transboundary river and a major tributary of the Chenab originating from Kali Kund glacier in Doda and passing through Jammu, and joining Chenab river. Over the years, untreated sewage and dumping of waste has deteriorated the condition of the river which also holds religious significance for the Hindus in Jammu.
"Every week, we pick up an area and clean it. We have resolved to clean the entire Tawi and the process has been ongoing for last six months," Anmol explained.
Due to the melting of the glaciers, the flow of the river has also dwindled.
Formed in September 2019, the Climate Front Jammu with its young activists are creating awareness among the masses regarding the project by carrying out marches, going to schools and colleges and regularly updating on social media platforms.
Also read: J&K: Tribal Claims in Forest Areas to Resurface After Abrogation of Art 370
Get the latest reports & analysis with people's perspective on Protests, movements & deep analytical videos, discussions of the current affairs in your Telegram app. Subscribe to NewsClick's Telegram channel & get Real-Time updates on stories, as they get published on our website.
Subscribe Newsclick On Telegram