Modi Govt Plans to Dilute law Entailing Jail-term for Damaging Reserve Forests and Trees
The Union environment ministry has issued a public notice for amending the Indian Forest Act, 1927, to do away with imprisonment for 'minor offences'.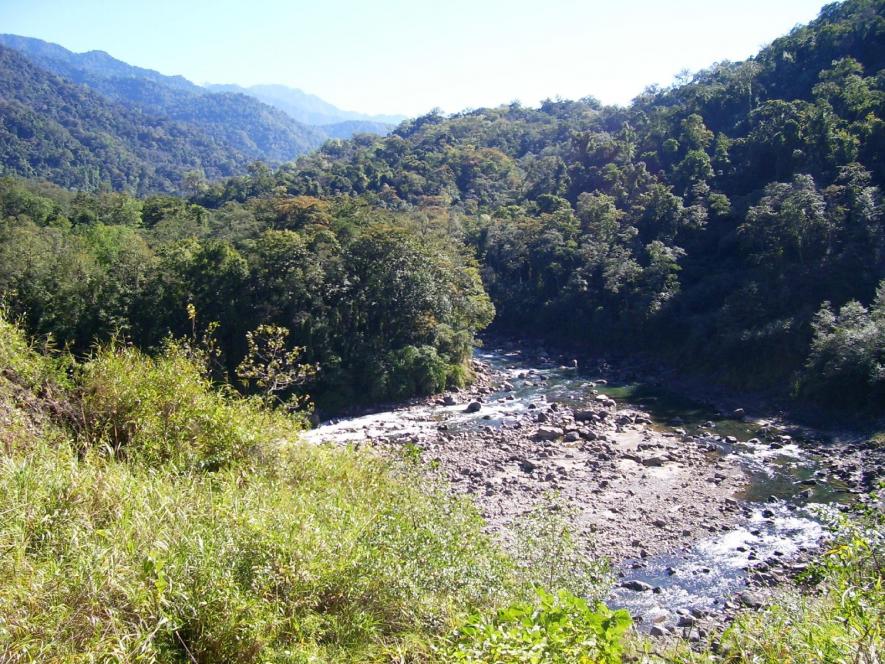 A view of the Namdapha Tiger Reserve near its eastern end with the Noadihing river cutting across. The forests have some of the northernmost evergreen forests in the world. Credit: Prashanth NS
New Delhi: The central government has proposed a set of amendments to a law that guarantees protection for the country's reserved forests. But the amendments fail to ensure jail term for starting a forest fire if it is proved that the incident was caused by "negligence" and was not deliberate in nature. 
Through a public notice issued on July 9, the Union Ministry of Environment, Forests & Climate Change (MoEF&CC) has sought to amend the Indian Forest Act, 1927 in order to remove the provision of prosecution for offences that it now considers "minor".
As per the original British-era law, a jail term stretching to a maximum period of six months was a penal offence for anyone who left "burning any fire kindled by them in the vicinity of any such tree [notified as reserved by the concerned state government] or closed portion". The set of "minor offences" in the Act, which will no longer entail prosecution, also includes negligently felling a tree or dragging timber through a forest in which damages are caused to standing trees. 
Allowing cattle to damage trees in a reserved forest will also no longer entail prosecution. 
Further, through the amendment, the government has sought to decriminalise the offence of kindling, that is, keeping or carrying any fire into a forest "except at such seasons as the forest-officer may notify in this behalf". Trespassing a reserved forest or permitting cattle to trespass a forest will also not result in prosecution. The public notice does not justify why these offences should be considered "minor".
The proposed amendment, however, does not seek to remove the provision of prosecution for anyone who deliberately sets fire to a forest or "kindles a fire without taking all reasonable precautions to prevent its spreading to any tree" notified as reserved. 
Though the entire exercise has been undertaken apparently with the intention to distinguish between degrees of severity of offences, no distinction whatsoever has been made between potential offenders, which may include forest-dwellers who are dependent on forest resources for their livelihood, and habitual offenders, who might be damaging forests for potentially commercial reasons. As per experts, while the Act could have been amended to make a clear distinction between power hierarchies, the proposal seeks to decriminalise instances where rights and access over reserved and protected forests are unclear and ambiguous.
"The Act does not distinguish between offences by forest-dwelling communities, who may have been or continue to be in conflict with the forest department that enforces this law, and others with commercial interests who may be felling trees without prior permissions," Kanchi Kohli of the New Delhi-based thinktank Centre for Policy Research told the Newsclick. "At times, there might be an overlap when entry into reserve forests or tree-felling would involve financial profits. While the proposed amendments may partly ease off instances of harassment of forest-dependent communities, it does not address the top-down nature of law enforcement or deter the felling of trees that involves a financial penalty," she said.
The maximum amount of fine that will be imposed for these apparently "minor offences" has been kept unchanged at Rs 500 – a sum that could have been considered hefty and substantial around 100 years ago when the Act was first enacted by the British government. Activists have alleged that this penalty amount is paltry and too less for the damages caused to reserved trees whose commercial value, in terms of timber alone, would be very high in the market, leaving aside the ecological value.
As per the public notice, the amendment has been sought for the "decriminalisation of minor violations of law, expeditious resolution through compounding of relatively minor offences, reducing compliance burden on citizens, rationalisation of penalties and preventing harassment of citizens".
The amendments proposed to Section 26 of the Act, which contains details of activities prohibited within reserved forests, have, however, sought to impose an additional penalty upon an offender apart from the fine of Rs 500. The respective convicting court will decide the additional penalty amount depending on the damage caused to reserved trees through these "minor offences". Similarly, offences like quarrying in forest land or clearing or breaking of forest land for cultivation will continue to entail prosecution along with fines.
As per the latest data of the National Crime Records Bureau, an agency under the Union Home Ministry, the number of criminal cases filed for violating provisions of the Indian Forest Act, 1927, and the Forest (Conservation) Act, 1980, stands at 2,768 and 2,118 for the years 2018 and 2019, respectively. This figure stood at 2,287 in the year 2020.
The move to amend the Indian Forest Act, 1927 comes close on the heels of amendments proposed by the Union government to major environmental laws wherein provisions for prosecution will be done away with for many offences but penalties will be increased several-fold. In particular, the exercise to decriminalise Water (Prevention and Control of Pollution) Act, 1974 and Air (Prevention and Control of Pollution) Act, 1981 has been supported by sections of civil society and the legal fraternity on the grounds that it is near impossible to pinpoint violators in the Acts mentioned above. Filing of criminal cases in these Acts has also been abysmally low due to difficulties in identifying violators.
However, legal experts have pointed out that amendment of the Indian Forest Act, 1927, at a time when most states across the country have their own laws to deal with the protection of reserved trees and forests, is tantamount to disturbing the delicate centre-state relationship in the country. As many as 23 states follow their own laws enacted to conserve forests; these laws contain provisions for penalties and prosecutions for different offences.
"Since this is a central Act, its provisions are binding upon all states. It remains to be seen what various states will resort to now. There might be provisions for prosecution for certain offences in rules formulated by state governments to protect forests. These provisions might be decriminalised following the amendments to the central Act. As per law, a state cannot have any rules that contravene the provisions of any Act formulated by the central government," said senior Supreme Court lawyer Sanjay Parikh.
All states – barring Haryana, Punjab, Madhya Pradesh, West Bengal and Bihar – have formulated their own laws to ensure the protection of forests. Conservation, management and protection of forests are the prerogative of the central as well as state governments. It figures in the Concurrent List of subjects under the Seventh Schedule of the Constitution of India.
For instance, an Act enacted by the state government of Odisha in 1972 for the protection of forests contains provisions for imprisonment extending to a period of one year and penalties amounting to a maximum of Rs 2,000 for "offences" which are sought to be decriminalised by the central government. As per the Odisha Forest Act, 1972, offences which entail criminal prosecution include setting fire to a forest or kindling a fire "without taking all reasonable precautions to prevent its spreading to any reserved tree, whether standing, fallen or felled, or to any portion of such forest notified". Felling any tree or dragging any timber "so as to damage any tree" reserved in forests or permitting "cattle to damage any such tree" also attract prosecution in Odisha.
On the other hand, following the issuance of the public notice regarding proposed amendments to the Indian Forest Act, 1927, sections of the civil society have insisted upon stringent punishment for violators instead of any further dilution of forest conservation laws. Their concerns are raised in view of the rate at which ecological destruction has been occurring across the country in the face of mining and other industrial activities. 
In many states, laws concerning the conservation of reserved forests and trees are rather stringent, as compared to the Indian Forest Act, 1927, which activists hail as genuinely warranted given the urban areas are increasingly losing green cover in a battle against concrete skyscrapers.
In Delhi, for example, a very stringent procedure exists even for the removal of dead trees. The Delhi Preservation of Trees Act, 1994 lays down a specific procedure for obtaining permission to "fell, cut, remove or dispose" of a tree that is "dead, diseased or wind fallen" or that has been "substantially damaged or destroyed by fire, lightning, rain or other natural causes". Any violation of this provision could result in imprisonment, which may extend to one year or imposition of a fine up to Rs 1,000.
The Narendra Modi government's move to decriminalise certain provisions of the Indian Forest Act, 1927 and other environmental laws of the country has been castigated by the Aam Aadmi Party-led government of Delhi. In reaction to the proposed amendments, the Environment Minister of Delhi, Gopal Rai has said, "You are watering down the laws that protect nature. Nothing will save you when nature hits back at you tomorrow."
Get the latest reports & analysis with people's perspective on Protests, movements & deep analytical videos, discussions of the current affairs in your Telegram app. Subscribe to NewsClick's Telegram channel & get Real-Time updates on stories, as they get published on our website.
Subscribe Newsclick On Telegram