The Year That Was….People Fight Back a Hostile Government
The Modi government used the pandemic/lockdown to foist more exploitative policies, but the people's resistance has shaken its hubris.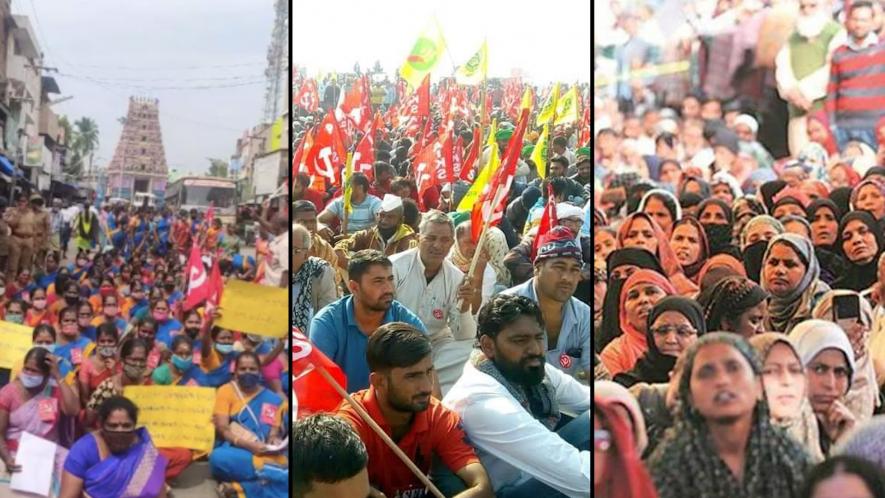 Like the rest of the world, India too has gone through a turbulent year – the agony of a sweeping pandemic that has afflicted over one crore people till now, as per official records – though the actual number of those infected could be many times more; a tragically bumbling government response that imposed a premature and mismanaged lockdown, only to ease it when the disease was spreading wildly; and, an already faltering economy given a mortal blow by the lockdown, which saw unemployment soar to an unimaginable 24% and the GDP contract by over 23% in April-June. Put together, all these caused a shocking rise in hunger and misery in the country, a plane of suffering that will be remembered for long.
But, there is another feature of 2020 that will make this year a watershed in history. The BJP-led government at the Centre, spearheaded by Prime Minister Modi, used the pandemic and the lockdown to drastically change the relationship between the working people of the country and the ruling elite made up of big corporate houses and traders, big land owners, and representatives of foreign capital.
Here is how:
Pro-corporate Farm Laws
In June, at the height of the pandemic, the Modi government promulgated three ordinances that dealt a devastating blow to the existing system of cultivation, trade, stock-holding and prices of agricultural produce. These were rammed through Parliament in September. The government had earlier moved a Bill for amending the Electricity Act which too would end subsidised power to farmers, thus increasing their expenses further.
Taken together, these three laws and one Bill will decisively open India's agriculture sector to predatory agri-businesses and big traders while crushing the farmers. Agricultural labourers, share croppers, tenant farmers will also suffer from the effect of these laws.
The Farmers' Produce Trade and Commerce (Promotion and Facilitation) Act, or the APMC law as it is popularly known, allows private entities to buy up key food grains directly from farmers, in competition with government-run Agricultural Produce Market Committees (APMCs) with no guarantee for government-declared Minimum Support Price (MSP).
In the unequal trade between powerless farmers and giant corporations, this would mean a death-knell for the MSP system, which is a lifeline for many farmers. The Farmers (Empowerment and Protection) Agreement on Price Assurance and Farm Services Act, otherwise known as the contract farming law, is meant to give a boost to contract farming, which would turn farmers into wage labourers on their own land, besides subjecting them to the vagaries of global markets. The third law amends the existing Essential Commodities Act by removing all restrictions on stocks of essential food produce, and allows freedom to determine prices. It would encourage hoarding and profiteering in essential grains and vegetables.
Besides destroying farmers' lives, the four laws would also prepare the ground for the destruction of the public procurement of food grains, thus leading to a collapse of the Public Distribution System. Crores of people across India who depend on subsidised food grain – especially in these times when unemployment is high – would be left to fend for themselves. This is in line with what the advanced capitalist countries have been pressing India for in WTO negotiations and elsewhere, so that food grain can be exported from there to India.
Dismantling Labour Laws
The Modi government took advantage of the restrictions on protests to push through three more Labour Codes in Parliament, with the fourth one already passed last year. These new laws that replace 29 existing labour laws, allow employers to increase working hours to an unprecedented 12 hours in a working day, put in place a system of 'fixed term employment' that is, contractual work of a kind, dismantle the well-settled wage fixation norms for governments, give more leeway to remove workers from service without government permission, and brings workers in diverse trades with specific problems under umbrella provisions.
Social security benefits remain restricted and employers' contributions to ESI and EPF have been reduced, starving the bodies of funds. The enforcement machinery for labour laws, already gasping for breath, has been further disarmed. A large number of matters are now left to the discretion of government authorities. Even the right to organise unions and protests have been made more difficult. The new laws are thus a license to unbridled and intensified exploitation, at less wages and more freedom to hire and fire – a paradise as far as the capitalist class is concerned.
Selling Out Natural Resources & Dilution of Environmental Regulations
The Mineral Laws (Amendment) Act was passed to change two central laws that regulate the mining sector – the Mines and Mineral (Development and Regulation) Act (MMDR), 1957 and the Coal Mines (Special Provisions) Act, 2015. These changes allow companies without any previous experience to bid for coal blocks and also allows extraction of coal without any prior restrictions of end use. These are part of the process of privatising India's mining sector, especially coal, and allowing foreign capital to enter the lucrative field. A series of measures were announced by the Modi government that dilute or do away with environmental regulations for extractive industries. The new draft Environmental Impact Assessment (EIA) Rules exempt entire projects and project expansions up to 50% from mandatory public hearings and reduce the notice period for such hearings from 30 to 20 days. This is to suppress opposition from the people living in the area who will be affected by the projects. The new amendments also validate projects that kick off without seeking prior approval. Since the Modi government is handing over large tracts of land to mining and construction corporates, these measures facilitate their speedy takeover, leaving the local people side-lined.
People's Resistance Grows, Govt. Cornered
As the year passed and the pain of the misconceived lockdown devastated families, the demand for increased support from the government, in the form of food grain and income support, gathered momentum. Several trade unions, working together under a Joint Platform, had already been struggling for better wages and for a roll-back of privatisation of public sector enterprises, having observed an all-India strike on January 8. These trade unions continued their struggle throughout the year, despite pandemic-related restrictions.
Protest days against the government's callous neglect of the working people and demanding income support and more food grain were observed on April 21, May 14, May 22, July 3, July 23, August 9 and September 5, with participation and sweep increasing throughout, as distress and anger among people grew. On June 25 and 26, ASHA workers and mid-day meal workers held countrywide protests. Simultaneously, since the government was pushing ahead with its privatisation policy, workers from different industries to continued massive protests: coal workers went on strike on July 2-4, railway workers held protests on July 16-17, defence production employees held protests on August 4, transport workers held a protest day on August 5, all government scheme workers held a historic two-day strike on August 7 and 8, and workers of BPCL held a strike on September 6-7. On September 23, the day the new labour laws were passed, all central trade unions jointly called for protests across India.
Growing Unity of Workers and Peasants
These protests by different streams got woven into ever larger and more united actions, converging with farmers movements that had broken out against the three black laws. Farmers organisations had been protesting against these laws since June, when the ordinances were promulgated. On August 9, in a massive action, lakhs of farmers and workers joined together to observe angry protests through a 'jail bharo' (fill up the jails) action observed in over 450 districts. On September 5, CITU along with AIKS and AIAWU observed a Worker-Peasant Action Day, that again saw lakhs of people protesting against the government's onslaught on working people. The farmers, under the banner of AIKSCC (an umbrella front of over 350 organisations) observed a protest day on September 25, days after the black laws were passed. Then again, a much larger and extensive protest was held on November 5.
Finally, on November 26, a historic strike by workers and employees took place that was estimated to be the world's biggest strike ever. This coincided with the call by the AIKSCC to march to Delhi ('Delhi Chalo') which saw thousands of farmers from northern states beginning the march towards the country's capital. They were met with violent obstruction by BJP-led governments in Haryana and UP, resulting in pitched battles, before the government was forced to back down and allow the farmers to reach the capital's borders where they have been camping ever since.
As the year draws to a close, the farmers' movement against the three black laws, the electricity Bill and to demand statutory protection of MSP, has gathered unprecedented support across the country. Most states have seen continuing protests and solidarity actions by thousands of farmers and people from all walks of life have come out in support. On December 8, a Bharat Bandh or general strike was called in support of the farmers, in which several states saw complete shutdown while most others witnessed sweeping protests. The Modi government, with no experience of facing and dealing with mass protests of this kind is scrambling to find a solution but it is rigidly sticking to defending the laws even as it offers cosmetic changes. The farmers movement has broadened its vision by calling for boycott of goods and services offered by some of the top monopoly houses in the country which have a stake in seeing these laws implemented.
Whatever the outcome of the present struggle, the people of India have shown historic resolve and courage that has shaken the Modi government's arrogant plans of imposing a nakedly pro-corporate dispensation. In the process, India has also rebuffed the divisive and poisonous policies that the Modi government's religious bigotry had followed. This new found unity and the confidence of pushing back the till-now-rampant policies will set the agenda in the new year.
Get the latest reports & analysis with people's perspective on Protests, movements & deep analytical videos, discussions of the current affairs in your Telegram app. Subscribe to NewsClick's Telegram channel & get Real-Time updates on stories, as they get published on our website.
Subscribe Newsclick On Telegram