UP: A Year on, Forgotten Victims of Anti-CAA, NRC Still Await Justice
Families of some of the boys killed by bullet wounds say they are still struggling to get FIRs registered.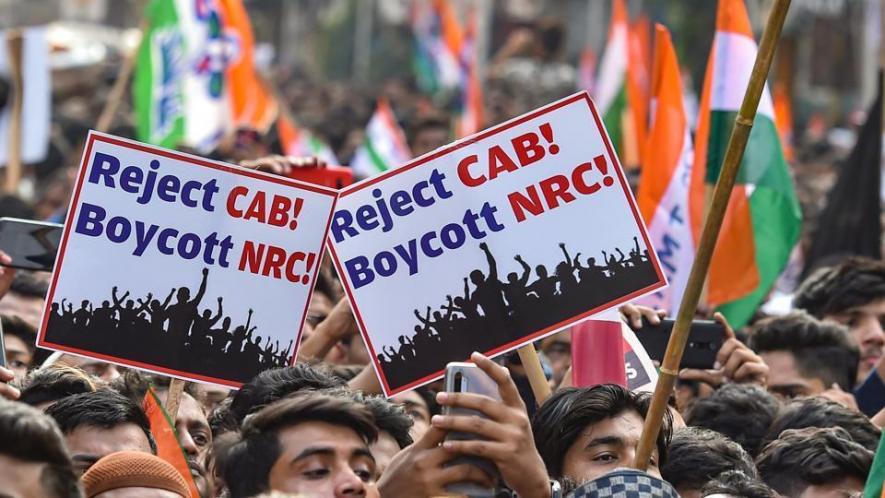 Image Courtesy: Hindustan Times
Lucknow: Habib Ansari has turned 84 and his widowed daughter-in-law has turned 26 . Both of them are still living in a state of shock and don't talk to anyone. They weep often. Habib has mental health issues as he lost his pillar of support – his breadwinner son, Aleem. He lives with his daughter-in-law in a hamlet called Fakhruddin Ali in Ahmad Nagar of Meerut district, one the worst affected areas during the discriminatory anti-Citizenship Amendment Act (CAA) and National Register of Citizens (NRC), 2019 protests in Uttar Pradesh.
For the family of Aleem Ansari, the 24-year-old who was killed last year, the year 2020 is a grim reminder of his absence and the tough times that lie ahead. A tandoori roti baker by profession, Aleem is said to have succumbed to a bullet shot in his head during the police crackdown on December 20, 2019, as the protest against CAA turned violent on Hapur Road, Meerut.
"He was the sole breadwinner in the family. That day, he called me up and informed me that a few people in civil dress were barging into shops and forcing them to shut. He asked me to go home as the situation was tense. He didn't come home. Instead, we got news that he had been shot. Never in my wildest dreams did I ever think that my brother will die in such circumstances. We were given no time by UP police to arrange for his last rites, who are asked for 'quick, midnight burials," Salahuddin Ansari, Aleem's elder brother told NewsClick, while bursting into tears. 
Partially disabled because of polio, Salahuddin has been running from pillar to post for the past one year, visiting the collector's office one day, the police station the other and even the Magisterial Inquiry Committee and Human Rights Commission, to get a first information report (FIR) registered against the police.
For Aleem's father, Habib Ansari, the past year has been a haze, as he slipped in and out of depressive episodes.
Aleem wasn't the only one. There were four others also lost their lives during the anti-CAA protests last year in Meerut. One year since their death, their families say they are still struggling to get FIRs registered.
Read Also: Who Were 23 People Killed in UP During Anti-CAA-NRC Protests?
It is a year after the brutal crackdown by the Uttar Pradesh Police on anti-CAA protests in 2019 protesters, in which 23 innocent people lost their lives, most of them from poor families. These included roadside vendors, stall owners, e-rickshaw drivers, daily wagers and many more. The families still await justice and compensation and continue to battle state impunity and injustice. Having lost their loved ones, their hope for justice is also fading, and their battle has now turned to earning two square meals a day.
NewsClick spoke to several such families in Meerut, Bijnor, Kanpur and Lucknow. Most of the families are still vulnerable, with the raging pandemic and economic meltdown adding to their woes. What hurts them most is the apathy of the government and the death of public memory over the loss of their loved ones.
Like Aleem's family, life will never be the same for the family of 22-year-old Nabi Jaan, too. Nabi was a worker at a bangle manufacturing unit in Firozabad's Urvashi Road and the youngest of six siblings. While his father Ayub still hopes for justice, it has remained elusive so far. 
"My son Nabi was shot in the chest while returning home from the bangle workshop. It's been a year. We are still waiting for justice. We don't even have money to buy essential commodities, how can one expect us to continue fighting the case for so long?" says Ayub, adding that the FIR makes no mention of "bullet injury" as he wrote what the police wanted him to write. 
The father of Suleman, an IAS aspirant from Bijnor district, who was killed when he was returning from 'jumma namaz' (Friday prayer), says his death still sears into him. 
"Saal to badalte rahenge aur ghaaw hamesha hare hote rahenge. Bachha to mera ab laut kar nahi aayega, ye maine taslim kar liya hai (The year will keep changing but our wounds will remain fresh. I have accepted the truth that my son will never return)," he told NewsClick, adding that Muslims in UP have been reduced to second-class citizens so they don't expect justice anymore.
Read Also: Bijnor: Police Bullet That Killed Suleman Was Fired in 'Self Defence', Says Official
STATUS OF CASES
The families of victims say no legal proceedings have taken place in the FIRs that had been filed. Instead, a great sense of victimising of victims prevails.  They allege that police mercilessly shot at the protesters, which can be proved by the CCTV footage, video recordings and photographs.  
Ali Zaidi, a Delhi-based Supreme Court lawyer, who is handling the case of Aleem Ansari and four others who died of alleged gunshot injuries on December 20, said that despite submitting complete evidence to the National Human Rights Commission of India (NHRC), National Minority Commission (NMC) and sharing all detailed documents along with videos where cops can be seen opening fire at people with senior police officers, no action has been taken against them.  
"There is no hope left in investigative agencies or the government of any fair inquiry. Hence, we approached courts where we are in a queue of dates, right from the Supreme Court to lower courts. It seems that the laws and legal system are geared in favour of the rich and powerful," said the SC lawyer, adding that courts must protect the poor and the underprivileged because it is they who are hit the hardest in trying times.
The three families of the victims of anti-CAA and NRC protests in Kanpur said they approached the court of Chief Metropolitan Magistrate for registering an FIR against the police, three months after the incident, but no action has been taken or arrest been made so far. 
The police continue to maintain that the deceased were not killed in police firing, but from firing carried out by other protesters. However, CCTV footage and post- mortem reports do not support the police's claim.
Mohammad Nasir Khan, the lawyer who filed the petition in the court, said: "The aggrieved families first approached the police for registering FIR against cops, but were turned down. The police did not take cognizance of a single complaint so they approached the court under Section 156/3 of the CrPC, and demanded an FIR against police officials under Section 302 and 207 of the Indian Penal Code. The case hearing has been completed a few months ago and a judgment is like to be pronounced on December 21 (Monday)," the lawyer said on whether a case will be registered against cops or not.  
Like Ali Zaid, Nasir Khan also claimed that he had strong evidences against the police but neither NHRC nor the higher police officials have taken cognizance so far.  
A YEAR LATER, PROTESTERS STILL GET NOTICES

 
Activists who took part in protests against the CAA at Ghanta Ghar in Lucknow, Roshan Bagh in Prayagraj, in Kanpur and many other places in the state last December, are still being served notices in connection with the first information reports (FIRs) lodged against them.
The district administration has sealed dozens of shops across Uttar Pradesh, including state capital, Lucknow, to 'compensate' for the alleged loss of public property during the anti-CAA protests. Most of the persons sent notices are daily wagers. 
The notices were being sent after the Bharatiya Janata party government, led by Chief Minister Yogi Adityanath, had warned anti-CAA-NRC protesters that he would take "revenge" from those who damaged properties.  
Sandeep Pandey, Magsaysay award winner and convenor of the UP coordination committee against CAA/NRC/NPR, who leads several human right organisations of state, said: "A new kind of trend is going on under this regime -- Muslims were killed, their property was damaged and this government has made them the accused, too. Even their property was confiscated.  We don't have hope for any justice from this government. When 18 Muslims were murdered during the demolition of Babri Masjid on December 6, 1992, almost all their houses and shops were torched and destroyed. When they did not get justice even after 28 years, what else can we expect from this government?"
Deaths amidst the police crackdown against anti-CAA and NRC protests have taken place across states, such as Assam, Karnataka and even West Bengal. However, the highest number of deaths and police excesses was in Uttar Pradesh. 
Last year, the country saw widespread protests against the CAA, enacted by the Narendra Modi government, as for the first time in India, religion was made the basis of granting citizenship, excluding Muslims.
In all, the Uttar Pradesh police have arrested over 1,200 people and detained at least 5,500 people in connection with the violence.
As protests against CAA have restarted in Assam now, for families in UP, the memories of resistance are tinged with loss, pain and fading hope for justice. 
Get the latest reports & analysis with people's perspective on Protests, movements & deep analytical videos, discussions of the current affairs in your Telegram app. Subscribe to NewsClick's Telegram channel & get Real-Time updates on stories, as they get published on our website.
Subscribe Newsclick On Telegram