WB Assembly Polls: BJP Faction-ridden, CM Defensive About Pandemic Handling, Concrete Shape Eludes Left-Cong Tie-up
With no end to the pandemic in sight, there is a significant possibility of political parties being forced to depend more on virtual meetings than actual rallies.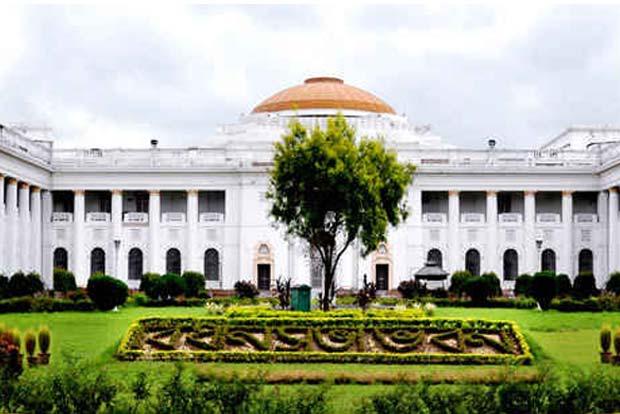 West Bengal Assembly. Image Courtesy: DTNext
Kolkata: Political circles in West Bengal are abuzz with talk about whether the state Assembly elections, which though still some six-and-a-half months away, will mark a departure from the past on several counts.
The main reason is that although the state is now somewhat prepared to face COVID-19 than it was just after the outbreak yet the fact remains that the pandemic is still not tamed to the extent the situation can inspire confidence among the people. With new daily cases recorded still topping 3,000 and the tally well over two lakh, it looks like that some of the ongoing restrictions may continue till the election time.
Thus, prospective voters are already reckoning the possibility of political parties being forced to depend more on virtual meetings than actual. Further, political parties' diminishing capacity to spend and shortage of people for outdoor poll work due to fear of getting infected may severely restrict their usual recourse to graffiti and limericks which are an integral part of the election campaign in West Bengal; so much so that canvassing is considered by candidates incomplete without them.
It is true that social media with its wider reach has come to hold sway and the youth outfits of political parties are increasingly turning to it to convey political messages and reach out to people. But in the politically conscious state, graffiti and limericks are still preferred by contestants and their parties for grabbing the attention of voters. In villages, wall writing and graffiti on mud walls are still found effective. Moreover, in social media these days several platforms are monetised and, therefore, paying capacity matters and acts as a limitation, argued vice-president of West Bengal Youth Congress Rohan Mitra while speaking to NewsClick.
At this juncture in the state, political parties are setting their house in order and it seems almost certain that the state will witness a triangular fight; notwithstanding the chances of a few outfits fighting either on their own or teaming up with others. For example, the Hyderabad-based All India Majlis-e-Ittehadul Muslimeen of Asauddin Owasi, Lok Sabha member. Suffice it to say that such outfits will put up only a limited number of candidates.
Also read: WB: Assembly Polls Become Talking Point While State Struggles with Pandemic, Post-Amphan Recovery
The three fighters in the battlefield will be the ruling Trinamool Congress (TMC), Bharatiya Janata Party (BJP) and the Left Front-Congress combine. TMC will be seeking to defend its hold over state secretariat Nabanna for the second time. Top BJP leaders, such as, Prime Minister Narendra Modi and Union Home Minister Amit Shah have on several occasions made statements like: "We want Bengal. We want a BJP ministry in Bengal. It hurts us that although the founder of our party's original avatar, Syama Prasad Mookerjee, is from this state but we have not been able to come to power here". Meanwhile, the Left Front-Congress leadership has not gone beyond saying: "We will fight both TMC and BJP; that's our only option".
After two terms, anti-incumbency is not unusual and Mamata Banerjee can't be an exception. But, being in power makes some difference and Banerjee is making use of her authority to the hilt. Her latest announcements include doles for Hindu priests and decision to set up a Dalit Sahitya Academy to publish collected works of backward class writers and set up libraries for dalit literature. The doles for Hindu priests may be seen as an attempt to assuage the injured feelings of Hindu priests after she had decided a few years back to pay honorarium to imams and muezzins.
In recent months, obviously with an eye on the 2021 elections, she also took steps to step up rice procurement and substantially expand the Kisan Credit Card coverage with no payment obligations on the part of farmers. She decided to participate in the Centre's rural drinking water supply project on her own terms --- by offering to bear the stipulated percentage of cost that the Centre wanted beneficiaries to pay. And, then there are any number welfare schemes with the suffix 'shri' ; for example 'kanyashri'.
At the political level, she has made extensive changes bringing youth faces to the fore (examples : Lok Sabha member Mohua Moitra and cricketer-cum-minister Luxmi Ratan Shukla), sidelining senior but ineffective leaders and assigning overall election management to poll strategist and image maker Prashant Kishor. Reliable reports have it that PK's Indian Political Action Committee (I-Pac) will have a dominant role in shortlisting candidates. Currently, I-Pac members are training TMC activists in the use of social media where two prominent pages are: Mamata Bengal's pride and Didi-ke bolo (Tell Didi).
But, Banerjee is finding it difficult to explain the series of lapses in treating COVID-19 patients for several weeks after the outbreak and her failure to make the private hospitals and nursing homes give up the practice of raising abnormally high bills on patients. The relief organised for migrant labour was too little and too late; they had already undergone the maximum sufferings. Her belated efforts to lay the blame at the door of the Centre for mismanaging the pandemic and leaving lakhs of dismayed migrant workers to their fate, though substantially true, did not find many takers.
Also, Banerjee found herself practically defenceless in the face of serious charges of corruption against her party activists in the distribution of relief foodgrains and cash assistance for weaker sections during the lockdown and for Cyclone Amphan victims. She did order some action at the administrative and party level but the charges repeatedly raised by the Opposition stuck.
She also could not convincingly refute BJP's oft-repeated attempts to blame her for practising minority appeasement politics. Her sole aim during elections to Assembly and Lok Sabha has been to garner the maximum of the over 28% minority votes. BJP also has been critical of her decision not to participate in centrally-sponsored schemes like Ayushman Bharat and thereby, forego the Centre's funds that would have automatically accrued to the state. Instead, she spends the state funds to pay what is payable by a beneficiary under the scheme. "This is bad economics and bad politics; enough to ruin state's finances" is what the BJP has been arguing.
Also read: Bengal Govt Exaggerating Availability of COVID Beds, Alleges Report
The TMC supremo and the Left-Congress combine accuse BJP of systematically playing the communal card and practising divisive politics. They have referred to the poor law and order situation in Uttar Pradesh, in particular, and the increasing cases of lynchings of and attacks on minorities, and that the party cannot tolerate dissent. Moreover, they argue, the Modi regime has been trying to usurp state's powers guaranteed under the Constitution and instead of promoting federalism it has been weakening the concept.
In the state BJP, factions and frictions are commonplace these days, with the efforts of Kailash Vijayvargiya and Arvind Menon, who have been jointly given charge of the state unit, notwithstanding. Factionalism has intensified after the return of Tathagata Roy on completion of his Shillong Raj Bhavan charge. State youth wing in-charge Soumitra Khan is at loggerheads with state party chief Dilip Ghosh on the selection of office-bearers of the youth unit.
About the Left Front-Congress tie-up, the reality appears to be that neither TMC nor BJP takes any cognisance of it. BJP leaders have said umpteen times that their fight is with Mamata Banerjee and her party, TMC. On her part, so far, she has not bothered to mention it as a contestant; let alone treating it as a rival to be fought at the hustings.
Political observers, however, are of the view that people of Bengal would judge the alliance by what it has to offer; adding that voters would, of course, concede that it's a secular, democratic formation and since they are not in power, there is no question of levelling charges of nepotism and corruption.
Vice-president of state youth Congress Rohan Mitra said, "Traditionally, the state front organisations follow the advice of the parent body; but in this case, the Pradesh Congress Committee and we will implement the plans laid before us for elections." As regards activity on social media, Mitra was candid. He said earlier it was non-monetised; now several key platforms have been monetised, adding, "We have limited resources ; we are way behind TMC and BJP."
President of the state unit of the Left-wing Democratic Youth Federation of India, Sayandeep Mitra, told NewsClick that it's a political understanding and the leadership will try to grow it into an electoral understanding for defeating communal and fascist BJP and the autocratic TMC. "Circumstances have brought us together; it is not a class alliance," Mitra added. The DYFI state unit has strengthened its presence in social media and cited the example of establishing contacts with a sizeable number of migrant workers and bunching the cases of a good number of COVID-19 patients for tests. DYFI is in touch with youth outfits of other Left Front constituents and the Congress. The process will gather momentum, he said.
Also read: Corruption Emerging as Key Issue Against TMC, Citizenship as Poll Plank Has Limitations in Bengal
Revolutionary Youth Front's state secretary Rajib Banerjee said that although there is no concrete decision yet on aligning with the Congress yet, "we cannot deny we are part of parliamentary democracy and issues, situations do crop up when we have to hit the streets. For example, the wholesale corporatisation moves of the Modi government".
Pradip Singh of All India Youth Federation said he had told his district leadership about the desirability of the Left Front-Congress platform devising a common minimum programme to make it meaningful and sustainable.
Abdul Rouf of All India Youth League said that the Left Front youth outfits recently observed 'remove unemployment day' jointly. In the coming days, the Congress youth wing will be invited, Rouf said. 
Get the latest reports & analysis with people's perspective on Protests, movements & deep analytical videos, discussions of the current affairs in your Telegram app. Subscribe to NewsClick's Telegram channel & get Real-Time updates on stories, as they get published on our website.
Subscribe Newsclick On Telegram