After 2024 Resolve, INDIA to Prepare for BJP Attacks in Run-up
The alliance can be a serious threat to the BJP, but its constituents cannot bank on electoral arithmetic alone.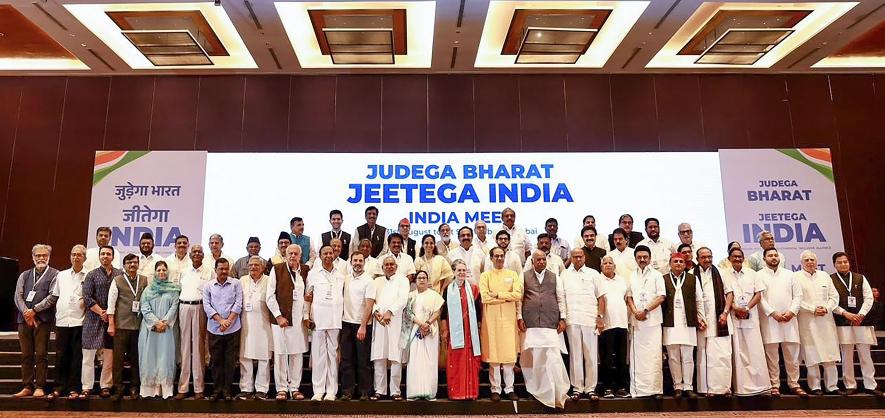 Opposition's Indian National Developmental Inclusive Alliance (INDIA) leaders pose for a group photograph ahead of their meeting, in Mumbai, Friday, Sept. 1, 2023. Image Courtesy: PTI 
The battle lines have been drawn for the 2024 Lok Sabha election. The INDIA (Indian National Developmental Inclusive Alliance) bloc of 28 parties formed against the Narendra Modi-led NDA on September 1 announced it would contest the 2024 Lok Sabha election "together as far as possible," immediately initiate seat-sharing arrangements in states through a "collaborative spirit of give-and-take," and organise public rallies across the country at the earliest. The alliance formed a coordination committee of 14 leaders across parties to expedite the process and resolved to coordinate their communication and media strategies and campaigns.
By stepping into action mode after a fruitful meeting in Mumbai—the third held by the Opposition parties after they met in Patna and Bengaluru—INDIA has displayed a sense of much-needed urgency, possibly anticipating early polls or surprises in the special session of Parliament called by the Narendra Modi government from September 18 to 22. With four important states, three in the crucial Hindi belt, going to the polls in the coming months, it is time for INDIA to step out of the boardroom and get on the field to execute its strategy.
The third meeting of INDIA in Maharashtra, a key state with 48 Lok Sabha MPs, second only to Uttar Pradesh, concluded with the bloc putting up a united stand. Speculation of infighting and disagreement were cautiously brushed aside in one of many positive optics from the Mumbai meeting organized by the Maha Vikas Aghadi, comprising the Congress, Uddhav Thackery's Shiv Sena faction and Sharad Pawar's faction of Nationalist Congress Party.
Aam Aadmi Party convenor and Delhi Chief Minister Arvind Kejriwal, who has been at loggerheads with the Congress—recently over the Modi government's ordinance on control of services in Delhi and in general over political rivalry in Delhi and Punjab—dismissed the idea of any conflict between INDIA constituents. "Nobody is here for posts. We are here to save the country of 140 crore people and take it on the path of progress. This is not just an alliance of some 26-27 parties but an alliance of 140 crore people of this country," Kejriwal said. The AAP-Congress arrangement within INDIA is one of the trickiest as the parties are direct competitors in Delhi and Punjab, where AAP dethroned the Congress. Kejriwal is also a possible claimant for the Prime Minister's post as is Rahul Gandhi of the Congress.
On August 30, in a press conference held a day before the INDIA meet, Uddhav Thackeray struck a similar note of fighting for common goals despite varied ideologies. "Of course, the ideologies are different but our objective is one, to protect the country and the Constitution," he said.
Bihar Chief Minister and Janata Dal (United) leader Nitish Kumar, another key INDIA face with years of experience in running a government, said on September 1 that the alliance would work to uplift every section of society. "Nobody will be neglected," he said. Nitish, who initiated meetings to bring together the disparate Opposition parties under INDIA, alerted his allies about two possible challenges to prepare for. First, the BJP could try to communalise the atmosphere along Hindu-Muslim lines. Second, the INDIA constituents must remain alert to the possibility that the general election could be held before schedule. The 2024 Lok Sabha is scheduled for April-May 2024, meaning that if polls are held on time INDIA has seven months to forge a united strategy and pull it off on the ground.
INDIA faces the challenge of a reconfigured BJP-led NDA, which has support of the Eknath Shinde faction of Shiv Sena and the NCP rebel faction led by Ajit Pawar in Maharashtra. However, the NDA was also hit by two big exits; of Nitish Kumar and Uddhav Thackeray, leaders who give muscle to the Opposition in Bihar and Maharashtra. As things stand, Modi and his allies command a vote share of a little less than 43% and 332 seats in the Lok Sabha. INDIA's numbers hover around 140 seats and 38% vote share.
Congress MP Rahul Gandhi said INDIA represents 60% of India's population. "If the parties on this stage unite it is impossible for the BJP to win an election," he said. Gandhi praised the "flexibility" of his allying leaders in resolving differences. "I am extremely impressed by the way those differences are minimised and ironed out," he said. Kejriwal also hit upon this subject with a warning that "big forces" would try to break their alliance and attempt to show infighting. "I have attended the three meetings and can say with responsibility, that nobody has any fight with anyone. All meetings have been conducted through pyaar and mohabbat," he said.
With Sharad Pawar ending ambiguity over his next move and participating in the Mumbai meet, and Rashtriya Lok Dal (RLD) chief Jayant Singh emphatically dismissing speculation by section of the media that he was in touch with the BJP, the Opposition has inched closer to unity.
After three meetings, the alliance looks close to getting a functional organisation, though the contentious issue of nominating a convenor or possible Prime Minister face for the campaign remains a double-edged sword. It is one of the main challenges for INDIA, because a presidential-style battle on the face of Modi is what the BJP would prefer. The NDA, built primarily on the BJP's numbers, is heavily reliant on Modi for success unlike INDIA with a diverse range of leaders and claimants of comparable political stature and ambition cutting across regions. Will INDIA fight the election as a national battle with one nominated leader to take on Modi? Or will it approach the contest as multiple state elections and give regional factors primacy? It can be convincingly argued that a 'face' helps voters associate with the message of a party, campaign and even alliance.
Non-BJP leaders such as West Bengal Chief Minister Mamata Banerjee and Kejriwal have demonstrated that the BJP can be defeated through a central message delivered clearly by a charismatic leader. However, recent elections have shown voters tend to think differently in national elections vis-à-vis state polls. The BJP has lost several state elections in recent years, including in Karnataka and Himachal Pradesh, and famously in Rajasthan, Chhattisgarh and Madhya Pradesh in 2018. However, so far, these defeats have mattered little to Lok Sabha elections.
Another task for INDIA is to translate the bonhomie between its constituent leaders to popular support of their voters. Joblessness, inflation, corruption, charges of crony capitalism targeted at industrialist Gautam Adani, misuse of central agencies to hound Opposition leaders and the alleged encroachment of Indian territory in Ladakh by China are among the issue INDIA leaders raised in Mumbai. To reap the dividends of these failures and anti-democratic moves of the Modi government, INDIA must learn to communicate them unequivocally across regions and focus on issues that directly impact the social and economic security of voters. INDIA has many charismatic orators to draw people's attention to the government's failures while communicating an alternative policy of change after a decade of Modi's governance.
The alliance looks promising. However, there are still many tasks it needs to complete before it can pose a serious threat to Modi in 2024.
The first important assignment would be to execute the seat-sharing exercise. The caveat in its Mumbai resolution that INDIA constituents would contest the 2024 election "together as much as possible" leads to several questions. First, what does 'as much as possible' mean? Second, how would the alliance handle friendly fights and what would be their impact? While this may work out in states where the BJP has little presence, for instance Kerala, friendly fights in difficult states may not have appetising results. Besides tactical arithmetic, the alliance needs symbolic unity where its members are not seen fighting for selfish interests but with the common agenda of defeating Modi and the BJP.
The friendly fights can be potentially detrimental in West Bengal, Delhi, Punjab, Uttar Pradesh and Maharashtra, where INDIA has strong internal claimants. Minimising such bouts would do good to the prospects of the alliance. Striking a balance between keeping allies happy and winnability of candidates would be the key. It would demand maturity and a large heart from all parties.
Once INDIA finalises seat-sharing, the alliance would need a strategy to ensure votes transfer to each other. Previous elections have demonstrated that direct arithmetic does not apply to coalitions. Sometimes, two plus two become five. Other times, it might leave you with just three. In the 2019 Lok Sabha election in Uttar Pradesh, the Samajwadi Party, the Bahujan Samaj Party and the RLD formed one of the most formidable alliances in recent electoral history. However, their combined vote share could not cross 40% though in 2014, when they fought separately, their collective vote share of 42.9% almost matched the NDA's 43.6% vote share. In 2014, the BJP and its ally Apna Dal (Soneylal) won 73 of Uttar Pradesh's 80 seats. In 2019, despite a combined Opposition, the BJP-plus won 64 of these seats.
This is a realistic hurdle for INDIA constituents to learn to tackle, especially in constituencies and states with social contradictions of their respective voter bases. Moreover, in the coming weeks, INDIA will confront whether it wants to build a nationwide consensus on prickly topics such as the caste census or keep them restricted to allies in Uttar Pradesh or Bihar, where the Samajwadi Party led by Akhilesh Yadav, the RLD, Nitish Kumar and Lalu Prasad Yadav have made it a major point of discussion. In Uttar Pradesh, Akhilesh is focused on building "PDA", a social coalition of Pichda, Dalit, Alpsankhyak—backward castes, Dalits and Muslims to defeat the NDA. That narrative may not have much currency in many other states.
As things stand, if seat-sharing arrangements go smooth, INDIA looks formidable in Maharashtra, Bihar, Tamil Nadu, West Bengal, Kerala, Jharkhand, Delhi and Punjab. In Uttar Pradesh, the reluctance of BSP chief Mayawati to ally with INDIA, poses an obstacle for the Opposition, as it lacks a clear-cut pan-India Dalit face with a mass base. Though she is today a depleted force, a hostile Mayawati who regularly attacks INDIA, calling it anti-Dalit and fielding strong candidates in the election, can potentially disrupt calculations. In several states, the Congress has to fight the BJP on its own strength. These include Madhya Pradesh, Chhattisgarh, Gujarat, Uttarakhand, Haryana and Himachal Pradesh, where the BJP performed remarkably well in 2019. Therefore, the prospects of INDIA are aligned with the performance of the Congress in key northern and central states.
Mallikarjun Kharge, Congress president, said INDIA should prepare for more attacks from the government in the coming months, "more raids and arrests due to this government's vendetta politics." "The more ground our alliance gains, the more the BJP Govt will misuse agencies against our leaders. It has done the same in Maharashtra, Rajasthan, Bengal. In fact, last week, it was done in Jharkhand and in Chhattisgarh," Kharge tweeted after the Mumbai meeting.
The threat of central agencies looms large and keeping the flock together until the election would be one of the major achievements of the alliance. Rashtriya Janata Dal leader Lalu Prasad Yadav used his inimitable sense of humour to draw attention to the failed promises of the BJP government, comparing its behaviour with the feudal lords of yore.
"There is no leader left in the country whom they have not trapped in cases by the ED and CBI," said Yadav. "We used to hear about it in olden times that the feudal and 'big' people would implicate the poor and middle-class people in cases and rule over them. They [the government] has also gotten into this habit. But we are not going to be afraid."
The author is an independent journalist. The views are personal.
Get the latest reports & analysis with people's perspective on Protests, movements & deep analytical videos, discussions of the current affairs in your Telegram app. Subscribe to NewsClick's Telegram channel & get Real-Time updates on stories, as they get published on our website.
Subscribe Newsclick On Telegram