Barefoot Reality: Indian Football's First Wave of Modernisation a Repercussion of Helsinki Disaster
Tokyo 2020, The Olympic Fortnight (Series): The idea that Indians did not wear boots because they could not afford them has been disproved many times over in recent times. The team played barefoot because they preferred to do so and it was only a devastating loss to Yugoslavia in Helsinki that made them think otherwise. The lesson of that loss and everything that followed was more than just footwear. It also exposed administrative bungling, politicking and backstabbing, things that have not changed six decades on.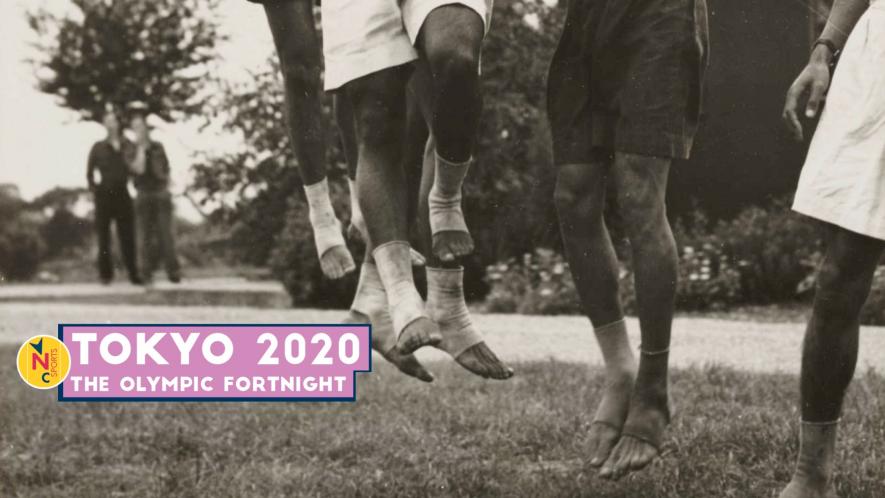 The 1952 Helsinki Olympics loss proved that playing international matches without boots was almost like taking a knife to a gunfight (Colourized pic inside - India at London Olympics: FootballTimes&Nations/Twitter).
July 29 is a date of immense importance in Indian football history. On that day in 1911, a bunch of barefooted 'natives' beat the British masters at their own game and booked themselves a permanent seat in the country's footballing folklore.
Mohun Bagan's 2-1 victory against Ghaziabad's East Yorkshire Regiment in the IFA Shield final had great significance. It was a symbolic triumph for the millions of poor barefooted Indians, crushed by cruel and oppressive British boots ever since Robert Clive cheated his way in the Battle of Plassey.
The romance of playing football barefoot had a huge effect on Indians since that day. Though a few far-sighted officials did feel boots were necessary, especially on slushy pitches and against booted opponents, the popular belief was that Indians could do better without them.
It was another day in July; this time July 15, 1952, when Indian football's great love affair with barefoot football fell flat on its nose in the Helsinki Olympics. The team led by Sailendra Nath Manna and coached by Syed Abdul Rahim were routed 10-1 by Yugoslavia that day. It remains Indian football's biggest defeat till date.
Click | For more from 'Tokyo 2020, The Olympic Fortnight' series 
To say playing barefoot was the sole reason for the humiliating defeat would be an exaggeration. But it was certainly one of the main causes. It proved that playing international matches without boots was almost like taking a knife to a gunfight.
Well, there is perhaps the need to discuss the other possible reasons behind the crushing defeat in the 1952 Olympics. It shows the basic nature of Indian football officials was no different 68 years ago.   
In 1951, India, a young nation, hosted the inaugural Asian Games and won the football gold medal at the National Stadium in Delhi. The euphoria, however, lasted only 16 months, till the 'barefoot magicians' met their Waterloo against Yugoslavia in Helsinki. 
The seeds of defeat were sown on March 30, 1952, the day the All India Football Federation (AIFF) decided to enter the team for the Olympics. The decision was made  in the AGM held at Calcutta's Eden Gardens. This was exactly a year after Indians established themselves as Asia's first official champions.
Fresh from his success in the Asian Games, Rahim, who was then also the secretary of the Hyderabad Football Association, was the automatic choice as the coach. But this was not liked by a certain lobby within the federation, who started working against his authority. 
On paper, there was no dearth of effort on the part of the federation to raise the best team for the Olympics. The camp was convened in Kolkata, and attended by 48 players. The final team was selected in the first week of June after a three-week training period.
The process of selection was certainly not clean, and performance was not the sole criterion. Bitter backroom battles were witnessed during the time of selection, which exposed the infighting within the federation. The duo of Manindra Dutta Ray and Khalifa Ziauddin had remained the force behind Indian football since independence for many years, but their workings before the Helsinki Olympics did not enhance their reputation.
Things turned worse upon reaching Helsinki. Thanks to constant politicking by officials, Rahim was left powerless. A section in the federation, which included its president Pankaj Gupta, did not like Rahim's appointment as coach. Gupta apparently wanted to appoint Balaidas Chatterjee but could not do so since both Dutta Ray and Ziauddin backed Rahim.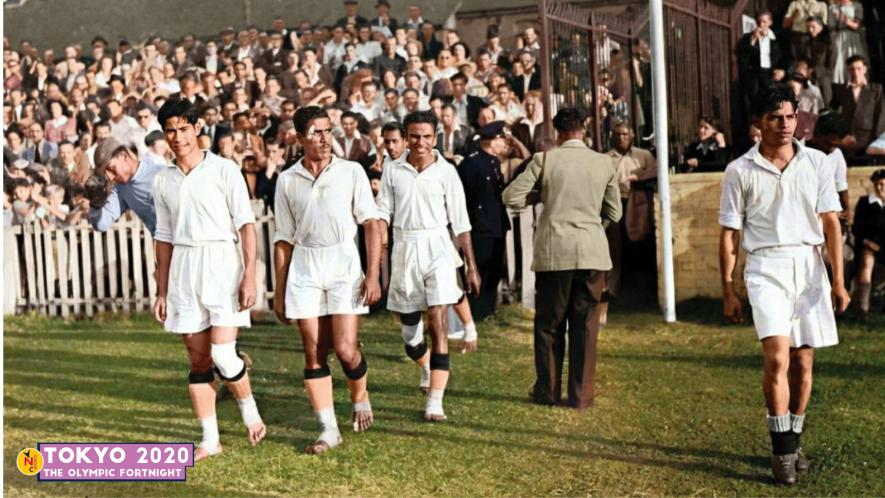 Gupta, who was also very powerful in the Indian Olympic Association (IOA), did manage to take Chatterjee to Helsinki as the coach of the boxing squad. And on reaching the Olympics, it was found that Chatterjee was openly interfering with the management of the football team.
As it is, Chatterjee, by virtue of his long association with Mohun Bagan, had a lot of influence on footballers. And to make things worse for Rahim, the team had only three footballers from Hyderabad — Azizuddin, Noor Mohammed and SK Moinuddin — the rest coming from either Bengal or Mysore. Most of these non-Hyderabad players were senior footballers who were never very comfortable with Rahim.
Chatterjee took full advantage of it and started dictating terms within the football team. Rahim's ill health also posed problems for him at Helsinki. He was not keeping well and fell ill after reaching there. 
Also Read | Tradition Meets Trial: A Clash to Define India's Middleweight Contender For Tokyo
By the time he recovered, things were out of his hands. So much so that one day the team went to play a practice match around hundred miles away from the Games Village without even bothering to inform Rahim. No wonder Yugoslavia found India easy meat in their opening match.
But then the huge defeat was a blessing in disguise in many ways – the most important was India finally discarded the idea of playing the "desi" brand of football — that is to play barefoot.   
The debacle caused quite an uproar. Administrators and coaches at last realized the need of giving serious thought to the technical aspects of the game. Having got their first serious taste of international football only in 1948, it took India a few years to understand exactly where they stood in the world arena.
Barefoot football was the first casualty. The AIFF made wearing boots mandatory as per FIFA regulations and the duration of matches was increased in all major tournaments. While basic changes were made quickly, it took some more time and effort to modify tactical variations, both at domestic and international levels.
It had a dramatic effect on India's international performance in the next 10 years. Having been mauled by Yugoslavia in 1952, India went on to finish fourth four years later in Melbourne and then performed creditably in Rome. In 1962, they were Asian champions again. 
A close look at the 1952 Olympic squad proves India had a highly talented side. Four players — Manna, Shanmugham, Sahu Mewalal and Ahmed Khan — already had experience of playing in the London Olympics. The forward line of P Venkatesh, Moinuddin, MA Sattar, Ahmed Khan and PBA Saleh was a crack combination. But their barefooted efforts stood little chance against Yugoslavia, who bagged the silver medal in the 1948 Olympics. 
Also Read | The Walk: An Olympian, a Worker and a Home Yet to be Defined
The next lot of footballers, who mostly played between 1956 and 1964, were indeed talented, but the necessary technical changes made them look better. By then it was realized that football was an international sport; any attempt to "Indianize" it would only invite disaster. 
At the same time, it is important to clarify that not all footballers in the pre-1956 era were barefooted. In fact, at the 1948 London Olympics, at least three players played with boots on. Currently, it is said in some quarters that Indians didn't have money to buy boots. That is a baseless theory. The fact is that several players were comfortable playing barefoot. The southern players, especially those from Bangalore, mostly liked to play barefoot. No doubt they were, by far, the finest ball players in the Indian subcontinent. It was simply impossible to raise an Indian team without them.  
Last but not the least, to use a cliché, not every player in the "Immortal Eleven" of 1911 Mohun Bagan played barefoot either. At least one of them, the defender, Reverend Sudhir Chatterjee, preferred to wear boots. 
Of the 11 great footballers of that 1911 Mohun Bagan team, Chatterjee was the last to pass away in 1966. He perhaps had the satisfaction of witnessing the AIFF mandate boots and modernise the way India played football. Something Chatterjee himself had adopted when his team wrote the first ever chapter of India's footballing history.
Get the latest reports & analysis with people's perspective on Protests, movements & deep analytical videos, discussions of the current affairs in your Telegram app. Subscribe to NewsClick's Telegram channel & get Real-Time updates on stories, as they get published on our website.
Subscribe Newsclick On Telegram