No More Than a Billboard: Mohun Bagan's Myopia Encapsulates New India
Mohun Bagan's crest and name appearing on the NASDAQ Billboard at Times Square has gone viral online. Fans, club officials, onlookers and even FIFA have applauded the club's global reach. Take a step back and look at this again. Billboards are paid for adverts, not awards for performance. Ask yourself: do adverts really matter?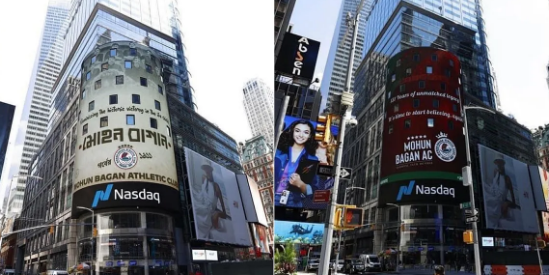 Mohun Bagan's ad displayed on NASDAQ billboard on July 29. The advertising charges for billboards on Times Square ranges between $5,000 and $50,000 per day as per reports.
On a day when Indians were obsessed with fighter jets, displaying a disproportionate pride about the country's air superiority with the addition of five [yes five] Rafale jets, everything remotely hype-worthy in the country would have felt left out. That was till Indian football found something to break the deafening monotony of hyperventilating news anchors. Football launched a celebration of its own, hyping to the realms of overkill, a billboard advertisement. July 29 was a special day for Mohun Bagan to start with — the day they beat East Yorkshire, the British Regiment team, in the IFA Shield final of 1911 — the first Indian team to win the Shield after beating a host of British civil and military sides. July 29 will also be the day Bagan took on the might of the Air Force's flagship fighter — the Rafale Jet — in a social media dogfight, powered by an advertisement on the NASDAQ billboard at Times Square, New York.
It is no doubt a PR coup d'etat, and could possibly be cited in textbooks on advertising. Chapter title: How to get mileage out of unsubstantial gibberish. It provides a blueprint on how to launch a global multi-platform viral ad campaign with just one physical billboard in a city square — a famous square to be fair, but a square nonetheless. That too without spending for the various platforms it touched (not buying retweets and paid pushes on social media).This was modern advertising that channeled old school advertising. It was about the strategic placement of a billboard, and using it to break the internet. 
Also Read | Olympics on Sail: Medal, Mettle and Mayhem in Munich
To brand the celebration of Mohun Bagan's ad on Times Square as hollow is a gross injustice to the concept of vanity. The club, ridiculously, attempted to correlate it with its heritage and cited it as an example of its reach in the world. The PR spin is, in many ways, just like the ruling disposition when they mask their blunders. Yes, demonetisation was a success, coronavirus lockdown in India was immaculately implemented, PM Cares is accountability personified and Mohun Bagan is one of the biggest clubs in the world just because NASDAQ took money and displayed the club's name, logo and message as an advertisement on its coveted real estate. 
Lest we are still confused about the legacy gesture in it, this should clear it: The ad space we are talking about is something which you and I can also buy if we have the dollars, a brand to push, and a worthwhile, non disruptive message to put up. It is just — well — a matter of contacting the ad agency that deals with it. Of course, some disposable money that we want to throw away at something frivolous is a prerequisite. 
Mohun Bagan, the current crop at the 131-year-old legacy club of Indian football, have landed themselves quite a lot of money recently, by lending the very legacy they celebrated on July 29 to what can only be described as a footballing start-up, ATK Football Club of the Indian Super League (ISL). Bagan sold 80 percent of its stake to RPSG Group, owners of ATK. 
Adding irony to insult is the fact that Bagan is owned now by a club which they and their fans looked down upon. How things change.
And, the change is not as skin-deep as portrayed. It is not as simple as the addition of 'ATK' in the front of a name that is synonymous with Indian football heritage. The real change within the club has started to show through the maroon and green colours they chose to retain for the new entity: ATK Mohun Bagan FC . The NASDAQ episode — ironically on Mohun Bagan Day — is a prime example of the changing colour of the Maidan giants. 
Also Read | Bajrang Punia Enigma: A Patient Indian, An Impatient Wrestler
The ISL — seven seasons into existence — has shaken up the domestic structure to such an extent that even a club like East Bengal, a giant of Indian football, Bagan's city rivals, and an establishment which in essence defines the Mariners as much as it defines itself, is struggling as well. In their centenary year, East Bengal is fighting their own demons, caught between aspiration, existential flux and a financial mess caused partly by its own doing and majorly by the economic weather created by the Big Brother league. 
The ISL is also about show, symbolism and pyrotechnics, much like everything else in the country at the moment. And Bagan, with their show stopping ad — on Times Square no less — have shown that it is well and truly ready for the new India.
How much of a dent would this stunt have caused in the club's coffers? Murmurs suggest almost nothing, seeing as the whole enterprise was apparently undertaken by a fan. Sources say neither the club or club officials had anything to with the ad and the mastermind was actually a US-based fan named Gaurav Roy. Apparently, it was Roy who footed the bill too, refusing to take the money from the club. Whatever may be the case — club money or fan money — an ad was put in place and its bill would have run into a few lakh.
Investopedia, in a report in March this year on the advertising charges at Times Square, valued the ad space there ranging between $5,000 to $50,000 per day. Now, considering the present economic climate, and the haggling experience we Indians inherently possess, they would have managed a take-it-or-leave deal from the agency. Let us, for fair estimation and ease of calculation, put it at $5,000, the bottom line of rates out there. That's around Rs. 3.5 lakh, which would have been a substantial percentage of a month's budget for Bagan in the I-League last season. 
Had Bagan — or the fan — chosen to advertise the same in, say Connaught Place in New Delhi, a prime hub in the capital, it would have cost them around Rs. 1.5 lakh for a day. Indeed, bang for the buck wise, the Times Square one is a better splurge. Look at its impact. The interactions on the tweets, Facebook posts run in the millions. All the Indian media houses ran the story. FIFA retweeted the images and even the global body brought the narrative that Bagan getting featured in New York is a sign indeed of its stature. The global body should not forget that football history, legacy and future is not built on advertisements. Clubs as social, political and sporting entities are established not on billboards but in the communities they hail from.
It is evident now that Bagan, once a community club, is not so anymore. Or else, the money would have been wisely spent on many things other than an ad (under the assumption that the club footed the bill. That is the narrative being propagated by officials quoted in reports since the first tweets carrying images from Times Square appeared).
Wouldn't it have been a more meaningful exercise to use the two or three lakh on coronavirus aid work in Kolkata? Or a fund for cyclone Amphan relief? Or in the football-scape, a better utilization of the money would have been to initiate some grassroots or local football programme. In these uncertain times, when players and establishments below the top tier of Indian football are struggling, that would have been not just symbolic, but practical as well. It would have also enhanced the club's own community reach — in a more genuine fashion than advertisements do.  
Instead, Bagan tried what has now become a successful formula for India. The gimmick comes first. The gravity and substance via frivolous spin later.  Belated Happy Mohun Bagan Day to all football lovers out there. A belated Happy Rafale Day to us Indians as well!
Get the latest reports & analysis with people's perspective on Protests, movements & deep analytical videos, discussions of the current affairs in your Telegram app. Subscribe to NewsClick's Telegram channel & get Real-Time updates on stories, as they get published on our website.
Subscribe Newsclick On Telegram