Boys Interrupted: Shivam Mavi, Kamlesh Nagarkoti and the Tough Road to the Top
From teenage sensations and Under-19 World Cup winners to long injury layoffs and interrupted careers, Shivam Mavi and Kamlesh Nagarkoti's journeys have been linked at the hip. At the 2020 Indian Premier League (IPL 2020), the duo now have a chance to hit the ground running and justify the hype and the sweat that has marked them out as cricket prodigies.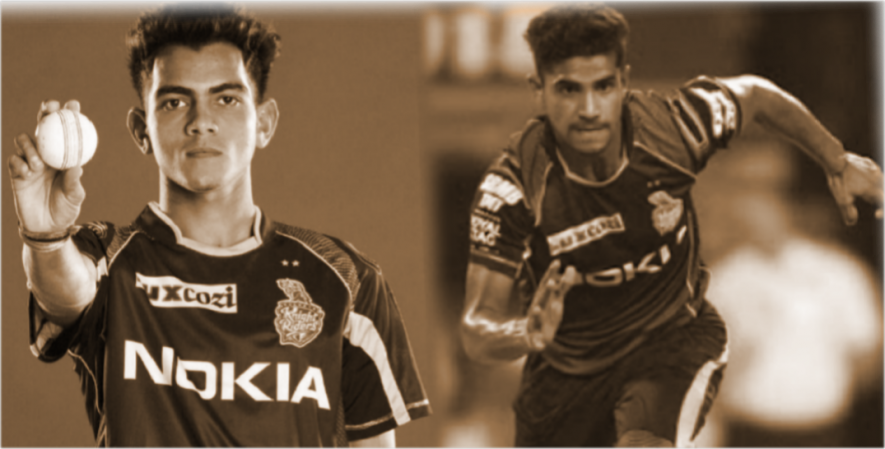 Kamlesh Nagarkoti (left) and Shivam Mavi, friends with similar struggles and acclaim, are also competitors, fighting against each other for a spot in the playing XI at Kolkata Knight Riders.
India is a nation obsessed with batsmen. For many years now, our obsession with the art of the willow has far superseded that with the ball. And so, no surprise that when India won their fourth U19 Cricket World Cup in 2018, the focus of the victory was centred on the batsmen who got them there. Two of those heroes have already gone on to represent the national team. Opener Prithvi Shaw has represented India in all formats and Shubman Gill has played in ODIs. However, the two bowling heroes from the same victorious team haven't registered on the radar of the national selectors. 
The duo in fact, are yet to make their presence felt in the Indian Premier League — the stage modern generations use to try to make a strong case for national selection. Fast bowling all-rounder Shivam Mavi and pacer Kamlesh Nagarkoti are now part of the Kolkata Knight Riders contingent. Injury problems have denied them an opportunity to make the mark over the last couple of seasons, and this, a delayed, compact, strange IPL is their opportunity to get third time lucky.
"It was tough but I was looked after by the KKR support staff during that phase. Particularly, assistant coach Abhishek Nair and Omkar Salvi (assistant bowling coach) were a guiding force along with my childhood coach Phool Chandji," Mavi said before playing his first game against Mumbai Indians this season. "All of them told me almost the same thing on what was needed to make a stronger comeback. Taking care of the body and improving bowling skills was my main focus."
Also Read | Damp Conditions, Heavier Balls, Throw New Challenges for Players; Serena Williams Pulls Out
Mavi was bought by KKR for Rs. 3 crores in the 2018 players' auction. He made his IPL debut that year but didn't see much success. Rajasthan's pace sensation Nagarkoti too was included in the KKR team (for the same amount of Rs. 3 crore) in that 2018 IPL auction. 
After two years in the cricketing wilderness — where injury after injury denied him an opportunity to play professional cricket entirely — he made his debut on Saturday. It may not have been path breaking but it was composed. Two overs gave away 17 runs, and for the youngster, the long awaited game time afforded relief. He'd been looking forward to the 2020 edition through the year, and the postponement came with its own headaches. "Mentally, that forced break did affect me since we were not able to practice or train much during the initial lockdown. However, the KKR trainers gave us a programme and we were engaged in something fruitful," Nagarkoti recalls over a phone conversation sitting in Dubai.
The Unbearable Burden of Expectation
Mavi was the highest wicket taker for Delhi in his days as an U-14 cricketer, but left after not receiving enough encouragement and opportunity from the association. He shifted to UP and has gone on to represent the state in the Ranji Trophy. His natural ability, combined with the fact that he is an all-rounder means, expectations from him are always sky high.
"For KKR, my approach while bowling is to pick early wickets with the new ball since swing is my strength," he says. "On an average, I am expected to face just six or seven balls in the lower order. My team expects that at least I should be able to get a boundary or a six or a couple of boundaries at least in those six or seven balls.
If Mavi's talent and hype is centred around his versatility, his team-mate's is based on raw pace. But Nagarkoti is centred and aware that pace isn't all there is. "If you focus too much on speed, then it can also affect you physically. You need to be alert mentally when you are bowling," he says. "It's important to know about your body and how you handle the talk about speed because only you know what you are doing. Frankly, I haven't worked too much on my speed but on the technical aspects of my bowling. Let's see what kind of speed I will have when I play."
A Competitive Friendship
Cricket, inasmuch as it is about the collective, is also an individual pursuit. And that simple fact means there will be times when Mavi and Nagarkoti, friends with similar struggles and acclaim compete against each other for a spot in the playing XI — the first couple of games a case in point. The individual goals are an aside, because the players themselves share a dream. "I would love to bowl from one end and see Kamlesh take charge of the other end. It will be great to bowl in tandem like we did in our U-19 days," Mavi says on the possibility of bowling along with Nagarkoti in this season. 
"Being patient for a youngster like him is never an easy option.  I thought he would play the first match but at the same time I was also realistic that only two out of three Indian pacers (Mavi, Nagarkoti and Prasidh Krishna) would play," Nagarkoti's coach, mentor and friend Surendra Rathore says. 
Also Read | IPL and the Case of the Missing Indian Coach
There is also acknowledgement and credit given to KKR's patience with the two youngsters, in a format where patience is rarely considered a virtue.
"I am thankful to the team that they persisted with both of them for three years despite their injuries and mark my words, both will play for India in next 2-3 years," Mavi's childhood coach Phool Chand boldly predicts.
Divergent Traits, Shared Heroes
Both Mavi and Nagarkoti are known to be real quicks who bowl upwards of 140 kmph regularly (the latter pumps it up to 150 when required). The duo have different actions, and different approaches to the art of fast bowling but have a common hero in Bhuvneshwar Kumar. 
"Mohammed Shami and Bhuvi bhai are my bowling heroes. I was mesmerised by Bhuvneshwar Kumar's swing because it's not easy to swing the ball both ways. And, Shami bhai is very special because of his seam position," Nagarkoti says. If Mumbai is considered the batting haven of India then in this century, Uttar Pradesh is slowly becoming a fast bowling paradise. The state has consistently produced seamers for India. None more than Meerut boy Bhuvneshwar.
"I have learnt a lot from Bhuvi bhai, especially on how to bowl in different situations," Mavi says. "I feel bowling skills are not a big problem as you go higher up in cricket. Your mental makeup plays a crucial role. The need for mental adjustments while bowling in different situations are the topics of discussion with him".  
But Bhuvneshwar isn't the only one they idolise. Mavi has separated his idols according to the different formats of the game (Tests: Jacques Kallis; ODIs: Kapil Dev; T20: Andre Russell). There is a commonality to them. They are bowling all-rounders much like the youngster. 
Nagarkoti's versatility comes from his ability in the field and as is true for generation after generation, his inspiration is the icon Jonty Rhodes. KKR captain Dinesh Karthik thinks the Barmer boy is as good as Ravindra Jadeja. 
"Forget about India, even in the world, how many pace bowlers are world class fielders?" his coach Rathore asks. "He has got an athletic body and is a good player of basketball and tennis. He has got flexibility and exceptional agility. Rare traits for a fast bowler. His ball judgment is staggering as he doesn't try to dive often but attempts to reach the ball by his running skill." 
There is no denying the massive talent the duo possess and the single minded determination that has got them where they are. Two staggered seasons, injuries and long spells out of the game has only strengthened their resolve. It has been two years since Sourav Ganguly expressed his admiration for the duo, tagging Virat Kohli, VVS Laxman and the board in his tweet. "keep an eye on two under 19quicks ..mavi and nagarkotti ..bowling at 145 in newzealand ..brilliant " it said.
Much has changed since then. Ganguly is now President of the BCCI. Mavi and Nagarkoti are in the IPL saloon, equipped with the knowledge that their careers could well take off in the UAE. Of their ability there is no doubt. The performances now have to take flight.
(The writer has covered cricket for over two decades and is the author of Sachin: Cricketer Of  The Century and The Cricket Fanatic's Essential Guide.)
Get the latest reports & analysis with people's perspective on Protests, movements & deep analytical videos, discussions of the current affairs in your Telegram app. Subscribe to NewsClick's Telegram channel & get Real-Time updates on stories, as they get published on our website.
Subscribe Newsclick On Telegram