The Business of Football is More Important Than Football Itself
While the Bundesliga's return has thrilled many football fans across the world, the reason for them doing so reveals a darker truth about the global game. More and more spectators have been driven away from stadiums, first by overpriced tickets and now by the virus. By continuing with football without them and instead relying on broadcast revenue and commercial partnerships, football's step towards the dark side is complete.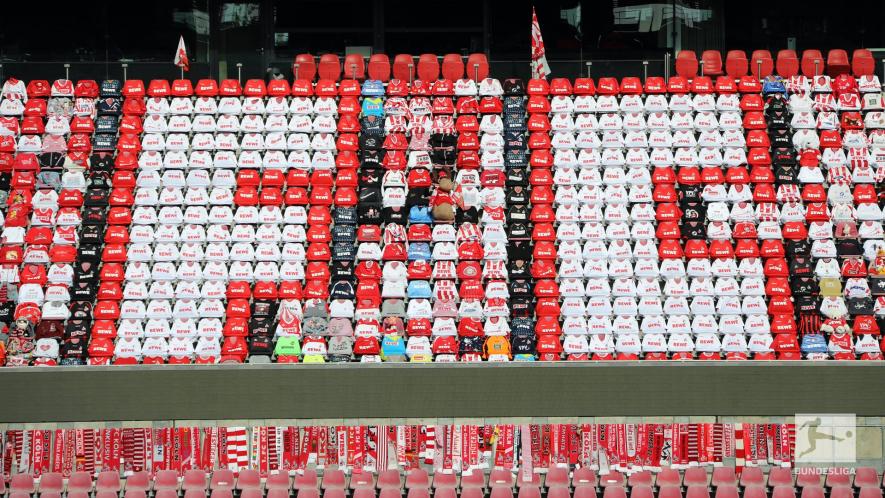 The Bundesliga's return brings into sharp focus the fact that fans in stadiums don't matter much anymore, broadcasters and television rights holders reign supreme. (Picture courtesy: Bundesliga_EN/Twitter)
For five years between 1959 and 1964, India were the team to beat on the Asian circuit. They excelled at all the major meets, and won many important matches, including the Asian Games final in 1962.
Yet, the team's skipper and best player, Chuni Goswami, announced his retirement from international football rather abruptly in 1964. In his autobiography published in Bengali in 1982 (with a lovely cover design by the filmmaker Satyajit Ray) Chuni narrated his ordeal at the national camp in Mumbai prior to the 1964 Merdeka tournament in Kuala Lumpur.
"We were put up in a hotel near Crawford Market; it was more like a musafirkhana. Poor living conditions, absolute bad food. There I decided to quit international football. As the captain, that's the only way I could protest against the federation's attitude," he wrote. 
Chuni Goswami, 27 years old at the time, kept to his word. He never played for India again after returning with the runners-up trophy from Merdeka. But his retirement hardly made any difference. The AIFF hardly had the money to keep the players happy. Things only improved at the turn of century when big time sponsors started showing an interest in Indian football. 
These days the AIFF treats its players in the best possible manner. Comfortable stay, nutritious food in luxurious hotels, backed with modern training under expensive coaches. The constant flow of money from sponsors/marketing partners has helped. Gone are the days when a bunch of gold medallists had to be caged in a dharamshala in a congested market place.
The shift in arrangements highlights the importance of sponsors/marketing partners/television partners in modern day football. It's not confined to India alone; This is a worldwide phenomenon. From the World Cup to India's I-League, nothing moves without a green signal from the sponsors, especially from the bosses in charge of the idiot box, who hold the power that sends the beautiful game to the red zone.
To draw a comparison between Indian and German football would be a great joke. Yet, sitting thousands of miles away from the scene, one cannot shake the feeling that starting the Bundesliga last week in the midst of Coronavirus pandemic -- welcomed by a section of the fans and watched by millions on TV -- had something, or lots to do with keeping its sponsors/television partners happy. 
Read More | Premier League Clubs Concerned Over Extra Broadcast Rebates (Football Round Up)
The resumption backers will claim it is an entirely reasonable decision. A good number of clubs in Germany's top two divisions could be in deep financial trouble if the season can't be completed. A lot of jobs will be on the line, starting from footballers, support staff and a whole lot of people engaged in the business.
True. Watching Sunil Chhetri living stylishly and playing football at 35 in India is a far better sight than that of the country's finest forward sitting in an unhygienic dingy room and bidding adieu to football. To make that happen, whether in India or Germany, constant cash flow is a necessity. 
But this is also a sign of living dangerously, the inherent weakness of professional football across the world. It is the other side of the story – an overreliance on TV money has exposed the top European leagues, Bundesliga included. Without the broadcast money, many clubs struggle to support themselves.
A recent survey conducted by Germany's reputed football magazine Kicker estimated the losses incurred by professional clubs from playing in empty stadiums. Based on figures from last season, first division clubs will lose a total of €67 million and those in the second division may lose €22 million. Lower division clubs could be hit harder as they mainly earn money from gate sales.
It is being alleged regularly that Bundesliga bosses are choosing profit over people. Again there is another side of the story here. Top clubs are somehow forced to honour the television deal in order to pay the rather indecent salary bills of footballers. In many cases the players' wages account for roughly 75 percent of a club's annual expenditure. To say footballers are trapped in their own unreasonable demands isn't an exaggeration.
Bundesliga authorities have taken a huge risk by putting the ball back on the pitch when the vaccine for the Coronavirus could still be many months away. There are chances footballers could prove to be guinea pigs, a statement echoed by Newcastle United's Danny Rose. But the story being sold is that Germany could make huge gains in the football transfer market in the near future if they can assure regular sporting events in this crisis. 
The American philosopher Noam Chomsky once said: "That's the whole point of good propaganda. You want to create a slogan that nobody's is going to be against, and everybody's is going to be for. Nobody knows what it means, because it doesn't mean anything." 
Maybe that's somewhat appropriate for the Bundesliga. With due respect to Germany's great soccer tradition, several things have been compromised. It includes the health of footballers. Making them play a busy schedule after two months without matches will invite serious fatigue and injuries, an apprehension which has been shared by several sports medicine experts. 
Read More | Scepticism, Struggle But No Misgivings: Women's Sport In India Remains Positive About Its Future
To play without spectators could set a dangerous trend; the very essence of the game could be compromised in the future. Sport as a whole could suffer a serious dent as a spectacle. More importantly, the unique nature of German soccer – it doesn't allow commercial interests to own more than 49 per cent of a club – could be broken if football without fans proves to be a success.
On a lighter note, the lack of excessive celebrations because of the social distancing rules could come as a sigh of relief. The elaborate scenes of hugging and kissing after every goal scored was getting too monotonous – yet another addition in the era of professional sport.
Back in 1948, one of cricket's most memorable moments came on August 14 at the Oval, when Don Bradman in his last Test innings, was bowled for duck by the English leg spinner Eric Hollies. As Bradman slowly walked back to the pavilion, the crowd were yet to fully realise what they had just seen, England's amateur skipper Norman Yardley calmly looked at the bowler and said: "I say Eric, jolly well bowled, lad." He was delighted to see Bradman's back but didn't want to make a great show out of it.
Soccer is back on the pitch, but one suspects, for the wrong reasons. It is necessary to complete the Bundesliga season by June 30 in order to claim €300 million in television money. Football could silently change hands – spectators could be slowly but firmly elbowed out; they could no more be the driving force behind the world's greatest spectator sport.
Get the latest reports & analysis with people's perspective on Protests, movements & deep analytical videos, discussions of the current affairs in your Telegram app. Subscribe to NewsClick's Telegram channel & get Real-Time updates on stories, as they get published on our website.
Subscribe Newsclick On Telegram