Scepticism, Struggle But No Misgivings: Women's Sport In India Remains Positive About Its Future
Globally, predictions over the economic impact of the coronavirus pandemic on women sport have been apocalyptic. From the ECB planning to sacrifice its women's team to various clubs shutting the women's section, things look bleak. In India, coaches and players reject the gloom, insisting the lack of too much may actually help them keep what they have.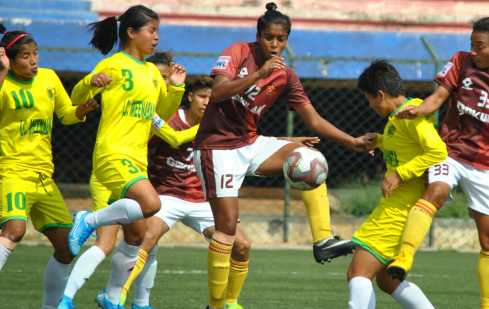 Women's football is slowly finding a footing in India. In the last two years, the Indian Women's League (IWL) has provided a domestic platform for the players which was not there earlier.
The ripple effects of the Covid-19 pandemic on global sport is cause for much discussion. Every day that big leagues remain shuttered, stadiums empty and broadcast feeds showing repeats is a huge dent to the economy of sport as a whole. 
New reports on a daily basis discuss the 'return of the Premier League', the adverse impacts of 'cancelling the NBA season', the economic hit that are the Olympics or even the new broadcast genius that is the UFC. As much as these discussions are affable and centred around genuine concern there is something forever missing. 
Discussions on the economic and sociological effects of Covid-19 on sport have almost single handedly centred on Big Sport, and men's sport -- because that is after all Big Sport itself. Very few discussions have been had on the communities that will be hampered by a lack of sport, the loss at the grassroot levels and the overall structural inequity that the virus has revealed.
Also Read | Right To Play: The Unsuspecting Casualty of a Pandemic
As much as the Premier League, La Liga and Serie A will struggle, they will actually go on. On stricter budgets, rolling back a few decades the game will become more structured -- and some experts contend also usher in a franchise format long coming. Women's sport on the other hand faces an apocalypse. FIFA assurance that they will persist in their $1 billion investment in the women's game counts for a lot, but also very little. What use the money if the grassroots collapse?
The case for Indian women sport is markedly different despite in fairness also being hugely the same. From Kamaljeet Sandhu's Asian Games gold in 1970 to PV Sindhu's silver at the Rio Games, much has changed. Yet much has remained the same. At the top of the pyramid support structures have mushroomed and multiplied, but at the grassroots participation remains low and unsustainable.
Women's sport does not attract the same commercial influence as their male counterparts -- partly attributed to the huge pay gap that exists in the sports sector itself. Giant investors are more likely to invest their capital in clubs that are well established -- or even create new ones to run with iron fists -- rather than support new ones. A clear display is the lack of Indian Super League and I-League clubs that support women football teams, or indeed academies for girls at all.
Also Read | All the Details of the AIFF Technical Committee Discussion on May 8
Even in cricket the disparity is glaring. Fast bowler Shikha Pandey considers herself part of an elite few who grew up playing the game without economic constraints forcing her hand. She acknowledges that this is rare. 
"I have been lucky and haven't really had to face such challenges. Athletes who come from rural parts of India find it difficult to utilise better facilities that someone in a city has access to," she says. "The social outlook towards girls/ women taking up sports is completely different in rural areas. Additionally there aren't enough academies to train in."
Even if somehow you do build yourself up to a certain quality through your own endeavour Pandey finds the roadblocks remain. The biggest is the most damning. The fact that there are 'not enough employment opportunities for women who want to pursue sports as a career.'
This is a sore point across sporting disciplines. Gokulam Kerala Women's coach PV Priya, has been at the forefront of conversations about creating equal opportunities for women across the country. Even in a state known and celebrated for its gender equality programmes though, Priya finds indifference. The fact that there exist very few academies or girls, and most state units do not have a football team is clearly hampering the growth of the game in Kerala itself.
Also Read | I-League Clubs Terminating Player Contracts Via Force Majeure: The Legal Implications
"Women's football in India is still in the initial stages of development. Women players do not have the courage to make their own decisions and are dependent on the management, family or friends, although with time even this will change," she says.  "We as women in sport do not get full time salaries, only get paid whenever we participate in tournaments."
Priya was part of a team manning phone and computer terminals at a Covid-19 essential commodity distribution network set up by the Kannur District Panchayat in North Kerala. It is a meticulous, tedious and voluntary job, taken up by many athletes associated with the Kerala State Sports Council. The work is its own reward. Much like the game she coaches.
"Most players are not bothered by the money. Many of them are students and the clubs pay them so they are satisfied with that. They just want to play," she says, in response to what remuneration means in football in India. "Those employed with different units and companies take leave and find other work to sustain themselves…"
Despite the gloom about the gap in professionalism and opportunity, Priya also acknowledges that things are actually looking up. The Indian team is rising in the rankings and consecutive stagings of the Indian Women's League (IWL) have raised the profile of the women's game in the country. There is a sense of acknowledgement.
But the gaps remain real. "We have a lot of hard work and challenges ahead. The men's team has a lot of facilities that the women's team does not," Priya says. "Especially when it comes to personal fitness. We really have to work hard."
Sujata Kar, a former India player and a coach acknowledges that economic distress, even though not immediate, will have a telling impact on women's sport in the country. Kar coaches the Kolkata Police women's football team, and knows that despite the stability that are government budgets, the hit could be significant. "This year's budget for tournaments, camps, training etc has already been fixed. So, the fact that actually nothing can happen now, the money is staying there, I don't see much cuts. But next year, there will be." she says. 
Kar and Priya come from the same generation of women players, those who rose up on their own and formed their careers out of nothing just because of a game they love. While Priya has moved towards the upper echelons of the pyramid, Kar remains at the grassroots, by choice. 
"This is where the real joy of the game is," she says. "And this is also where you can actually create, make an impact and do something that will genuinely help the game in the country. I enjoy working with kids and at the grassroots, because I know the talent that exists here, and how little is being done to harness it." Kar acknowledges that having women leading the national team, various club teams and state units is a huge plus. It creates an environment that points in the same direction seeking success.
A recent addition to this holitistic women dominated power structure is Anju Turambekar, the first woman to be appointed Technical Director of a football club in India. Turambekar who has worked with the AIFF and is a panel member of the AFC grassroots has significant experience at helping women's football in India, and now is at the helm of a club that was for a long while the pinnacle of the game in the country.
"Over the years if we see, women have been striking big across disciplines in India," Turambekar says. "Sport is just one field where women have made the country proud. That said, I believe women shouldn't play sports just to bring medals home but it should be a way of life so that we can build a healthier society." 
Turambekar's point is very pertinent. In a society that adulates sportspersons, there is actually very little desire to play sport itself. Sport is a means to an end, rather than the end itself. A huge fault of this is in the systems that propagate this. Or the non-existent systems that encourage this.
"We still need to create opportunities for females to take part in sports at all levels and when I say all the levels, I mean  consider everyone, from grassroots kids to the old  women," Turambekar says. "I see more than 50% of female athletes drop the sports once they get into further studies, jobs, or get married. The circumstances are numerous." 
Change, Turambekar believes, must come from the school level. "I would want to see changes happening from the school level itself, where every child can enjoy sports and learn life skills through sports," she says. "Adaptation at an early age is on the higher side and we can build a strong character which can lead to becoming the confident, powerful, and responsible leader to one's life, home, society, etc." 
Turambekar has played multiple roles -- player, coach, administrator and now, everything rolled into one. She has played these roles largely surrounded by men, often jostling competing and bettering them to avail of opportunity. She acknowledges her role as a pioneer, but also refuses to believe it impacts her work itself.
"I have been working around with and for the men's sector almost throughout my career and when I play this role every day, I never consider separate genders and this doesn't stop me from doing what I must, to contribute towards the development of a club or country," she says.
Turambekar is wary of the challenges that will come in a post-pandemic world, but also believes that in Indian sport very little will be hurt. "All I hope is that the world finds a way to overcome this struggle to get back to normalcy. That's what any sport teaches us, anyway."
Priya's words are perhaps the most encouraging. "The truth is that the virus will not look at gender," she says. "The impact will last for a while not just in women's sport but everywhere. In a country like India, where Indian sportswomen are anyway fighting for equality, this will just be another barrier to overcome. And we will."
Get the latest reports & analysis with people's perspective on Protests, movements & deep analytical videos, discussions of the current affairs in your Telegram app. Subscribe to NewsClick's Telegram channel & get Real-Time updates on stories, as they get published on our website.
Subscribe Newsclick On Telegram