A Chronicle Of Death In Sport. And Life | Outside Edge
Sport is forgiving. Life and death quantified in victory and defeat. Performance quantified too, understood as results on a sheet of paper. Life is harder to describe in an equation. And so, the sporting obituary becomes a paradox, a description of a life magnified by statistics, but also reduced by them.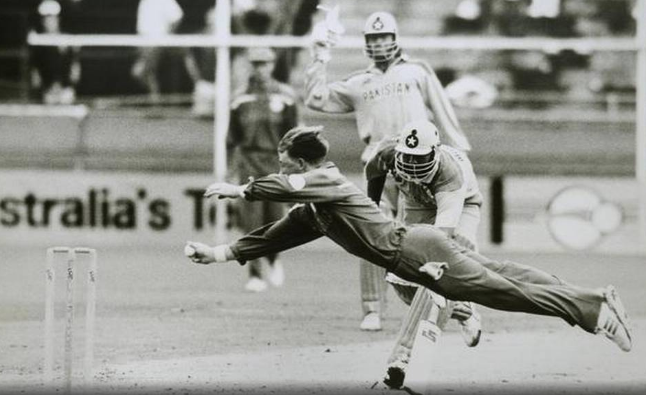 Early deaths are akin to run outs on the cricket field while the batter was looking set for a big one. However, a fall in sport also offers a new life, a chance to rethink, regroup, and make amends (Pic courtesy: The Hindu).
Death overs! Sudden death! Bowling at the death! Dead rubber! Dead ball! Sport has a fascination with death, and endings, both happy and sad. And sport, we thought, was a reflection of life. The action and reaction on the playing field — with destiny and effort having a say in the outcome — is no doubt a sanitized, rule-bound, time-bound version of life. However, a loss at the end remains the ultimate truth, much like in life. Things are not morose on the playing field though. Death is a loss but also a chance to live again, to regroup as the cliche goes. Sport gives life another chance in death — a run out, a red card, a bad slump or defeat brings life back to the morrow.  
As a career sports journalist, caught up in a perpetually respawning calendar — seasons and off-seasons that merge into each other — and quadrennial multi-sport pilgrimages, one has reflected, romanticized and mimicked falls in words and deeds. I was guilty of romanticizing the idea of sudden death on a football pitch during the last FIFA World Cup. I have glorified killer Pakistani swing exponents, the death bowling specialists, on many occasions. I have also been caught celebrating the life lessons one finds in the premature end to a promising innings. Of all the games men and women play, cricket interprets life and its absurdity the most. The overwhelming scope for destiny to play its hand, coupled with mortality — the sudden demises — make cricket a charming pursuit.
Also Read | Judge Dismisses US Women Football Team's Equal Pay Claim
In cricket, or any sport for that matter, we never feel an iota of guilt when we celebrate one man's victory and another man's defeat. Till time catches up that is. Time, as it passes, starts providing us the concept of defeat within the variables set by mortal realism, unlike what we are used to in sport.
One of my mentors and I once reflected upon the final stage in the career of a sports journalist. If one sticks around in the profession long enough, staying relevant among the every-changing demands from an ever-evolving sporting ecosystem and mediascape, then a time will come when you would become, not by choice but by fate, the designated obituary writer for the organisation you are associated with. It is a very weird situation, the senior of mine murmured at the time. I nodded, half numb to the idea as I was a newborn then, and death is not what kids think of. 
With years — a slow attrition of arrogance and a significant gain in ego and wisdom — I could now reflect about that reflection. No, I am yet to hit that stage where a sports legend's death would result in a call from the editor's office for a rich tribute. The oldest athlete I ever covered in action is still plenty young in human years. But time does fly, and its pace is all the more evident when the world slows down — sport locked down by a virus, and a career sports writer not chasing calendars and tracking world records, but keeping tabs of the seconds it takes to sanitize one's hands.  
Long back, while discharging my role as the designated motorsport correspondent for a newspaper, I could sense the racers I was covering tease and then cheat death, more-or-less every time they hit the track or a rally stage. In India, in those days, motorsport was a hazardous business. It still is. So a weekend trip to the race track on the outskirts of Chennai would begin with a prayer. It had nothing to do with my religious disposition and everything to do with professional necessity. The last thing I wanted while on the race track — covering life and adrenalin — was to write about death. I was not ready for an obituary then, while in my 20s, not ready now, as I touch the 40s. 
Having said that, I have written one obituary in my career so far. That of Phillip Hughes — the Australia batter who died in tragic circumstances after being hit by a bouncer during a domestic match. This was in 2014 and I still don't understand why I volunteered to write a tribute piece for the magazine I was attached with at the time. It drained me even though I was writing about a cricketer I had seen in action but hardly knew. I had no emotional stake in Hughes' death but still paid a toll writing about it.
Obituaries are tricky pieces of literature. The writer treads a fine line, respecting the deceased, celebrating his life in all its glory, and perhaps perfection. Nobody judges an obituary for its content. Nobody except the writer, who, amidst emotional and factual wranglings of the creative space within him, has to also live on racked with doubt about whether he managed to do justice to a person about whom he just finished his last ever contextually relevant piece. In coming years, memoirs may get scribbled, but the obit represents the last ever live piece of writing on the deceased.
Chuni Goswami, Indian football legend and an accomplished cricketer, died a couple of days back. The actor Rishi Kapoor died the same day. A day prior to that, Irrfan Khan passed away. Amidst an avalanche of obituaries, one was left reeling, mourning the dead in a detached yet connected way one does with celebrities. We associate with them in strange ways, yet don't in stranger ways.
Goswami, a gentleman extraordinaire and superstar of Indian football from the 1960s, did not leave me in mourning. Kapoor, whose prime as a romantic hero I witnessed in Chitrahaar episodes while growing up, left me with little thought. May he rest in peace! Irrfan's death left me mulling and brooding, though. 
One has always identified with Irrfan. In age, I am closer to this Khan, who died at 53. But Irrfan lingering around me the last few days had more to do with the honesty with which he carried on while occupying space on a dishonest and surreal stage — the silver screen. We saw Irrfan as a hero. We also saw him as one of us. On screen we found him leading ordinary, identifiable lives, fighting day-to-day existential battles, which led one to believe that off it, in life, he was as human as us. Much different from the other Khans of this generation.
Irrfan was one of us and the thought of losing someone whom I knew kept knocking. I gathered that I had found a friend in Maqbool, Paan Singh Tomar, Pi, Roohdaar…  In Irrfan!
He also fell mid innings, triggering a longing — the customary ifs and buts — in the sports writer in me. His demise was like one of those star batsmen getting run out after a half century, despite looking set for a big one. Premature end is both charming and sickening. On one side we are glad he left fighting, while at the top of his game — like a swashbuckling 50 that will be on replay forever — and also while staying relevant to the schemes of the fickle world. Irrelevance is far worse than death, you see. But on the other hand, you feel the world — the big match — would have been better off had he stayed longer.
Also Read | Lockdown Tales from Hockey: Neha Goyal Dribbles Around Life's Questions
We were left with the same feeling when Ayrton Senna died one Sunday at Imola, while blitzing the track the only way he could. One era after another rolled by — Schumacher, Hakkinen, Vettel, Hamilton — but motorsport was never the same after Senna. Bollywood will move on too, much like life, but Irrfan will always represent something in Indian cinema and its artistic potential, for a larger, discerning audience, devoid of fanatic fanboy trappings.
The truth suddenly dawns, in definitive suddenness much like Irrfan's death. In the guise of a cricket column, I may have ended up writing something close to an obituary. And, the price I pay is what I dread most — to live with the doubt whether it was enough.
Sport is more forgiving. Life and death is quantified in victory and defeat. Performance — good, bad or shallow — is quantified too and can be fathomed and put on paper with relative ease. It is hard to describe life in a quantified equation as its intricacies go beyond numbers. It goes beyond death and its implications too. Just like Irrfan's legacy would. Just like Goswami's or every human life lost in these uncertain days fighting a virus. Where quantum equations and prose fail, poetry triumphs. 
Kahlil Gibran, I call upon!
For what is it to die but to stand naked in the wind and to melt into the sun?
And what is it to cease breathing, but to free the breath from its restless tides, that it may rise and expand and seek God unencumbered?

Only when you drink from the river of silence shall you indeed sing.
And when you have reached the mountain top, then you shall begin to climb.
And when the earth shall claim your limbs, then shall you truly dance. 
Click here for more Outside Edge cricket columns
Get the latest reports & analysis with people's perspective on Protests, movements & deep analytical videos, discussions of the current affairs in your Telegram app. Subscribe to NewsClick's Telegram channel & get Real-Time updates on stories, as they get published on our website.
Subscribe Newsclick On Telegram