Covid-19 Heartbreak: India out of AFC Women's Asian Cup After Biosecure Bubble Breach
The impact of the exit of the Indian women's football team from the AFC Women's Asian Cup match after a Covid-19 outbreak in the squad that saw as many as 13 players test positive, goes beyond the dynamic of this tournament. With a generation of players missing out on a rare chance to showcase their talent and gain experience at a continental championship, the loss is beyond measure, feel former stars Bembem Devi and Sujata Kar.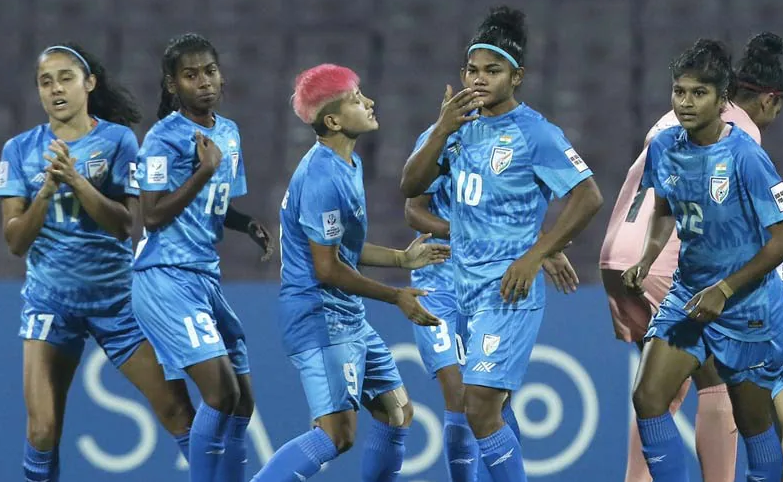 Indian women's football team players at the AFC Women's Asian Cup 2022.
At around 6:30 pm yesterday, Oinam Bembem Devi started getting agitated, impatient even, at the slow pace of the proceedings around her. It had been a long Sunday, and yet, what she was looking forward to most, was yet to come. Bembem had left home early in the morning to take charge of her wards at Manipur Police for an Indian Women's League qualifier game (they won), return for a quick lunch, before rushing off to watch and be the chief guest at the final of a local age group tournament in her area. The function prior to the game had taken ages and Bembem's patience had been tested to the limit. When the organisers finally invited her to speak, she used the platform to ask that they hurry up and start the final, so that everyone could make it in time for the real big game of the day — India vs Chinese Taipei at the DY Patil Stadium in Mumbai. 
Bembem wasn't the only agitated one though. Around the time her patience was being tested, Indian football Twitter — a specific genre of news and Twitter that exists within and of itself — was bubbling towards a full blown explosion. Rumour, to disbelief to rage to sympathy. Soon enough, everyone knew what was about to happen. At 1910 hours, Chinese Taipei players were out on the pitch, warming up for their second group game against the hosts, the referees were out in the middle, but the hosts were nowhere to be seen. The broadcast was looking in the other direction — Eurosport decided to go with WWE — and so, it seemed, were the men who run Indian football. 
"I went home as quickly as I could, and was in front of the TV with about five minutes to go,"  Bembem says, "but there was nothing coming on. I was a bit confused, and didn't know what was happening. Pata nahi match dikha kyun nahi rahe…" 
Also Read | Maria Rebello: She Played Football, Lest We Forget | Indian Women's Football History Special Series
It was a feeling many shared, not just those outside the stadium, watching on TV, but also many members of the media within. The rumours slowly became fact — Bembem, a legendary player and coach lauded by everyone in Indian football took to Facebook to find news — and two minutes after the official kickoff time, the Asian Football Confederation (AFC) confirmed what everybody knew, but no one was willing to say. 
"Following several positive cases of COVID-19, India failed to name the required minimum of 13 players for the Group A match against Chinese Taipei," their official statement said. "In accordance with Article 4.1 of the 'Special Rules Applicable to AFC Competitions during the COVID-19 pandemic' (Special Rules), India was therefore unable to participate in the match and the full provisions of Article 4.1 will apply." Article 4.1 specified that upon forfeiting a game because of an unavailability of players the team would be considered to have pulled out of the tournament. India were out of a tournament they were hosting because of a Covid-19 breach.
It took the AFC 15 further hours, before issuing the final clarification, or all those still harbouring hope. "...India was unable to participate in the match, is to be held responsible for the match not taking place and is considered as to have withdrawn from the Competition," the subsequent statement said. Furthermore, all their matches were cancelled and considered null and void.
"My first thought was that this is terrible," Bembem says. "It wasn't the most humane thought, but my immediate reaction was that this was a great chance to qualify for the quarterfinals and put ourselves in contention for the World Cup…"
But now that the building has come crashing down, it is perhaps appropriate to take a step back and consider how it has all happened. In the days to come the AIFF will undoubtedly conclude an inquest into the bubble breach and never release it to the public. This after all is a federation whose official statement is actually a compilation of the President's tweets — one of which has been keen to stress 'let there be no fingers pointed at any'. Experts and onlookers have questioned the sense of hosting a tournament of this stature in a state with the highest infection rate in the country. It perhaps also says a lot about how inept our footballing administrators and rulemakers are that they, the hosts, have been forced to pull out of a tournament because of Covid-19 infections. None of the travelling teams have so far (jinx) dealt with an outbreak this bad.
Also Read | Subhas Bhowmick Tribute: A Daring Striker With a Penchant for Big Occasions
In the midst of all of this, the drama, the opaque communication, the rhetoric and the jargon, of course, the players — as many as 13 of them supposedly positive — have been relegated to the sidelines. These are professional athletes, even if they are rarely treated as such; women who have put in the last year or so of their lives on hold just to take part in the biggest tournament of their lives. For many among them, this may well be the last opportunity they get. And while the future is bright for the youngsters — Shilky Devi, Priyangka Devi, Mariyammal Balamurugan and Sumati Kumari — it is worth considering the trauma Covid-19 has wreaked on their psyche. These girls were part of the U-17 camp set to take part in the Women's U17 World Cup 2020, a tournament that was cancelled because of the pandemic. The four would not be eligible for the next edition — to be hosted by India later this year — and were fast tracked into the senior team. And now, this. 
"Life is like this," a melancholy Sujata Kar says. Kar and Bembem were in the Indian team that played at the 2001 Asian Championships (a predecessor of this tournament), teenagers bound by a single purpose to succeed. Both wound up long careers to drop straight into coaching at the grassroots. "They must be hurting hard, and I can't even begin to imagine the disappointment…" Bembem says. "But my advice to them is that they don't forget all that they've learnt in these months of preparation. There are more tournaments to come, more games to play, and tournaments to qualify for. All the training you've done will reap rewards in the future. Keep your notes ready, keep your spirits up and be prepared for when things look up again."
Kar goes for a footballing analogy. "What do you do when you go down by a goal? Do you just curl and give up? Obviously not. You show your strength of purpose… don't be dejected by what has happened, just believe that it will all get better."
But how really? Positive statements on social media haven't in the past changed things on the ground. There has been a swell in support for the women's football team — and even perhaps women sport as a whole — in the last few weeks. There is momentum that cannot and should not be lost. The federation has said all the right words, but it remains to be seen what exactly is done with them. More needs to be done at the grassroots, of that there's no doubt. This team deserves more — players, support, infrastructure and fandom. 
At the tournament yesterday, despite her impatience, Bembem wanted to use her platform to make a statement. She needed to. "I never like to speak before kick off anyway, because I feel players' warmups are disrupted by long speeches," Bembem says. "And yesterday even more so… but I had to say one thing that I observed." 
In her speech, Bembem lauded the organisers for hosting an age group tournament and expressed gratitude at being invited as a guest for the final. She noted that age group tournaments were the way to boost the sport in the state. In the same breath she also asked the organisers to hold a tournament like this for girls. "I'd be happy to come again," she said. "And again. And again. As long as the girls get to play too."  
Get the latest reports & analysis with people's perspective on Protests, movements & deep analytical videos, discussions of the current affairs in your Telegram app. Subscribe to NewsClick's Telegram channel & get Real-Time updates on stories, as they get published on our website.
Subscribe Newsclick On Telegram