FIH Hockey World Cup: In Game of Two Halves, India, Belgium Share Spoils
Indian hockey team and Belgium played out a 2-2 draw in their Group C match at the FIH Men's Hockey World Cup. Harmanpreet Singh and Simranjeet Singh scored to earn the draw, and India would now fancy their chances of qualifying directly for the quarterfinals by topping the group.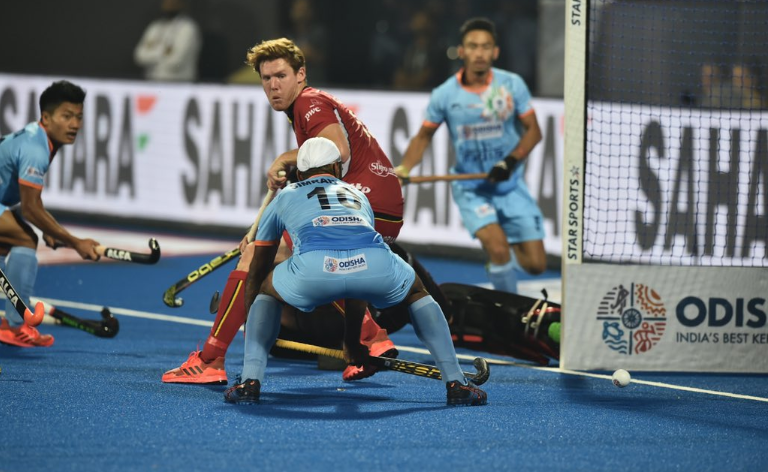 Simranjeet Singh scores Indian hockey team's second goal against Belgium in their FIH Men's Hockey World Cup Group C match in Bhubaneswar on December 2 (Pic: Twitter, FIH).
A game of two halves, a much used line. A commentary trope. Competitive draws are always 'a game of two halves'. A live demonstration of what that actually means was given by India and Belgium at the FIH Men's Hockey World Cup on December 2.
In a game of two halves, it is tough to really find criticism for either team. After all, a game of two halves means both teams enjoyed, at least, half a good game. In a game of two halves, the crowd is forever treated to a spectacle (personal biases aside). In a game of two halves, even the coaches are spared criticism. The winner of the first half  because of his ability to put out a perfect team from the start. The winner of the second for his ability to take stock and tactically adapt.
In a bullish press conference a day before the match, Indian hockey team coach Harendra Singh pointedly proclaimed that the only way Belgium would score was if they got hold of the ball. And, India's objective then should be to hold possession and run circles around them with it.
Also Read | FIH Hockey World Cup Preview: How Young India Will Do Without Sardar Singh
Now, it is tough to know how much Hindi the Belgian team and their support staff know, but they got the message alright. In the first half of the game against India, they held the possession and ran circles around the Indians. At the end of the first quarter, the stats read 57% to Belgium. At half time, it as 53%. Conveniently, Harendra was also wearing red. A conspiracy theorist could have had a field day.
All those doubts were put to rest, though, with whatever talk Harendra filled his wards' heads with at the break. Even the most partisan of Indian fan would have seen the fault lines at the break. India were too slow to press the Belgian attackers. They were not winning enough tackles. When they had the ball there was too much theory, very little applied. The passes were not sticking. The breaks were too slow. The list could have gone on. And Harendra — and even Chris Ciriello's — probably did.
Belgium run India ragged on the blue turf in Bhubaneswar. For most of the first half, the ball was either at a Belgian stick, or was soon going to be, as they double marked and pressed India to the point of strangulation. And of course, then there was the dreaded drag-flick routine. Both the teams had suffered a bout of PC inefficiency in their openers and there seemed to be no mood for a repeat. Belgium won their first two in a series, and the second was smartly parried by PR Sreejesh. On the third — in keeping with all cliches that can be permitted within one match, one day and one article — they got third time lucky.
Video | FIH Hockey World Cup: The What and What Nots of Game's Biggest Party
Luck, though, had nothing to do with it. Variation did. For the first two, they had gone for the more traditional attempt, Arthur van Doren in the first battery charged with the task. For the third, they set up two batteries. One-and-a-half perhaps. Tom Boon slotted somewhere half and half behind the receiver, but distracting enough to throw the first runners off by half a step. Alexander Hendrickx put it low and hard in the centre of the goal, but Sreejesh, limbs akimbo was helpless. First blood Belgium.
The momentum stayed, even if the imagination dwindled and sputtered, sparks occasionally livening up a half where they did enough and India could do nothing. Mandeep came close, and should have scored from a brilliant bit of imagination by Dilpreet Singh, but that was it. Harendra had been bullish the day before. At half time he would be required to be so again.
What was the Belgium half time like though? Not much different perhaps. More of the same the coach must have said. And in fairness, for the best part of five minutes in the third quarter, they were putting what seemed to be nails in India's direct qualification coffin. Sebastien Dockier and Cedric Chaulier produced a moment of one-touch hockey that can conservatively be described as brain mashing. Sreejesh though had read the final ball and cut the angle. Chaulier's shot and Belgium's nail were denied.
Very soon it was India applying the pressure. The hand brakes were off, the crowd was being fed the energy again. More often than not, the two work in tandem. Soon the PCs appeared. A first PC went wide. The second was blocked by a Belgian first runner's foot. Varun Kumar, the Variation, had taken it. The third — oh the cliche — was on target (Varun again) and was blocked illegally on the line. Penalty stroke. India celebrated even before they had scored. And very soon they celebrated again, when Harmanpreet Singh did.
Also Read | Golden Freedom: Legacy of Independent India's First Hockey Olympic Gold in 1948
Adrenaline is a strange thing. Goals can sometimes provide it better than injections in the veins. India pressed, the crowd roared. India attacked, the crowd roared. A minute into the fourth quarter, Kothajit Singh slipped into the circle from the left, dodging one defender, cutting past another, somehow getting a ball across the face of the goal. In slow motion, it reached Simranjeet Singh, who had to tap it home from inches, not even yards. 1-0 down at halftime. 2-1 up with 13 minutes to play.
13 minutes and 46 seconds to be exact.
That is a long age in hockey. Even a minute is an age. Belgium love hitting India with late goals to destroy their spirit. They had done it to India at the previous World Cup, John-John Dohmen scoring in the last minute of play to win the game. They did it late at the Champions Trophy earlier this year, a PC earning a draw. They were kind enough to not leave it so late here, Simon Gounard finding the goal with just over four minutes to go.
And in those four minutes India could have chosen to really shut the doors firmly on the doubts of direct qualification. In search of the leveller, Belgium had withdrawn their goalkeeper and brought on a kicking back. Despite the leveller they chose to stick to the same. Eleven outfield players, no goalkeeper Vincent Vanasch. Instead of keeping the ball and backing Belgium up, India were guilty of being hasty. Long balls, audacious hits, when instead some sharp crosses would have served better. Belgium held on. India held on.
Belgium will undoubtedly be the more aggrieved. India are expected to beat Canada. And if they do, then the Belgians are in deep water. Unless they can go Dutch (score at will) on the South Africans, of course.
Get the latest reports & analysis with people's perspective on Protests, movements & deep analytical videos, discussions of the current affairs in your Telegram app. Subscribe to NewsClick's Telegram channel & get Real-Time updates on stories, as they get published on our website.
Subscribe Newsclick On Telegram