Fred Pugsley: The Anglo-Burmese Refugee Who Helped Shape the East Bengal-Mohun Bagan Rivalry
East Bengal's Anglo-Burmese striker Fred Pugsley has a story unlike any other. He, literally, walked to the club tent in Kolkata after fleeing Burma (now Myanmar) during World War II. The first "foreign signing" in the club's history, Pugsley appears to have had prodigious talent. So much so that his goals for the club helped the Red and Gold to their first Calcutta league-IFA Shield double and created the biggest rivalry in Indian football. Pugsley was also a migrant who's story, all but forgotten, remains both vital and poignant to this day.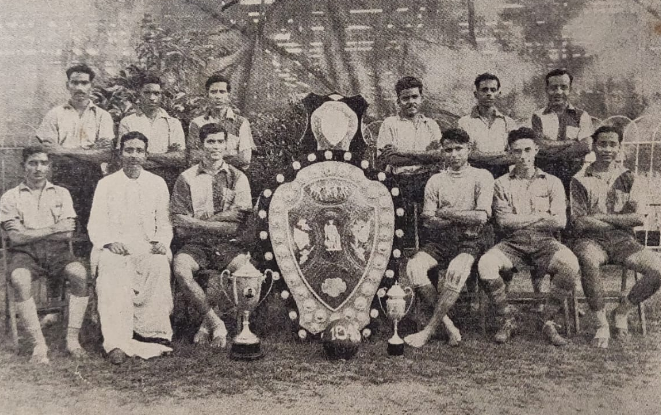 The 1945 East Bengal team after winning the "double" in Calcutta. Fred Pugsley is sitting 2nd from right.
Fred Pugsley was not one of those migrant workers, whose life and livelihood were destroyed to save others. He wasn't a victim of the uncontaminated middle class call of "stay home; stay safe."
Yet Pugsley, an Anglo-Burmese footballer of considerable reputation in the 1930s and 40s in Rangoon (now Yangon) had suffered an almost similar fate. A prolific scorer and a regular with the national team, he led a fairly contented life with his family till the Japanese Army inflicted a series of resounding defeats on its British counterparts to march into Burma (now Myanmar).
Thus began the great exodus from Burma in the spring of 1942 in the midst of the Second World War. Hundreds of thousands, mostly Indians, fled the country.
According to journalist Holly Williams: "But getting home is not going to be easy: an incredible journey, lasting up to three months and undertaken by foot, through jungle and swamp, from the north of Burma over the mountainous border and into India."
"It's a story rarely told, despite being one of the most difficult, desperate mass evacuations in human history. Astonishingly, some 220,000 refugees survived the harrowing journey, of up to 300 miles long; 4,268 are recorded to have died en route, from sickness, exhaustion, malnutrition, starvation or drowning – although the true death toll will never be known."
Read More | Caste, Creed, Corporation: A Brief History of Bias in Indian Football
One of those survivors was Pugsley. Like the millions of migrants in India in 2020, he was trapped in no man's land. With wife and son, the family began a long march to India with little more than the clothes on their backs. The only people Pugsley knew in India were the East Bengal officials he had come in contact with when they visited Rangoon. And so, he headed to Kolkata in the hope he could get a contract at the club and a chance of a future for his young family.
The British government only allowed the Europeans to evacuate by ship or by air. The rest had to trek to India, either via Arakan to Chittagong or via the Chindwin valley to Manipur. Some came via the Ledo in North Assam. Thousands could not finish the long and arduous journey. Thankfully, Pugsley and his family did. In the end, it turned out to be a fascinating part of Indian football folklore.
East Bengal officials found themselves in an embarrassing situation when Pugsley turned up at the club tent in Kolkata Maidan in the summer of '42 to offer his services. No one had any doubt about his abilities. But they faced a couple of problems.
First, till then, East Bengal had never recruited a foreigner. More importantly, Pugsley was visibly sick. The onerous journey by foot from Myanmar had taken its toll. The officials reluctantly agreed finally. He was fielded in only three Calcutta Football League (CFL) matches and had to be benched hastily.
Read More | Kerala's Sports System Adds Massive Volunteer Base to Covid-19 Containment Effort
After one league match, Pugsley was found vomiting blood. Doctors advised against fielding him. The club officials didn't want to take the risk either. He never played in the season again. Yet, Amrita Bazar Patrika commented on June 16, 1942: "He (Pugsley) is undoubtedly a great asset to East Bengal's attack."
Luckily for Pugsley, his reputation as a footballer earned him a job in Burnpur's Indian Iron and Steel Company, which was majorly owned by Sir Birendranath Mookerjee, who later became the president of Mohun Bagan club.
Pugsley moved to Burnpur with his family. He regained his health to some extent. But for the next two seasons in 1943 and 1944, he never turned out for East Bengal regularly. The world was at war and to get leave frequently while working in a steel factory was impossible. Though a registered footballer of the club, Pugsley would occasionally travel from Burnpur to Kolkata to play a few league matches.
Records say Pugsley scored only three goals in the 1943 CFL and six in 1944. He actually came into his own in 1945 when everyone thought he was clearly over the hill. He succeeded in convincing his employers to grant him leave during the CFL season and as if to celebrate the triumph of Allied Powers, he flooded the Maidan with goals.
Read More | Locked, Stocked and No Smoking Barrels Indian Shooters And The Covid-19 Uncertainty
East Bengal opened the season with a 6-0 win over EC Signals. Pugsley struck three. In the next match, Rangers were beaten 6-1. Pugsley found the net four times. He was simply unstoppable. In the end, he finished as top-scorer with 21 goals. But his best was yet to come.
The IFA Shield final between Mohun Bagan and East Bengal was also the beginning of the modern era of the Kolkata Derby in its truest sense. Never before Kolkata had witnessed such a craze for this game. People travelled overnight from other districts and cities to watch the final. Many refused to believe when the IFA announced the gate receipts for the game- a whopping Rs. 44,500 (over 10 crore in today's money terms). 
There were plenty of subplots as well. Two days before the final East Bengal's dependable defender Pramod Dasgupta was attacked by a group of masked miscreants in a dingy bylane. He was badly injured and ruled out of the final. Allegations and counter-allegations flew thick and fast. The city was sitting on a powder keg when the final began on August 9 at Calcutta Ground (now Mohun Bagan-CFC ground).
To make it worse for East Bengal, Pugsley was forced out of the competition after the second round because he didn't get leave from work. The British Army had been humiliated in the East and the egos of the Empire's officer class was badly bruised. So, while the war was pretty much over and the allied powers emerged the clear victors, the British intensified the military effort to win back Burma. An unnecessary war was fought by young men from all over the Empire, against other young men dying for a different crown. Men and material from India was poured into this ego-driven exercise. Since Pugsley worked in steel, he was essential to the war effort. But on the day of the final, he managed to get to Kolkata with the hope of watching the big game.
Somana, considered one of East Bengal's all-time greats, but not in the best of form that season, was all set to take the centre forward's position. But seeing Pugsley enter the club tent, Somana took off his jersey and said: "Mr. Pugsley, you must play today." East Bengal won the final by a single goal; Pugsley the scorer. Known for thunderous left-footers, Pugsley didn't use the same tactics this time. He used his right to gently tap in a rebound. In 1945, for the first time, East Bengal bagged the "double" in Kolkata football, winning both the CFL and IFA Shield in the same season. For this, they would remain indebted forever to this Anglo-Burmese striker. A refugee, with nothing to sell other than his labour, lit a spark that grew into the most storied rivalry in Indian football. And it was fitting that he did so in the colours of a club that was born out of another migrant community's struggle to assert its identity.  
Pugsley was a scoring machine. In a Rovers Cup tie, he alone struck eight goals. In a Santosh Trophy match, he scored all seven when Bengal beat Rajputana 7-0. In another match, in the same tournament, his powerful shot broke the rib cage of the rival goalkeeper. Off the pitch, however, he was known to be an extremely soft-spoken person.
Sadly, despite his memorable performances in Kolkata, Pugsley could never be the same man again. His health had suffered irreparable damage over the years and the trip through the jungle to Kolkata was an ordeal he never fully recovered from. The family returned to Burma after the war, in 1946 where Pugsley lived out the rest of his life. He died in 1958.
The historian Hugh Tinker named his book on the Burmese migration story 'The Forgotten Long March'. Many lives were lost; too much young talent went to waste; And nobody cared enough to remember.
Jump to 2020 and the cycle of humans inflicting untold misery on other humans continues unabated. Instead of coming together to offset the considerable challenges posed by the Covid 19 pandemic we have chosen to be divided and vicious. Who knows how many Fred Pugsleys may be among the crores of migrants forsaken by the State? Who is listening to their stories? Where will we make space for those voices? In a mainstream narrative that revolves around the privileged notion of staying at home, who will light a lamp for those that we will not even allow to dream of the idea of having a home to begin with? Pugsley's story is equal parts lore and lesson. And we must learn equally from both. 
Get the latest reports & analysis with people's perspective on Protests, movements & deep analytical videos, discussions of the current affairs in your Telegram app. Subscribe to NewsClick's Telegram channel & get Real-Time updates on stories, as they get published on our website.
Subscribe Newsclick On Telegram