Gold Sweat: Vinesh Phogat's Gritty Journey to Historic Asian Games Triumph
Vinesh Phogat adds to the familial legacy of breaking barriers, and like true great cinema, her real life path to victory was littered with injury and disaster, events that only strengthened her resolve to win gold -- the first by an Indian woman wrestler in Asian Games history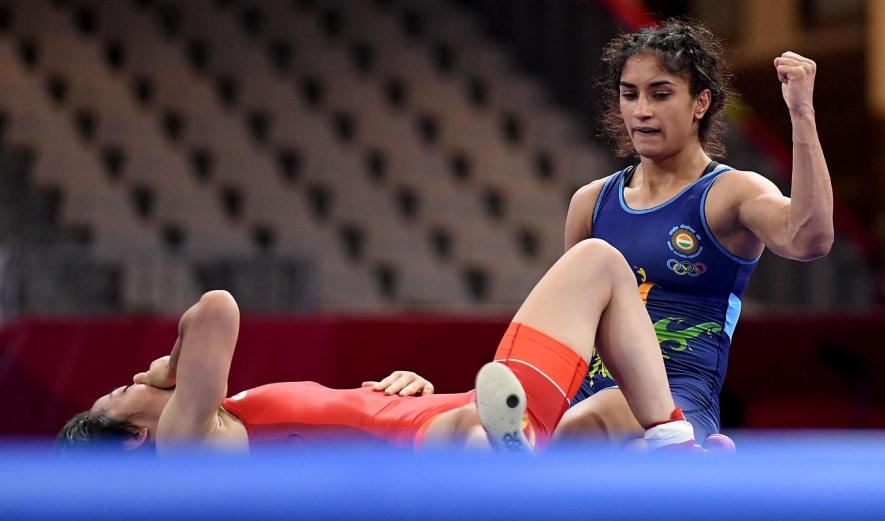 Vinesh Phogat beat Irie Yuki of Japan in the final to clinch India's second gold medal from the wrestling arena at the Asian Games 2018 in (Jakarta Palembang 2018) on August 20 (Pic: IANS).
Vinesh Phogat was 16 when she witnessed her cousins, Geeta Phogat and Babita Kumari, shatter the glass ceiling in not just wrestling or sport in India, but society as a whole. The "social revolution", of which the moment at the 2010 Commonwealth Games in New Delhi was a milestone, began much before for the Phogat women -- at the home of Mahavir.  A young Vinesh, niece of the Phogat patriarch, had quite an early initiation into the doctrines and maxims that needed to be adhered to -- a prerequisite in fact -- to be part of a revolution, a journey towards breaking status quo and barriers.
Eight years later, in 2018, Vinesh erected another landmark in that journey, becoming the first Indian woman wrestler to win gold at the Asian Games on August 20. In the coming years, the continental sporting festival in Jakarta Palembang will be remembered as the one that heralded a new era in Indian wrestling. Bajrang Punia's gold a day before, which coincided with a loss for Sushil Kumar, is symbolic of that shift; while Vinesh's  triumph, beating arch-rival Irie Yuki of Japan in the final, shows that she has not just taken over the mantle from her illustrious cousins, but is striving to push it higher, step by step, Games by Games.
Vinesh's serious business of making history has just begun. At 23, she is young, vibrant and versatile as a wrestler, and looks set to hold court for a few more years, pushing herself towards becoming a near-complete fighter.
Also Read | Bajrang Punia, From Indian Wrestling Protege to Protagonist
However, it is quite an arduous journey -- Vinesh would know as she has just recovered from a career-threatening knee injury that kept her out of the mat for a year.
What would help her in the journey is the one thing that makes Vinesh stand out in the rather talented bunch of Indian women wrestlers at the moment, including Olympic bronze medallist Sakshi Malik (who, failed to win a medal in Jakarta).
No, we are not talking about her almost ambidextrous wrestling prowess (she can fight orthodox or southpaw or even with a parallel stance with ease), making it easy for her to make attacking transitions. While that ability will hold her in good stead on the mat, her biggest strength is the matter she possesses between those cauliflowered ears that she carries with pride.
Also Read | Indian Kabaddi Team Shocked by Korea as Draw Opens up
Vinesh exudes an infectious, bubbling energy when she talks -- her second best means to express, the best being, she insists, her moves on the mat. She talks quickly, a mirror image, in fact, of how she side steps and takes down opponents. Her excited, nervous even, demeanor, and joyous disposition (even when she was injured), portrays a happy-go-lucky personality, providing us whiffs of the Haryana hinterlands from where she started her journey.
But that image is nothing but a mere mask beneath which Vinesh hides a steely resolve that one gets to see when she is training, or when she systematically dismantles opponents on the mat. That determination to impose one's will and that desire for victory was easy to note in her run to the Asian Games gold, practically unchallenged (barring a couple of instances in the final).  However, it is not a trait which appears -- like in many athletes -- during peak form, and disappears while facing superior opponents or adverse situations.
In Vinesh's case, her wrestling persona is steady and effortlessly omnipresent, and she carries it with swag.
Also Read | Ranked Favourites But Tricky Gold Quest for Indian Hockey Teams
At this point, one can't help but go back to that image of Vinesh which showed her in a most vulnerable state -- the young wrestler in tears and pain after suffering a knee injury in the opening bout at Rio Olympics in 2016. She forfeited the bout (against Sun Yanan of China), as her potentially medal-winning campaign in Brazil ended abruptly. Two years down the road, she decimated Yanan at the Asiad, exorcising a demon for herself and bruning that image of vulnerability for us.
Vinesh is back to who she is -- an enigma -- which one had the pleasure to listen to one summer afternoon at the wrestling hall of the Sports Authority of India (SAI) centre in Sonepat.
It was 2016, a month or so before Vinesh's tryst with pain in Rio.
The wrestling hall at the SAI centre -- aptly named Sushil Kumar-Yogeshwar Dutt hall -- was slowly slipping into silence even as the squeaks from the mats (the sound generated when grapplers go about their drills) hung around in your ears… Much like the way the first song you listened to in the morning plays in the mind right through the day.
Also Read | In Hima Das' Triumph, a Caution for Indian Sports Administrators
The hall was just slipping into a late morning siesta when the reverie was shattered by a chatter from the far right corner, near the long ropes which hang high from the roof. Vinesh was laughing her way up and down the rope even as her teammates cheered her. It seemed they were settling a bet. Or was it a post-workout recreation meant to make them stronger even as they "play", a Phogat family maxim, perhaps?
On a tangential note, rope climbing drills are reflective of the struggle and triumph these women wrestlers endure. They are striving higher, constantly, and after touching their immediate target, there is a constant fight to stave off a slide, before climbing up again.
That day, Vinesh showed her strength and mastery over the rope drill, and, at the Asian Games, she showed she has a firm grip on her destiny as well, as strong as the cradle hold with which she scored early points over her Japanese rival in the final.
Back to the training hall, as one moved towards the commotion and waited for the revelry to get over to talk to the champions, Vinesh pointed to Babita, stretching on the mat, suggesting the elder Phogat is a better person to talk to.
Also Read | No Indian Football Team at Asian Games; Blame Babus in IOA, AIFF
Vinesh did join us for a chat later, after she was done with her rope trick -- clearly, she wouldn't have let a journalist interrupt her fun time.
She spoke with energy and emotion that day, talking about how she wrestles without worrying about medals and then contradicting that, betraying her inner wrestler self ever so fleetingly, that she is going to go all out for one in Rio.
A month later, Rio became a painful experience for Vinesh, one that posed multiple questions for her to answer. She took her time to decipher those questions and finally answered them in Jakarta.
"I was very keen to win gold this time," she said after her triumph. "I have had silvers and bronze medals at the Asian level and was determined to make it to the top of the podium this time around.
"Injuries are part of an athlete's life and they make one stronger," she added. "I learnt a lot about myself and about life in general when I was away from the mat. I have a lot of self-belief now and you can achieve anything if you have that."
Now, that's what we call a "reversal" in wrestling, a counter move. Vinesh has taken a difficult juncture in her career and turned it into a defining moment, as a point which made her realise how strong she really is.
We have a fair idea now, of what makes this champion tick. This gold is proof of her abilities. Next milestone, Tokyo!
Get the latest reports & analysis with people's perspective on Protests, movements & deep analytical videos, discussions of the current affairs in your Telegram app. Subscribe to NewsClick's Telegram channel & get Real-Time updates on stories, as they get published on our website.
Subscribe Newsclick On Telegram