The Hat-trick | Jan Vertonghen's Long Struggle After Head Injury; Ligue 1's TV Deal Collapses; Chinese Super League Wants to End 'Money Football'
The Hat-trick (Top Football News of the Day): Defender Jan Vertonghen opens up about the head injury that debilitated him for months while at Tottenham | Ligue 1 clubs face bleak future after TV deal collapses | Chinese Super League (CSL) introduces wage cap to curb 'money football' and aid national team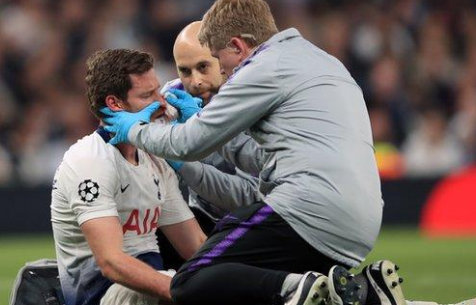 Jan Vertonghen suffered the injury in the first leg of the 2018-19 Champions League semifinal against Ajax after colliding with team-mate Toby Alderweireld.
Head trauma during matches as well as training and its long-term effects have been a topic of discussion across the football playing world with many national FAs keen to address the issue. The Premier League is set to discuss the addition of concussion substitutes at a shareholders' meeting this week.
The issue was recently highlighted after World Cup winner and Manchester United legend Sir Bobby Charlton was diagnosed with dementia. Charlton's condition was revealed in November following the deaths of his older brother Jack in July and fellow World Cup-winner Nobby Stiles in October, both of whom also suffered from dementia.
Head injuries in football are less talked about when compared to injuries such as ACL tear or tendon injuries which are no doubt career threatening but not life debilitating. The seriousness has come to light after many players came out openly speaking about it, the latest being former Tottenham Hotspur defender Jan Vertonghen.  
Vertonghen admitted he suffered through the effects of a head injury for most of the 2019-20 season. The Belgian never spoke about it. He suffered the injury in the first leg of the 2018-19 Champions League semifinal against Ajax after colliding with team-mate Toby Alderweireld. 
Also Read | East Bengal Score Twice, Concede Thrice, Register Fourth Loss of ISL Campaign
During the match, he initially attempted to play through the injury but was unable to continue and was helped off the field. 
The English club said that Vertonghen had not suffered a concussion but Vertonghen said that the ill effects of the injury lasted for months. 
"Lots of people don't know but I suffered a lot from that hit [against Ajax]: dizziness and headaches," he said in an interview with Sporza. "This is now the first time I am talking about it. I should not have continued playing, it affected me in total for nine months and that's why I couldn't bring what I wanted to on the field."
Vertonghen, who plays for Benfica now, was irregular in the playing XI at Spurs. His inconsistency had fueled rumours that he fell out with manager Jose Mourinho.
"Everyone thought I was angry with Mourinho, but at that point I just couldn't [play]," he said of an incident when he was subbed off and appeared to be upset with his coach. "I still had a year left on my contract, so I had to play, but when I played, I played badly. Not many people knew that, that was my own choice, it is not blaming anyone. 
"The fact I got benched had nothing to do with [Mourinho]. I was in a period I could not bring what I should have. I even thought he played me a lot compared to how I performed."
"I just didn't know what to do. It was game after game and training session after training session," Vertonghen said. "Every time there was a new impact. Then the lockdown came and I was able to rest for two months, after that it was a lot better."
Ligue 1 Clubs May Face Financial Instability
Just months into its four-year contract with broadcaster Mediapro — the second largest TV deal in Europe — Ligue de Football Professionnel (LFP) have terminated a deal that was to be worth more than €1.15bn per year (€814m a year from Mediapro and €330m from BeIN Sports).
Mediapro missed a scheduled payment of €172 million in October to televise games on its new Téléfoot network. Another for €152.5 million was not made this month. Instead, the Spanish agency, majority owned by a Chinese equity fund, agreed with the league to pay €100 million and relinquish its rights to games in the top two divisions. Having agreed to pay €3.25bn over four years, Mediapro will end up paying less than 10% of that figure over just four months.
Lille coach Christophe Galtier expressed grave concerns about the fallout. "Football's economy is obviously going to find itself in great difficulty," he said. "With the Covid-19 crisis and Brexit coming, it's going to get complicated. We have to trust the directors, the authorities and the club presidents to get through this storm, because it's a real storm."
Mediapro's winning offer had been considered a huge coup because of the fact that clubs now bring in 60% more money in TV rights and the increase in money would hugely benefit them. Maxime Saada, the Canal Plus chairman (Canal Plus held the rights for Ligue 1 prior to this season), insisted at the time that Mediapro had overpaid. "I am disappointed that we didn't keep the rights but the price was completely unreasonable," he said. "It was impossible for us to make these sorts of figures work and I believe it's impossible for any actor in the sector to make these sorts of figures work."
Téléfoot (whose €25 a month subscription found few takers) will continue to broadcast games until a replacement is found. For now, the LFP and French clubs will survive due to a pair of government-backed bank loans. The first was taken following the Covid-19 crisis and the second when Mediapro missed their payment in October. Canal Plus are negotiating to take over the rights, but they intend to offer a sum below €700m per season — less than their original deal before Mediapro came in. 
The French word for greedy, in case you were wondering, is glouton. It is one of the seven sins.
Chinese League to Introduce Salary Caps
In what is a sudden and surprising development after a few years of mind boggling inter continental transfers, the Chinese Super League (CSL) has announced it will introduce salary caps from next season in an attempt to "curb money football" and support the national team.
China's top-flight will cap foreign players' annual salaries at €3m (£2.7m), with domestic players earning a maximum of 5m yuan (£571,000) a year. Teams who exceed limits may be docked up to 24 points. Players could also be banned from matches organised by China's football association (CFA).
The CFA said it hoped the move would "curb money football" following many high-value international transfers in recent years and provide an "investment bubble" in the Chinese national team.
"Chinese Super League (CSL) club expenditure is about 10 times higher than South Korea's K-League and three times higher than Japan's J-league. But our national team is lagging far behind," CFA president Chen Xuyuan said. 
China are currently ranked 75th in the world, while South Korea are 38th and Japan 27th.
CSL clubs will soon only be allowed to spend up to 600m yuan (£68m) per year on salaries, with up to £9m of that on foreign talent. The caps will come into effect from January 1, with limits also to be introduced for the second and third tiers of Chinese football.
While speculation is rife that the move isn't wholly influenced by the desire to benefit the national team but also because of financial instability amongst clubs, the move nonetheless represents a drastic shift away from a model that has been aped from an unnatural footballing economic structure.
It is a model that the Indian Super League (ISL), till very recently, embraced with relish, signing high profile washed out players as marquee players in order to generate a buzz around the league. The money spent did not represent any significant gains for Indian football (the national team still languish outside the top 100). 
In the year since better sense has taken over, and while a cap exists for clubs in the ISL, there is speculation that several clubs flout it freely. In addition, in the top domestic league of the country Indian players are often reduced to bits and parts spectacles. The four foreigners rule means Indian players rarely get a chance to play in key positions for their team. 
One exception to this rule this season have been Hyderabad FC whose Indian heavy contingent has so far remained unbeaten in the league and displayed composure, panache and style on the field. Their victory around East Bengal was built on Liston Colaco's brilliance and Halicharan Narzary's work rate, while their 1-1 draw to ATK Mohun Bagan was sheer Indian resilience despite going a man down (they had nine Indians on the field in that game).
Get the latest reports & analysis with people's perspective on Protests, movements & deep analytical videos, discussions of the current affairs in your Telegram app. Subscribe to NewsClick's Telegram channel & get Real-Time updates on stories, as they get published on our website.
Subscribe Newsclick On Telegram