I-League 2020-21: Big In Bhutan! How The League Is Carving Out Space Away From Home
A scoreless draw is never the dream end to 90 minutes of football. So we were fortunate that Punjab FC and Sudeva Delhi's lack of goals was covered up by a narrative twist via a Bhutan vs Bhutan faceoff. The best part: a whole new audience has taken to the league thanks to the involvement of their countrymen.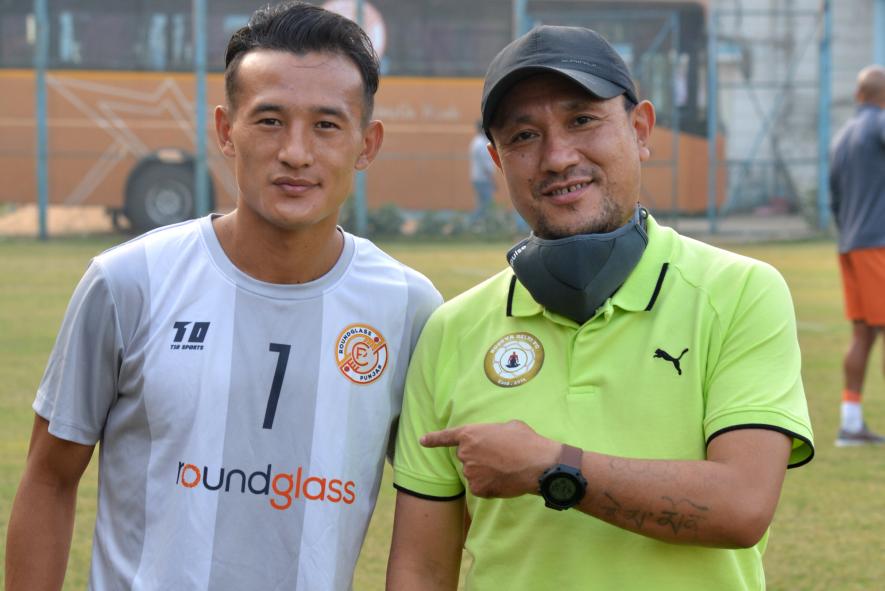 Punjab FC's Chencho Gyeltshen has previously spent time under the tutelage of coach Chencho Dorji at Bhutan's national academy in Thimpu. (Picture courtesy: Siddharth Rawat)
Things happen. And sometimes they don't. RoundGlass Punjab FC have been involved in approximately 16% of the goals scored in the I-League this season. And they have also been involved in two thirds of all goalless draws played this season. Between them and Mohammedan Sporting all goalless draws are covered (unexpectedly they played a goal less draw when they faced each other). As unsatisfactory a conclusion to a game of football as a meandering, high scoring drawn test is in cricket. It is the part of the Economic Budget no one accounts really pays attention to (that bit about minor forest produce mostly). Most importantly: goalless draws make for bad television.
"There's a reason the I-League is more popular in Bhutan," Namgay Zam said in a conversation days before the Punjab-Sudeva game. "Our first real exposure to Indian football came through Chencho [Gyeltshen] and his time at Minerva."
Zam, one of the most recognizable faces of Bhutanese media watched the game, while on a road trip. An avid football fan (pertinent to highlight here that she supports Manchester City — 'much before they became this big') Zam uses her social media to rep the I-League — specifically matches featuring her countrymen. All of which is basically a convoluted way of saying that when RoundGlass took on Sudeva Delhi FC, Bhutan was watching. Er, not on TV though. The broadcasters' golf commitments meant the I-League was on Facebook. 
Facebook Friday was a big day. How big though no one really knows, because Bhutan (sensibly) does not have TRPs. Facebook's metrics show that of all the games played over Friday and Saturday, RoundGlass Punjab vs Sudeva Delhi was the most viewed. 
"Maybe there was some interest in the days of Bhaichung [Bhutia] because he was popular, but the TV coverage wasn't very good and so…" Ugyen Wangchhuk, General Secretary of the BFF says. "But now, Chencho's [Gyeltshen] involvement has really ignited not just interest in the league but also gives younger footballers desire. They look at him and see an opportunity. They view football as a viable career option and realise that actually you can be good enough to go play outside too."
"The one thing you need to know about Chencho [Gyeltshen] is that he is an outlier. Everything he has done, he has done by himself. He didn't get a leg up. He went and played in Thailand, then went to Minerva, then Bengaluru… he's done this all the hard day," Zam says, advising caution when predicting replication. She first met and interviewed Gyeltshen when he scored for Bhutan in a World Cup qualifier against Sri Lanka. The team's return was greeted by cameras at the airport. Zam and Gyeltshen have remained in touch since and she has followed his progress closely.
Read More | A Superbly Indian League: Where Non Experts Hold Cards and Referees Get Sent Off
Gyeltshen himself is shy and introverted and despite a natural talent for goals and brilliant goal celebrations, is happy to let others hog the limelight.
"A lot of Bhutanese players want to play in India," he says. "And they have the talent to do so. We have the ability. It all boils down to opportunity. And it becomes tougher when you consider we have to fight for the foreign player quota"
The intricacies of the foreign player quota is recent for Bhutan football, introduced in part due to Gyeltshen's transfer to Bengaluru FC. Zam emphasises this, citing examples of how fans would complain about Gyeltshen not getting game time and the media also reporting it without detailing how difficult it was for him to get into a playing XI packed with foreign talent. 
The new rules (3 foreign players + 1 of Asian origin) set to be enforced from next season, Gyeltshen says, will make it easier (if he stays at Punjab, it will stay complicated for him personally, considering the form of Nepalese international Kiren Chemjong in goal). 
Ugyen Wangchhuk says the BFF had petitioned the AIFF (All India Football Federation) many years ago asking these rules be relaxed for Bhutanese players, to help a neighbouring country develop the standard of their game. They never heard back. 
Read More | Defensive Movement, Playing With Freedom Key To Jose Hevia's Plans For Mohammedan Sporting vs Punjab FC
"We'd asked that the rules be relaxed for SAFF countries," he says. "It will encourage more of our players to migrate there and maybe even pass on knowledge and encouragement for Indian players to come and play here."
For Bhutan football though, the focus on Indian football this season has widened. If one Chencho opened up opportunities (even if just perceptively) for players, another, Chencho Dorji, the head coach of Sudeva Delhi FC has done the same for coaches.
"Chencho [Dorji] going and coaching in the I-League is huge for our own coaches. It confirms that they have potential. They can go outside and find jobs. They can make football a full time job," Wangchhuk says.
"The media coverage around his appointment has been huge here," Zam says. The additional booster to his appointment has been that Sudeva are an all Indian team. 
Read More | I-League 2021: Thrillers, Spillers and a Gokulam Kerala Fight Back Fit for Folklore
"We've always had Japanese coaches here for our teams. Or Bhutanese coaches manage all Bhutanese teams," she says. "And it has always been that sort of hierarchy. But he's broken that and is coaching a team of players from a different country. So everyone is interested to see what happens and how he is managing."
Dorji's appointment, according to Zam, opens a new pathway for professionals in the country, who can now not just aspire to play outside, but also coach in different countries. "The whole star power is with the players, especially in Asia, but if Dorji and Sudeva do well, then it gives people a new career path in the game." It reaffirms belief in a young football program.
Perhaps correctly then the battle, between a superstar player adored by his country and a first-time coach gradually finding some space under the sun, ended in a stalemate. There were enough opportunities for both teams to put the tie to bed two times over. When it was over the two met on the sidelines and exchanged pleasantries. The on field cameraperson made the most of the opportunity, zooming in — even if the final feed preferred to go for the wide angle shot of players walking off an empty VYBK stadium. If all goes swimmingly, they will meet again.
Get the latest reports & analysis with people's perspective on Protests, movements & deep analytical videos, discussions of the current affairs in your Telegram app. Subscribe to NewsClick's Telegram channel & get Real-Time updates on stories, as they get published on our website.
Subscribe Newsclick On Telegram