I-League 2021: Thrillers, Spillers and a Gokulam Kerala Fight Back Fit for Folklore
A seven-goal thriller, another three-goal history maker, and a dour goalless stalemate. The I-League is truly back. The highlight of matchday three was Gokulam Kerala's come from behind victory against RoundGlass Punjab FC, a game that was the best and worst of Indian football in 90 minutes.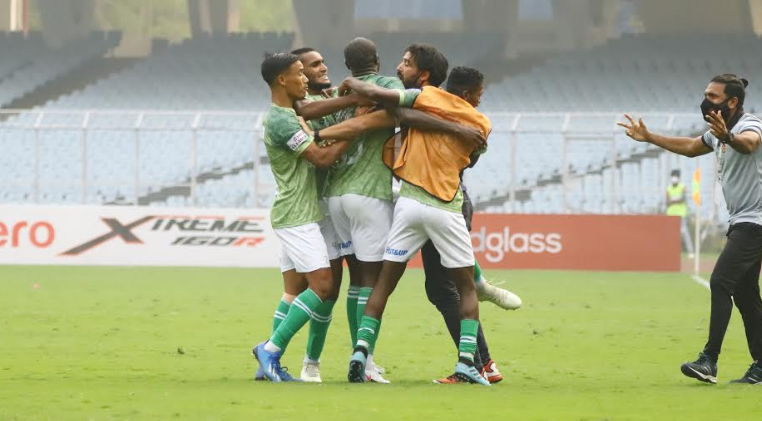 Gokulam Kerala players celebrate after scoring the winner against RoundGlass Punjab FC in their I-League match on January 17 (Pics: AIFF).
Maybe the best way to grasp what happened last evening is to pause, breathe and play everything back frame by frame, moment by moment, a hundred things in a single shot, a hundred more in the next. You can pinpoint the exact second when RoundGlass Punjab FC's spirits are ripped in half. It's the same second where life floods back into Gokulam Kerala FC. The clock shows, 71:37 and Deepak Devrani's long ball has just been played into the Punjab box. Denis Antwi has just wrestled 21-year-old Saurabh Bhanwala away for space. 
To Antwi's left Ruivah Hormipam is watching this unfold in real time. To his right, Anwar Ali knows what is about to happen. Kiran Chemjong, the Punjab custodian is not yet in the frame of the camera but he is watching too. The keeper has already saved a penalty, a point blank volley and will in five minutes save off a one on one, but out here, he has no chance. The ball bounces into space as Bhanwala is pushed away. Antwi turns and watches it bounce a second time. Bhanwala is desperate, trying to correct his error, block, dive, slide, something, anything. Antwi shoots, the ball hits the post and then the net. Press pause. It is 71:39. The scoreline was 3-1 just three minutes ago. The reduction had come via the first Devrani-Antwi combo. Now it is 3-3. Gokulam have the game, the war, and Punjab's spirits in their backpacks. 
Also Read | At Home in the New Normal: How Footballers are Forged in Bubbles
Press play and let it run. Let Antwi run, faster than you'd think possible, fist pumping then arms lifted to the side. Teammates converge from different sides of the ground. Antwi is pointing, sprinting to the touchline. He goes straight into the arms of his manager Vincenzo Alberto Annese, who was also moments back pointing to him, as if to say 'I knew you had this, no matter that god awful penalty'. Alex Saji is the first to join in, then the goalkeeper coach Mihir Sawant. Then comes Muthu Irulandi Mayakkannan aka Maya. Behind them the physios have their arms spread wide. 
It is all there in one superb photo, shared soon on the Gokulam Kerala Instagram page, a portrait of football. Sure, this is Indian football, second division Indian football, in an empty stadium, where it is tougher to play and stay motivated about it all. It is suffering but it is also hope. Relief via revival.
Press play again. It takes two minutes, before another Devrani throw-in lands at Philip Adjah's feet in the box. Adjah turns, finds space and cuts the ball back. It loops up off Bikash Yumnam's sliding foot, finds Anwar Ali's head and goes in. Punjab are beaten. Gokulam have gone from the depths of hell to purgatory and redemption. This is a moment of triumph but the moment of realisation came earlier.
Gokulam vs Punjab was never supposed to be a seven-goal thriller. Punjab are a carefully assembled (carefully = relatively well-paid) team that have rented their own training ground, run bigger budgets and, the rumour mill suggests, have one foot in door of the glamourshow Indian Super League (ISL) next season. Gokulam are…different. They were supposed to be among the favourites but this is their first win of the year. They lost a practice game to Sudeva Delhi FC. Abandoned another against Churchill Brothers. And then lost their opener to unheralded, secretive Chennai City FC after taking the lead in the second minute of their encounter (courtesy Antwi, of course). 
Click | Newsclick's Full I-League Coverage
In the first half against Punjab they were dismal. Their defenders  schoolboys. Summed up in another great picture, this time on the I-League official page. Sanju Pradhan, Chemjong and Chencho Gyeltshen posing after the latter's opener in the 17th minute (Chemjong jogging all the way from his goal to the opposite end, just to hold his gloves to his mouth. It was the three monkeys: see no evil, say no evil, hear no evil.  
Chencho scored the opener via a superbly taken low volley, from a freekick on their right. Their second was a training ground goal. Not because of tactical astuteness but because of a lack of pure effort from Kerala. Punjab stole the ball off a Gokulam corner and Sanju Pradhan sped towards their goal at speed. Saji charges in, misses everything and suddenly it's two against one. Pradhan squares it and Chencho taps it in.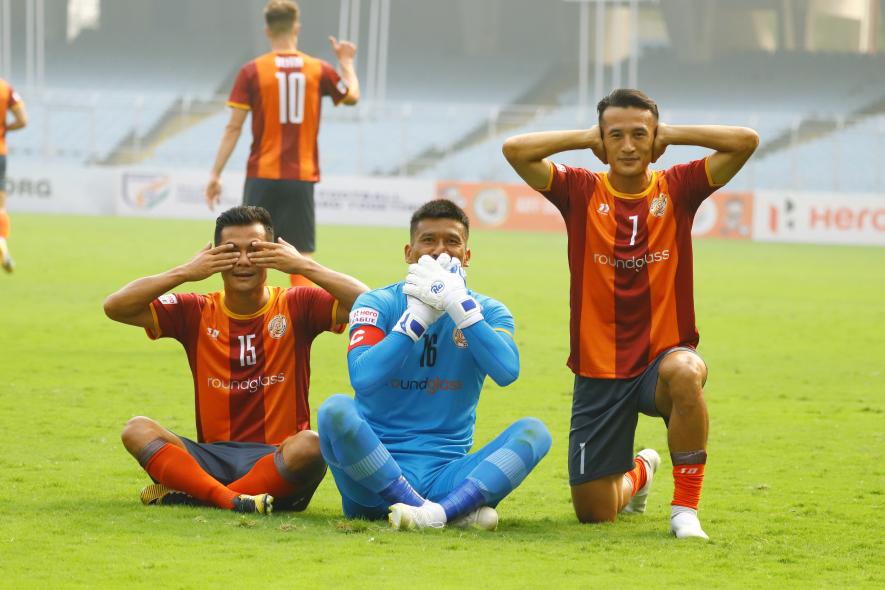 And then Gokulam found their feet. First, Adjah volleyed from five yards out, only for Chemjong to spread himself and somehow save a ball destined for the net. No matter, Gokulam got one back in the 26th via the same man, halving the deficit. With a minute to go to halftime though Punjab got all of that back, Chencho again at the heart of it, driving in from the left, laying the ball into Rupert Nongrum's path and the ball slotted into the bottom corner.
Words must have been exchanged at half time. Annese could not have been pleased. 26 minutes from that team talk they were level. Two minutes after they had the lead. And Annese had a smile on his face. "I hope this win can create more wins in the league," he said post match. "The game was amazing. This is our football." 
He may well have spoken for everyone. This is football. 
Talking points
Sudeva Delhi FC, the I-League's newest team, and its second youngest, played the AIFF developmental squad Indian Arrows out of the park to win 3-0. Kean Lewis and Mahesh Naorem in particular looked like they were in it for the blood. The Arrows team are an almost completely new batch and have now lost two on the go. More concerningly, they've conceded eight goals in two encounters. Mahesh Gawli will be watching closely.

Experience is no guarantee of quality. Gokulam, Punjab, Sudeva and Arrows combined do not have the heritage that Mohammedan and Churchill bring to Indian football. But on that green grass, all that history means nothing. The two clubs played out as dour a 0-0 as you would expect. There is no way you could have watched 90 minutes of that live unless you were locked in a bio bubble with not much else to do. Right.  
Get the latest reports & analysis with people's perspective on Protests, movements & deep analytical videos, discussions of the current affairs in your Telegram app. Subscribe to NewsClick's Telegram channel & get Real-Time updates on stories, as they get published on our website.
Subscribe Newsclick On Telegram