I-League Qualifiers 2020: Bengaluru United Salvage a Point, Bhawanipore March On; Premier League Clubs Reject Project Big Picture and More (Football Round-Up)
Short Passes (Football News Round-up): I-League qualifiers: Bengaluru United sink, Bhawanipore Surge on | Project Big Picture rejected unanimously | Swiss Court returns $40 million To CONMEBOL | Penalty king Panenka discharged from Czech hospital | Serie A awards Juventus 3-0 victory for unplayed match against Napoli.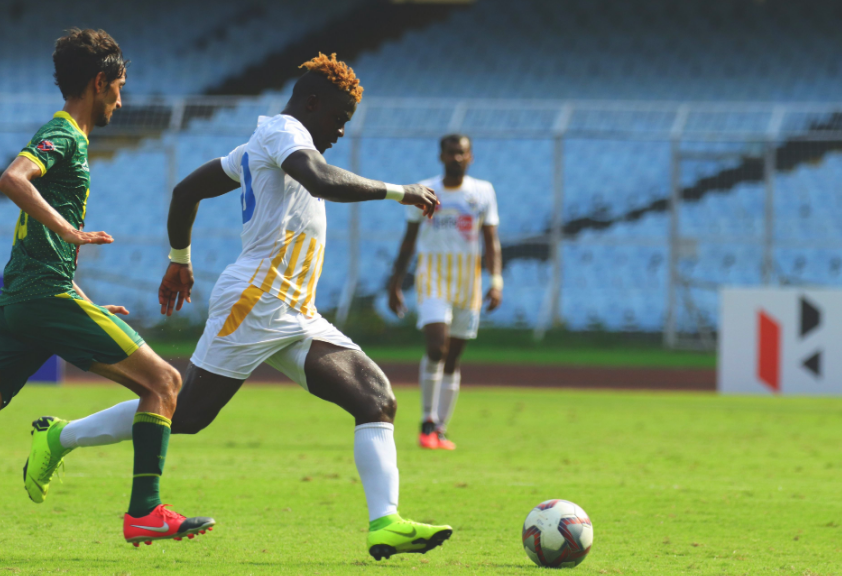 Action from the Bhawanipore FC vs Garhwal FC I-League qualifier match in Kolkata on October 14.
What are the I-League qualifiers if not a cinematically absurd chariot race? It's one lap of hell. Everyone against everyone, for one spot. Flag drops. Race. 
And now, that chariot race is down to three participants. Two of them, the unheralded ARA FC and Delhi's Garhwal FC were never expected to be frontrunners. The phrase 'making up the numbers' is never to be used in Indian football — this being the country where East Bengal have never won the I-League but are perennially regarded as contenders — and yet disappointingly, when the final results are tabulated, that's where Bengaluru United will be. 
In a shootout style tournament, every game matters. And in this curtailed surreal season Bengaluru United have had the most absurd experience of all, managing somehow to lose (confidence/momentum/strength of position), win (some back) and draw (a map back to square one). This though will be most galling, the draw against ARA FC in a game they never really dominated (nor were dominated), never threatened (nor threatened) and never really took control of. 
Also Read | Silent, Inert or Watchful? What is the AIFF's Game Plan to Address the Elephant in the I-League Room?
Pratik Swamy's first half goal (36') was a result of a brain freeze and atrocious luck, but despite going down Bengaluru never really rallied to look dangerous. And that is perhaps the biggest take away from these few games after a long break. Everyone is rusty. Some more than most. That penalty at the end (scored by Mohammad Asrar Rehber in the 96th minute) that allowed them to level things up? Fatigue. And a refereeing error.
But fatigue is an issue when you can't win. Bhawanipore don't know fatigue. They were brilliant to watch against Garhwal FC, reducing the 'team that runs the most', to a team chasing shadows. Two goals at the beginning of each half (Philip Adjah Tettey Narh 8', Pankaj Moula 50') effectively decided the result, and despite Garhwal's late rally (Afdal Varikkodan 76') there was no real moment of bother for the team looking most likely to get to the I-League.
All of which means that Friday is a big day for this competition. A two chariot race has been drawn. May the best horses win.
Project Big Picture Dead in the Water
Liverpool and Manchester United were forced into an embarrassing climbdown over their push to reform English football after a tense meeting of the Premier League's 20 clubs yesterday.
Their proposed 'Project Big Picture' was effectively rendered ineffective, with all clubs agreeing unanimously to engage in a new "strategic plan" for the future of English football. Proponents of the proposal however, remained insistent that their ideas for reform remained on the table.
Liverpool and United, together with the English Football League (EFL) chairman Rick Parry, have pushed Project Big Picture — which proposed a £250m bailout for the EFL and a more equitable share of the game's broadcast money in exchange for the Premier League's big six clubs being granted overwhelming voting control on a number of important points.
The idea divided the top division, with the 14 other clubs believed to be strongly against the change in governance – with the league and the Football Association (FA) sharing their view. The major conclusion of the meeting conveyed at short notice was that all 20 clubs agreed to work on a reform programme and, significantly, not to endorse Project Big Picture.
A new resolution will offer the EFL a bailout, but on far less generous terms than the £250m that has long been requested. A combined £50m, including £20m in grants, will be offered to League One and Two clubs, with almost two-thirds of that for teams in League One in line with solidarity payment distribution.
Swiss Court Returns $40 Million To CONMEBOL
The Swiss Office of the Attorney General (OAG) on Thursday announced that the $40 million, frozen in Swiss bank accounts during the soccer corruption investigation, are being returned to the South American soccer confederation, CONMEBOL.
The OAG has opened several criminal proceedings against CONMEBOL officials, which included former president, Nicolas Leoz, who passed away in August 2019 and former Secretary General Eduardo Deluca, who served as secretary general for 23 years.
Also Read | Carlton Chapman: The Focused Midfielder, a Restless Man
"The funds forfeited between December 2019 and September 2020 amounted to around 36.6 million Swiss francs ($40.1 million) and were unlawfully acquired to the prejudice of CONMEBOL," the OAG said  in a statement. "As the party suffering harm within the respective criminal proceedings is doubtlessly known – the CONMEBOL – the forfeited funds will be returned directly to it."
After Leoz's demise in August, proceedings against him were dropped and Deluca was convicted for multiple aggravated criminal proceedings.  Last month, the OAG also dropped the criminal proceedings against Deluca as Argentina was conducting the proceedings in the same matter. 
Penalty King Panenka Discharged
Penalty king and Czech football icon Antonin Panenka — known for a style of penalty coined after his winning kick during the 1976 European Championship final — has been discharged from the Czech hospital after spending a week in intensive care. The 71-year old former midfielder was in serious condition last week and was put in intensive care after he had tested positive for Covid-19. 
"I picked up dad at the hospital at 11 am today and took him home," Tomas Panenka told the website of the Prague-based Bohemians 1905 club. "He has now tested negative. He is still suffering from pneumonia, but doctors said he didn't have to stay in hospital and released him."
Also Read| Meritocracy is Dead. Moneyocracy Rules Indian Football
Panenka's decisive kick won Czechoslovakia their only international title against West Germany. He tested negative for Coronavirus but was being treated for pneumonia. 
His name has ben given to the style of penalty in which the player gently chips the ball down the centre of the goal, believing that the keep will dive to the right or left. 
Napoli Penalised

 
Napol have been handed a 3-0 defeat and had one point deducted for failing to play their Serie A match at Juventus earlier this month. The club did not travel to Turin for the match on October 4, saying their local health authority (ASL) had told the players to stay at home after two members of the squad tested positive for Covid-19.
Serie A turned down the club's request to call the game off, meaning that Juventus and match officials were both present at the stadium and the game was officially called on. Play was officially abandoned 45 minutes after official kick-off.
Serie A's disciplinary tribunal, which announced its decision in a statement, rejected Napoli's claim of force majeure and said there was a clear health protocol for Serie A.
The announcement will undoubtedly infuriate Napoli who said they were only following the orders of their ASL. The club has already threatened to appeal and take legal action if a new date for the match is not arranged.
In brutal irony Juventus will face Covid-19 concerns of their own when they are due to play Crotone on Saturday. American midfielder Weston McKennie has become the second player from the Serie A champions to test positive for Covid-19. The news comes a day after Cristiano Ronaldo tested positive while on international duty with Portugal. Juventus's under-23 coach also tested positive for the virus on Tuesday.
Get the latest reports & analysis with people's perspective on Protests, movements & deep analytical videos, discussions of the current affairs in your Telegram app. Subscribe to NewsClick's Telegram channel & get Real-Time updates on stories, as they get published on our website.
Subscribe Newsclick On Telegram