Indian Women's Hockey Team Pulls Together To Raise Funds For Migrant Families
The Indian women's hockey team players, currently in lockdown at Sports Authority of India (SAI) Bengaluru, will start an online fitness challenge which will double up as an exercise to generate funds for Covid-19 relief work.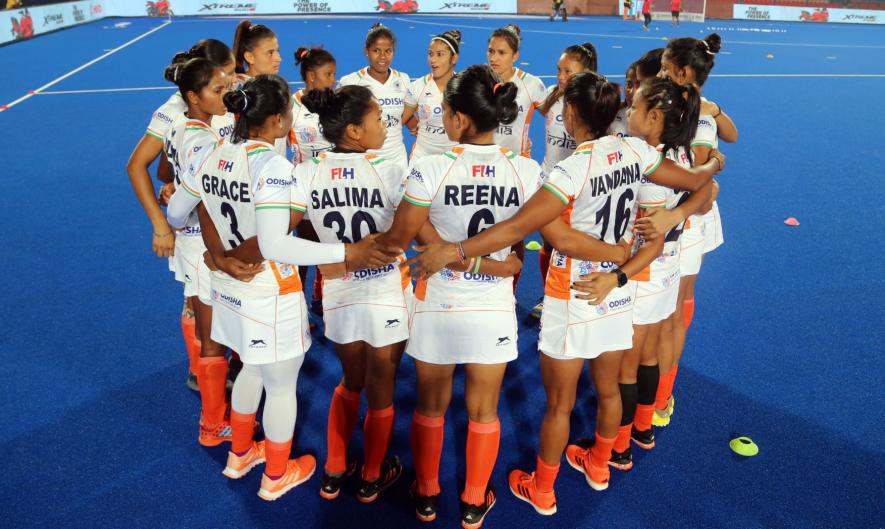 The money generated by the Indian women's hockey team players will be given to an NGO in Delhi which will use it to provide food and sanitary kits to a targeted 1000 families reeling under Covid-19 lockdown.
The Indian Women's hockey team launched an 18-day fitness challenge via social media, a collective initiative to raise funds through crowdfunding in order to help the poor and migrant families whose lives have been impacted due to the Covid-19 pandemic.
The crowdfunding initiative hopes to also encourage people to use this opportunity -- an extended lockdown -- to adapt an active lifestyle. "We are all looking at various sports persons that we all know, along with people who are influencers in their own right," Rani Rampal said, "It is obviously important that our message and initiative reaches as many people as possible so that we can accumulate a good amount for the poor."
In the challenge, Indian Women's Hockey will be coming up with fitness tasks like Burpees, lunges, squats, spiderman pushups, pogo hops and so more. Each day a player is expected to give a new kind of challenge and tag 10 people on their media handles to take up the challenge and donate Rs 100 or more to the fundraiser. 
"Our key objective is to get as many people to participate in the fitness activity and contribute a minimum of Rs. 100, and then nominate 10 more people to do the same. In this way, the cycle can keep going on everyday, where we will be doing a new fitness challenge," Rani said.
Also Read | Qatar Reports Three New Covid-19 Cases at FIFA World Cup Site
Rani insisted that the team is not currently targeting a particular amount but they are optimistic that people from across industries and spheres of life will come forward to do their bit. 
The target is to provide 1000 poor families with proper meals. The funds raised by them are to be donated to a Delhi based NGO, Uday foundation who will then use it to provide basic necessities for patients hosted at various locations, migrant workers and slum dwellers.
Apart from food/ dry ration, the funds will also be used to provide sanitary kits that will include soaps and hand sanitisers. 
Both the Men's and women teams are currently in SAI Bengaluru isolated completely fro the outside world, after their leaves were cancelled following the initiation of the first phase of lockdown. The situation while tough for some, is actually also part of the norm for elite athletes, who are accustomed to being locked in together as a team for huge portions of the year. 
"Initially, it was tough to not be able to be with our families, but we all are used to staying in camp for about 300 days in a year…. so there is actually not a huge difference in our current situation," defender Sushila Chanu said. "We are keeping in touch with our families through video and audio calls, and making sure that they are also following all the guidelines and staying safe."
Chanu insists that the team is using this time to its advantage, and despite the training on the pitch banned, have been following strict training regimens drawn up by their scientific advisor Wayne Lombard. "Staying here ensures that we can regularly take part in indoor fitness routines, which could have been difficult to follow had we been at home," she said.
"Another advantage of being in a lockdown as a team is that we have managed to build our rapport within the team, and gotten to know each other better off the field, which shall help us in better coordination on it as well," Chanu said. Despite a lack of access to the pitch and hockey training almost grinding to a full halt, the team is working with the staff to do self analysis, and study their opponents via video analysis. Leisure activities like reading, drawing, coloring, watching movies and TV shows have become the norm to fill an empty daily schedule.
 "Plus we are also afforded the space to focus and think up other things, like the crowdfunding initiative!" Chanu said.
The initiative in itself was sparked off because of multiple conversations the team had within themselves, reading reports and watching media coverage of the plight of migrant workers, contract farm workers and the homeless, because of the nation wide lockdown. For many of them, with familial backgrounds from rural India, the images were a stark reminder of a reality not too far away.
Also Read | Fred Pugsley: The Anglo-Burmese Refugee Who Helped Shape the East Bengal-Mohun Bagan Rivalry
"All of us in the team come from poor economic backgrounds and we have seen days when we have struggled for food and other basics," goalkeeper Savita said. "Today we are in a position to help and we want to ensure poor people get basics like food and sanitary kits,"
The idea is to reach the initial goal of 1000 families first within the next eighteen days. "Obviously the response that we get will play a major role in how we can extend the initiative, but at the moment we are only thinking about the 18 days," Rani said. "We have to make sure that we can do our best and also get as many people to take part in the same." 
Get the latest reports & analysis with people's perspective on Protests, movements & deep analytical videos, discussions of the current affairs in your Telegram app. Subscribe to NewsClick's Telegram channel & get Real-Time updates on stories, as they get published on our website.
Subscribe Newsclick On Telegram