Indian Women's League: Bala Devi's Goals, Sethu FC's Might, Gokulam Kerala's New Life
The 2019 Indian Women's League (IWL 2019) has seen a goal feast by Ngangbom Bala Devi, who has scored 22 goals so far for Manipur Police Sports Club, while Sethu FC, led by Sabithra Bhandari, have remain unbeaten in the prelim phase.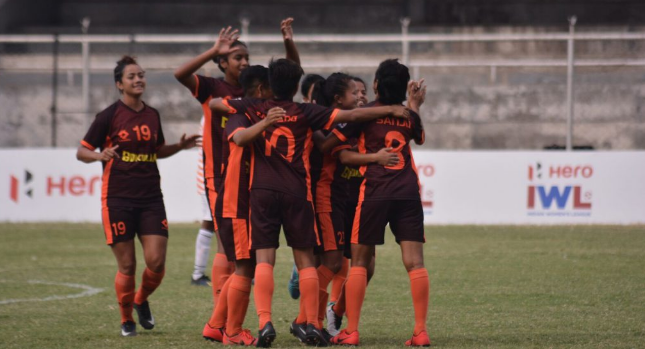 Gokulam Kerala, one of the favourites in the 2019 Indian Women's League (IWL 2019), have conceded just one goal through the group stage thanks to a miserly defensive system.
"We had seen these same didis from the sidelines during the Hero Gold Cup," Rising Students Club's Sradhanjali said. "Before we were ball girls for the I-League football matches. But now we are playing in a tournament of the same category for women," Satyavati Kadia finished. They were heart wrenching lines. And hugely inspiring. They pointed towards the new road for Indian football. And towards everything that needed to be done. This was two weeks ago, when Rising Students Club, the defending champions, were soundly beaten by the Indian Women's League (IWL) pre-tournament headline makers, Gokulam Kerala 5-0.
It would have been poetic — not to mention nerdy, and social media trendy —  if the Indian football bosses kicked off Indian women's football's latest new chapter on May 4. But then, poetry isn't the All India Football Federation's (AIFF's) business, so May 5 it was.
Video | Maymol Rocky: Indian Women's Football's Present Sense, Bright Future (420 Grams)
In a typical world, the Indian Women's League defending champions losing 0-5 to a team which finished fifth among seven sides last season would be a cause for scorn and concern. But Indian women's football isn't typical either. Rising Students Club had been revamped but so were Gokulam. Their teams moved in opposite directions. Rising Students Club went the way of youth, Gokulam opted experience. The game was a display of who was who.
From there, the second game of the tournament — two weeks removed — Gokulam's train kept going, their internationals, Anju Tamang, Manisha, Dalima Chhibber, warming up as the games got on, the heat climbing up and slowly the previously forgotten faction of Indian football playing a league that went on longer than any ever before.
It was decided then that there would be a new name on the trophy this season. Eastern Sporting Union, the winners of the inaugural edition had not qualified for this IWL season (on account of having lost their state league to Manipur Police) and Rising Students Union were fulfilling their name with a young team for the future.
Two groups, 12 teams, the internationals majorly split between three of them, the IWL was bigger and grander, if not better planned (Ludhiana in May!) or even better broadcast (Facebook Live!).
Also Read | Dutee Chand Reveals She's in Love with Another Woman; Here's Why it Matters
Gokulam's gentle giants were built on the solid old foundations of defending first and finding the goals as and when required. PV Priya's game management style also meant they shuffled around when required and got the job done properly.
They walked through their first four games without conceding a single goal, scoring 13. That was 'Cluster I'. A strange group, where everyone lost to Gokulam but in absurd ways. The team which finished bottom (FC Alakhpura) was beaten by a single goal. The team that finished second (Central SSB Women's) by five. Evidently the Gokulam women were intimate in the knowledge of gearing systems for different inclines.
The other group was like watching a firesale. Ngangbom Bala Devi at the centre of it, flash burner in hand, mask on face, turning and scorching anyone who even so much as looked her in the eye. What else can you say. She is the highest scorer of the IWL at the time of writing (and definitely at the end) with 22 goals.
Her closest competitor, Sethu FC's Sabithra Bhandari has nine. That kind of disparity is usually seen in the leagues of Spain when the receiver of the Creut de Sant Jordi (for his services to Catalonia) decides enough is enough, January is mine.
Also Read | Igor Stimac Appointed New Coach of Indian Men's Football Team
But goals don't matter. Not really. Not if you are in 'Cluster II' which, for convenience sake may as well have been named something more melodramatically Marvel, like, 'The Goal Cluster' or 'The Attacking Cluster'.
Between the two leaders of this cluster, Sethu FC and Manipur Police Sports Club (Bala Devi's employees), there have been 71 goals scored. That, by the way, is five more than the other 10 teams in the league combined. If you think women's football is boring, the deep dark well with no water but shards of glass in its depths is stage right.
The match of the Cluster phase then, of course, was always going to be the barn burner between Sethu FC and Manipur Police. Not that we knew so at the time though. After all, it was their season opener.  6-4 it ended. 10 goals.
Neat and well rounded. Sabithra Bhandari scored the first goal of the game in the first minute. She was in a hurry. She scored four goals in the game. All of them within the first 45. For every one Manipur Police scored, Sethu replied with two. Literally, like that. Bala had a brace, and after her opener did the iconic Ronaldo celebration. All the frustrations of the past months, the fights with the national team, the coach, the association, all of it simplified with a jump, turn and flex to the stands.
Bala had warmed up, despite the loss in the opener. Manipur scored 10 in their next game against SAI-STC Cuttack, and because that wasn't ridiculous enough they did it again, against Bangalore United to close their group campaign.
Video | India footballers Aditi Chauhan and Dalima Chhibber @420 Grams
The conversation about how this points at a deeper malaise in the women's game, and the lack of solid competition through and through is pertinent, but for another time. It would be a dampener to do that now, at the business end of the biggest domestic tournament held for women footballers in India in a long while. No one wants that kind of talk. Stick to the happy stuff.
Logically then (because as pointed out several times in the past, football is all about logic) the title is Sethu's to lose. They take on Central SSB in the second semifinal, on May 20, and by then, they will already know who they are facing in the final.
It will either be the newly minted team from Kerala, or their ballet partners from the Attacking Cluster, Manipur Police. If you had to pick one game to watch that day, watch that one. There may be goals. There will, definitely be Bala. May the best women win.
Get the latest reports & analysis with people's perspective on Protests, movements & deep analytical videos, discussions of the current affairs in your Telegram app. Subscribe to NewsClick's Telegram channel & get Real-Time updates on stories, as they get published on our website.
Subscribe Newsclick On Telegram