India's Top Sportspersons Pick Silence Over Solidarity Again
It is not the first time Indian stars have chosen silence when they needed to speak out.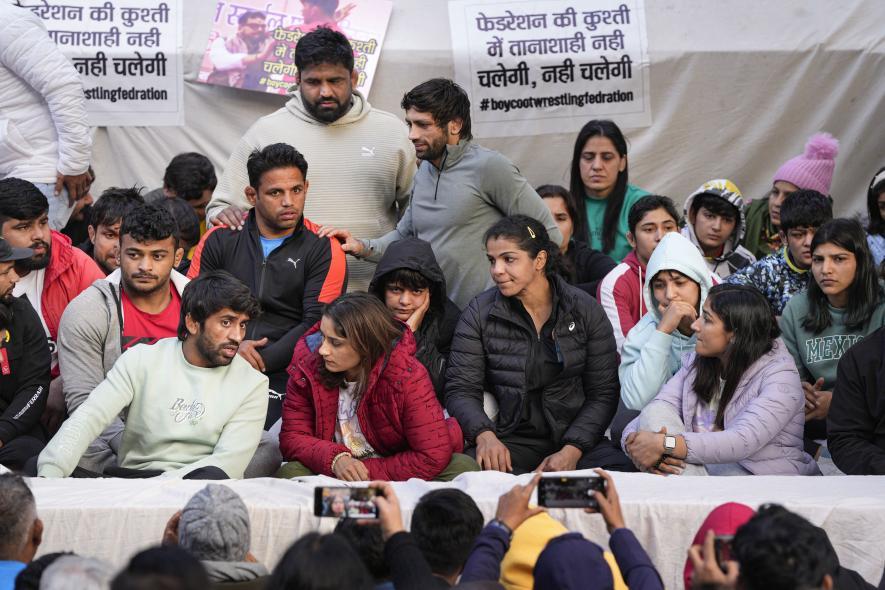 The legendary dramatist Vijay Tendulkar never minced words when speaking truth to power. Memories of how he boldly expressed anger over the Gujarat violence in 2002 will never fade. His courage still rings out loud when we confront the continued silence of sportspersons, who are ignoring the historic protest against the Wrestling Federation of India chief, Brij Bhushan Singh, over alleged sexual harassment.
For over three months, woman wrestlers Vinesh Phogat, Sakshi Malik, Bajrang Punia and others have put their careers on the line to demand action against Brij Bhushan Singh. The Asian Games, other world championships, and the qualifying process for next year's Olympic Games in Paris all take place this year.
The media's continuous glare on this protest and the Supreme Court's recent intervention has led to two police cases against the accused. One FIR involves alleged sexual violence against a minor, punishable under the stringent POCSO Act. The women wrestlers and their male counterparts only seek to address an age-old problem in sports, yet Singh has not been arrested.
Could not Indian sportspersons have extended at least their moral support to the protesting wrestlers, knowing that sexual harassment of players, especially women, is hardly a secret? It takes tremendous courage for women to raise their voices in India. Yet, barring a small handful, athletes have remained silent and seem unaware of this struggle.
In the Indian sports world, judging by the attitude of most athletes during previous controversies, nothing is exceptional about the deafening silence.
When India lost to Pakistan in the T-20 World Cup in 2021, the right-wing troll army, though it knew Team India (led by Virat Kohli) had lost to Team Pakistan, targeted Mohammad Shami, blaming him for the loss. They called him names, including anti-national, asked him to 'go to Pakistan', and, apart from Kohli's belated support, his teammates looked the other way.
Merely six months earlier, Wasim Jaffer, the all-rounder from Maharashtra, was forced to resign as coach for the Uttarakhand Cricket Association after an uproar over player selection. It was evident that local vested interests were responsible for drumming up the hate against him, for since June 2020, he had infused energy in the State team and selected players professionally. Yet the baseless charge of communitarian bias in player selection was levelled against him.
As a veteran of many test matches, Jaffer might have expected his teammates to condemn his targeting. However, barring Anil Kumble, no leading cricketer opposed his stigmatisation. Sachin Tendulkar, the 'god of cricket' to his fans, knew Jaffer from his younger days but remained mute.
The behaviour of celebrated sportspersons was also deplorable during the farmer's protest against the three so-called farm laws the central government passed in 2020. Forget supporting farmers, many sporting icons openly backed the government, while some discovered a conspiracy behind the struggle and charged the movement with "defaming" the country.
What explains this silence when there is a need for them to speak out? They may believe that remaining in the government's good books would protect them from the inconvenience of a hostile State that can unleash the taxman or other investigative agencies on them. They may want to import a Ferrari and get a tax exemption on it more than anything else they value. They may be made of different mettle and never face a moral dilemma over their actions.
When these sporting heroes take a break from their busy schedules, replete with events inaugurated and products modelled for, they can browse the history of former Bangladesh cricket team captain Mashrafe Mortaza. He condemned the attacks on Hindus in Bangladesh in clear words on a social media platform: "I saw two defeats yesterday," he wrote, "one for the Bangladesh cricket team, which hurt me, and another for the whole of Bangladesh, which has broken my heart."
Or they can view what Mahela Jayawardene, a leading Sri Lankan cricketer, did when his country was in the throes of communal violence unleashed by Sinhala Buddhist extremists against Hindus and Muslims. He tweeted, "I strongly condemn the recent acts of violence & everyone involved must be brought to justice regardless of race, religion or ethnicity. I grew up in a civil war which lasted 25 years and don't want the next generation to go through that."
Not long after, other top Sri Lankan cricketers Sanath Jayasuriya, and Kumar Sangakkara, also raised their voices against the violence.
The behaviour of sportspersons from the other much-applauded democracy, the United States of America, is entirely at variance with that of the sportspersons of the biggest democracy, India. Footballer Colin Kaepernick is a civil rights activist who hit the headlines in 2016 when he took a knee as his country's national anthem began to play at the beginning of a match. It was in protest against racism which inspired others to take a stand. LeBron James said in 2018 that former president Donald Trump was using sports to divide America.
Even in the days of Jackie Robinson, the first black professional baseball player, the United States has had sportspersons ready to take a stand on issues. Robinson is also known as a civil rights activist. Mohammad Ali is remembered not only for his game but as a daring civil rights activist ready to face any hardship. He opposed the Vietnam War, for which he was awarded a five-year jail term—suspended on appeal—and struggle all his life.
Last but not least, recall the iconic photograph from the Mexico Olympic in 1968 when the winners in the 200-meter run got medals for excellent performance. All three victors, Tommie Smith and John Carlos from the United States and Peter Norman from Australia, raised their voices against racism on the podium. Whereas Smith, the gold medallist, and Carlos, the bronze winner, delivered the historic black power salute from the stage, Norman wore a badge that said "Olympic for Human Rights".
The ruling dispensations in their respective countries later dealt with their dissenting voices by putting all three through tremendous hardships. But none surrendered before their governments. The Australian government indirectly told Norman that if he expressed regret for this 1968 dissent, he would be included in the 1972 Olympic team. But Peter refused to apologise.
Smith and Carlos were in Australia in 2006 as Norman's pallbearers. Carlos later said that "Peter was facing an entire country and suffering alone".
In August 2012, the Australian House of Representatives debated a motion to apologise to Norman—which it did posthumously.
The author is an independent journalist. The views are personal.
Get the latest reports & analysis with people's perspective on Protests, movements & deep analytical videos, discussions of the current affairs in your Telegram app. Subscribe to NewsClick's Telegram channel & get Real-Time updates on stories, as they get published on our website.
Subscribe Newsclick On Telegram