Sole for a Soul: Nike's Chokehold on World Athletics
The international governing body for athletics (IAAF) brings new rules for footwear that, by design or coincidence, again seem to favour Nike. The sportswear manufacturer controls the narrative in international athletics unlike any other private entity across any sport. We examine the implications of a commercial company becoming all-powerful in sport; how it impacts the sports credibility and future.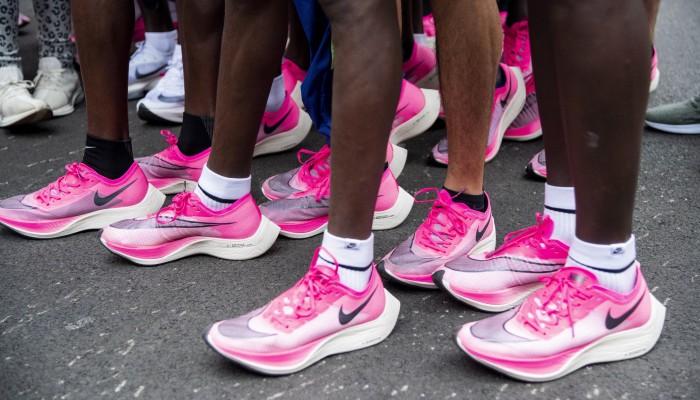 Nike's Vaporfly model offers such a significant advantage to runners that in recent years athletes wearing them claimed 31 of the 36 podium positions in the six major world marathons in 2019. (Photo courtesy: EPA-EFE)
The Olympic motto is Citius, Altius, Fortius. Faster, Higher, Stronger. As much as the saying applies to athletes, it applies to companies which kit up these athletes even more. Nothing else can explain what Nike does. They are making people faster (by any means necessary). They make them get higher (cough… Lance Armstrong... cough) and they are, in the process, getting themselves stronger than ever before. 
Actually, that could take some time. Let us brief you on Nike news to start with. First came the Vaporfly, a shoe so good that it literally left all its competitors behind. Such has been the model's dominance in recent years that athletes wearing them claimed 31 of the 36 podium positions in the six major world marathons in 2019. Eliud Kipchoge wore them when he broke the marathon world record in Berlin in 2018 and his fellow Kenyan, Brigid Kosgei, smashed the women's record last year wearing them in Chicago. 
Then came the Alphafly. A shoe so good it got a sub two hour advert all for itself, the Ineos-Nike run by Kipchoge. Sandwiched neatly between them came the story of a coach accused of using systematic doping at Nike's headquarters in Eugene, Oregon (also referred to as Niketown, USA). It was a scandal so grim Nike buried it deep within the dredges of their own conscience. They didn't really stitch it into their soles though (A pun that would've worked if they had more accountability). 
Also Read | SAI Kokrajhar: Tales From an Indian Sports Outpost
And now this. World Athletics, after a long period of deliberation, released new shoe regulations on January 31. The ruling places an immediate, indefinite ban on shoes with more than one plate and with soles thicker than 40mm. The new rules ban prototypes. Starting April 30, athletes will only be allowed to compete in shoes that have been on the market for at least four months. Perfect. 
For Nike that is. Because what are you if not smart? Or in the words of their VP of Footwear innovation, Tony Bignell, "Barriers are inspiring to innovators."
Four days after that ruling, Nike has released a new pair of shoes that neatly slips inside the barriers caused by these pesky regulations. The shoe — called the Air Zoom Alphafly Next% — has only one carbon fibre plate and a sole thickness of 39.5mm. This new shoe is sold as a 'game changer,' of course. And it will be available in the market, in limited quantities, by the end of the month. Which makes the timing perfect for Nike athletes to use the shoe at the Tokyo Olympics later this year. Does any of this stink yet? 
No? Let's stir the pot a little more. It isn't the shoes that are the cause of the problem. Technological innovation is at the heart of sport. You will agree that shoe tech has always influenced athletics. We can go as far back as 1957 to find the first time an athlete used enhanced footwear to gain an advantage over his peers. Tech doping has been an issue for as long as tech has been around. The question isn't even whether this is the direction athletics should really be heading. The bigger problem is this. Going faster and higher makes Nike stronger.
Strong to a point where now we can seriously question World Athletics' independence itself. Does Nike influence the game to such a point that they know the rules before they are set? World Athletics have denied telling Nike about the new regulations beforehand, of course, and have clarified that they sat with multiple shoemakers and discussed the regulations before releasing them to the public. But it seems too much of a coincidence. And in the time of conspiracy theories and alt news, reasonable doubt is not enough. 
A vast percentage of athletics is Nike. A huge number of pundits in athletics are sponsored by or work for Nike. The company runs its own secretive programmes using these pundits' knowledge, pushing the idea of conflict to redundancy. At the Oregon project itself, Nike gives athletes access to their facilities and coaching staff, in return asking from them access to their bodies and minds for 'their experiments with boundary pushing'. As much as Nike needed a runner the caliber of Eliud Kipchoge to kit up and aid break the two hour marathon barrier, Kipchoge is completely dependent on Nike. Name three more marathon runners you know. Name ones who are paid enough by a corporation to forsake a running season -- and the monetary benefits that come with it -- and instead concentrate on a guinea pig running project that will never be counted in the official record books. This isn't about achievement. It is about advertisement.
Should any commercial company really be so powerful in sports? At what point would a governing body, who understood the threat to the sport's credibility, start thinking about these issues? 
Agreed, every sport has its own sportswear giant whose billboards illuminate the playing area, but none of them influence policy as much as Nike does. Li Ning does not randomly decide to change racquet shape and size to break barriers and help their athletes play better. Asics does not suddenly make shoes that stick to the mat to ensure their wrestlers, no matter the opponent, are always feet down. Adidas does not make football boots that make the ball stick to the boot (They have Messi for that). They don't because none of them have at the head of their sport a man like Sebastian Coe (the IAAF president), who was a Nike ambassador for 38 years (paid £100,000 a year) and quit amid pressure that it was a 'conflict of interest'. He insisted it wasn't, even when he relinquished the role. 
Also Read | Caster Semenya vs IAAF: CAS Ruling a Case of Protecting Majority By Targeting the Minority
Nike's transgressions, though, extend beyond footwear. In the background — when actually that really should be the foreground — the saga over Alberto Salazar and his ban for doping violations at the now defunct Nike Oregon project runs on. In December last year, Nike's refusal to rename a building in Oregon honouring Salazar caused a mass protest by their employees outside the premises. 
The building hasn't been renamed yet, but just like it was with Lance Armstrong in the past, Nike will find an advert to make an excuse. Controversy is good business. 
Much like questioning this government is anti-national, questioning Nike makes you a non believer. If you doubt the corporation, you lack ambition. This is a point Colin Kaepernick — a crusader for something right advertising something so wrong — made into an Emmy-winning commercial. 
So no one questions them. Submit and surrender. You don't even have to wait. That shoe is flying off the shelves at a store near you. 
Get the latest reports & analysis with people's perspective on Protests, movements & deep analytical videos, discussions of the current affairs in your Telegram app. Subscribe to NewsClick's Telegram channel & get Real-Time updates on stories, as they get published on our website.
Subscribe Newsclick On Telegram