Jaipal Singh Munda: Tribal Statesman with a Hockey Stick and a Vision of Gold
March 20 marks the 50th anniversary of Jaipal Singh Munda's passing. It is almost 20 years since his dream of a separate state for the tribals of the Chota Nagpur region, Jharkhand, became a reality. But his vision for rights and socio-political standing of the "original settlers of the land" is far from being realised, even in his home state.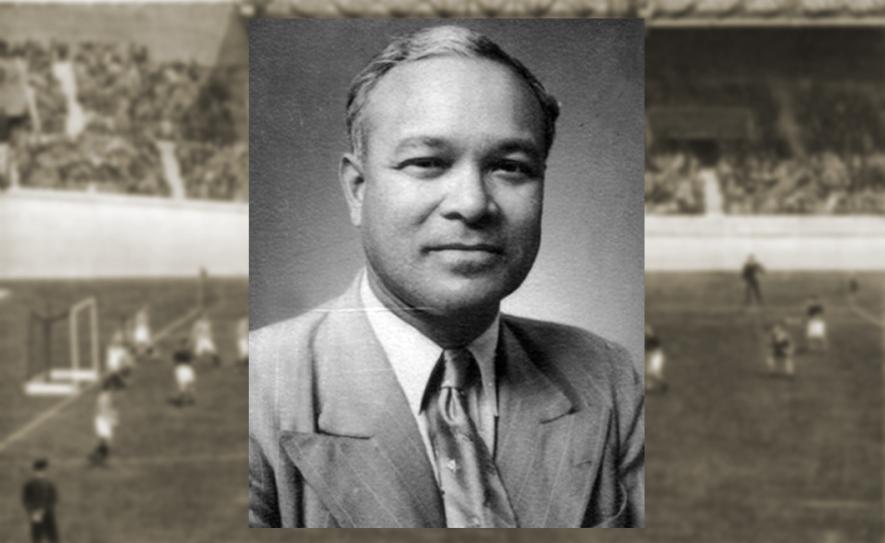 Jaipal Singh Munda was the captain of the first India hockey team to win an Olympic gold — at the 1928 Amsterdam Games. He did not play the final following a squabble with management (most of them British) about the treatment of Indian players.
On the day India established themselves as the bastion of world hockey, the captain of their team, the man who had brought it all together, was nowhere near the stadium. In his absence, India beat the Netherlands 3-0. The day was May 26, 1928 and it was the gold medal match at the Amsterdam Olympics. The Olympic Games website credits Major Dhyanchand with two of those goals. The third is uncredited. It makes no mention of the captain at all because a few days before that game Jaipal Singh Munda returned to England, following a squabble with management (most of them British) about the treatment of the Indian players in the squad. 
At 25, fresh from becoming the first Indian to win his blue playing hockey for Oxford, Munda turned up at the Olympics despite having his leave rejected while training as a probationer in the Indian Civil Services. After the Games, Munda dabbled in hockey almost as an extracurricular activity, something to keep the mind fit and the spirit going. He helped start Mohun Bagan's hockey team, served as Secretary at the Bengal Hockey Association, worked with grassroot sport and was, for a brief while a member of the Indian Sports Council. He never played for India again.
"When we were young, we were all fighting for the same dream. To become a Jaipal Singh Munda," former India player Savitri Purthy says. Purthy represented India between 1983 to 1990, and was a key member of a team that was conveniently on the wrong side of history for Indian hockey. She has also been the secretary of Hockey Jharkhand, responsible for bringing many players through to the Indian side over the past decade. "But it wasn't just to become like him on the hockey pitch. That was just a small part of it. The dream was to become someone who can inspire people outside of it."
Part of the problem with telling Jaipal Singh Munda's story is that it is unlike few others in Indian sport. Profiling him would have been a dream and a nightmare in equal measure. It is a cliche of sports profiles, that at some point in time the writer must declare what the subject in question represents. What is it they prove to the rest of society? What is their overarching purpose in this sporting system? Modern athletes satisfy us with small displays of external interests. Some dabble in literature. Others in commentary. Many turn coaches and some become Members of Parliament. Very few of them ever take stands that could jeopardise their careers inside and outside the sport.
Jaipal Singh Munda was different. Despite his gifts as a sportsman, few remember him in that role anymore. He championed tribal rights without desire for political gain, and unreservedly criticised policies that exploited them. His purpose in the sporting system was to champion causes outside of it. What he represented was clear as day.
Also Read | PK Banerjee: Leader, Gamechanger, Indian Football Legend | Obituary
The Olympics were to Munda what Pietermaritzburg was to Gandhi. He never played for India after the Amsterdam Games, and in the years to follow, formed the Adivasi Mahasabha, an organisation that stood up for a separate state for and of the tribal population of the Chota Nagpur plateau. He argued to make land a fundamental right for tribals at the Constituent Assembly in 1946, and beseeched India's leadership to ensure reservations and respect for those he called the original settlers of the land.
"Growing up, we heard about Jaipal Singh Munda, because of the game they used to hold to commemorate his birth anniversary on the 3rd of January every year," India midfielder Nikki Pradhan says. Pradhan is from Khunti, the hotbed of Jharkhand hockey, and grew up not too far from Munda's village Takra. "As the years went by, we slowly learnt what a big leader he was and what he had done for us. As you learnt more, you wanted to learn more and so on."
It is 50 years today, March 20, since Jaipal Singh Munda passed away. 20 since his dream of a separate state for the tribal people of the Chota Nagpur region, Jharkhand, was realised. And even in that there are faults. 
"The Jharkhand that we have today is not what my father envisioned," Jayant Singh says. "Tribal exploitation and land alienation have a long history here. It started in the British times, and has continued till today. If you think Jharkhand was created to protect tribal rights you are mistaken. It was created to further political agenda."
Jayant is not wrong. Since its creation, Jharkhand's land has been slowly auctioned off to industry. Right from the start, one BJP government after another has exploited tribal rights to cash in on the mineral rich plateau the state sits on.
Khunti, that cornerstone of Jharkhand hockey, the district of Jaipal's birth, has also been the hotbed of tribal dissent over the last few years. Much before the metropolis invoked the language of the Constitution into daily speech, Khunti was doing it. The Pathalgadi movement, started by various members of the tribal community in Jharkhand to protect their land rights led to over 10,000 members of the community charged with sedition under the Indian Penal Code (IPC). The charges were withdrawn as soon as the Jharkhand Mukti Morcha (JMM) came to power in December last year. On Jaipal Singh Munda's birth anniversary, Union Minister for Tribal affairs, Arjun Munda said that the village of his birth, Takra, would be developed into a 'model village', discounting in one breath centuries of tribal history that have thrived because of sustainability. A tradition lost only when modern economics walked in.
Jharkhand is mineral rich. Restructuring land ownership patterns have helped industries thrive in the state. At the cost of those less advantaged. It is a pattern repeated in sport. Jharkhand hockey has been known for producing a huge number of players for the women's team, a majority of them from Khunti itself. Players come and go. The facilities in the area though remain bare minimum.
"Almost every village in Khunti can produce top quality hockey players," Purty says, "But there are such few facilities in the state, that we are forced to discard those other than the very exceptional." 
By her estimate there are three functioning astro turfs in the state — two at the Jaipal Singh Stadium in Ranchi and one at the Tata Academy in Jamshedpur. Pradhan, like Purty herself, went from her village to the Bairatu Hockey Centre in Ranchi, and it is a pattern that follows till date. "For years we have campaigned, and even when I was secretary this had continued, asked the state government or even the ministry to finance an astro turf in Khunti…"
Also Read | Tokyo 2020 and the Missing Olympics Jinx
"If we had the facilities you make available to say Haryana, with astro turfs, then more players would come up," Purty says. "Our lack of infrastructure hurts us. Hockey India has helped us a lot. We have moved ahead massively in the past few years, but a lot more needs to be done."
Over the past few years, there has been a slight shift, an upward movement to help upcoming players justify their need to play sport. "One of the first things we wanted to do when I was secretary, was ensure the girls got jobs in Jharkhand, so that they wouldn't take up jobs for other companies or state units and move out," Purty says. In the same breath though, Purty also admits that it may not be enough, something she also cites as being the reason male players never manage to make the cut for the national team. 
"For girls, jobs, a basic income, the chance to get out and see the world are sometimes enough incentive," she says. Male players want more. Better coaching, and training conditions to start with. "Men are also incredibly lazy and entitled," she laughs. 
Indian history — and to an extent Indian hockey history — is littered with legendary figures, intellectuals, martyrs, visionaries and protesters, who have hugely affected the country's conscience. Very few tribal names stand out.
"Whether you like it or not, this will be tough to hear, but India's heterogeneous society is actually very insular," Jayant says, "Every community looks out for themselves. And in that pecking order, tribals come last. Imagine giving tribals a voice, a platform to air it. They are the original settlers of this land! If they start talking, this political hegemony will explode!"
And so it goes. It has always been easier to forget and ignore than remember and ask for forgiveness. Everyone remembers the day India won their sole World Cup title in hockey: March 15, 1975. But Munda's birth anniversary, his death anniversary or indeed the date of Indian hockey's first Olympic medal are forgotten easily. 
Pradhan, the sole Jharkhandi in an Indian hockey team today, admits this freely. "I can't say how many people in the team know about Jaipal Singh Munda to be honest," she says. "I've never asked them. Maybe today, I will tell them."
Get the latest reports & analysis with people's perspective on Protests, movements & deep analytical videos, discussions of the current affairs in your Telegram app. Subscribe to NewsClick's Telegram channel & get Real-Time updates on stories, as they get published on our website.
Subscribe Newsclick On Telegram