From Jarnail To Jhingan: Punjab Flavour to Evolution of Defenders in Indian Football
For long, Punjab has been associated with hard hitting, physically robust central defenders who may lack the skills but more than make up for it with heart. That is a reductive argument. In the years since legendary coach Sukhwinder Singh took charge of JCT, defenders from that state evolved, focusing more on strategy, tactics and awareness. Sandesh Jhingan is another in a long list of men who have followed that tradition.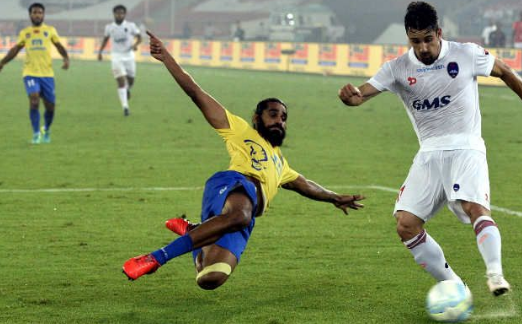 India defender Sandesh Jhingan is a product of the system that coach Sukhwinder SIngh began building in Punjab in the early 1990s.
In the season of 1959, Mohun Bagan recruited a Sikh footballer from Rajasthan Club to the team. The youngster, Jarnail Singh, was a midfielder (half back in that era), who had played reasonably well for Rajasthan the previous season.
Mohun Bagan coach Arun Sinha, however, had other ideas. Sinha was impressed with Jarnail's strong build, his hooting prowess and fierce tackling. He wanted Jarnail to play as the lone stopper in the then recently introduced three-back system.
Jarnail was a flop in his new position at the start of the season in the Calcutta Football League (CFL). He desperately wanted Sinha to shift him back to his original position. But Sinha remained adamant. And how correct he was. Halfway through the season India discovered its greatest central defender of the post-independence era.
Also Read | Black Lives Matter: Real Salt Lake Team Owner Under Scanner For Racist Comments, Could Be Relieved of Ownership
Jarnail was from Punjab, who shifted to Kolkata in search of greener pastures. He achieved everything an Indian footballer could dream of. A Mohun Bagan legend, he donned the green and maroon jersey for nearly 10 seasons, represented and captained India and won an Asian Games gold medal. Many considered him Asia's finest defender of the 1960s.
Over the years, Punjab have produced some of India's notable central defenders, who played many years with distinction. This year, when the Sports Ministry decided to distribute the country's highest sporting awards to a record number of sportspersons, two of those went to footballers, both central defenders of different eras. This year's Arjuna awardee, Sandesh Jhingan has been a permanent member of India's deep defence for the past five years. Sukhwinder Singh also played for the national team in the same position in the 1970s. But the Dhyan Chand award, he will receive is mainly a recognition of his coaching ability, both as coach for JCT and India. 
Jhingan is a perfect example of how a central defender should be. He is well-built, tall and possesses good tackling skills. He is fearless but calm. Aggressive but within reason. He is a modern day central defender, well aware of the extent a defender is allowed to go.
It wasn't the same in the past. After Jarnail Singh's days were over, Punjab had some central defenders, whose approach to the game was far more direct and fearsome. The list also includes players like Gurdev Singh and Gurcharan Singh Parmar, once regular members of the national team. 
Rules were lenient, referees far more patient, and most crucially, it was legal to tackle from behind. Punjab defenders often had a field day. Gurdev was a highly dependable stopper back, who led India in the 1978 Asian Games. But he was famous for the quick use of his elbow while leaping in the air for an aerial ball, something which left many reputed strikers running away from him.
Parmar, on the other hand, was a hard tackler, whose awe-inspiring approaches covered up for his slight lack of skill. Coaches always considered him a useful defender in the international arena. No wonder Parmar and Manoranjan Bhattacharya remained a highly successful pair of central defenders in the national team in the four-back system.
There were some, who would have been complete misfits in the modern era. Lambher Singh was one of them. His vicious foul on Mohammed Habib in the 1968-69 Santosh Trophy in Bengaluru is still talked about by players of that generation. An unconscious Habib had to be hospitalized as the doctors feared serious brain damage.
Also Read | Para Sports in India: Sidelined Despite the Spotlight | Tokyo Paralympics Special
There are some other stories, too, from that era. In one of the preparatory camps for the Punjab Santosh Trophy squads, one central defender was thrown out after he committed an injury- threatening foul on the team's best striker in a practice encounter.
The story goes that one particular central defender developed such an "enviable" reputation for violence that the referee would always double check his pocket for cards, if he spotted this footballer in one of the two teams. Overall, the Punjab players were rugged and robust, not always valued for their skills, but more to tame their opponents.
Sukhwinder was perhaps the first to come from a different mindset. For more than 10 years, he was one of Punjab's top central defenders, first for BSF then later for JCT. In between, he played for India and led Punjab in the Santosh Trophy. Surprisingly, he never earned a yellow card in a long career. Skills were his forte and he always preferred to make use of it.  
Sukhwinder made use of his idea of playing the game with skills and strategy rather than sheer physical ability when he was elevated to the chair of JCT's chief coach in the 1992 season. For the next 20 years, he was considered the face of Punjab football.
Sukhwinder's success as a coach could be gauged from the fact that he was often labeled the country's best for  the way he organised his teams defensively. At the same time, the Phagwara club were also the most disciplined team of the time, having won the fair play trophy for the maximum number of times in both NFL and I-League. JCT under Sukhwinder shattered the very hackneyed idea that one formed about Punjab defenders for many years. 
To say Jhingan is the product of the system that Sukhwinder began building in Punjab in the early 1990s won't be an exaggeration. The 27-year-old from Chandigarh has played for at least half a dozen clubs all over India. He never looked out of place. He is now a pillar in the national team's defence, always a first choice for a succession of foreign coaches since 2015.
Having quit Kerala Blasters, Jhingan is yet to join a team in India. He has subtly hinted at looking to travel outside India and play for a foreign club this season. Former India captain and East Bengal legend Manoranjan Bhattacharya said it could be a good option for Jhingan. 
"The boy is tall and has a good physique. He is also a consistent performer. If he can slightly sharpen his skills in the area of decision making, then I am sure Jhingan can play for any team. I will be happy to see an Indian defender playing for a foreign club," Bhattacharya said. 
Sixty-one years ago, Jarnail Singh travelled all the way from Punjab to Kolkata to try his luck on a bigger platform. Now it is time for another central defender from the same state to carry on his legacy.
Get the latest reports & analysis with people's perspective on Protests, movements & deep analytical videos, discussions of the current affairs in your Telegram app. Subscribe to NewsClick's Telegram channel & get Real-Time updates on stories, as they get published on our website.
Subscribe Newsclick On Telegram