Indian Cricket's Latest Dilemma, Playing Patience with Rishabh Pant | On the Ball
Since the ICC World Cup in England, Rishabh Pant has batted nine times in international cricket in all three formats, and has been dismissed for single-digit scores on five instances. The Indian cricket team think-tank might not take the inconsistencies too kindly anymore.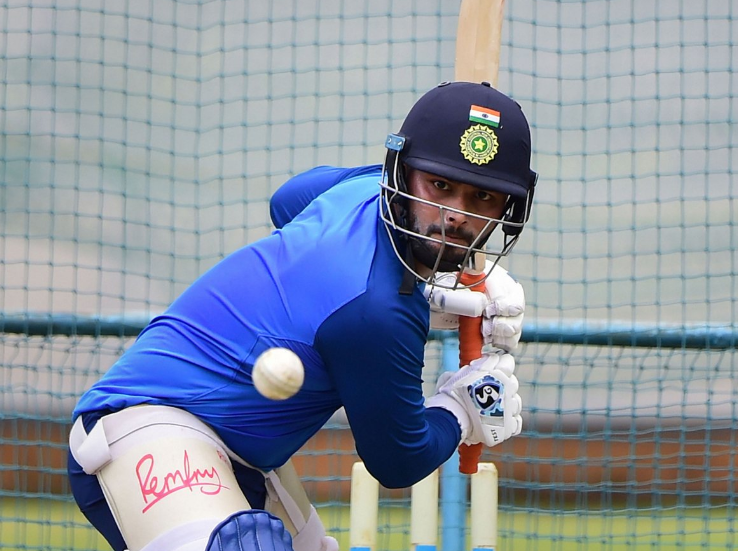 Rishabh Pant's immediate target will be to get rid of the bouts of brain-fade that are stacking up as indictment of temperamental, rather than technical, inadequacies in his batting.
It's hard not to like Rishabh Pant. Boyish charm, infectious smile, blithe spirit occasionally given to naughty cheekiness.
It's also hard not to be infuriated by Rishabh Pant. Dodgy shot-selection, repeat indiscretions with the bat, somewhat shoddy glovework, especially to the spinners.
Pant will not be 22 until a fortnight. By then, he would have already represented the country 44 times in international cricket, across formats. That's a staggering accomplishment, both considering his age and the fact that, until the end of the ICC World Cup this July, he was at best an understudy to MS Dhoni in white-ball cricket.
Also Read | Bajrang Punia's Loss at World Wrestling Championships was Fair, Here is Why
And yet, the 22-year-old Indian cricketer of today is no more just a 22-year-old. Pant has been an integral part of uber-successful India Under-19 squads, has been playing first-class cricket for four years, has a triple-century for Delhi in the Ranji Trophy, has led his state side in senior domestic cricket, made a name for himself in the high-profile Indian Premier League (IPL), and worked with some of the best cricketing brains in India and beyond at franchise and country.
For all his wicketkeeping skills, Pant first surged into prominence because of his ability to bash the cricket ball. Driven by the carefreeness that comes to the very young and a natural tendency to hammer the little orb far and wide, he made people sit up and take notice with stunningly rugged pictures where grace wasn't necessarily the most striking feature. He was unconventional, unorthodox, a refreshing difference from the prim and the proper. 
Not only but also because he was young, he was given the license to express himself without always worrying out the outcome or the output. He was encouraged to stick to his natural game, successive coaches at various levels quick to understand that tinkering with his almost-rustic approach could prove spectacularly counter-productive. The belief was that as he grew wiser for the experience of playing globally, he would tailor his game suitably, fusing flair and flamboyance with the maturity and understanding that experience brings in his wake.
Even within the contours of the national side which he first broke into in February 2017 during a Twenty20 International in Bangalore, Pant enjoyed the freedom of being himself. Around Virat Kohli and Dhoni, Suresh Raina and Yuvraj Singh, he could afford to be the new kid on the block exploring the fascinating world of top-flight cricket without the immediate attendant pressures of performance and perspicacity. It was a great position to be in, having the luxury of failure in the quest for the oft-elusive formula for success.
As in all things life, that would only be a temporary phase, a period of initiation, of being broken in into the high-stakes cauldron of country versus country showdowns. The patience of the decision-makers needed to gradually be complemented by situational awareness and judiciousness in approach by the boy-wonder taking tentative steps towards manhood. That's where Pant has let himself, and his multitude of backers, down.
Video | Gurpreet Singh Sandhu Interview: India's No. 1 Kicks-off the New Season 
It isn't that he isn't scoring runs which is worrisome from the think-tank's perspective. Vicissitudes of form don't spare anyone – unlined rookie or gnarly veteran. Good patches are marred by bad runs, some more prolonged than others. That's the nature of competitive sport where, as Rahul Dravid has pointed out on many occasions, failure is a bigger guarantee than success, bad days are numerically more than the good. It is in minimizing the gap between failures, in finding ways of delaying the bad days to the extent possible, that the challenge lies. It's a challenge Pant is struggling to come to grips with.
Since the World Cup, Pant has batted nine times in international cricket in all three formats, and been dismissed for single-digit scores on five instances. His only edifying knock was an unbeaten 65 in a tight T20 chase against West Indies in Providence, some six weeks back. Often, batsmen falling early in the piece points to a potential technical flaw. In Pant's case, those low scores owe themselves to lapses in concentration, to attempting the outrageous without getting his eye in, without giving himself a chance to suss either the conditions or the bowling. The line between bravado and foolhardiness is a very, very thin one; surges of adrenaline seem to have repeatedly blurred Pant's vision of that line. 
That would seem to suggest a temperamental flaw, yet this is a lad who has Test centuries in England and Australia, against Anderson-Broad-Stokes-Curran-Ali-Rashid and Starc-Hazlewood-Cummins-Lyon respectively. The less charitable might point out that The Oval ton came when the match and the series had already been lost, and that the SCG hundred was a mere flogging of a dead horse that had previously suffered at the hands of Mayank Agarwal, Cheteshwar Pujara and Hanuma Vihari. That will be a poor reflection on the cynics, not on the ability of the exciting left-hander who has both the skills and the wherewithal to stack up big runs on the biggest of stages.
So why is he struggling to do justice to his enormous talent in white-ball play, where his game would appear ideally suited to make a lasting impression? Is it that, not unlike his illustrious Delhi mate Virender Sehwag, he feels there are too few balls and that therefore each one must disappear to the boundary? Is it that he is still, despite a combined 134 senior caps in 50-over and 20-over cricket, coming to terms with the art of building an innings, not quite alive to the fact that runs can be scored outside of boundaries as well? Is he a slow learner, immune to the masterclasses put on with astonishing regularity by his national captain? Most likely, a combination of all of this. 
Also Read | An Opening Gambit Gives Rohit Sharma Another Moment of Truth
It wouldn't have helped, of course, that all of a sudden, he is under the microscope not just from outside but also from within. Statements emanating from the management group haven't exactly been kind. Kohli has spoken of youngsters needing to grab their opportunities in the first 'five-six matches' that come their way. Head coach Ravi Shastri has threatened Pant with a rap on the knuckles in the event of serial offences. And new batting coach Vikram Rathour has sought a clear delineation between fearless and careless cricket.
As the brains trust, these gentlemen have every right to make these demands. Whether they should have been in public domain, thereby adding to the pressures on a young man who is already attracting attention for all the wrong reasons from the multitude of experts sitting on unforgiving judgement, is the bigger question. Agreed, the wicketkeeper-batsman/batsman-wicketkeeper slot is not Pant's by right. He has to earn his spurs, he has to be consistent, he has to be seen to be putting a price on his wicket, learning from past mistakes, fusing ability with intelligence, aggression with commonsense. But if he has come this far, it's not because someone has bestowed a favour on him.
Past performances, however, only count for so much. Pant's immediate target will be to eschew the less infrequent bouts of brain-fade that are stacking up as a damning indictment of temperamental, rather than technical, inadequacies. Unless he brings an element of patience to his fundamentally gung-ho approach, the patience of the decision-makers is bound to wear thin. If he isn't careful, he could go from X-factor to ex-factor quite swiftly. And that will be a real shame, because Pant just has so much to offer to the game as such, not just Indian cricket.
(Kaushik is a veteran cricket writer who has reported on over 100 Tests. He co-authored VVS Laxman's autobiography '281 and Beyond')
Get the latest reports & analysis with people's perspective on Protests, movements & deep analytical videos, discussions of the current affairs in your Telegram app. Subscribe to NewsClick's Telegram channel & get Real-Time updates on stories, as they get published on our website.
Subscribe Newsclick On Telegram