MGNREGA Flounders in Fund Crunch and Tech Trap Squeeze
Mandatory digital attendance has led to 10% decline in work.
After the introduction of compulsory marking of attendance through a mobile app, work output in the rural jobs guarantee scheme, MGNREGS, dipped by nearly 10% in January this year compared with the preceding month. It has continued at this lower level through February and appears to be going down even more in March, as per data till March 25, available on the scheme portal run by the rural development ministry. (See chart below)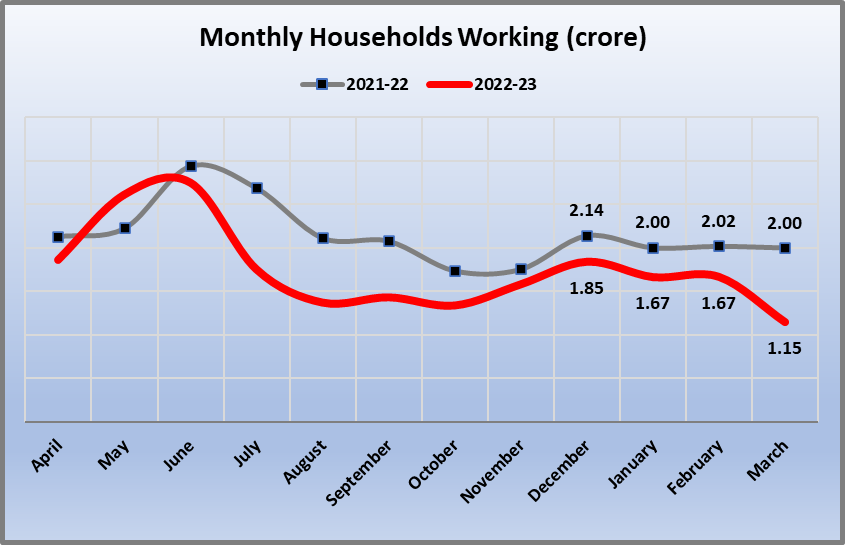 In December 2022, about 1.85 crore households got work in the scheme (officially known as Mahatma Gandhi National Rural Employment Guarantee Scheme or MGNREGS). In the next month, January 2023, the app-based attendance was made compulsory for all those who were given work. The app is called National Mobile Monitoring Service (NMMS). This led to rampant complaints of non-availability of net connections in remote areas and other technical glitches, all leading to hapless workers waiting hours to just get recorded as having worked – or even losing wages due to failure of the system. This is what is causing the dip in work in these months.
This is not a case of seasonal decline. As shown above, last year there was a slight decline but not of this order. Data from earlier years shows that usually there is a rise in work under the scheme in the months of January-February compared to December. For 2018-19, the last full year before the pandemic, January 2019 saw a nearly 9% rise compared to December 2018.
Read Also:MGNREGA: Nearly 1.5 crore Job Seekers Refused Work Till Now
According to the information available on the same portal, about 10.24 crore persons had applied for work in the scheme for the current year (till March 25, which is just five days short of completing the financial year). Out of these, only 8.6 crore persons actually got to work. That means about 1.64 crore persons were turned away. They never got the work. That's about 16% of the total number of work applicants – an unconscionably high number.
It must be remembered that the country is passing through a long and distressing phase of sustained unemployment which has been aggravated by the pandemic. With industrial production stagnating and very little new productive capacity added, chances of getting jobs in industry are minimal.
A similar situation exists in the services sector. As a result, rural areas are still bearing the load of extra hands, many of whom are being absorbed in the already saturated agriculture sector. For most of such impoverished families, the job guarantee scheme is a lifeline, although it provides meagre wages and that too for not more than half of the mandated 100 days of work.
Read Also: Why is the App-based Attendance System Agitating MGNREGA Workers?
The introduction of mobile based attendance appears to be one of those tech solutions much favoured by this government that promises smooth operations but actually functions to squeeze the people out of the system. Such tragic consequences have already been seen in the case of Public Distribution System (PDS), attendance of teachers in schools and various other schemes.
Unpaid Wages Piling Up
In the current year, data available at the scheme portal (linked above) gives a shocking picture of so-called efficiency and smooth functioning. Compared to last year, the quantum of delayed wages has increased by 64%. Delay is defined as 16 or more days of delay in payment of earned wages. Last year, such delayed wages amounted to Rs.2,213 crore which have jumped up to Rs.3,630 crore this year, till 25 March. (See chart below)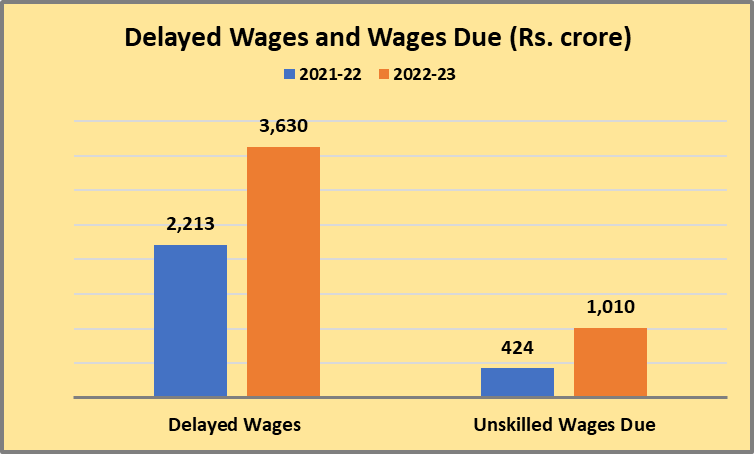 Even worse is the case of unpaid wages – a total of Rs.1,010 crore worth of unpaid wages to unskilled workers is piled up with the administration. This is 138% more than the Rs.424 crore due wages last year.
Read Also: Pending Wages, no Work: Bengal MGNREGA Workers Bear Brunt
It bears repetition that delays and unpaid wages – due mostly to a variety of tech problems – is a severe calamity for those seeking work in the scheme. They are turning to the scheme as a last resort, having failed to find jobs anywhere, and they are willing to do the drudgery for a pittance because it's a matter of survival. To deny them wages running into crores of rupees is a travesty.
Fund Crunch
In 2022-23, Budget allocation for MGNREGS was Rs.73,000 crore but with additional allocations done during the year, the revised estimate ended up at Rs.89,400 crore, according to Budget documents. This was less than the amount spent in 2021-22, which was reported at Rs. 98,467.85 crore (Actuals).
At the beginning of the financial year 2022-23, funds available were Rs.97,639 crore, according to the scheme portal. This is a sum of allocations and carry overs from previous year. As of March 25, the scheme finances are in the red to the tune of Rs.11,921 crore. That is, expenditure is more than the allocation by this much. Last years deficit was Rs.4,162 crore. (See chart below)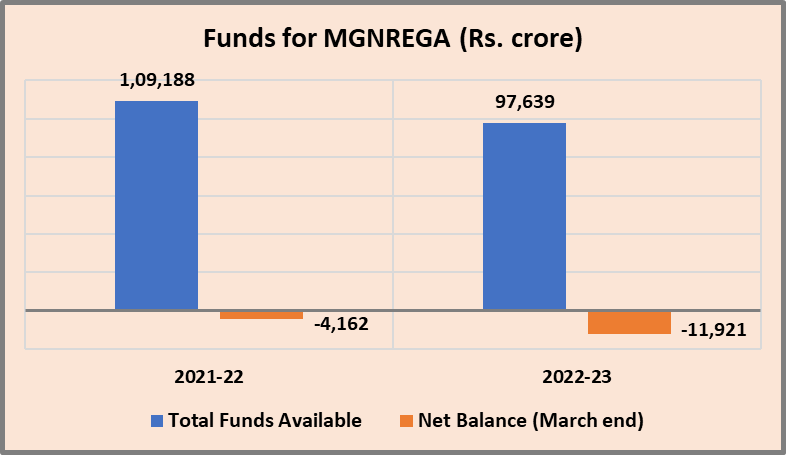 What this means is that the scheme is spending more than what is being allocated. This is despite the fact that over 1.6 crore persons were refused work even though they applied for it. There is immense pressure from the people to get more work in the scheme – but the government is just not willing to allocate more funds. Rather, it is taking all kinds of measures to somehow discourage people from seeking work in the scheme. The compulsory app-based attendance is one such tactic. Delays in payment of wages is another.
Any government with an iota of political sense would realise that it is playing with fire by squeezing the rural jobs scheme. Unemployment has been one of the biggest economic issues in the minds of voters in diverse elections in the recent past. Failure to provide jobs – despite bombastic promises in election campaigns – can lead to deep resentment and disillusionment. The job guarantee scheme cannot compensate for this utter failure but it can provide some salve, some relief to suffering people. But, strangling the scheme seems to be a foolish policy. But then, the government is wedded much more strongly to the neoliberal dogma of reducing government expenditure on welfare schemes.
Get the latest reports & analysis with people's perspective on Protests, movements & deep analytical videos, discussions of the current affairs in your Telegram app. Subscribe to NewsClick's Telegram channel & get Real-Time updates on stories, as they get published on our website.
Subscribe Newsclick On Telegram