The Missing Logic in Indian Hockey Team's Coachless Existence
The Indian hockey team, plagued by a growing injury list at the coachless national camp, will travel to Ipoh for the Sultan Azlan Shah Cup without someone at the helm -- just 18 players, support staff, analyst Chris Ciriello and high performance director David John.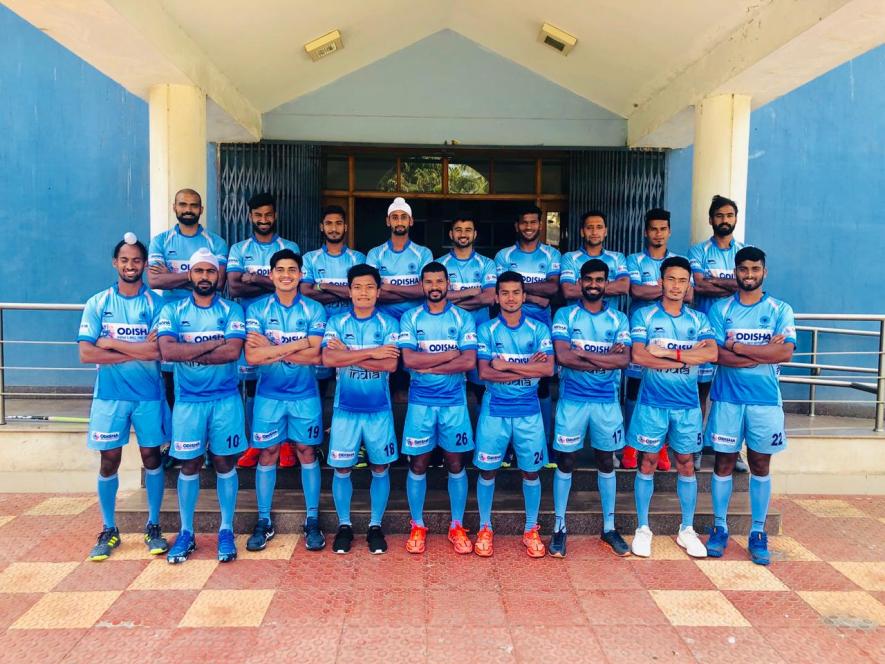 Manpreet Singh will lead the depleted Indian hockey team at the Sultan Azlan Shah Cup in Ipoh, Malaysia, with SV Sunil, Akashdeep Singh, Ramandeep Singh, Lalit Upadhyay, Rupinder Pal Singh, Harmanpreet Singh and Chinglensana Singh out due to injury (Pic:
If there is one profound reality in Indian sport as a whole it is the fact that there is no tradition of administrative transparency. Any attempt to introduce or ask for one is going to be dismissed. Sacking coaches, dropping players, hiring coaches, installing high performance directors, sacking them, all of it is done quickly and press releases are then sent out to inform everyone that they have been done.
This is the basis of all the criticism thrown towards Hockey India from observers, some journalists as well as fans of the game. Unanimously, everyone agrees that the sacking of Harendra Singh in the aftermath of the FIH Men's Hockey World Cup was unreasonable. Whatever the faults in his general assessment of the game that India lost, or even the manner in which he expressed them, he seemed to have been given very little time to implement his ideas and even fewer occasions to prove them bearing fruit.
The semi-final loss in the 2018 Asian Games in Jakarta was perhaps the nail in the coffin for his tenure as coach, but there is a general feeling among most people that he had a lot more to offer. Now that opportunity has been lost. Harendra is now jumping the borders of single sport and thinking of pursuing a career in football. More on that later.
Also Read | Hockey India: Ruling With an Iron Fist
Often times, the logic in decisions based around the team is missing, and questioned by many — many more than ever thanks to the reach of social media — but not like the establishment cares. The people who care for logic don't really matter, and the people who matter don't really care for logic itself and sometimes they don't mind saying so. If the Indian national hockey team is going to turn out for their opening tournament of the year — the Sultan Azlan Shah Cup  — without a coach in charge of the team, then it will, and any attempts to ask for the logic in this will be met with silence.
On March 6, Hockey India announced an 18-member squad which will take part in the Sultan Azlan Shah Cup in Ipoh, Malaysia, later this month. More eye catching than those who made the cut were the ones who didn't, and the reason they didn't. Seven players (four were part of India's World Cup squad) missed the cut because of injury. There has, predictably, been outrage and gentle ribbing at how the management managed to get so many players injured at the beginning of the season. Or why they even called these players to the camp when they were carrying injuries. A third line of enquiry asks if the injuries happened at the camp itself. If you want answers though, you won't get any. Because, that would require logic and transparency.
Early last year, David John, India's High Performance Director (and also, coincidentally, the man who will take charge of the team in Ipoh, seeing as there has been no coach appointed yet) had recommended to Hockey India that the activity of regular members of India's national camp be monitored during the domestic season for fear of aggravating or suffering injuries. Obviously his advice has been ignored.
The problem with implementing John's recommendations is that most hockey players in India earn their pay playing tournaments for their PSU employers in tournaments across the country. Another is the fact that this is the season for said tournaments in the country. Besides the Senior Nationals (A and B Divisions) there have been at least five more tournaments that have been played out back back to back across the country. A lot of players appear at more than the requisite number of them.
Also Read | Hockey 2024: FIH's Global Expansion Dreams and the Turf Realities
Additionally, these players are playing more minutes than they are used to per game. A former player who still plays domestic hockey said that the conditions and game time is unreasonable for young players, and unsustainable for their future.
"Most of the grounds we will play these tournaments on, no disrespect to the organisers, are quite low standard. Sometimes they will not be watered perfectly, sometimes they will be too hard," he says, "but as players we cannot complain so we play. We have to fulfill our purpose for employment also right."
All of this, of course, can be sidelined as infrastructural problems, or peripheral dilemmas in India hockey, and undoubtedly Hockey India will do that. A shrug of the shoulders, 'it is what it is' stand is available. Life goes on, and the national team goes on.
It will be pointed out that in their 'off time' players are required to take care of their own regimen and ensure their own fitness, and also that this gives an opportunity for some new names to break ground in the national team. It is foolish to talk about those who are missing, because those who are missing are in consideration all the time, it is just unfortunate.
In the world's most populous country, there also reside the game's biggest catchment. India is full of hockey players.
It is only in times of crisis that everyone will put on their boots and go to war with rakes. In times of peace — which will occur when India come back with the shining trophy from Ipoh — everyone busies themselves with less militant pursuits, and maintain and praise the status quo.
Video | I-League vs ISL: Indian Football's Big Debate (420 Grams Season 1, Ep.14)
However sad a commentary that is on that state of sport in India, it is sadder still when you consider that this team will actually travel to Ipoh without a coach at the helm. 18 players, support staff, analyst Chris Ciriello and high performance director David John. No coach required. Eliminate the weak link, the charge who gets the sack after bad performances.
In other countries and other sports, the role of a coach is inextricably tied to the quality of the country's ambition itself. Coaches as rebuked as they are, are also work mules. They are treated without care when the going is tough, completely disregarded when all is well, sacked with impunity when performances drop, but all in all they are never ignored. Never forgotten either.
Think of the last time a national team's performance — good or bad — didn't immediately bring up the coach into conversation. Coaches are the variables that bind teams together within a framework of their choosing. Teams are a mirror image of their coaches, who in turn are directly influenced by the clay they are working with. It is supposed to be a symbiotic relationship.
But India has always differed in this regard. Where countries employ a long-term vision, sacrificing short-term success for sustainability, India prefer the other way around. In the brutal aftermath of Harendra's sacking, Hockey India invited applications for the coach's role and was accepting proposals till January 31, a deadline they extended, because of unsatisfactory submissions, to February 28th.
John, who is in charge for Ipoh — as has been mentioned before several times across different platforms — has no experience in coaching or playing hockey. In the aftermath of the Asian Games debacle, John's position had come under extreme scrutiny, especially after he took to the press and put the blame on senior players for the loss. Hockey India removed him from the selection committee for the World Cup, citing his 'bias against certain players' as a reason for his omission. John avoided the World Cup altogether, not even appearing in Odisha for the tournament.
Also Read | IOC Suspends India From Hosting Global Sports Events for Denying Pakistan Shooters Visa
Rumours — and in the absence of transparency this is all we have — suggest that HI has recommended two names to SAI and is now awaiting their clearance. In all probability, the clearance will not come in time for India's Ipoh sojourn. And so the team shall go headless. Literally. But if they return with gold all will be forgotten.
The death of logic will not leave a vacuum in Indian hockey. It will be like the death of someone's old uncle, whose name had been familiar in the household, but who died where he always lived, in some far off town no one ever got around to visiting — although they always meant to or thats what they said.
So goes the hockey-go-around.
Get the latest reports & analysis with people's perspective on Protests, movements & deep analytical videos, discussions of the current affairs in your Telegram app. Subscribe to NewsClick's Telegram channel & get Real-Time updates on stories, as they get published on our website.
Subscribe Newsclick On Telegram