More Than Just a Game: Naomi Osaka's US Open Title Win is a Trinket. The Message is the Grand Slam
US Open champion Naomi Osaka, a 22 year old of Haitian-Japanese descent, made a public stand against racial injustice at Flushing Meadows with an unwavering, uncompromising insistence on doing it on the biggest stage of the game, and doing it in a way which ensured the message gets across.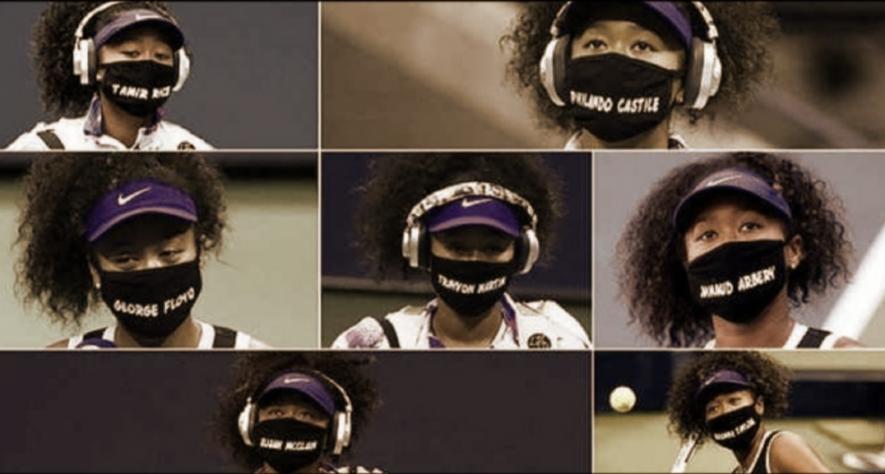 Through the US Open, Naomi Osaka highlighted racism and police brutality in the US by wearing seven masks bearing names of a black people who were killed violently.
Let us breathe a sigh of relief through the unmarked, generic masks we wear. No, not just the ones we have gotten used to the past six months or so. Let the expulsion of breath that belay the signs of life and conscience within us come through the masks we got conveniently accustomed to wearing since the time we stepped out of a cocoon to face the world, make a living, make more than a living. 
We all wear masks. Always have. The clothed, microfibred, N95-graded versions which define our couture since February this year are mere second skins to the perpetual covers on our faces, on our intentions, emotions and last but not least, on our will to stand up to oppression. Shedding those layers seem to have become increasingly difficult now, as the world moves around under an additional layer — for protection from the virus.
Also Read | Pause and Effect: Indian Super League Has a Calendar Problem 
The mask has become a symbol of safety as well as that of oppression. The coronavirus pandemic is about these two narratives. How, across the world, dissent and voices of reason and justice are muzzled and smothered by masks or by what it entails in the hands of those in power. We have also forgotten that masks were symbols of protest, of rebellion and revolution. Caught in a technocratic present, we are numb towards history, aren't we? We are, except Naomi Osaka, it seems.
Osaka never forgot history, the recent pages which mark racist oppression included. In return, history will never forget what this tennis player stood for, transcending the court, beyond the discerning eyes of line judges, unwoke voices of pundits, and a Grand Slam trophy, the third of her nascent career. 
Her seven masks at Flushing Meadows, which she wore through the course of her run to the crown at the US Open, have lightened the load we carry on our faces. The 22-year-old showed us that the masks we wear could become symbols of liberation, both personal, as well as for the society we are part of. It need not hide our emotions, or our will to question the unquestionable. Osaka showed us how.
"Everything I was doing off the court, was sort of on the court, too," she said at a post-championship show. Osaka was referring to the overt and explicit glare she attracted onto herself when she decided to wear masks with the names of seven African-American victims of shooting in the US at the Grand Slam, trying to create a platform for the deceased on one of tennis' pinnacle. 
Through the fortnight one could sense the game, as selfish a sport as one could imagine, asking questions. Beyond the tennis eco bubble, there were many who were almost waiting for her to falter, so that they could relegate her stance as one of those sideshows the tournament and the game had to live with thanks to Covid-19, and a period of churn in global history. 
Well, the game is smaller than the world. The game is smaller than Black Lives Matter, the movement. Osaka handed out a free lesson to tennis, to the world — right, left, liberal and racist alike. 
The names on her masks were not part of an endorsement deal. It was a deal with justice. And such deals come with huge stakes. She could feel the pressure. The three-setters in the early part of the tournament, some said, was a sign that she was thinking too much about the world and too little about the game. This was nothing new for Osaka though. 
Also Read | Race, Gender and Ethics: Caster Semenya's Fight Had Insurmountable Odds
Sanitized eco bubbles and empty stadiums play tricks with the mind, perhaps. Hence the grand delusion that big sport can survive, disconnected from social, political and economic realities. These days, sport is played in seclusion. But sport is not a parallel universe and Osaka — much like the NBA, WNBA, NFL or MLB players, and countless other athletes across the world — believed in what she was doing. She would not have wanted it any other way, pressure or no pressure. If she had lost, maybe the world would have seen her stance differently. But that would have hardly mattered as Osaka did it for her own reasons. It was her time and her way to fight a battle in the larger war fought across the world.  
"I'm walking on the court into that moment. It made me stronger, because I had more desire to win, because I want to show more names, and I want people to talk about it more," Osaka said. "I wanted more people to say more names."
"When I think about winning too much, I go out of myself. For me, the key is to stay calm. The quarantine definitely gave me a chance to think a lot about things, what I want to accomplish, what I want people to remember me by. For me, I came into this tournament, or these two tournaments, with that mindset. I think it definitely helped me out."
Ah, remembrance! 
If it comes to remembrances, Osaka's journey through the women's draw this US Open is a mere blurb, a sideshow. Her opponents were party to history being made, but they would remain footnotes to the larger names which we — humanity as a whole — should remember. 
While recapping her journey, the lost sets and broken service games get relegated by the cries of the real battle coming through the masks with those names written across. The names we all need to remember, for posterity, as martyrs for the larger cause, the long road to a course correction in human history.
Round 1: Breonna Taylor 
Taylor was shot and killed by the police in her apartment in Louisville, Kentucky, on March 13. She was 26 at the time. Louisville police department fired one of the police officers involved in the shooting. The two other officers are under 'administrative reassignment', whatever that means. More significantly, all three have not been booked under any criminal charges. 
Round 2: Elijah McClain
In August last year, McClain, 23 at the time, died after police officers in Aurora, Colorado, used a carotid hold to subdue him. The hold -- a choke -- makes a person unconscious by restricting blood to the brain. His family filed a case against the city and Aurora police department in August this year. They have alleged murder, while the larger issue of use of excessive force against black people are also addressed in the suit.
Round 3: Ahmaud Arbery
Arbery was shot and killed by armed white men while jogging through Glynn Country, a small suburban town in Georgia, in February. The three white men who pursued and shot himare facing murder charges. The incident gained attention and triggered widespread protest after a mobile phone video of the shooting surfaced on social media. Arbery was 25.
Also Read | Labor Day (US) Special: Three Moms in Quarterfinals of a Grand Slam for the First Time at US Open
Round 4: Trayvon Martin
Martin, 17,  was shot by George Zimmerman in Florida in February 2012. The high school student was walking home from a convenience store when he was shot by Zimmerman, a neighborhood watch volunteer patrolling the community at Twin Lakes in Sanford, Florida. Zimmerman, who claimed later that he shot the unarmed Martin out of self defense, was charged with second-degree murder. He was acquitted of the charges after a high profile trial. 
Quarterfinal: George Floyd
Floyd's death on May 25 was the tipping point which triggered the Black Lives Matter mass movement not just in the US but across the world.  Floyd, 46, was hospitalised after Minneapolis police officer Derek Chauvin knelt on his neck for nearly nine minutes during an arrest. Chauvin and four other police officers are under trial for the killing.
Semifinal: Philando Castile
Castile was shot by Minnesota police during a traffic stop at a suburb of St Paul in 2016. The 32-year-old's girlfriend streamed the moments that followed the incident live on social media, triggering support and nationwide attention and protests at the time A jury, however, acquitted the officer. 
Final: Tamir Rice
The 12-year-old was fatally shot by Timothy Loehmann, a police officer, in Cleveland, Ohio, in 2014. He was at a playground with a toy gun. Cleveland officials agreed to pay $6 million to settle the federal civil rights lawsuit that was filed by Rice's family in 2016. Loehmann was sacked in 2017 but the firing was cited to another technicality -- after an internal investigation it was found he provided inaccurate information on his application for joining the force.

Get the latest reports & analysis with people's perspective on Protests, movements & deep analytical videos, discussions of the current affairs in your Telegram app. Subscribe to NewsClick's Telegram channel & get Real-Time updates on stories, as they get published on our website.
Subscribe Newsclick On Telegram