Pause and Effect: Indian Super League Has a Calendar Problem
The Indian Super League (ISL) might be able to overcome the challenges of Covid-19 and conduct the 2020-21 season in a bubble. However, it could face disruption thanks to a clash of dates with the AFC Cup and Asian Champions League (ACL) in February and March next year.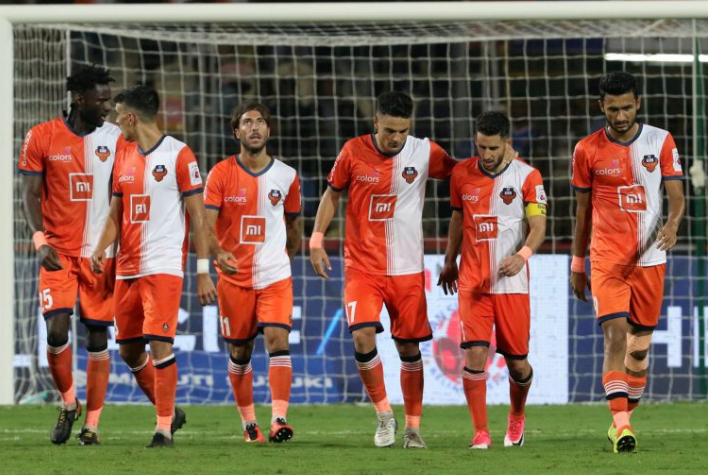 Three franchises -- FC Goa (in pic), ATK-Mohun Bagan and Bengaluru FC -- may have to break out of the ISL bio-bubble to meet continental obligations in the 2021 Asian Champions League and AFC Cup.
A little over a year ago, all hell broke loose in Indian football over the issue of which of the two leagues should grab the Asian Champions League (ACL) spot.
It was a crisis-like situation as the marketing partners of the All India Football Federation (AIFF) reportedly threatened to push the "stop payment" button unless their "suggestions" were accepted. The AIFF immediately went into overdrive, called a meeting in a five-star facility in the capital to oblige their partners.
Later, in October 2019, the Asian Football Confederation (AFC) in a meeting with the AIFF and other stakeholders in Kuala Lumpur, unveiled a roadmap that paved the way for the Indian Super League (ISL) champions to play the ACL.
Now, in September 2020, the same ACL spot may come back to haunt the ISL to an extent. The ISL organisers' meticulous and elaborate plan to stage the top league in the midst of the Covid-19 pandemic could greatly be disrupted by the 2021 ACL and AFC Cup schedule in February-March next year.
Also Read | Race, Gender and Ethics: Caster Semenya's Fight Had Insurmountable Odds
As a football fan it is hard not to congratulate the ISL for volunteering to hold a full-fledged sporting meet on Covid-19 hit Indian soil, for the first time since March 2020, even though the pan-India league will now only be staged in Goa. But to do that, the league managers need to create a military-grade bio-secure bubble for the safety of 11 teams, their players, support staff and all others involved.
Given their resources, and the ability to use them painstakingly, the ISL management is more than capable of creating a safe environment where the teams will stay in isolation in a protected area from the rest of the world after each person tests negative for the dreaded virus. 
The teams may be asked to enter the bubble from early next month — and stay in it — till the seventh edition of the nation's top football league gets over somewhere in the middle of March.
However, a look at AFC's schedule for the ACL and AFC Cup in 2021 (the 2020 AFC Cup has already been cancelled) gives an uncanny feeling that at least three franchises may have to break out of the bio-bubble to pursue their continental obligations, if not their dreams. The schedule has not yet been released officially, but there are enough indications on how things could play out.
While FC Goa is set to become the first Indian team to play the ACL main rounds, newly-established ATK-Mohun Bagan will figure in the AFC Cup main draw. The much-celebrated third spot has also gone to another ISL side – Bengaluru FC will play the preliminaries/qualifiers of the AFC Cup.
Going by the schedule, FC Goa have four sets of matches in the ACL in February - March. The first window is from February 8-10, followed by February 15-17, March 1-3 and March 15-17. Even though the final draw hasn't come out, it is safe to assume that a couple of these games will be home affairs. But does that mean FC Goa will have to quit the bio-bubble twice to play abroad?
There is no escape for ATK Mohun Bagan either. The schedule says they have two sets of AFC Cup matches on 9-10 March and 16-17 March when the ISL is supposed to reach its business end. Bengaluru FC's position in the AFC Cup preliminaries/qualifiers is not yet clear, but they will need to play twice in February at the very least.
Well, this is all on paper and there is every chance of alterations if the Covid situation doesn't improve by that time. But to announce the domestic fixtures based on uncertainties puts one in a difficult situation. It remains to be seen how the ISL fixtures shape up. 
We approached several franchise officials to comment or weigh in on the scheduling issues that are bound to crop up. It turned out to be even harder than getting Indian strikers to score goals in the nation's premier league. 
Which means, simply, that no one actually has a clue about what the possible solution could be. Except, of course, to ask the AFC to edit its calendar and make accommodations for India. The other is that Indians clubs will pull out of continental competition for as long as India remains in the race for top spot in terms of the spread of the virus. 
Also Read | Victoria Azarenka Beats Serena Williams, Reaches Third Career US Open Final, Will Face Naomi Osaka
A third, and far more unrealistic scenario involves falling in line with the AFC calendar. Unfortunately for football, this would mean a much-extended league schedule. Any extension of the programme would result in an overlap with the 2021 Indian Premier League; a scenario that the broadcaster (also part owner of the league) desperately wants to avoid. 
Not every franchise is ready to break their heads on fixtures and scheduling. At least not for now. Their immediate problem is something that involves the building a team to play the league with foreign recruits.
Given the importance of foreign recruits in ISL and I-League, there could be players coming from at least 20 to 25 countries to ply their trade in India. But, with international travel still heavily restricted, can these footballers reach India in time? Can they get in at all? No one really knows for sure. 
Let us assume that the well-connected league manages to secure exemptions, chartered flights, etc. What then? Will individual players be willing to risk leaving home, travelling to, and living at the mercy of, the nation that has been hit hardest by Covid-19? Do we assume that news of our response to the pandemic doesn't extend beyond our boundaries? Or, do we take for granted the willingness of "mercenary" wage earners to ignore the ground reality and come over to kick a ball anyway? Will we be able to get on board Indian missions in all these nations (all continents are represented in the Indian leagues) to issue visas to players irrespective of local conditions, rules and requirements? 
This is no attempt to run down the effort to restart football in India. It is about raising a few questions that come to mind naturally. And there are forever more. Most franchises had no clue about an extra team being accommodated in the league at the last moment. Twenty more matches in the schedule is a wonderful opportunity for fans and broadcasters. It also adds pressure on franchises (maybe, at some point, we can start calling them clubs). They either have to play more matches in most of the weeks to finish the schedule within the stipulated period or may have to stay longer and foot the bill. Either way, it is a far-from-ideal scenario.
In the end, every little tricky issue could take a backseat by the fact the league managers have managed to pull off a coup at the eleventh hour. The very idea of Mohun Bagan's two likely meetings with East Bengal has the inner strength to flush-out all the deficiencies and take the league to a greater pedestal. It has happened before in Indian football and will continue to happen in future. Call it the Great Indian Rope Trick, or an innate ability to pull a rabbit out of the hat, football in this country has something about it that will not die. How we get the leagues going this season will be a story worth telling for all of time. And this is something no amount of money can ever buy. 
Get the latest reports & analysis with people's perspective on Protests, movements & deep analytical videos, discussions of the current affairs in your Telegram app. Subscribe to NewsClick's Telegram channel & get Real-Time updates on stories, as they get published on our website.
Subscribe Newsclick On Telegram