Race, Gender and Ethics: Caster Semenya's Fight Had Insurmountable Odds
On September 8, Caster Semenya lost her appeal at Switzerland's Federal Supreme Court, which upheld the ruling made by the Court of Arbitration for Sport (CAS) last year regarding female runners with differences of sexual development (DSD). The South African world and Olympic champion would have to take testosterone-reducing drugs in order to compete in races from 400m to a mile, a process she has decided not to undergo.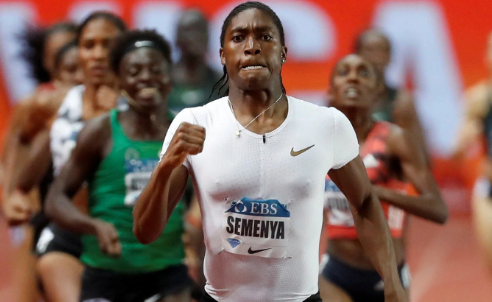 Caster Semenya's rise to the top of world athletics was meteoric, and almost from her first major international victory, back in 2009, she was targeted by the world body with tests, sanctions and bans.
"I just want to run naturally the way I was born," she said. "It is not fair that I am told I must change. I am Mokgadi Caster Semenya. I am a woman, and I am fast."
Everyone else seemed to disagree. When the Court of Arbitration for Sport (CAS) was approached to rule on the future of one athlete's fight against a system determined to not allow her to compete her way, it had the forethought to call it the 'most pivotal' case it had ever heard. It was. Because it ended up defining a sport's future, and effectively also opened up a can of worms — or a doorway to hell, depending on your philosophical bent — that will naturally slowly consume more people on its way.
On September 8, Semenya lost her appeal at Switzerland's Federal Supreme Court against the CAS ruling, which supported the International Association of Athletics Federations' (rechristened to World Athletics in October last year) rule requiring women with high testosterone to take medication to compete internationally in distances between 400m and a mile. 
Also Read | US Open 2020: Serena Williams to Face Victoria Azarenka in Semis
The Swiss federal tribunal said the policy for athletes with differences in sex development (DSD) was "necessary, reasonable and proportionate" to ensure fair competition in women's sport. I had a conversation with myself, yesterday, while trying to wrap my head around Semenya's very long and very lonely struggle. This is sort of how it went. 
When did all this start? 
It all started with the Book of Genesis, when God created a man and a woman. And he created the woman from the man, thereby imbuing in her characteristics and a certain amount of testosterone prevalent in the man. Nah, I jest. This is no fairytale. 
The case began in 2018 when the IAAF introduced new rules requiring female athletes with differences in sex development (DSDs) – usually because they were born with testes – to lower their testosterone if they wanted to compete internationally in events between 400m and a mile. Semenya challenged the regulations in the CAS saying these rules discriminated against her.
That's a bit harsh...
Whichever way you look at it, yes it is harsh. Harsh to Semenya because she has been in the crosshairs of the global body — not to mention many of her disgruntled fellow competitors, mostly white women from developed nations — for over a decade now. Harsh for the global body because it has been dragged into a debate over gender equality, sexual orientation, body image, and a forever evolving set of paradigms on conversations about gender in society for over a decade now. What it said a decade back may seem stupid now, and vice versa. 
Wait, what? This has been on for a decade? But you said 2018.
We actually said the Book of Genesis, but yes, it has been really long. Think 2009, when an 18-year-old Semenya absolutely destroyed a world class 800m field to win gold at the World Championships in Berlin with a time of 1 minute, 55.45 seconds. After the race, the IAAF revealed that the athlete was the subject of a gender verification process and was eventually declared to be ineligible to compete for 11 months.
Gender verification process? What the @#*K? It's pretty clear is it not?
Apparently not, young padawan. Semenya endured the torture of her gender being questioned her all her racing life. From the moment she won the African Junior Championships in 2009 — cutting her personal best time, at the time, by a whopping eight seconds — questions have been raised about her gender. As the performances got more dominant, the public security intensified. It went down typical lines; her 'masculine build', 'deep voice', and other such brazen shaming of an individual's physicality. It also became more and more intrusive, as though she were some laboratory experiment. The media, as in all witch hunts, was a double edged sword.  
Also Read | Lofty Ambitions, Faulty Grassroots: India's Para Athletes Caught in the Vortex of Inefficiency
Over the years, the gender verification process has evolved, moving from crude, humiliating physical examinations that involved stripping and being subjected to gynaecological tests to mouth swabs to collect chromosomes. There were too many indeterminables with mouth swabs though and the IAAF altogether abandoned them in 1991. The test that Semenya went through involved hormone testing to judge the amount of testosterone in her body. If the testosterone levels of a female athlete were judged to be over a certain limit, then the athlete was said to have hyperandrogenism. And that is where things get murky. Because the IOC, in 2012 launched a set of regulations regarding hyperandrogenism in sport. 
The regulations include a statement that says: "Nothing in these regulations is intended to make any determination of sex. Instead, these regulations are designed to identify circumstances in which a particular athlete will not be eligible (by reason of hormonal characteristics) to participate in 2012 Olympic Games (OG) Competitions in the female category. In the event that the athlete has been declared ineligible to compete in the female category, the athlete may be eligible to compete as a male athlete, if the athlete qualifies for the male event of the sport."
Gender verification in sport has also, in recent times, leaned heavily on racial stereotyping, and as much as we would love to tell you about it, we think you're smart enough to put two and two together. 
So…What are the ideal limits of testosterone for athletes seeking to compete as women?
That is such an eloquently worded question! Do you work in PR? In 2011, the IAAF adopted new rules governing the eligibility of females with hyperandrogenism.  The decision means there is an upper limit for women's testosterone levels — set at 10nmol/L, with anyone above that required to take hormones to lower their level. 
Semenya competed for the next four years while taking medication to reduce her testosterone to the acceptable levels. She went on to win silver in the 2011 Daegu World Championships and the 2012 London Games. Both medals were bumped up to gold after the Russian winner, Mariya Savinova, was found guilty of doping. There's no irony here. Dope beats nature all the time. Move on. 
I believe in science. What does science say?
The science is indeterminate. Almost all scientists agree that testosterone is a key factor as to why elite men are typically around 10-12% faster and stronger than women. In 2015, when our very own Dutee Chand — who had also been affected by the hyperandrogenism ruling — approached the CAS regarding her ban, the court asked the IAAF to show the extent to which testosterone gave DSD women an advantage. It also suspended the IAAF's ruling regarding hormone treatment for two years and urged the federation to come up with a procedure where athletes were not excluded as a "consequence of the natural and unaltered state of their body".
Two years later, the IAAF published research claiming elite women runners with high testosterone performed as much as 3% better than those with lower levels. That paper has been heavily criticised since and the data has been cited to be flawed. Academics Roger Pielke, Erik Boye and Ross Tucker, say 17-32% of the data was erroneous. There is also the oddity in the fact that this ruling regarding testosterone was only applied for the distances between the 400m and the 1500m, almost seeming like it targets someone specifically. 
Semenya?
You have a keen mind. Yes, Semenya specifically. Although they never specify. A year after that study, the IAAF released a ruling saying DSD athletes needed to maintain their testosterone levels to no greater than 5nmol/L by November 1 if they want to compete in events ranging from 400m to a mile.
What does that mean?
They medicate themselves, often in ways that cause emotional and psychological trauma — something Semenya herself has often spoken about — to compete in races at international events.
Don't be like that. Surely, the IAAF is within its right to protect the integrity of women sport. They must have good intentions.
Oh yes, absolutely. As the IAAF president, Sebastian Coe, put it: "This is an incredibly sensitive subject but it is the responsibility of the federation to create a level playing field in female sport." 
Coe, it bears mention, held the post of the IAAF president and an ambassadorial role with Nike for years before finally succumbing to pressure to give up one or the other. He gave up his Nike role, but always cited that it wasn't a conflict of interest. In 2015, the BBC uncovered emails between Coe and Nike executives, discussing his support for a bid by Eugene, Oregon, to stage the 2021 World Athletics Championships. Eugene, Oregon is the birthplace of the Nike movement. They were awarded the event without a vote. 
Dude, can we please stick to Semenya?
Yes, of course. Matters of conflict of interest have nothing to do with discrimination and vilification of a type of athlete after all. So, Semenya approached the CAS last year, saying her genetic variations are no different from those celebrated in sport. The CAS ruled against her. As a result it was made clear that she would have to reduce her testosterone levels if she wanted to compete internationally again. She appealed the ruling, and as you know, she lost that too. 
So now? 
Well, she doesn't want to take the medication to reduce her testosterone levels. Last year she joined South African SAFA Sasol Women's League association football club JVW FC. She was hoping to make her debut this year. She also announced that she was considering switching to the 200m event to avoid the IAAF ruling. Before the lockdown she ran a best time of 23.49 in the Guateng North Championships in March. The races were her first at the distance. The qualification mark for the Tokyo Games next year is 22.80.
Get the latest reports & analysis with people's perspective on Protests, movements & deep analytical videos, discussions of the current affairs in your Telegram app. Subscribe to NewsClick's Telegram channel & get Real-Time updates on stories, as they get published on our website.
Subscribe Newsclick On Telegram