MS Dhoni, Chris Gayle and the 'Old' Tradition: ICC World Cup Swansongs | On the Ball
This edition will also see a lot of ICC World Cup, if not international, farewells — some big names in cricket from MS Dhoni, Chris Gayle, Hashim Amla and Imran Tahir to Shoaib Malik, and potentially Mohammad Hafeez, Ross Taylor and Lasith Malinga.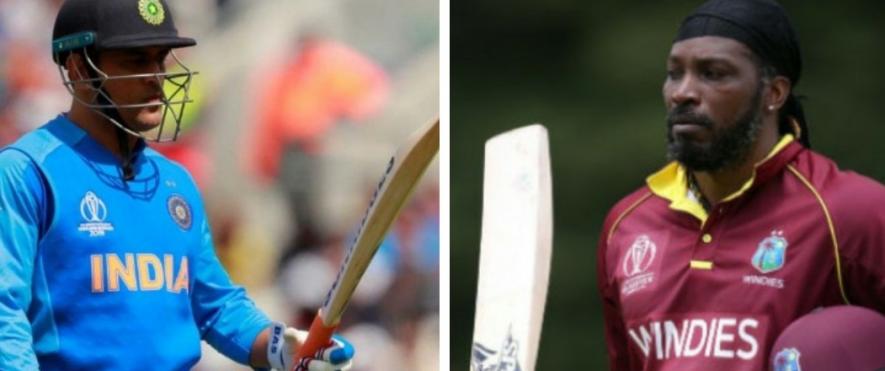 Chris Gayle had a very average last ICC World Cup by his own explosive standards, while MS Dhoni would be hoping to end the tournament with a victory celebration alongside his Indian cricket team mates in the final.
Headingley at Leeds was no more than three-quarters full on July 4, for a dead rubber between feisty Afghanistan cricket team and the breezy West Indies. Both sides were out of ICC World Cup contention, there was an old-world, stately pace to the match. The majority of those that had strolled into the ground were Afghan fans, desperate for their heroes to go back home with something to show for their spunk and spirit. In the end, even that wasn't to be as their brave chase of 311 for six ended 23 runs short.
The sub-text to an otherwise becalming, gently undulating day was provided early in the piece by a muscular, compelling figure that commanded attention through its very presence. His parents named him Christopher Henry, he calls himself the Universe Boss. This was to be Chris Gayle's final ICC World Cup appearance; the man with a flair for the dramatic was expected to bow out in a typical blaze of showmanship and fireworks.
Not even the Afghan fans in the stands were rooting for a Gayle failure. Rarely has the cricketing world seen an entertainer of his kind, a person universally loved for bringing joie de vivre to the sporting arena. Gayle has been a serious destroyer of bowling attacks, an unforgiving ball-basher with a penchant for the colourful blows that have mocked the size of grounds and driven mature, extremely competent bowlers to despair and tears. 
Also Read | Ambati Rayudu Retires, Shows Spunk After Cricket World Cup Snub
Spectators don't mind seeing him take their own legends to the cleaners, such is the aura of the man. Possibly in that regard, his only cricketing equivalent is AB de Villiers, the South African genius sadly lost to international cricket following his shock retirement last year.
Gayle violently shook the fans out of their morning slumber first up, making room to blast Dawlat Zadran through mid-off for a screaming boundary. The audience erupted because the hero appeared to have mastered his lines and was on course to adhere to the script written out for him. The gasps of excitement had barely died down, though, when Gayle trudged back to the pavilion, an attempted repeat of his only boundary resulting in a feather through to the wicket-keeper.
He lasted all of 21 minutes and 18 deliveries. His face impassive, Gayle walked back to a standing, thunderous ovation that his seven runs scarcely deserved. But this wasn't applause for that little period; this was a statement of thanksgiving for what Gayle has done all these years, in international and franchise cricket, for country and club, in red ball and white.
Seemingly unaffected by the reactions he had triggered, Gayle shuffled off the park, helmet in one hand, bat in another. As he neared the edge of the boundary, he stopped, turned back and waved his bat towards the appreciative fans. An acknowledgment of gratitude, a gesture of gratitude, and away he went into the sunset, with seven to his name on his last World Cup appearance.
Also Read | "Cricket World Cup? Here In England? Are You Sure?"
Long before the tournament started, Gayle had announced in February that he would retire from international cricket after the World Cup. Midway through the competition, he startled everyone by proclaiming that he would continue to pursue the sport at an international level even after the flagship event, picking the home series against India in August-September – the second and final Test is at his beloved Kingston, where he was born nearly 40 summers back – as his potential swansong. It was a revelation that caught everyone off guard, not least his captain Jason Holder who had no clue the senior statesman had a definite rethink. 
If Gayle does want a home farewell, Gayle will almost certainly get it. He is the only active international cricketer who made his debut in the 1990s – Shoaib Malik announced his retirement on Friday evening – and, after 103 Tests, 298 One-Day Internationals, 58 Twenty20 Internationals, upwards of 18,000 runs at the highest level, two Test triple-tons, an ODI high 215 and an unprecedented 21 centuries in all T20s, he deserves to go out on his own terms. In front of adoring, admiring, fawning fans. Through a guard of honour bestowed on him by Test cricket's No. 1 team. With his family and friends in attendance to share a moment of joy and a tinge of sadness. Chris Gayle deserves that, make no mistake. If he does go out in a blaze of boundaries, then even better. 
Swansongs, however, seldom pan out along expected lines. After every World Cup, there is a massive churning with wise old heads calling it quits and vacating their seats for the young to set their stall. A chosen few are presented with the chance to do a Gayle – go out on their own patch, on their own terms. But what is it that they say about the best-laid plans?
In 2003, for instance, Allan Donald and Jonty Rhodes were to ride off into the sunset, preferably after steering South Africa to their maiden World Cup crown. Their aspirations, as well as those of the passionate home crowd, lay buried in a pile of Duckworth-Lewis mess following the team management's staggering inefficiency in interpreting the 'par' total to be the winning tally. Rhodes' tournament, and career, ended prematurely as he broke his hand in the second game against Kenya. Donald, picked only for three of South Africa's six league fixtures, bowed out with a solitary wicket against his name. Talk about underwhelming. 
Like every edition, there will be a host of World Cup, if not international, farewells this time around too. Among them will be some of the biggest names in the sport. Hashim Amla and Imran Tahir won't be around for long, nor will be Malik and potentially Mohammad Hafeez. Or Ross Taylor and Lasith Malinga. And, of course, MS Dhoni.
Also Read | ICC World Cup: Beauty and Charm of an Underdog Victory
The man who led India to the 2011 crown is on the last leg of a career remarkable. Given his propensity not to overstay his welcome – several of his critics say he already has – it is more than possible that the former skipper will quietly call it quits after the World Cup. His once considerable skills have visibly waned, he is no longer the behemoth he once was, someone who stared adversity and opposition in the face and forced them to blink first.
Will his be a fairytale farewell, if at all a farewell is imminent? Will he do for Virat Kohli what Sachin Tendulkar did to him in 2011, by hauling the team to the final? Will he wrap his hands around the trophy once more? Will he live up to his 'Destiny's Child' billing? Will the number '7' which he wears proudly on his jersey prove more lucky for him than it did for Gayle on Friday? Father Time will reveal all the answers in due course.
(Kaushik is a veteran cricket writer who has reported on over 100 Tests. He co-authored VVS Laxman's autobiography '281 and Beyond')
Get the latest reports & analysis with people's perspective on Protests, movements & deep analytical videos, discussions of the current affairs in your Telegram app. Subscribe to NewsClick's Telegram channel & get Real-Time updates on stories, as they get published on our website.
Subscribe Newsclick On Telegram