ICC World Cup: Beauty and Charm of an Underdog Victory | On the Ball
Sri Lanka cricket team's victory over England was celebrated by all except the English, as the triumph of the underdog over the hierarchy. It was an unexpected result that has also opened up the stakes for the knockout stages of the ICC World Cup 2019, writes R Kaushik in his weekly column, On the Ball.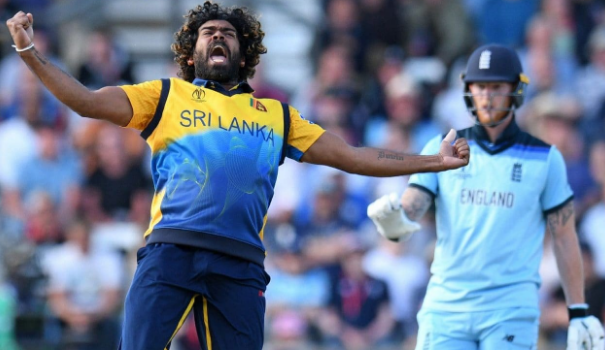 Lasith Malinga of Sri Lanka cricket team took four wickets for 43 runs, capturing the scalps of four top order batsmen of the England cricket team, to help his side to a shock victory in the ICC World Cup 2019.
Ahead of their clash at Headingley on Friday, Sri Lanka hadn't lost to England in the World Cup since 1999. The 1996 champions had also won four of their last five One-Day Internationals against Eoin Morgan's men. The force ought to have been with them. Instead, no one – perhaps themselves included – gave them a ghost of a chance. England were the high-flying, uber-aggressive, gathering storm, sweeping through the draw with their rediscovered zeal for 50-over cricket. Sri Lanka were timid and submissive, two of their four points coming from washouts and the other two eked out after a nervy scrap against low-hanging Afghanistan.
The stage was set for a slaughter of the lambs. England were particularly gung-ho, having pummeled Afghanistan to the tune of 397 runs in Manchester a couple of days back. Their captain had smashed 17 sixes on his way to 148, the muscular top-order was in fine fettle, their pace attack primed to feast on Sri Lanka's hesitant, feeble batting. The Lankans themselves were coming off an 87-run battering at the hands of Australia. The primary focus of interest was what the margin of victory would be.
Also Read | World Cup 2019: India vs Pakistan, the Ghost of Matches Past
The margin, records will show, was 20 runs. History books will also testify to this being the first major upset of World Cup 2019. Unthinkably, almost surreptitiously, Sri Lanka sucked England into their web of guile and deceit, inch by unsuspecting inch. By the time England realised that they were being sucker-punched, the noose had tightened irrevocably.
We were at the press box in Southampton, winding up our dispatches for the day, mindful that the four-and-a-half-hour time difference meant we could ill afford to dawdle. Deadlines were approaching, messages flying in thick and fast – "How much longer? When can we expect the copies?" They were met with stoic silence and deliberate shouldering of arms. There were stories to write, of course, but there was a match to watch. There was a David to cheer. There was a Goliath to fall. Mundane things like writing could wait.
Lasith Malinga, with his mop of unruly curls and a midriff that would suggest advancing age and unquestioned prosperity, was rolling the years back with a telling exhibition of versatile quick bowling. Dhananjaya de Silva, the unassuming off-spinner, was fooling England's batsmen into playing for the turn where none existed. Isuru Udana, the left-arm medium-pacer, was sending down back-of-the-hand slower balls like he was at a Sunday club game, not a World Cup showdown against the overwhelming favourites. Nuwan Pradeep was fast and furious, with a half-slinging action and a sense of purpose. New captain Dimuth Karunaratne was calm and composed, his game-face very much on but his nerves remarkably under check.
Video | India, Pakistan and ICC Cricket World Cup's Biggest No Contest (5.75 Ounces)
The press box at the Ageas Bowl was almost exclusively made up of travelling Indian journalists – there was a lone Sri Lankan journalist who couldn't believe what was unfolding in the north of the country – and we all closed ranks to egg the islanders on. Every diving stop was cheered wildly, every run scored met with groans of disappointment. When Ben Stokes clattered two sixes off Udana to threaten a single-handed heist, you could have heard a pin drop. When Kusal Mendis dropped him at the deep mid-wicket fence off Malinga, the screams of anger must have been heard in Leeds. It was that kind of an evening.
In the end, when Pradeep managed a feather from Mark Wood for Kusal Perera to complete the formalities, there was thunderous applause and uninhibited high-fives. Our Sri Lankan friend was bemused; he was delighted that his boys had turned a miserable campaign around, but he was more beguiled by this show of support from hard-nosed, cynical scribes from a neighbouring nation. He also understood, of course, that it is impossible to not succumb to the charm of the underdog.
With sport being a microcosm of life, it is no surprise that the less fancied are the ones that are more popular. England had the support of their countrymen – as many of them that are interested in cricket and aware that a World Cup is underway, that is – but the rest of the cricketing world was clearly in Sri Lanka's corner. Their fans, as passionate as any but a lot more tolerant, had been driven to the verge of losing patience. Now, they found their voice, joyous and booming, and a little shocked too. This was the proverbial bolt from the blue, a victory that had come out of nowhere, without warning.
Also Read | Yuvraj Singh, Indian Cricket's Prince of Comebacks, Retires
Why do we love the underdog? What is it about the lesser endowed, if you like, putting the behemoth in its place do we relish? Maybe because we see a bit of ourselves in the less favoured, and we enjoy watching the big, bad bully being brought to his knees. Maybe because in the unexpected, we see the true manifestations of a game of glorious uncertainties, where the only certainty is the ferocity with which the sport hits back at those who take it for granted.
It is unlikely that England took Sri Lanka lightly, or that they believed all they had to do to pocket the two points was turn up at Headingley. After all, they had a campaign to run, a semi-final spot to secure, a score to settle, a drought to break. They must have been high on confidence after their stirring start, only temporarily marred by their loss to Pakistan. Perhaps they took their eye off the ball just a little. And perhaps Sri Lanka, stung by the criticism as much as by their disappointing displays, dug deep to summon reserves of unexpected richness. Whatever the reason, the formbook was ripped to shreds, the script sent fluttering, the tournament thrown wide open.
It was in the fitness of things that the possible revival – after all, this could yet turn out to be one isolated streak of brilliance – was orchestrated by two former captains under the microscope for not pulling their weight. Angelo Mathews held the batting together with an unbeaten 85, Malinga masterminded the defence of 232 for nine with four for 43. It was soul-stirring stuff.
Unless you were a die-hard England supporter, Headingley was the place to be on a balmy Friday evening. The press box at the Ageas Bowl wasn't a poor substitute, either.
(Kaushik is a veteran cricket writer who has reported on over 100 Tests. He co-authored VVS Laxman's autobiography '281 and Beyond')
Get the latest reports & analysis with people's perspective on Protests, movements & deep analytical videos, discussions of the current affairs in your Telegram app. Subscribe to NewsClick's Telegram channel & get Real-Time updates on stories, as they get published on our website.
Subscribe Newsclick On Telegram