Mumbai City FC: No. 1 on All the Bombay Charts
Despite big name absences, Mumbai City FC came through when it mattered, beating title rivals ATK Mohun Bagan 2-0 last night. On a rare night when Antonio Habas' team looked vulnerable at the back Mumbai capitalised to end the league as champions.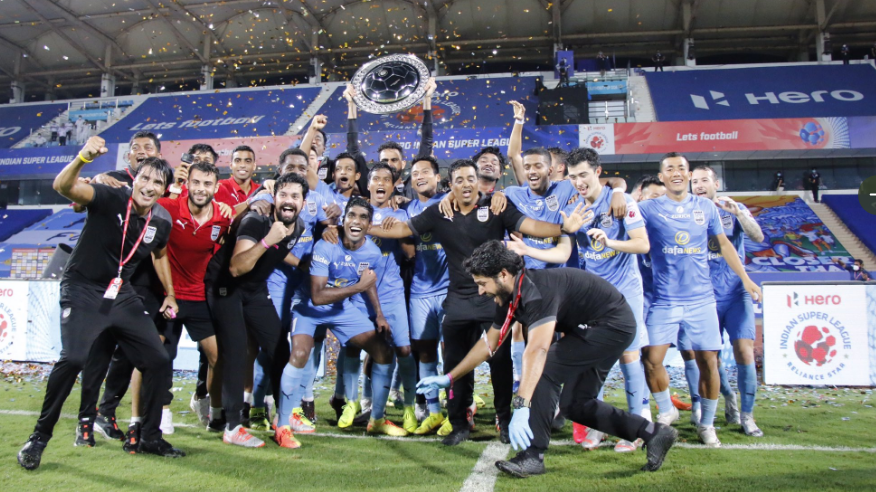 Mumbai City FC players celebrate with the Indian Super League shield after beating ATK Mohun Bagan and book the Asian Champions League slot from India.
Indian footballers are rarely missed on the pitch in the Indian Super League (ISL). It has been a trend since the inception of the cash-rich meet seven seasons ago. While foreign recruits made all the difference, the locals remained content playing second fiddle.
For a change, things were different on Sunday night, when Mumbai City FC bagged the league title  with a 2-0 win over ATK Mohun Bagan and clinched the prestigious Asian Champions League (ACL) spot in the process. Initially, it was thought the absence of Frenchman Hugo Boumous would cost Mumbai dearly. In reality, if there was a player ATK Mohun Bagan desperately missed on the field, it was Subhasis Bose in defence, who had four bookings prior to the crucial tie.
Well, no denying of credit to Mumbai, who were absolute deserving winners. But Subhasis's absence completely messed up the ATK MB defence. As it was, head coach Antonio Habas had a problem – he was forced to take the field in a situation where he needed not three, but just one point. He was in a dilemma; whether to shut the door tight and allow the opposition to make all the noise in vain or to display his attacking might. He chose the second.
Also Read | The Name Game: Concrete Advertising or Advertising Via Concrete?
Habas also did not disturb a combination that fetched him crucial points in the second phase. At the start, he sacrificed Javier Hernandez in the middle for Marcelinho upfront. Manvir Singh was pushed to the rear to an extent. But no permutation-combination could plug the defensive hole that was created by Subhasis's exit. To add to Habas's woes, his other defenders suddenly looked lost. The so-called unimpeachable defence of ATK-Mohun Bagan fell flat on its face when they were needed most. 
This is definitely not an attempt to prove Mumbai made most out of ATK MB's misery. On the contrary, it was Sergio Lobera's boys, who beat ATK Mohun Bagan at their own game with a team absent of its  top stars in the starting eleven. Boumous was not the only absentee for Mumbai. Rowliin Borges, too, was not there. Lobera was bold enough to take the field with a youngster like Pranjal Bhumij, who had only played in two matches previously. And the coach knew he had a vulnerable defence that conceded 15 goals in the last couple of weeks.
Yet, it clicked. True, Mumbai have some exceptionally talented foreign players. At the same time, Lobera was able to inspire his lesser known Indian footballers. That the only hat-trick man in the ongoing edition of the ISL so far, Bipin Singh, is an Indian and that he plays for Mumbai shows the Spanish coach in better light. Not for nothing has he won two back-to-back ISL league titles for two different clubs (even if technically he wasn't there to claim the last one). He has his own ways of getting the best out of his boys.
Both goals that came in the first half were the combination of Mumbai's ability to cash in on the opportunities and ATK Mohun Bagan's defensive chaos. Mumbai's game plan was clear. They were left with no option but to go for a victory to match ATK MB's 40 points and clinch the deal on the basis of having a better head-to-head record. So they attacked from the moment go and picked up the first goal as early as in the seventh minute. A free-kick from Ahmed Jahouh to the far post on the right was a measured one and Mourtada Fall's header was too good for Arindam Bhattacharya under the bar. But then, it was a pity that Tiri, the backbone of ATK Mohun Bagan defence, failed to see the tallest man on the pitch coming from behind to outwit him.
ATK Mohun Bagan's national team defender Pritam Kotal didn't exactly enhance his reputation when the second goal came in the 39th minute. He had no business commiting a foul at a crucial position a few yards away from his penalty area. Hernan Santana's free-kick was almost inch perfect. Perhaps too much so, as the ball rebounded off the crossbar. Bartholomew Ogbeche reacted with panther-like agility when he pounced for the header. Once again Arindam had nothing much to do. Kotal's action earned him a yellow card, a free-kick against his team and a goal that effectively settled the result. Game, set and match to Mumbai City.
Much was said about ATK Mohun Bagan's invincible defence throughout the league phase. But it crumbled in the decider for various reasons. Subhasis Bose wasn't there. Sandesh Jhingan left the field in the 19th minute because of an injury. Tiri and Kotal were not in their element. Question may be raised on why Habas decided to play Sandesh, who suffered an injury in the previous match against Hyderabad FC. Perhaps, the Spanish manager had no choice.
No one, not even their diehard fans, had much faith in Mumbai defence. But surprisingly they did much better to keep a clean sheet against an attack that was marshalled by the formidable trio of Roy Krishna, David Williams and Marcelinho. However, in truth they didn't have to do much. Lobera's midfield was able to cut off the supply line to a great extent. They didn't hesitate to turn physical at times. It was one of the rare occasions when Krishna and Williams looked ordinary. What made Habas keep Marcelinho for more than an hour on the field remained a mystery to many. To add to it were innumerable faulty passes from the ATK Mohun Bagan midfielders that left the Krishna-Williams duo jobless at times.
Also Read | Gender Equality Top Agenda for New Tokyo Olympics Organising Committee Head Seiko Hashimoto
Back in Kolkata, it is often said an emphatic win in the all-important derby could actually turn out to be a disadvantage. On innumerable occasions in the past, the winners in the Mohun Bagan-East Bengal clash suffered a considerable dip in form in their next set of matches. Did it happen to ATK Mohun Bagan, too? Having beaten SC East Bengal beat 3-1, the winners logged only one point in their next two matches. ATK Mohun Bagan were rather lucky to go home with one point against Hyderabad FC, who exposed their defence more than once in the 2-2 draw.
Mumbai City FC were indeed lucky to have bottom-spooners Odisha FC as their rivals in the penultimate match. A massive 6-1 win certainly helped them to regain their lost confidence. To be able to come back from five points behind and walk home with the impressive looking shield that is being given to the winners of the league is no mean accomplishment. The other three qualifiers in the play-off – ATK Mohun Bagan, North East United FC and FC Goa – should be plotting a lot for the forthcoming knock-out, but nothing can match what Lobera's men have achieved.
Get the latest reports & analysis with people's perspective on Protests, movements & deep analytical videos, discussions of the current affairs in your Telegram app. Subscribe to NewsClick's Telegram channel & get Real-Time updates on stories, as they get published on our website.
Subscribe Newsclick On Telegram