Rich and Rusty: ATK Mohun Bagan's Crushing Defeat at FC Nasaf Highlights Indian Football's Dearth of Matches
Even reasonably good players are bound to turn rusty if restricted to play only 18 to 20 matches a season, which is what an Indian Super League (ISL) side gets. The difference between ATK Mohun Bagan and FC Nasaf wouldn't have been so glaring if Indian football had a proper season on table and more than one appropriate competition.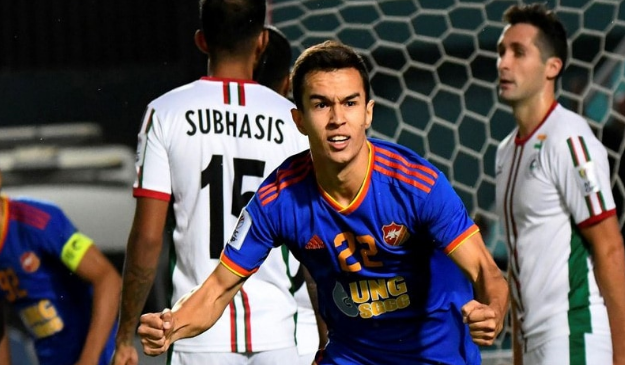 FC Nasaf players celebrate after scoring against ATK Mohun Bagan in their AFC Cup zonal semi-finals. The Uzbek side beat ATK MB 6-0.
Let us begin with a flashback...
It was a wet September afternoon in Calcutta (now Kolkata) 51 years ago. September 25, 1970, to be precise. The venue was Eden Garden.
Thousands gathered at the historic cricket stadium that evening – not for cricket, but to watch the IFA Shield football final between East Bengal and Pas Club of Iran.
Few gave East Bengal a chance. Iran were the Asian Cup champions in 1968, runners up in Asian Games 1966. Pas Club were one of their best teams, the Iran Championships Cup winners in 1967 and 1968. On the way to the IFA Shield final, they handed holders Mohun Bagan a 2-0 defeat.
East Bengal were playing without a coach. Their coach had already quit midway throughout the season, leaving a couple of senior footballers to manage the show.
Also Read | Amlan Borgohain a Natural Meant for Bigger Things in 200 Metres: Coach James Hillier
It didn't deter East Bengal from creating history that September afternoon. Legendary striker Parimal Dey, who came as a substitute, struck a goal a minute before the final whistle to stun the mighty Iranian outfit. Dey, a retired state transport corporation employee, is currently a patient of acute Alzheimer's disease. He can recall little of his great act that evening.
It wasn't a fluke win by any chance. Three months later, in the Asian Games, favourites Iran made a shock exit from the group stage, while India bagged the bronze defeating Mexico Olympics bronze winners Japan. One of the East Bengal players, Syed Nayeemuddin, was the captain.    
Time we returned to the present.
Venue: Stadion Nasaf, Uzbekistan. Date: September 22, 2021. Match: AFC Cup zonal semi-finals. Result: ATK Mohun Bagan 0 FC Nasaf FC (Uzbekistan) 6. Half time 0-5. Shots at goal: ATK Mohun Bagan 1 Nasaf FC 29. Chances created: ATK Mohun Bagan 1 Nasaf FC 27.
So, this is what it was all about. About the hype, the preparations, the training stint in Dubai, costly foreign recruits and a highly tactical coach, whose defensive strategy and counter attacking game grabbed headlines in Indian football for the past few seasons. 
This is not an attempt to glorify the past. Or to undermine the present. Rather to make ourselves aware of where we stand now. ATK Mohun Bagan are one of India's best teams with a deep pocket, a bunch of highly paid foreign recruits and a galaxy of Indian stars in their line-up commanding astronomical salaries. They were up against a team who currently stands fifth in the Uzbek Super League, 18 points behind the leaders. FC Nasaf had two foreigners registered for the match. The starting XI figured one.
Let's not recall what exactly happened in the 90 minutes; it could be too painful for the ATK Mohun Bagan home fans. The result was indeed shocking but wasn't totally unexpected. Ten years ago, this very Nasaf slammed nine goals past Dempo FC at home and another four in the return game.
But this defeat is "shocking" in the sense that ATK Mohun Bagan took this tournament too seriously, at least that's what they repeatedly said for the past few months. So much so, one of the club directors (who is also a close relative of a top All India Football Federation official), went on record saying Mohun Bagan would have never played the AFC Cup without joining hands with ATK.
The official definitely put his foot in the mouth by saying so; but in hindsight it perhaps was less embarrassing than what his team did on the field against FC Nasaf. Was it because the ATK Mohun Bagan took things too seriously than it actually should have been?
The local league in Kolkata (CFL) couldn't be played last season because of the pandemic. The IFA managed to restart it this year, but Mohun Bagan informed the parent body they were in no position to play for the first time since 1914 because they were busy preparing for the AFC Cup. After the preliminary rounds were over in Maldives, their footballers were sent on leave. Once they returned, the team were packed off to Dubai to prepare for the Nasaf tie.
The Uzbek side, who sounded equally serious about regaining the title after 10 years, employed a simple method – they preferred to play matches at the local level. The last match they played in the local league before taking on Mohun Bagan was a week ago at the same venue. They are supposed to play again at the end of this week.
When did ATK Mohun Bagan play their last match? On August 24, against Bashundhara Kings in the AFC Cup. When would they play their next match? On November 19 against Kerala Blasters in the ISL. Well, this couldn't totally be ATK Mohun Bagan's fault – they are partly a victim of the glaring holes in the Indian football system. But not to play the CFL was a monumental mistake and ATK Mohun Bagan paid for it. Dearly.
Also Read | Cricket Tries to go Gender Neutral: MCC Amends Laws of Game
The star-studded ATK Mohun Bagan defence cut an absolutely sorry figure against the fast moving Uzbek forwards. The 19-year-old Khusayin Norchaev ran rings around Pritam Kotal, Subhasis Bose, Asutosh Mehta and company; all three are national team players. He scored a hat-trick between the 18th and the 31st minute.
It would be completely wrong to suggest the Indian footballers are incapable of playing at the bigger circuit or to withstand the pressure of international football; or the ATK Mohun Bagan coach Antonio Habas doesn't know how to use his players against tougher opponents. But that level of finesse and its execution solely comes from playing matches, as many matches as possible. Even reasonably good players are bound to turn rusty if restricted to play only 18 to 20 matches a season. The difference between ATK Mohun Bagan and FC Nasaf wouldn't have been so glaring if Indian football had a proper season on table and more than one appropriate competition.
What the Nasaf coach Ruzykul Berdyev had to say after the match should be an eye opener for Indian football.
"(We face more competition) in the domestic championship. Because the competition in our Super League is very strong. Some have said that the level of our championship has dropped, but if you look at this result, the level of our championship is much stronger. That's why we are having a hard time in the Super League," he said.
In contrast, this is what Roy Krishna, the star forward of ATK Mohun Bagan, who rarely had an opportunity to showcase his skills in this match, had to say.
Also Read | Delhi FC Beat Kerala Blasters, Enter Durand Cup Quarterfinals
"The result doesn't lie," he said. "It's a learning curve. They're a good side and their league is better than ours for a reason. We've got to look at it as a learning experience and a good experience for our boys. We had a short training (period), but there are no excuses. They were better than us," said the Fijian striker. 
One doesn't need to explain more, but who has the time to ponder and come out with a solution? Those who won in 1970 were no super footballers – their sole advantage was they remained involved in competitive football day in day out, throughout the season and had the heart and ability to rise to the occasion. They were lucky not to waste their talents in one single competition where victory or defeat doesn't really make any difference.
Get the latest reports & analysis with people's perspective on Protests, movements & deep analytical videos, discussions of the current affairs in your Telegram app. Subscribe to NewsClick's Telegram channel & get Real-Time updates on stories, as they get published on our website.
Subscribe Newsclick On Telegram