Safety Concerns Shroud IFA Shield With Organisers & Clubs Unclear About Covid-19 Protocols
Questionable Covid-19 framework — none in fact for the nine Kolkata teams in the fray — with a broad plan based on responsible behaviour from individual players, and without any biosecure bubble, the 2020 IFA Shield is playing with fire. The organisers cite financial crunch, while the whole episode tells us how Covid-19 safety protocols are a luxury reserved for Indian football's rich leagues.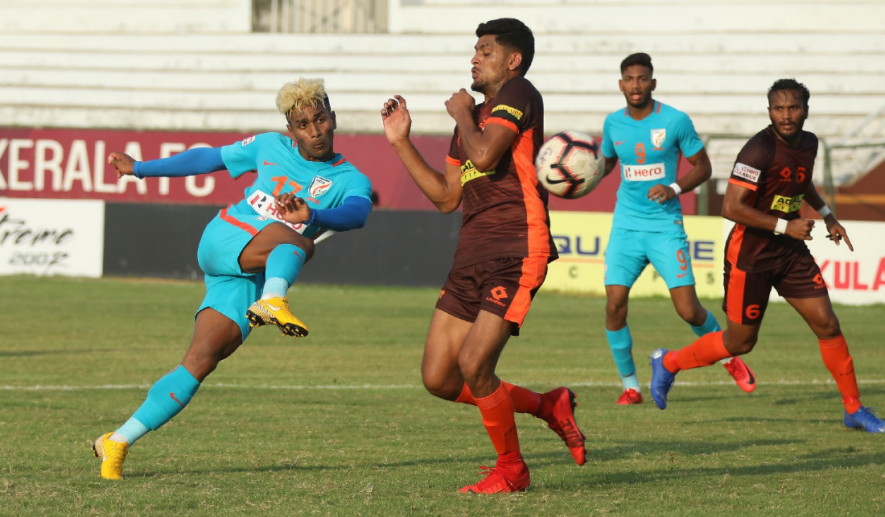 The 12-team IFA Shield will kick off on December 8. Among the four I-League teams slated to be in the fray are Indian Arrows, AIFF's developmental side comprising junior players.
If wishes were fishes, we'd all cast nets. And so, with one day and one game of the Indian football season gone, it is safe to say, some nets have been cast. And while the Indian Super League (ISL) exists in its self satisfying, gratifying bubble, outside that megalosphere, Indian football trudges on as before. 
On November 19, at a press conference arranged before the launch of the 2020 IFA Shield, the officials of the Indian Football Association (IFA), keepers of the game in West Bengal, bristled at any questions that contained the words Covid-19 and protocol. Or ones that insinuated safety.
"Where is it written that if you stay in a bio secure hotel you won't catch the virus?" IFA General Secretary Joydeep Mukherjee shot back when asked why the competition hadn't considered a bubble in the manner of its glamorous cousins. 
Also Read | Roy Krishna Scores as ATK Mohun Bagan Beat Kerala Blasters in ISL Opener
It is a question that will undoubtedly crop up more often as the date for the start gets closer. And so, perhaps its best the IFA engage rather than deflect. In a conversation with Newsclick, an I-League club official (who requested they remain anonymous) said a lack of clarity on protocols were one of the chief reasons the club decided not to participate in the tournament. 
"We were told there will be tests every three days, but there will be no restriction on movement for local teams, no bubble to operate in," the official said. "Now, I can control the players of my club. But there is no guarantee that others will do so. Without a centralised monitoring system, it is tough to feel secure."
The tournament will kick off on December 8, and will be played at four venues — Kalyani Stadium, Rabindra Sarobar, Howrah Stadium and the Yuva Bharati Stadium. Eight Calcutta Premier League teams and four I-League teams (one from Kolkata) were scheduled to take part in the competition, although reports suggest that newcomers, Sudeva Delhi FC, have pulled out. A replacement has not yet been confirmed, although with two I-League teams currently based in Kolkata -- Punjab FC and Real Kashmir FC -- in preparation for the I-League, options exist. Whether these I-League teams will be comfortable operating within the lackadaisical framework provided by the IFA, remains a question.
An IFA official who declined to be named insisted that any suggestions that there were no protocols were untrue. "It is wrong to say IFA is not following Covid protocols for the IFA Shield," he said. "All protocols will be followed before, during and after the match." 
Attempts by Newsclick to reach Joydeep Mukherjee, General Secretary of the IFA, for an official statement were met with no response. The story will be updated if there is one.
According to official statements, teams will be subjected to regular tests (the number varies between once in three days and once in five depending on who you speak to), venues regularly sanitised and interaction with non playing staff limited. The IFA official further added that  "outstation teams will be placed under a bio bubble once they enter their hotels", but admitted that the bubble is not applicable to local teams (of which, there are nine). Those sides can send their players home if they so wish, and the onus of protection falls upon the individuals themselves. 
"As an I-League club that has to play a long season ahead, it makes no sense to take this risk for what is essentially a glorified pre-season," a club owner said. "The local teams will send their players home, and how can we guarantee that they won't go out, mingle with people and perhaps carry the virus. I, obviously, hope it doesn't happen. I don't want anyone to fall ill. But if it does happen, then? We have lost a player for essentially a month!"
Also Read | Indian Football Paradoxes Converge in a Goan Bubble
At a time when lackadaisical is being confused with proactive, and 'delayed response' with 'forward thinking', the club's stance makes perfect sense. The risk is not worth the reward (in this case the reward being Rs. 3 lakhs for the winners). Most state governments have no Covid-19 protocols in place anymore. Flying between states is as it was in 2019 — the only difference most often is a thermometer in your face and a guard offhandedly asking if you have the Aarogya app. The thermometer is non intrusive. The app is nonsensical.
From the IFA's point of view, there is no way they can enforce restrictions in the manner that the ISL has, or the I-League plans to. Their financial situation is nowhere equivalent. The official at the state association clarified this in no subtle terms. "For the I-League qualifiers, the AIFF spent Rs. 1.5 crore for the eight-day meet. The IFA Shield is being organised on a shoestring budget of Rs 15 lakh."
Which begs the more important question then. Why hold the tournament at all? 
Command economics is why. According to an agreement the IFA has with Kolkata TV, not holding the tournament will levy a fine of Rs. 40 lakh — for a tournament that, to reiterate, has a working budget of Rs. 15 lakh. The math is directly proportional to the absurdity.
Furthermore, it seems the new sponsors of the IFA also hold them to a clause that will see a deduction of Rs. 1 crore from payments they are supposed to receive if the Shield is not held.
These market realities mean intent has been curtained under magnanimous statements like 'players need to get this game time' and 'local teams will benefit'. 
I-League club owners also understand all these various restrictions that have forced everyone's hand. This is a poker table that isn't playing to choose. It is playing to a dealer that holds the chips, the cards, the rake and the gun.
"I get it. It is tough for everyone right now. And they must be commended for holding the tournament at all," a club official said. "But for our part, we'll stay away."
It is also something the AIFF is doing. FIFA's Covid-19 assistance fund was distributed to different associations last month. Interestingly, the IFA and the Western India Football Association declined to partake in the Rs 3 crore grant, saying they didn't need the funds. Their job done, the federation has since washed their hands of any conversation about restarting the game in this country. Grassroots, youth leagues, women's football… are all beneath the ambit of the national governing body. 
To be clear, though, this was always the intent. 
At a webinar in July — organised by the IFA — in response to questions about how the AIFF will help state associations in this unprecedented time, the General Secretary had chosen to resort to populist grandeur over a statement of purpose. 
"What is the phrase these days?" general Secretary Kushal Das said. "Vocal for local? Atmanirbhar? We've actually thought of it before the government did. It means we have to increase and improve the capacity of our member associations. What kind of competitions do they hold? The courses they conduct, the infrastructure they have..." He then clarified that it was not possible for the federation to give financial aid to them but they were willing to engage in technical assistance. 
A few months later, in the guise of technical assistance perhaps, they sent their development squad, the Indian Arrows, for the IFA Shield. According to an official release, the young players 'feel privileged' to be able to take part in the competition. It makes no statements on how the players will be made to feel safe. No one does. The P in PR has nothing to do with players. The R stands for revenue. 
(with inputs by Jaydeep Basu) 
Get the latest reports & analysis with people's perspective on Protests, movements & deep analytical videos, discussions of the current affairs in your Telegram app. Subscribe to NewsClick's Telegram channel & get Real-Time updates on stories, as they get published on our website.
Subscribe Newsclick On Telegram